The holiday season is finally here and there's never been a better time to make your home feel more festive. However, decorating for Christmas can be a bit of an extra challenge if you live in a smaller home, apartment, or condo. Still, that doesn't mean you can't do it. The trick is to find items that don't take up a lot of space and are easy to store.
Shopping your favorite stores for Christmas decor is just the start and there are so many ways to make your apartment space feel super festive. Whether your studio or flat is large or tiny, there are plenty of ways to make it look magical over Christmas. From clever color choices to rethinking room layouts, these Christmas decorating ideas for will help you achieve the perfect look in your space.
1. Put A Wreath up indoors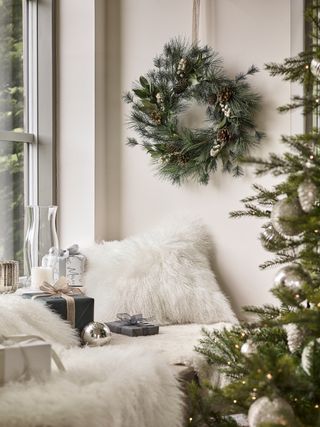 There's nothing more appropriate for the holidays than a gorgeous wreath. It's a wonderful way to let guests know your home is ready for the celebration to begin whether hung on a door or inside. This Venus Et Fleur Fleur Holiday Wreath is a handmade piece that features the brand's iconic eternity roses along with dried and preserved berries amidst pops of green leaves. It even comes in a special box to store away for next year. There are a ton more budget-friendly options too and of course, you could always make your own...
2. Style Your Sofa With A cozy holiday Throw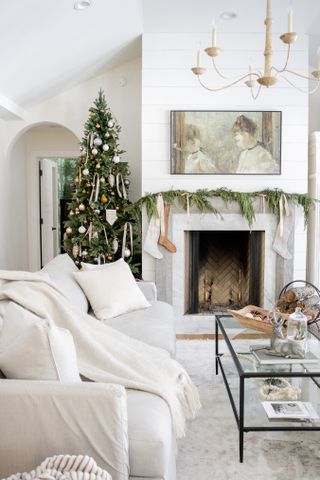 Add a little holiday comfort or a pop of festive color to your home by swapping out your current blanket for a more holiday-appropriate throw. It's also perfect for snuggling during movie nights and staying warm between cups of hot chocolate or cider. The Bellamy Herringbone Throw from Pottery Barn complements almost any style sofa, chair or bed with lovely detailing and fringed edges. Made of Oeko-TEX certified fabric, it's free of harmful chemicals. Best of all, it's machine-washable.
3. Dress Up Your Favorite Chair With Holiday Statement Pillows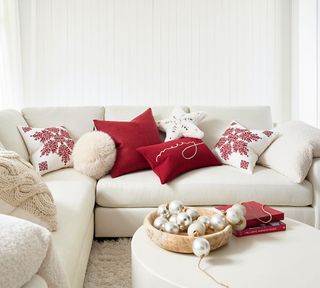 While you're giving your favorite sofa or chair a little makeover, why not swap out your summer and fall pillow covers for something holiday-themed such as the Merry Lumbar Pillow Cover from Pottery Barn? Because you're only swapping out the pillow cover and not the whole pillow, there's no need to worry about using up valuable storage space. A little kitschy yet still sophisticated, you can enjoy using this pillow cover for Christmas' to come.
4. Burn A Holiday Scented Candle Or Use Room Spray
There's no faster way to feel festive than with a holiday-scented candle. L'Avant Collective's Winter Fir Candle is packaged in a classic green vessel, which adds a bit of color to your coffee table, bar cart, or wherever you're using it. What makes this candle ideal for apartments, in particular, is that while the scent is certainly noticeable, it isn't artificial or overpowering in a smaller space.
Do pets or kiddos prevent you from burning candles? L'Avant Collective Room Spray gets the job done just as well.
5. Decorate With And Serve On A Holiday Tray
Serving trays can be a smart buy for the holidays, especially if you don't have a lot of space. A tray can be used as decor on your coffee table or side table to store remote controls. Then wash it and use it to serve appetizers or desserts to your family or guests. The Evergreen Nutcracker Serving Tray from Rifle Paper Company is a great example of this. The fun design features a cheerful print from the beloved holiday ballet.
6. Decorate a small Christmas tree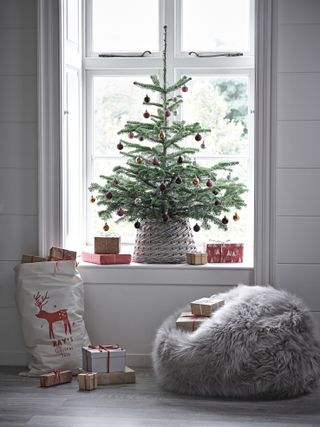 Getting a standard Christmas tree to fit into an apartment can be difficult or even impossible. But that doesn't mean you have to forgo a tree altogether. Opting for a smaller artificial tree such as the Puleo International 5' Pencil Tree can be just festive but a whole lot more practical. At just 25 inches wide, it easily fits into a corner or adjacent to a fireplace, if you have one. Accessibly priced, it even includes a metal stand. The compact size makes it easy to store in a coat closet or a smaller garage.
There are even mini Christmas trees. Give them some height by putting them on a window ledge, a side table, or a plant stand and decorate them with some sweet small ornaments.
7. Custom DIY a tree to fit your space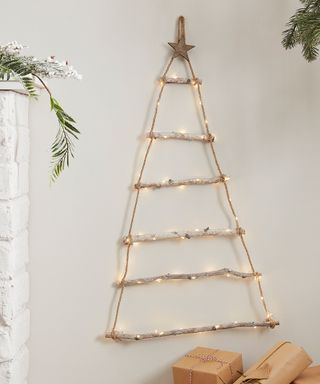 However, if you're in a very small apartment like a studio or one-bedroom, you may not have room for a tree of any size. If that is the case, making the most of your wall space with a DIY design is a great move. You could even try a peel-and-stick tree like the Peel-and-Stick Holiday Tree from Chasing Paper is almost as festive. It has all the fun of a tree without taking up an extra inch of floor space. Made of quality self-adhesive fabric, it's even reusable, just keep the backing. Because each element is individually cut, it can even be customized however you would like.
8. Decorate with string lights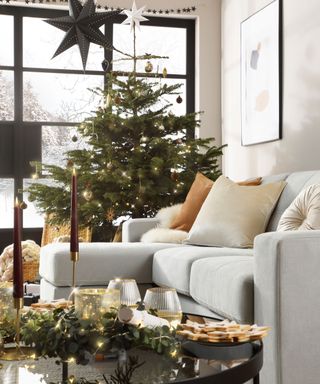 Lights are a holiday mainstay and apartment-dwellers don't have to miss out on the fun. Consider installing string lights on the wall, or even taping them underneath your kitchen countertop. They also look beautiful wrapped around a balcony ​guardrail outside. ​Enbrighten Wi-Fi Color-Changing Café Lights are a great choice. These app-controlled smart string lights have Christmas programming, as well as other customizable settings. You can even put the lights on a schedule to save energy when you're away from home.
9. Accessorize Your Holiday Table with unique finds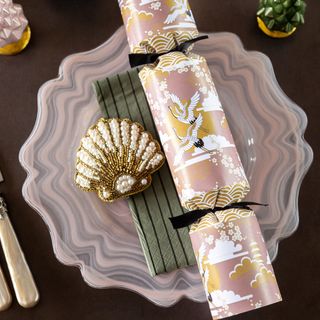 Tablecloths and trinkets instantly make any Christmas dinner more interesting. They're also perfect for apartments because they can have a major design impact without using too much storage space. This Classic Tartan Plaid Tablecloth from Williams Sonoma is a perfect choice for a traditional Christmas. Available in four sizes (and don't forget to add matching napkins).
If you want something with a little more modern energy, choose iridescent colors with interesting motifs throughout everything from the napkins to the Christmas characters like this cool festive tablescape by Rockett St George.
10. Use Garlands On Your Holiday Table Or Banister
Garlands are a simple way to elevate your holiday table. You can also use garlands around banisters or tacked around a door frame. The Puleo International 6' Lamb's Ear Garland is chic and sophisticated. Instead of the typical faux-pine or tinsel, it has a classic aesthetic that can be used for any holiday. You can also hang garlands overhead or frame one around a mirror.
11. Pick a snowy tree to keep the space light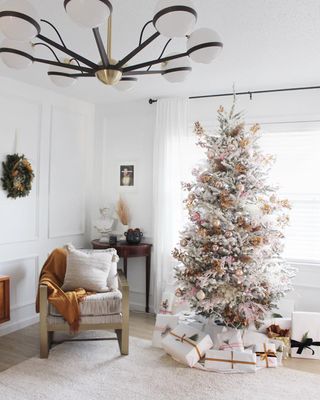 It's no secret that you should keep colors light in smaller spaces, and that goes for Christmas decorations too. Picking a snowy Christmas tree means you can still have all the festive feels, but your tree won't feel like such a big part of your space. Decorate it with a neutral color palette plus a bit of gold as it is Christmas, and voilà, it won't feel like you've walked into the wardrobe that leads to Narnia every time you open your apartment door.
12. Decorate your mantel with brights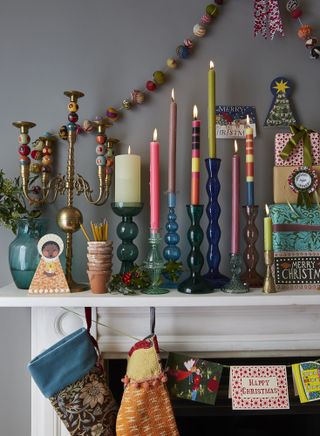 If you have been blessed with a mantelpiece in your apartment, make sure you decorate it! You could go for the traditional foliage and a garland or pinch this idea and create a cool display with funky candles. Twisted and colored candles look great mixed and matched to create a unique mantel sure to make a small apartment space pop.
13. Decorate branches as a tree alternative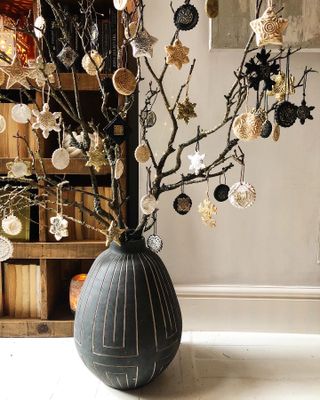 Another cute Christmas tree alternative that's ideal for an apartment is to decorate a vase of branches. Have a hunt around a local park for a good selection, add them to your nicest vase and then hang up your favorite ornaments for a total vibe.
14. Nod to a simple Scandi finish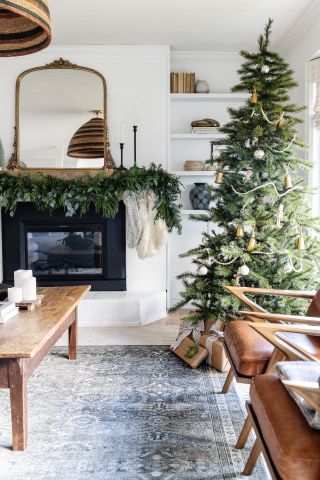 Obviously, if you want to go all our kitschmas this year then great, you do you, but just as with interior decor, going overboard on your Christmas decor can make a room feel instantly smaller, so it's best to keep things simple and minimal like a Scandi Christmas look. Pick a neutral scheme, favor a simple tree, more natural accents and lighting for a cozy Nordic glow.
15. Decorate your furniture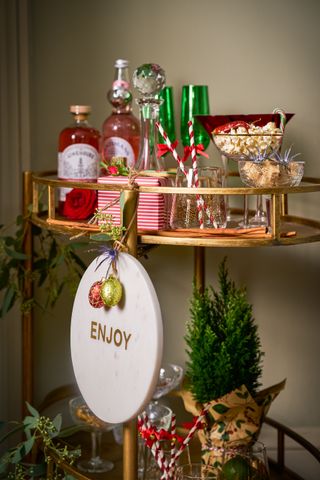 There's just something so festive about a bar cart that's all dressed up for the holidays. Pick out your nicest glasses to display, stock up on drinks that come in adorable bottles, and hang decorations off it. This could even be the place you perch your mini tree. If you don't have a bar cart you can give other pieces of furniture a festive spruce, string some greenery over mirrors, hang decorations from your picture frames, and decorate your shelves with fairy lights.
16. Add some festive vibes to your kitchen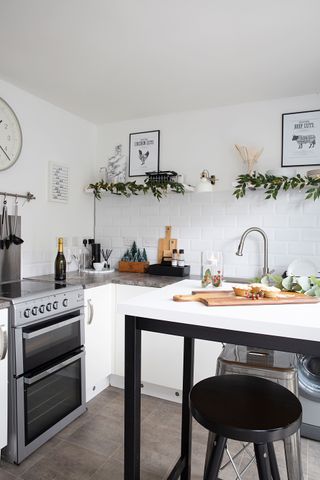 A mini apartment kitchen can get neglected in the holidays for the sheer lack of room, but when you are limited for what you can do in your apartment, bringing the festive vibes into the kitchen is actually a must. Even if you just string a garland around the cupboards, or throw up string lights you'll add all the festive feels without taking up a ton of room.
17. Turn your Christmas cards into door decor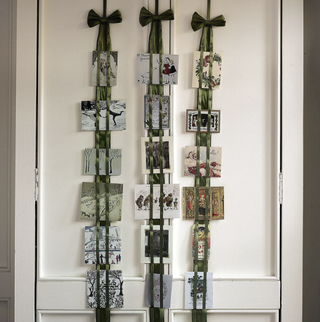 A ton of Christmas cards + a small apartment = a whole load of clutter you could do without. So why not turn them into Christmas door decs? String them up, clip them into garlands, or copy this Christmas card display idea and hang them from pretty ribbons for a cute and merry finish.
18. Consider placing your tree in the hallway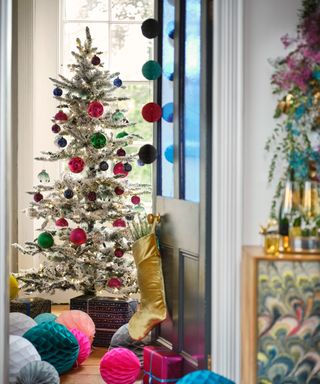 Whether your apartment is on the larger or smaller side, things can get busy around the festive season. If you feel like your place is already a bit cramped with all the gift-wrapping and festive decorations, it may be practical to move your Christmas tree into the hallway area. Although positioning Christmas trees in the middle of a living room is more traditional, you may well find that it just works better not to have it in the middle of your lounge, blocking the TV/window.
How do I decorate an apartment with little floor space?
Amy Wilson, an interior designer for 247 Blinds, reassures small apartment dwellers that even though you have limited space, you won't need to limit your Christmas decs in an apartment.
Instead of worrying too much about floor space, you may find it easier to think vertically. "There are a number of really effective Christmas tree wall hangings available that add real impact and can even be hung in your window from a curtain pole if wall space is at a premium." Says Wilson. "You can also swap out your window dressings themselves; from a festive printed roller blind to a tartan patterned curtain, it's an easy way to mix things up."
In fact, all kinds of vertical surfaces can be dressed up in apartments, from kitchen cabinets to staircases and, of course, mantels...
Wilson recommends "raising a smaller Christmas tree (or a gnarly tree branch sprayed in metallic spray) on a small side table" noting how even placing one at the center of your kitchen or dining table can be a great way to add festive interest when space is at a premium.
Not forgetting that lighting is a must. "Fairy lights take up very little space and illuminate small spaces and dark corners, making your apartment feel warm, inviting and fabulously festive" says Wilson.
Where do I store Christmas decorations in an apartment?
In small apartments, decorating can feel like only half of the problem. The other half is: where on earth do your keep all the Christmas stuff when Christmas is over? Wilson recommends investing in under-bed drawer storage containers saying how their uses extend way beyond the holidays.
With decorations like tree branches Wilson says to "keep them up and just adapt for the seasonal changes — swap out baubles on your branches for flowers, stars or hearts."
And as for lights, that's an easy one, why take them down at all? "Fairy lights are for life, not just for Christmas," Wilson says. So just keep them on all year for added decor fun!