We all know and love the classic Christmas color schemes, red and green, gold and silver, but why not shake things up a little this year? Your Christmas can look however you want it to, from bright neon decorations to warming coppers and even pretty pinks.
We've gathered the latest, on trend Christmas decorating ideas so you can stay in the know. We've rounded up some of the best Christmas inspiration there is – we guarantee you won't be disappointed.
Christmas color schemes to update your festivities
1. Keep warm and sophisticated with copper and navy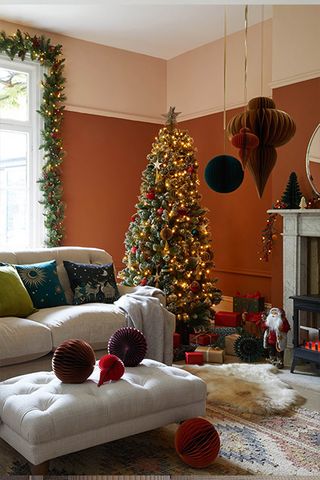 An unusual Christmas color schemes that works - warm coppers combined with deep and mystical navy is a scheme that combines warm and cool to perfection.
Paper decorations are still a huge trend this year, and as far as we're concerned, the bigger the better.
These hanging paper decorations from Dunelm create an instant statement, be it hanging from the ceiling, down the banister or on the fireplace.
2. Add prettiness with pastel pink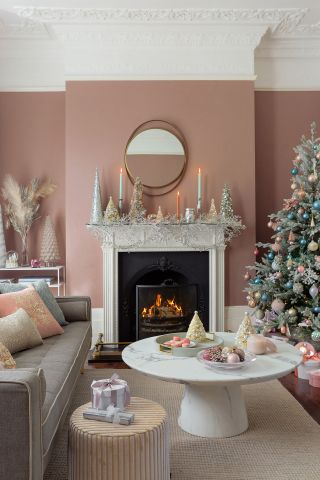 Go for a scheme that's straight out of a fairy tale with soft blush pink. We're a little bit in love with this room scheme – marble, pale blue and gold simply brings blush pink to life.
'Pink decorations and baubles create a modern Christmas theme. An alternative to the traditional reds and greens, pink is a new, interesting take on Christmas,' says Jason Billings-Cray at John Lewis & Partners.
'Choosing blush pink is still in keeping with the natural colour scheme our homes tend to have, complimenting our home interiors rather than clashing with them.'

'To give the pink tones a touch of Christmas glamour I suggest pairing with champagne gold to create a sophisticated and glamorous effect. To recreate a pink tree, invest in boxed baubles to create an 'allover' scheme,' says Jason.
This statement round coffee table is from Amara will sit back beautifully in any room.
3. Red and gold is always a winner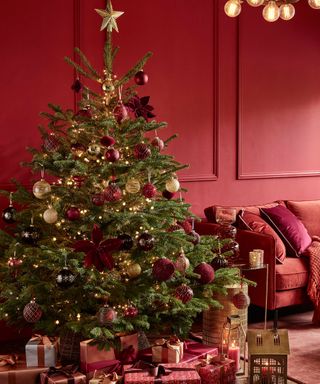 If you're a classic Christmas kind of person, you'll love the warmth and cheeriness of red and gold, and to be honest, you can't go far wrong with it.
Keep an eye out for clip on flowers this year – from Poinsettias to lilies, they're an emerging Christmas trend that we're loving.
4. Go for candy cane colors for a touch of whimsy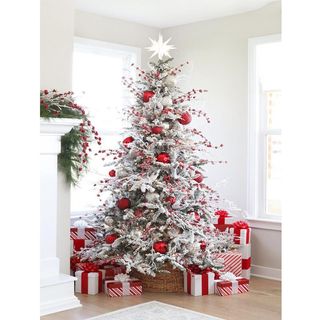 Red and white has it all – it's traditional, it's fresh, it's vibrant, and most of all, it's easy. We love how these presents act as an extension of the tree, working to enhance the scheme further.
This Artificial snow tree from Wayfair is realistic in shape with just a light dusting of snow to boost the red and white theme.
5. Pick a Scandi theme with silver and white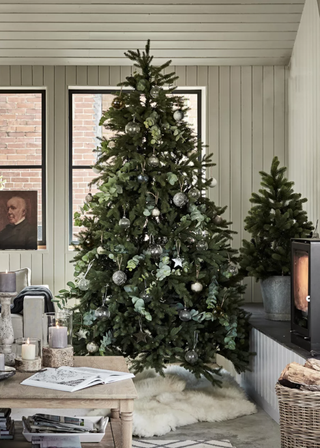 Simple, chic but still undeniably festive, silver and green is the perfect combo if you like Scandi Christmas decor.
The frosty silver gives everything an almost snowy look and the green just adds some warmth – again eucalyptus is a great foliage to bring into this scheme because of its silvery coloring and how gorgeous does it look placed into the Christmas tree?
Definitely, something we are going to try this year.
'Metallics can add a touch of luxury; the glitz and glamour – whether you use metallic baubles or sprigs to fill out our tree, statement candles or the star on top, they can add a touch of opulence to your festivities,' says Sylvia James, interior designer from Home Howto .
6. Go mystical with deep blue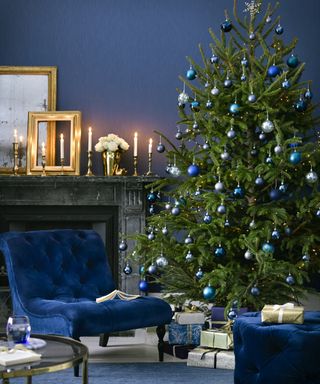 There's something quite magical about dark blue Christmas decor.
These simple baubles in a whole spectrum of blue hues placed randomly around the tree is simple but oh so effective. Bring in some warmth with an injection of gold and plenty of candles for a little extra majesty.
7. Go for a classic red and green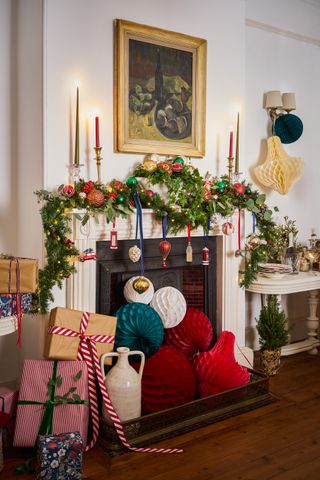 The most festive colour scheme there is, red and green simply screams Christmas. If you want to go all out this year, the phrase 'the more the merrier' doesn't just apply to guests, it applies to your decor too. So take inspiration from this decadent fireplace and pile up your decor to the max, from paper decorations to presents and even baubles hanging from the fireplace. More is more here and we love it.
8. All the neon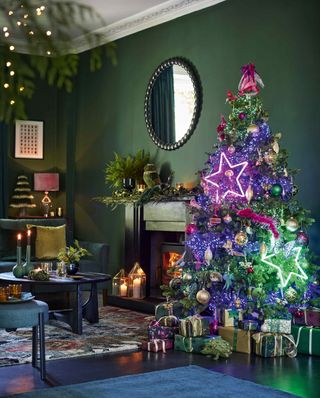 If you like your Christmas decor to be fun and creative you do you – go all out with every color even throw some tinsel up for the ultimate kitschmas. Take your multi-colored Christmas scheme to the next level and add in some neon.
These big neon lights look so cool just haphazardly placed in the tree. Amazon sell really cheap neon star lights in loads of colors that you can use to recreate this look.
This is a trend that's increasingly popular this year, according to Dayna Isom Johnson at Etsy. 'We've already seen a 228% increase in searches for custom or personalized neon signs, a 47% increase in searches for colorful, pastel, or neon holiday items, and a 41% increase in searches for jewel tone items,' she says.
9. Touch of mustard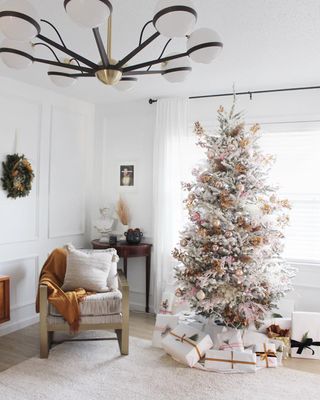 And if you want a really contemporary look this Christmas, mustard and gold is the way to go.
Simple, chic and not too in your face, these warm colors are perfect for brightening up a stark white room like this.
10. Dark and dramatic with red and black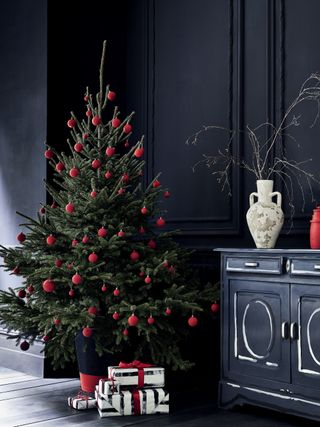 Ooooh loving the drama of this Christmas color scheme. Very Nordic (it's like Scandi but a bit more dark). To recreate this look pick a single colored bauble and use it sparingly. Obviously it helps if you have a dramatic black backdrop too but if not mix some simple black baubles in with the red for a similarly gothic effect.
For similar red velour baubles, check our Trouva.
11. Blue and pale pink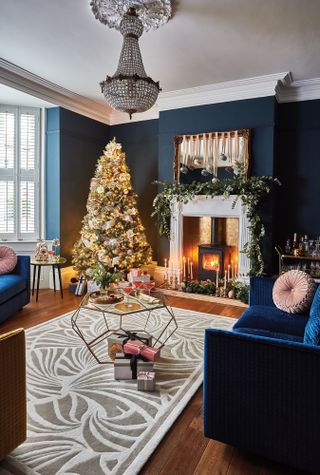 A pink Christmas color scheme is our dream. We love the soft, vintagey look it brings with all the pale bring ribbons and blush colored baubles. If you have darker walls in your home, or even a deep blue sofa, the pinks will look so gorgeous against the dramatic backdrop – bring the scheme into the rest of the room too by switching out your cushions to match your decs.
Find loads more Christmas living room decor ideas in our gallery.
12. Keep traditional and classic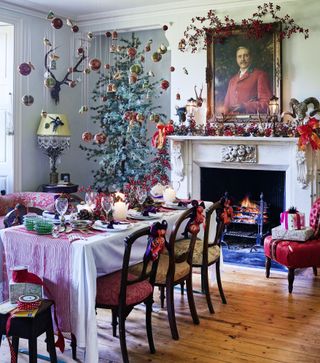 Love traditional Christmas decor? This dining room will be right up your street. If you're lucky enough to live in a period property, let the style of your home take the lead when choosing your decor.
We will so be stealing this amazing idea of suspending baubles from the ceiling, just using a clear thread – our Christmas table might not look as regal as this one but it will be looking just as magical!
13. Rustic neutrals and greens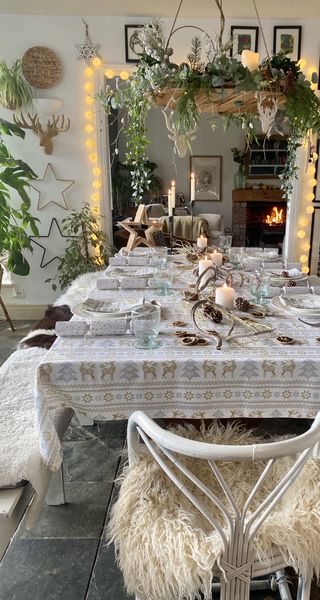 This rustic Christmas decor includes creams, browns, beiges, all the neutrals. Add in wooden elements and pine cones too, plus of course a ton of candles to give this toned down Christmas table setting a suitably festive feel.
Mix in some greenery too to contrast all those lighter colors and of course a touch of gold or silver just to make thing extra Christmassy.
If your dining table is your piece de resistance this year, follow Sarah Raven's expert advice – 'the core principles I work to when planning a Christmas table setting are colour, choosing a palette that is joyful and uplifting; height to add drama to the arrangement without blocking guests' sight of each other; and of course, a full-on Christmas look and feel.'
14. Simple and chic white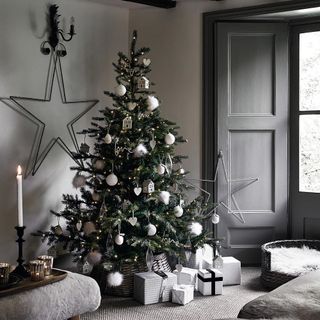 And finally, our personal favorite, a simple all white Christmas color scheme. White just works with any style and it's so easy to make it look magical. When using one color just make sure to add plenty of texture – pick baubles in varying sizes and ones that are made from different materials to add plenty of interest to your decor too.
The best place for simple white Christmas decor? Well, it's got to be The White Company, hasn't it. These gorgeous tree decorations from The White Company make us feel all the festive feels.
What is the color scheme for Christmas 2021?
Having scoured the look books, press shows and shops, the color scheme for Christmas 2021 is, whether you love it or hate it, blush pink.
It's the color that's cropping up everywhere from high end shops to our supermarkets. And it's the color that really does suit any home.
Whether it's a sleek and contemporary space or a traditional country house, blush pink is a slightly off neutral that will slot in perfectly, without being too garish.
Combine it with sparkling gold, muted silvers or even pale blue for something a little different.
Nick Drewe, trends specialist at WeThrift has used Pinterest trends data to find out which Christmas trends we're loving the most in 2021 with toned down ornaments, natural tones and window displays are proving particularly popular this year.
'This year's home decor has been all about reconnecting with nature and now floral bedding is making a bold comeback, with a search increase of 135% on Pinterest,' explains Drewe.
'Reconnecting us with nature, floral prints bring the outdoors inside, whilst still enhancing the feeling of comfort and relaxation. Floral bedding is perfect for bringing personality into the home, you can layer with bold tones and clashing prints too.'
'Traditional winter tones such as burnt orange are taking over. This retro shade creates the perfect chic, modern look that interior fanatics just can't get enough of. Although it was once considered a shade to avoid in your home, burnt orange can give any room a burst of energy and vibrancy. Use the colour for a statement wall, to refresh and revitalise your home. Or pair with nature-inspired tones, such as green and yellow for a more natural vibe.'