On the hunt for inspiring Christmas decorating ideas? We've got plenty of really pretty ones right here. So even though many of you will have your own Christmas decorating traditions (the kids' salt dough decorations that were meant to resemble stars but don't, the creepy looking fairy who's minus an arm, and the nativity scene that's been annually plundered and is now made up of Playmobil characters), we promise you're going to love these and add them to your list. 
Inspired by the latest trends, we have rounded up loads of lovely Christmas decorating ideas for you to try this year.
1. Embrace the dark and moody trend this Christmas
Dark, moody interiors are all over Instagram this year, and if you're well into the look, but aren't sure how to match it with your Christmas decorating, we have some really easy ideas. Easiest option? Go for dark coloured baubles – black, navy, dark green – will all create a dramatic feel. If you have a dark living room already, go for a contrasting colour to create a striking look. 
Fill your rooms with lots of dark evergreens, too, trail firs and ivy over mantlepieces, up bannisters and around door frames. Stick to candlelight, or low, warm lights to add to the atmosphere. 
2. Go for a Scandi style Christmas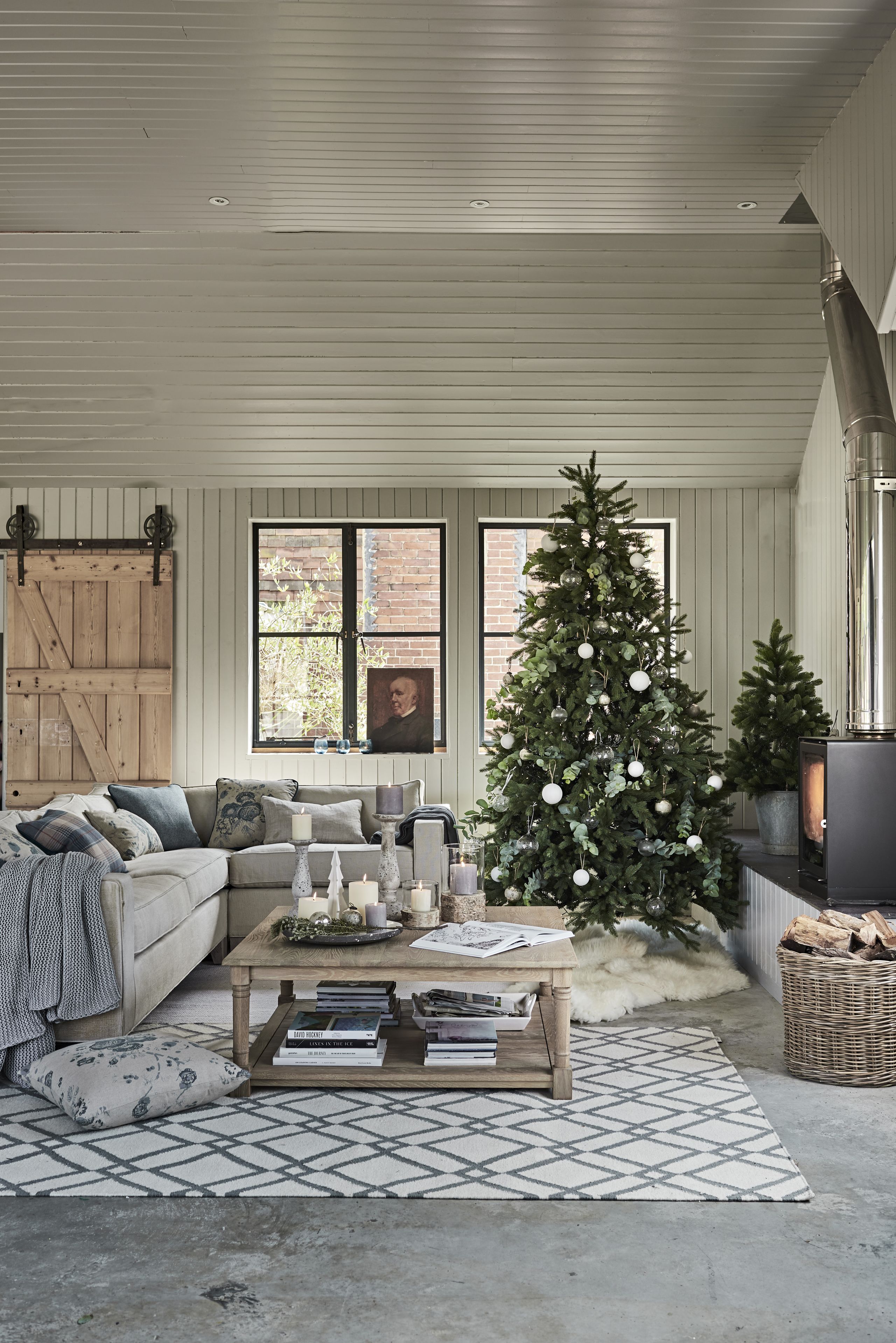 Christmas and Scandi style really were made for each other: it's chilly out, the fire's lit and the mulled wine is going down a treat. So, if yours is an (almost) all-white room, embrace it with some Scandi decorations – go for white or pale wood, and then add pops of colour with red or deep green. Give your room a festive feel with candles, and evergreen sprigs on every surface and of course a Scandi-approved Christmas tree. Neptune's tree decorations this year are stunning. Love this look? Browse more Scandi Christmas decorating ideas.
3. Love vintage style? Make your decs old-style
The best thing about decorating a vintage style tree? You can mix and match colours and bauble styles to create an artfully thrown-together look. Kitsch Christmas tree decorations are a fab option for the vintage look, but opt for muted, smoky colours rather than bolds (which will look too contemporary). Etsy have some lovely 1950s Christmas decorations if you are after the real thing. 
4. Love bright colours? Neon is a big trend for 2019
Yup, the neon Christmas decorating trend is here – and it's pretty simple to recreate in your own home. John Lewis have a whole Christmas trend called Party, so go and treat yourself to a few decorations over there (we are obsessed with these star lights). Pick up some cheap bright coloured tinsel too; feather bowers in bright pink, strung over your tree would look really cool, too. 
5. Use blackboard paint to create an instant Christmas
Thinking of redecorating before Christmas with a dark, moody scheme (you know, the type we've laboured on about above)? Why not opt for blackboard paint in a strategic way? Create a Christmas tree that takes up zero room (perfect for a child's room or a kitchen) by drawing one onto a blackboard wall. You could even use some Command Hooks to hang actual decorations from it. 
6. Small home? Downsize your decs not your ambitions
If you're resigned to small space living (or perhaps embracing it), you may not have a) the room for a full size Christmas tree or b) anywhere to store the decorations the rest of the year. Well lucky for you, mini trees are a massive trend this year! You can even have one delivered to your door, decs and all. Bloom & Wild can post a diddy tree through your letterbox along with mini baubles and battery-powered lights. 
7. Make an entrance with an OTT garland
There's no denying that once a year, it's worth going over the top to make your home look festive. A hallway garland will create a welcoming first impression for guests. Just a few tips – whether you go real or fake – one threaded with wire will make it easier to wind around the bannister securely. If you do go for a real one, pick foliage known not to drop, wilt or brown quickly. 
For our pick of the best Christmas garlands, head over to our feature. 
8. Switch up how you display a wreath 
Hanging a wreath? Why not suspend yours horizontally like the Scandis do (above)? Over the dining table is best, with droplet baubles hanging beneath.
A fire surround loves a garland, too, but ensure yours is well out of the way of any flames (we didn't need to tell you that, did we? We did, it's a legal requirement). Put it atop the mantelpiece or swag it, with baubles at its centre for a traditional, formal feel. 
9. Use baubles imaginatively (ie, not on the tree)
Remember what we said about using the baubles on the stair garland or within the one on the fireplace? There are tons of places you can dot baubles about – in the living room, Christmas dining space and beyond – to create a gorgeous festive look, without having to buy anything new. 
10. Go overboard with Christmas lights
You can't go over the top here: literally go crazy with Christmas lights (well, you can go over the top, but we're talking tasteful crazy here). As well as hanging them around window and door frames, across the mantelpiece, around the bannisters and on the tree (obviously), you can put battery-run, LED lights in a sturdy glass vase to create an instant table centrepiece – and don't forget outdoors, too.
Find more Christmas fairy light ideas in our buying guide.
11. Create a festive feel outdoors, too
While not many of us have room (or the budget or the extra decorations) for a Christmas tree outside the front or back door, we all have a front door that's crying out for a Christmas wreath. Pushed for time? Buy a ready-made Christmas wreath. Time-rich? Make your own beautiful Christmas wreath with our step-by-step guide.
More great Christmas decorating ideas: