Looking for dining room ideas that will work no matter what size space you are dealing with?  Whether you entertain a lot or prefer cozy family meals, a well-decorated dining room is a great addition to your home. Even if you don't have the space for a dedicated 'room', maybe you want to squeeze a small dining space into an open-plan area, such as a kitchen/living space? Don't worry we cover small dining room ideas here too. Below we've rounded up all our favorite dining room ideas to get you inspired to choose a style, so that you can make the most of your space.
Keep scrolling to get inspired and don't miss all the rest of our kitchen ideas, which include everything from décor to dining.
1. Layer up on textures for a boho style dining room 
There's so much to love about this dining room idea, it's brimming full of gorgeous textural elements, let's start with the table and bench – the chevron dining table above is bang on trend – parquet is going to be the next thing so get on it now. Teamed with rattan chairs and faux fur cushions, this look is the ultimate in tactile heaven, add in a hint of decoration with patterned bowls and glasses, oh and the stunning lampshade, then sit and enjoy your new boho style space.
2. Choose a round table in a small dining room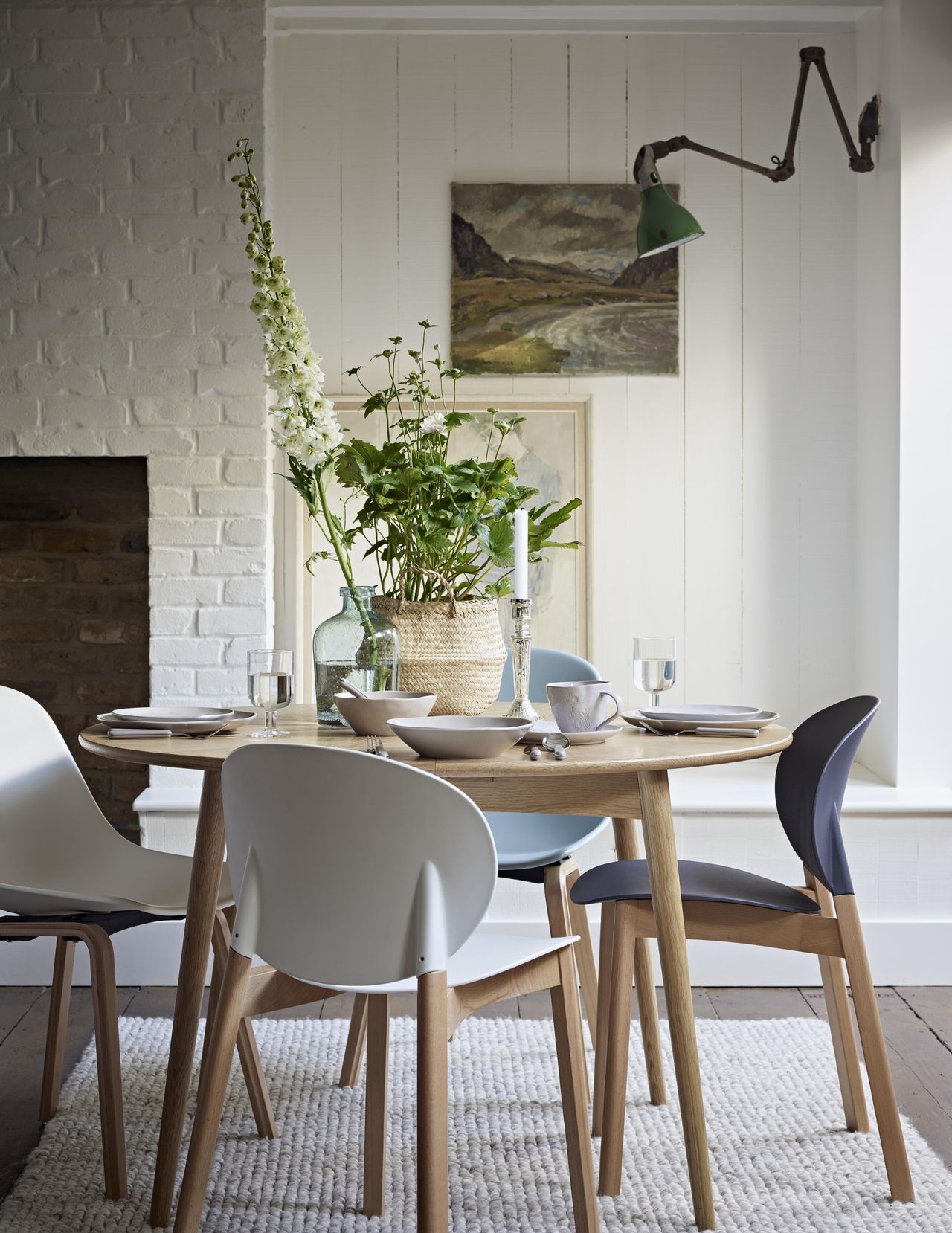 We love a round table – it takes up less floor space than a square or rectangular table, which in turn makes a small dining room look bigger. What's more, it's the perfect shape for creating a sociable space, and you can squeeze more people around a round table than one with corners. 
But can it work for home and school work? Yes, if there's no more than two of you trying to work on it at the same time and they work particularly well for that WFH life. 
3. Paint your dining room white to create the illusion of more space
Before being painted white, it's possible that this room had dark beams and a dark fire surround. The ceiling is low compared to most rooms so painting it white will really help to give the illusion of space. The windows and double doors allow oodles of light to stream in, keeping them blind/curtain free also creates an airy feel. The balance is created by the warmth of the wooden floorboards, the dining table, chairs and accessories. 
If you love this dining room idea check out our white kitchen ideas too. 
4. Colorful dining room ideas? Use paint to zone an open-plan space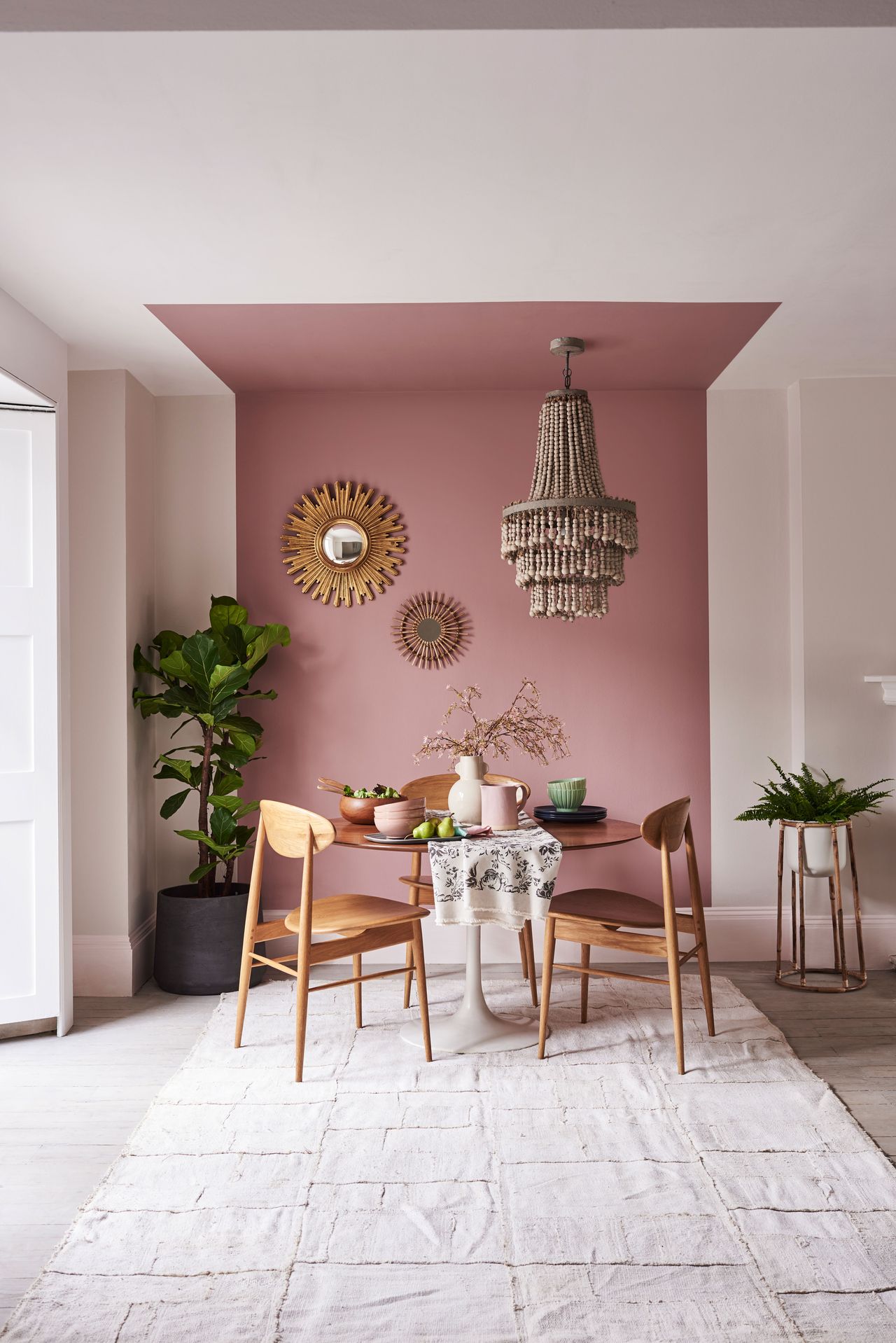 How delicious are these colors together?  A super pretty color scheme that also cleverly zones an open plan space into a dining area that defines the room. Note how the deeper pink comes up and onto the ceiling? What a great idea! You can do this with some Frogtape and a pair of strong arms. The warm tones of the Mid-century furniture look fab against this shade – pick crockery to match the lighter pink to bring the look together. 
5. Use dark walls as a back drop to dining room furniture 
This fabulously dramatic wall provides the ideal backdrop for this contemporary dining room. We love how the wall has been split into two, with the black skirting and wall painted around the bottom and the bottle green textured effect above. The bright red shelving adds a splash of color and you can change the accessories on it to add in more pattern and bright shades as and when. Opt for interesting shapes like this modern table and chairs - especially that table, and we love the globe light! 
6. Keep everything simple for a minimalist dining room
One of the trends for 2021 is about living in a pared back way, more simplicity, fewer 'things' and having more nature in our homes. We welcome this style as it's all about choosing wisely and buying pieces that have style but will last. Ikea is great at being one step ahead and we love the clean lines of this dining room. The textures make this minimally decorated room very welcoming. 
7. Need to squeeze dining seating into a kitchen? Choose benches over chairs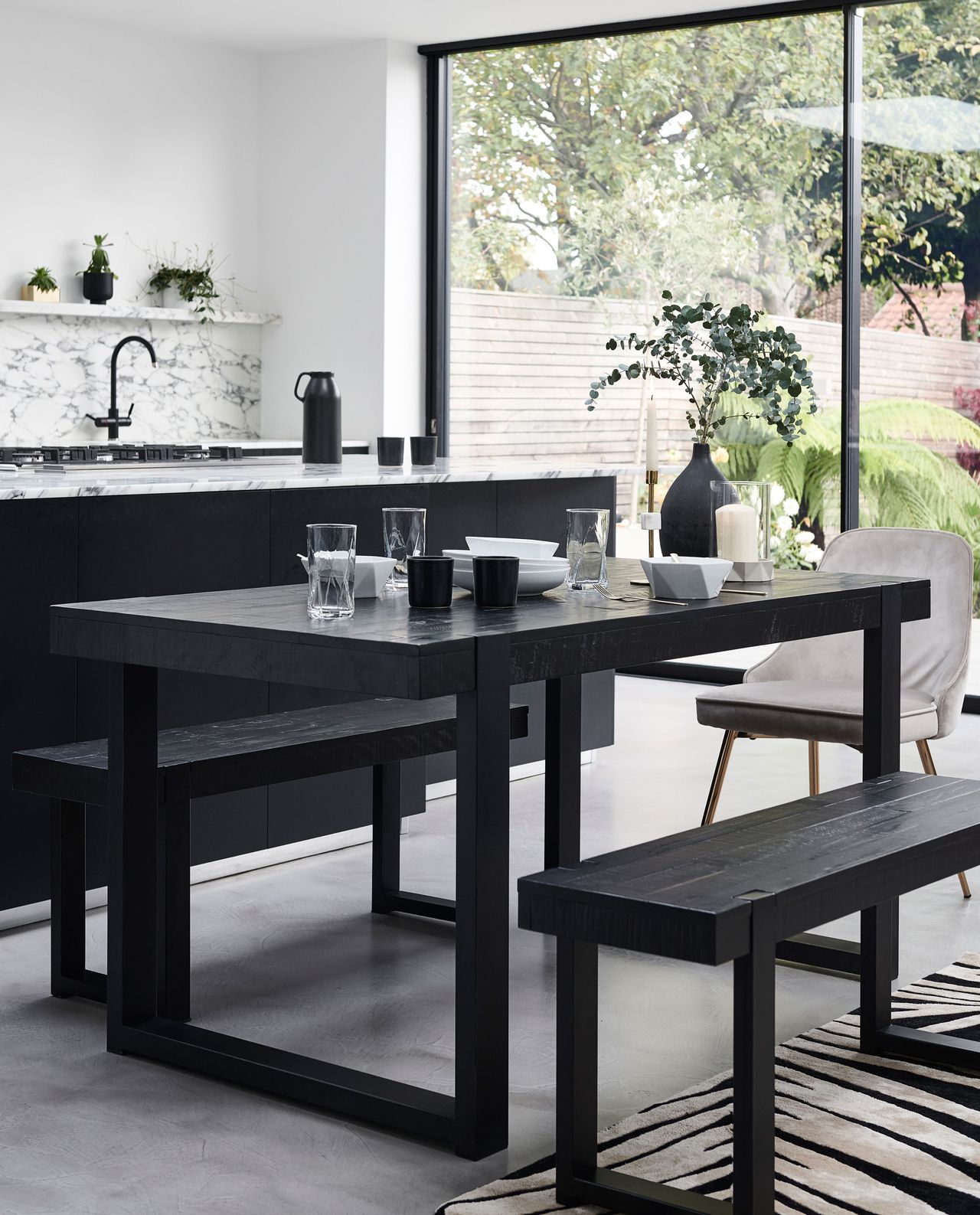 Open plan kitchen diners lend themselves to a more relaxed feel and this is why this double bench option works well. But if your open plan kitchen diner is already tight on space, benches are a practical choice, too. They take up less space visually than chairs – and if you can tie them in with the kitchen's decor, like in this room you can create a cohesive look that feels really put together. 
8. Need even more seating space? Go for a bench and chair combo
Benches, on the whole, can squeeze on extra bottoms so they're a great option for small people – kids on one side, adults on chairs on the other side right? This Poise bench from John Lewis sits three and you can match it with the Poise table which is narrow yet long – great for a dining room where space is compromised. Plus, it also extends, which is a win win when everyone is trying to 'work' at the same time! The table top has rounded edges too which is a bonus with young kids careering around.  
9. Add accent shades for a happy colorful dining room
Color can be such a useful tool when you're revamping a plain space because it can add instant personality and character. In this dining room idea, these chairs are being used as an accent to pick up the wall color and it looks great! The detail in the curtains and rugs also tie in the blue. Another key element here is that many of the pieces are curvy too – the chairs, table and those fabulous lampshades; it all helps to create a successful and uber stylish look. 
10. Go moody for an atmospheric dining space
Only use your dining room at night? We're not all fans of light and airy, in fact, deep shades are visually stunning more often than not and this dining room is spot on. To make a look like this work you need balance – yes, we do mention this a lot, but it's true! This dining room idea is about light and dark – the inky blue walls are perfectly balanced out by the white tableware, the pale blue of the curtains adds a color layer, as well as pattern and the mahogany table and chairs, give a rustic element as well as adding in texture. 
11. Pick narrow chairs to fit in more seats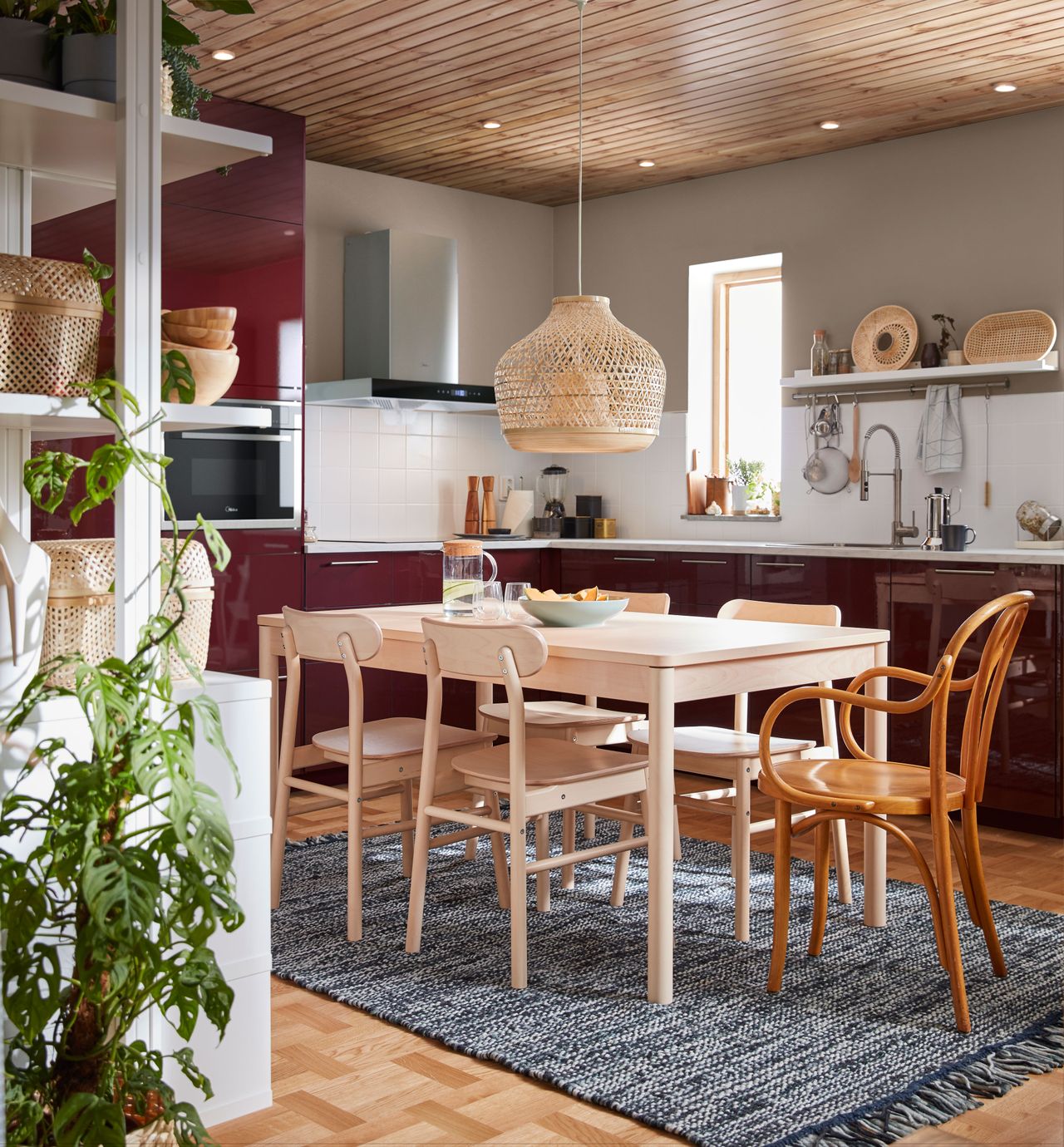 We're not all blessed with a kitchen AND dining room so your kitchen often has to work doubly hard. Ikea are the masters at dealing with space issues and we love how they've zoned the dining area with the rug and their compact NORRÅKER and RÖNNINGE birch table and chairs. Making sure the chairs neatly fit underneath the table when not in use is key for space-saving. 
12. Dining room ideas on a budget? Repurpose existing furniture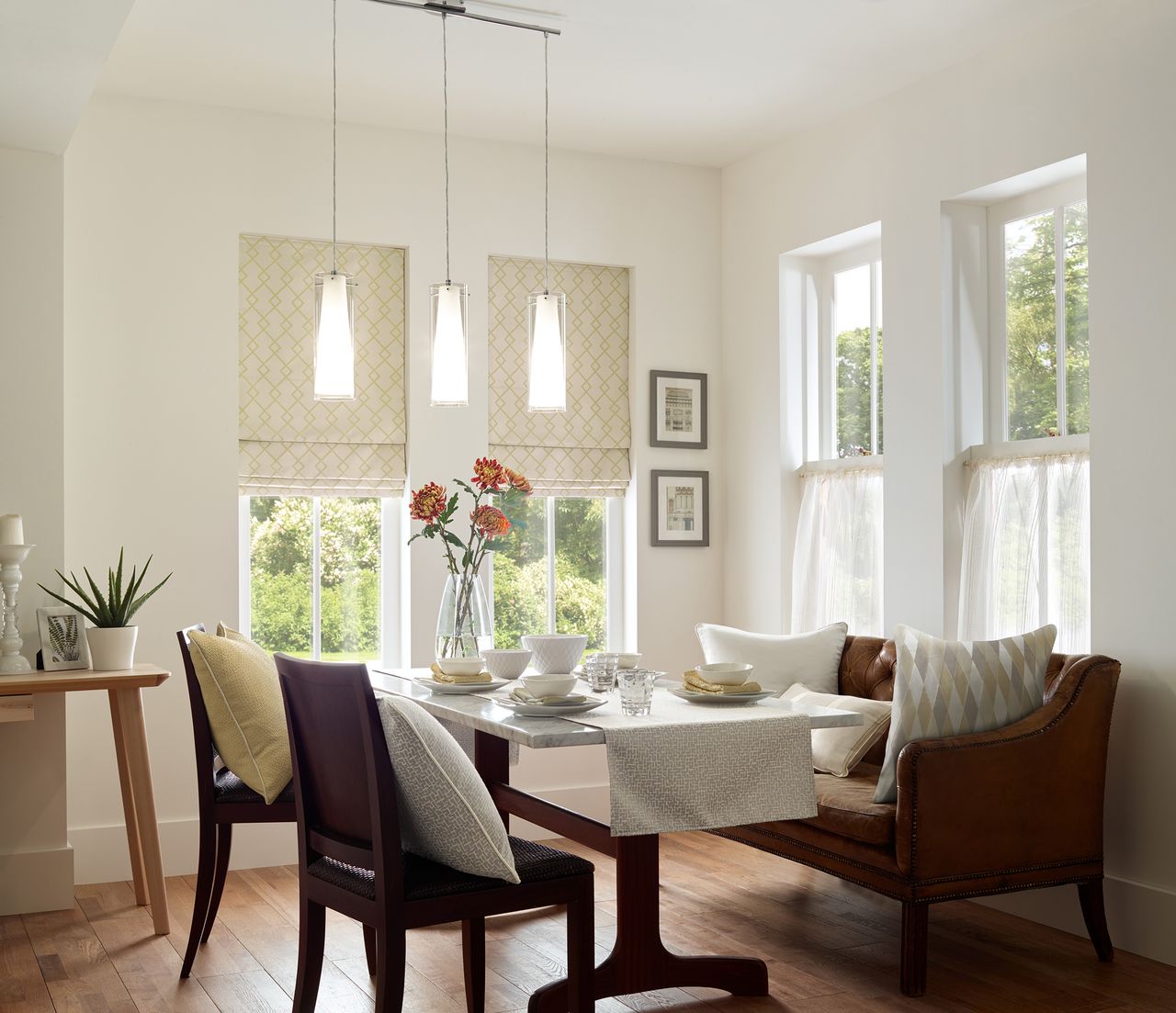 Having a little shift around of furniture can work wonders to improve a space – and using a sofa for one side of a table is a genius dining room idea that we'll be considering in our own homes! If it's not quite the right height for the table then add extra cushions to sit on – this option definitely creates a more relaxed feel and mix and matching different styles of seating creates a more individual look. 
13. Keep things relaxed with slubby materials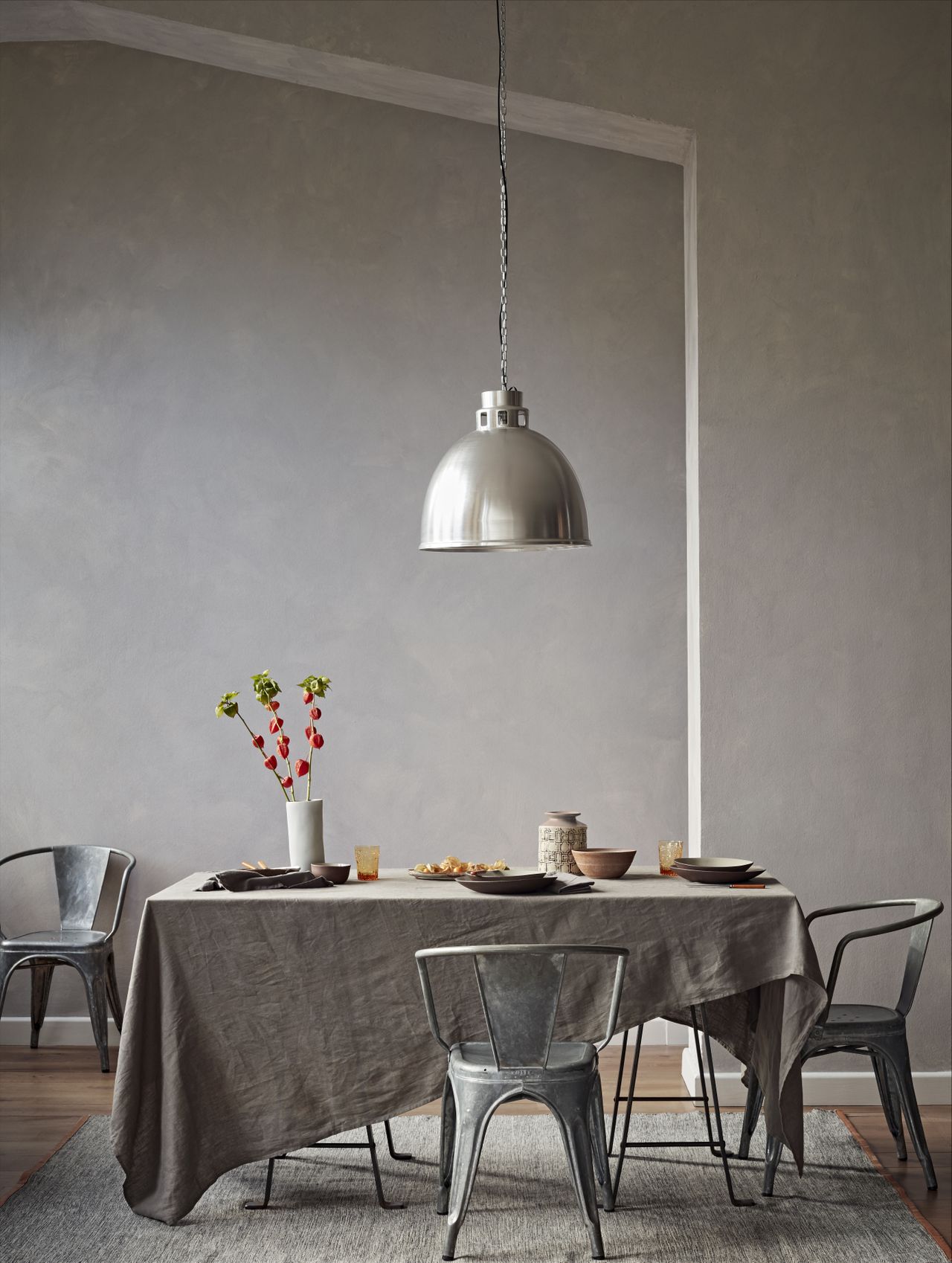 Looking for dining room ideas so suit your laid back style? This relaxing scheme has a hint of both industrial and modern styling. It is minimal in terms of 'things', the table is contemporary yet softened by the linen tablecloth and the chrome pendant and galvanized chairs give a modern feel. The earthenware adds character and gives an organic element to the room together with the textured rug. This look would work with flat bare walls too. 
14. Pick country dining room ideas with a contemporary  feel 
Jessica's beautiful country cottage in the heart of the Peak District was quite dark inside when they moved in. There are only windows on one side of the cottage and Jessica's aim was to harness what little light they gave to be reflected back into the room. White was the perfect choice for this and she also finds it has a calming effect on her which is always a bonus! Jessica decided to keep the beams natural to match the flooring so the space didn't feel too stark and her minimalist styling gives a modern rustic look to match her county kitchen which we love! 
15. Add a touch of pattern to a plain space
There's lots to like about this dining room – firstly, the decorative aspect really lifts the scheme. If you love your main wall color and have some tester pots sitting idle, create a stencil or buy one, and add in some contrasting pops of color. It will give the space a new lease of life! The second element we love is the mismatched chairs and rustic table, both create a lovely relaxed feel which is always a bonus and those copper pendants are dreamy!
16. Go for bolder color in your dining room
It's well known that color lifts our moods and you can have a lot of fun creating fabulous color combinations for your dining room that do just that. Take green for example, you can design a whole dining room scheme using different shades of it as shown here. From the teal shutters, to the bottle green dado rail aspect, to the grass green painted chairs and lime green candlesticks and jug. You can use an item to be your starting point - the rug for example, and base your shades around that - we love the pop of pale pink that can be used as an accent. 
17. Embrace the 70' trend
Do you love seeing American diners in films? Why not create your own? This fabulous dining space ticks all of the super cool boxes – the wood paneling, the bench seating, white Formica table and swivel chairs. The pastel crockery adds extra color and look out for a seventies style sugar pot and milk jug. Finish off the room with these fabulous clear glass globe lights that can illuminate your dining experience through to the evening. 
And if you love this look check out all our retro kitchen ideas too. 
18. Turn your dining room into a WFH space for the whole family
With more of us working from home our busiest rooms are having to work much harder. Investing in a good sized dining table will ease the pressure as it can work hard for you and cover all the bases – from breakfast place, to workspace, homework at one end, to a zoom call at the other. And then family meals to end the day. To add a decorative aspect to an otherwise plain scheme, consider an all over pattern on your floor, we love how subtle this looks and it works well with the white walls and prevents the space from looking too sparse. 
19. Create a focal point  with wallpaper
We often consider wallpaper for living rooms and bedrooms, but forget that dining rooms also look fabulous with patterned walls. If you have a light and airy dining space then a bold and beautiful design will work really well. Once you've chosen a design, pull out a colour or two from the pattern to inspire your accessory choices – we love the yellow pendant above the table and note how the mid-century modern sideboard and wooden chairs add warmth to the scheme and tie in with the wallpaper shades. Cohesiveness is key to making a room work so keep it simple and let the wallpaper be the focal point.