Retro kitchens are having a comeback – and with good reason too. The joyful, colourful surfaces, rounded shapes, and kooky details, are an attractive alternative to somewhat vanilla kitchen designs. Retro cabinetry and worktops work very well in small kitchens – making them attractive to small home owners –, while they work a treat in livening up period properties too, for those who want to steer away from keeping everything classic.
In the 1950s, the kitchen moved from being a purely functional space to a more social one. Ergonomics and efficiency became staples of kitchen designs, which now featured space-saving layouts and labour-saving devices. Kitchen units were fitted with streamlined worktops in Formica, celebrated for their easy-to-wipe surface and versatility.
These retro kitchen design ideas, from colourful splashbacks to melamine accessories, will get you inspired – and when you're looking for more kitchen ideas and practical advice on bringing your dream looks to life, check out our ultimate guide.
1. Choose pastel colours for an authentic retro look
Candy hues and pastels are synonymous with the fun of a retro-style kitchen. Cabinets in sherbet pink, blue, green, or yellow are all great choices for creating a retro look, but you can also create a more understated effect by painting just one wall in your chosen pastel shade, keeping the rest of the kitchen neutral and cream-toned, as in this Creme de la Creme kitchen by John Lewis of Hungerford.
For a similar shade of yellow, try Yellowcake by Farrow & Ball.
Find out more on painting kitchen cabinets to update your existing cabinetry.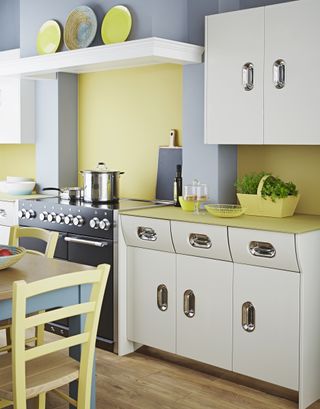 2. Create a retro kitchen diner
The kitchen diner was a popular new way to use the kitchen during the 1950s, with many families choosing to combine the old dining room with the kitchen to create a larger, more welcoming family dining area. Chrome-edged tables with matching chairs became popular and often had wipeable coloured tops.
This kitchen by John Lewis of Hungerford has a breakfast area in cream and chrome. You can purchase similar bar kitchen breakfast stools at Amazon.
Find out how to design an open plan kitchen in our practical guide.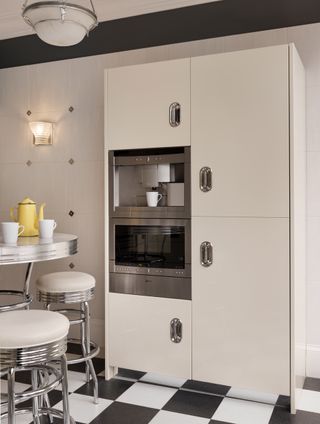 3. Place colourful accents with retro appliances
Retro-style kitchen appliances are an easy way to add a touch of retro chic to your kitchen, without having to invest in retro cabinets. Toasters, kettles, and fridges all come in retro styles. Choose a matching (or contrasting) American-style fridge with rounded edges in a candy shade. You can purchase a Smeg fridge from John Lewis which is synonymous with retro style, but there are, of course, plenty of other options.
Our pick is the delightful Retro Refrigerator in Cream from Gorenje. It is versatile enough to be worked into a more modern kitchen, but will also fit in perfectly in an all-retro design.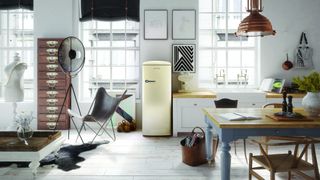 4. Go for cream cabinets with contrasting worktop
Get the authentic 1950s look by choosing modern cream kitchen units with a coloured worktop such as red or blue. A Formica worktop is the best choice for the purists and is available in a wide range of colours from Formica.
The worktop in this Creme de la Creme kitchen from John Lewis of Hungerford is more durable, though no less visually striking. The design is based on the original English Rose kitchen design, which was produced in the UK out of stockpiled aluminium left over from spitfire manufacturing during the war.
You can buy original English Rose kitchen units from and antique specialist or on eBay, but be aware that restoring these units isn't for the faint of heart. They will need to be cleaned thoroughly to remove grease and grime, then gently rubbed down before a re-spray. The units can then be spray painted or powder coated. The best option, however, is to take your prepped old units to a car body sprayer.
Read our guide to choosing the best kitchen worktops to get the right one for your kitchen.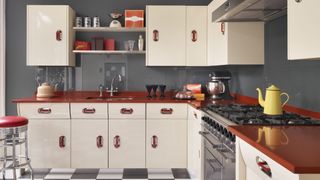 5. Add interest with a tiled splashback
A tiled splashback will work well with a retro design – and you can tile a splashback yourself, if you are on a budget. If are feeling especially creative, you can even paint your tiles (think those pastel shades, or a geometric pattern).
This retro kitchen by Henderson and Redfearn combines bespoke retro cabinets with a classic white tiled splashback.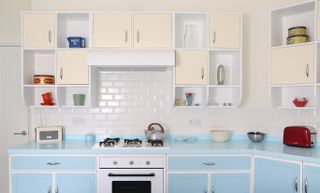 6. Add a monochrome twist with stainless steel
Don't fancy a candy-coloured kitchen, but like the curved shapes of retro designs? Go for a bespoke solution in a different material. In this kitchen, stainless steel gives the retro design an edgier, more industrial look. If it's an industrial-style kitchen you are after, we have loads more inspiring ideas in our gallery.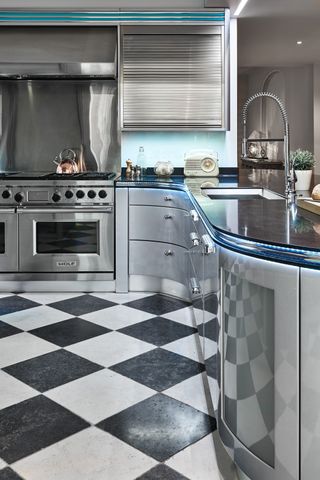 7. Accessorise with retro shelving and prints
A retro kitchen is all about a homely and lived-in look – this is one of the kitchen styles that are amenable to plenty of colourful accessories and wall decorations. There is a wide range of retro kitchen accessories available at Not On The High Street, from 1950s prints to retro kitchen scales and racks.
This retro kitchen is by Henderson and Redfearn and features a colourful shelving unit and framed prints in matching colours.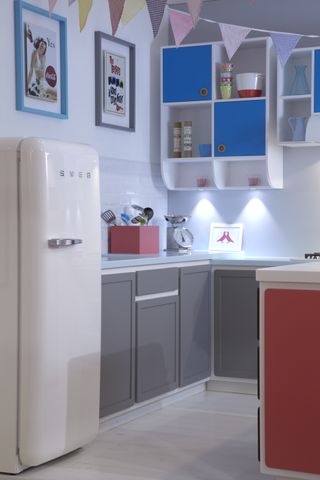 8. Create an authentic retro look with rounded cabinets
Rounded shapes are crucial to the retro kitchen style; from the curved edges of retro-style fridges to the rounded edges of kitchen cabinet designs and kitchen islands, a retro kitchen look should be soft, without any harsh lines.
This Air Kitchen by deVOL showcases a range of retro-style units.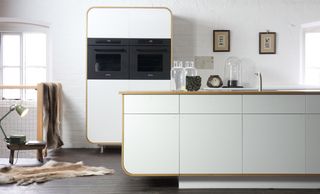 9. Make the kitchen island the standout feature
For a bright and cheerful take on the retro kitchen, consider adding colour wherever you can – this includes the kitchen island. Colour coordinating with bright colours, especially reds and yellows, is an easy way to get the retro look.
We love the cherry-red panelling that transforms the kitchen island into a design feature in this retro kitchen by Henderson and Redfearn.
For more inspiration, check out these clever kitchen island ideas.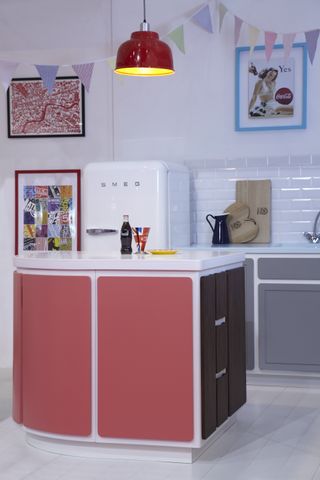 10. Complete the look with patterned flooring
The 1950s ushered in the age of new techno-fabrics – think vinyl and plastic. Durable, versatile, and easy to produce in a range of colours and patterns, these materials helped reinvent kitchen flooring in particular. Vinyl flooring is still a viable option for kitchens – pick patterned vinyl tile for that retro twist, then pair up with a graphic wallpaper for the splashback area. For more ideas, have a look at these patterned floor tile ideas.
This retro-inspired kitchen uses Mardi Gras 95 Dots vinyl flooring by Carpetright.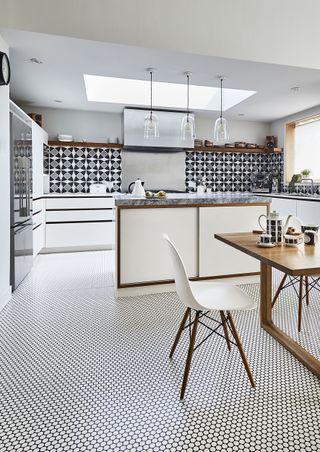 11. Accessorise with melamine tableware
During the 1950s, melamine crockery was fast overtaking bone china to become the tableware of choice for many families. So much so, that families weren't just using melamine for camping trips, but also for dinner parties. Traditional ceramic tableware manufacturers such as Midwinter even designed their own versions of melamine tableware.
Melamine tableware is still widely manufactured and is available from many retailers, including Waitrose and Amazon.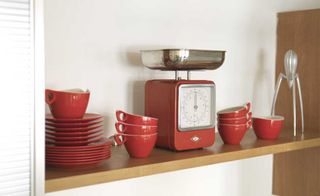 Read more: