Whether a dining space caters to chowing down on a bowl of cereal before work, huddling around with all the family or as a makeshift workspace, even small dining room ideas deserve attention.
Yes, tiny dining room ideas can be challenging to get right. But that's where we come in to show you that a snug scheme can be just as stylish as they are functional. It's all about choosing the right colors, furniture and placement for your space-friendly purchases.
From tablescaping to seating arrangements, let us take your through an appetizing gallery of gorgeous small dining room ideas for gourmands and snack seekers alike.
Small dining room ideas that are snug and stylish
Small dining rooms are typically the norm in apartments and modern new-build homes. Often, these spaces are built in using an open-plan design which can often present issues with rooms blending into each other with a lack of storage opportunities. But, one industry expert has the answer to your problem...
'Love the look of custom storage but tight on budget? Try placing a classic dresser or china cabinet along one wall of any open plan living-room-cum-dining-space to help demarcate zones,' says Nadia McCowan Hill, resident style advisor, Wayfair.
'This narrow framed hero piece maximizes use of vertical space, but is slim in depth so it won't eat into the floor of a less-than-large living room area.'
1. Zone a dining area by coordinating lighting with decor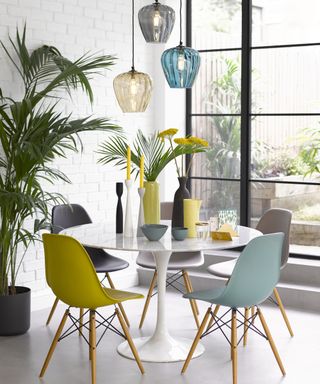 'What's crucial is to create an atmosphere around a table, so that when you have people around for dinner the rest of the room recedes.', says Great Interior Design Challenge presenter, and interiors guru and architect Daniel Hopwood.
We like how this trio of Pooky Lisboa pendant lights are based around the colors of the dining room chairs to zone the area as its own 'room'. The purposely neutral flooring and wall decor allows this small dining room idea to stand out.
2. Incorporate low-hanging lighting for an intimate feel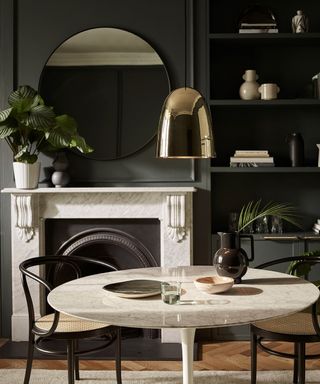 If the thought of dark colors in a small dining room sounds scary, don't panic. Good lighting will ensure the space won't look like it's claustrophobic and caving in on you.
Peter Bowles, founder/MD, Original BTC, explains: 'Often considered the jewelry of the home, good light fittings have the power to lift and complete your scheme in a way that recessed lighting cannot do. Consider not just your light fittings, but how you use them,'
'Try hanging pendants low over dining tables to create dramatic or intimate seating 'zones'. Also, don't forget to consider materials and function – bone china gives a gentle, ambient glow, prismatic glass exaggerates and intensifies light while aluminium or other metals bring a more industrial flavor and greater visual impact.'
3. Add chairs to a built-in corner seat design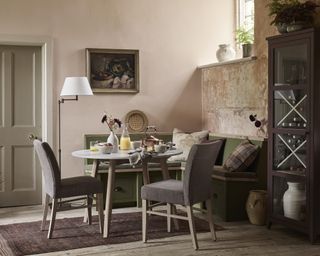 If you're struggling for space, or simply don't have the room to store dining chairs, one way to get around this problem is to create a built-in corner seating idea.
Perfect for kids and adults alike, it means that everyone has a seat, even if all you need is a place to perch. For those who don't have a chair, mimic the comfort of an upholstered back by using cushions to rest against.
'One way to add texture and warmth to your dining room is to include more fabrics and soft furnishings,' says George Miller, home designer at Neptune.
'By placing cushions on seats, draping throws over chairs, and including curtains and rugs throughout, will really make the space feel more cozy and comfortable. Additionally, combining wall seating with your table and chairs can help to create a snug corner for your dining area.'
When you're not tucking into tasty food, it's an ideal spot for a reading nook idea too! If you look carefully underneath the seating, you'll spot some not-so-secret storage compartments for books and bits and bobs.
4. Create a space suitable for shared apartment living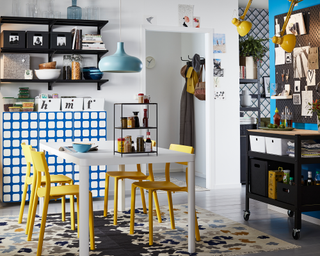 Whether you're looking for university accommodation decor, or moving into your a shared apartment, keep an open mind when it comes to small dining room ideas.
First of all, open shelving ideas, trolleys and lightweight furniture make it easy to grab what you need, clean up, and host a party, whatever the occasion.
Create your own open storage 'pantry' with a couple of sturdy shelves. Placing your most used bowls, glasses and cereal by the dining table makes it easier to grab and go in the morning, so you don't have to wake anyone up to find your favorite mug or plate.
A trolley makes it easy to roll condiments from the kitchen to the table. It also doubles up as a way to transport drinks and snacks when hosting guests. And if you run out of room on the dining table, it's great as an extra side table too!
Perfect for university students, renters or homeowners looking for affordable small dining room ideas, IKEA is THE place to go for foolproof furniture that's easy to assemble...well most of the time anyway.
5. Tight on space? Create a tiny table for two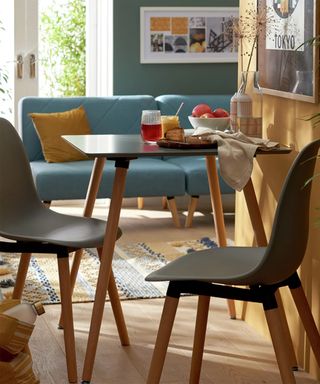 Space can often come at a premium in condos and apartments. But if you don't want to eat your food on your lap or tray in front of the TV, you're in luck.
Designed with smaller spaces in mind, compact dining sets snugly fit into the little nooks and corners of your kitchen and living room to create a small dining room idea.
Opting for a set with slimline table and chair legs is a recipe for success. Better still, if you can stack your chairs after use, you can regain the space you had temporarily 'lost'.
6. Choose a drop-leaf table design to save space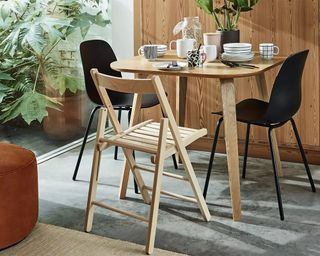 'If your dining table has to double up as your desk, then go for a compact style with a flat side so that you can push it against a wall when it's not in use to give you more room.'
'A table that's extendable will give you even more flexibility, while a drop-leaf style that can open out when you need will really maximize space.' says Eleanor Cording-Booth, interiors writer for John Lewis & Partners.
7. Or opt for a round table for cozy breakfast catch-ups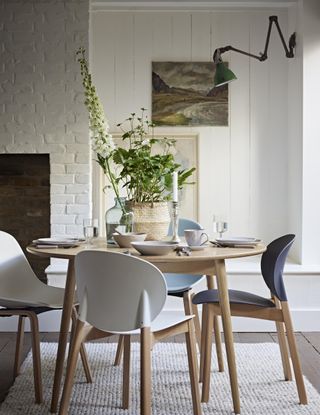 We love a round table, like this – they take up less floor space than a square or rectangular table, which in turn makes a small dining room look bigger. What's more, it's the perfect table for creating a sociable space, and you can squeeze more people around a round table than one with corners.
But can it work in a small home office idea too? Yes, if there's no more than two of you trying to work on it at the same time and they work particularly well in small spaces. These Loft chairs have curved backs for extra comfort and come in two designs and various colors.
8. Squeeze a dining area into a kitchen with a bench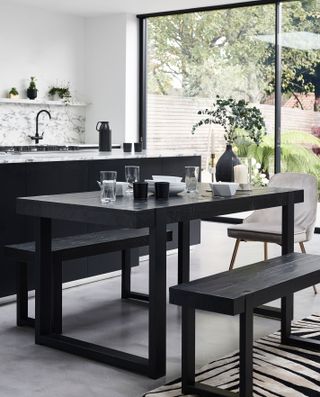 Open plan kitchen ideas lend themselves to a more relaxed feel and this is why this double bench option works well.
But if your layout is already tight on space, benches are a practical choice, too. They take up less space visually than chairs – and if you can tie them in with the kitchen's decor, like in this room by Next, you can create a cohesive look that feels really well put together. Although made of traditional wood, this Jefferson jet black table and bench set look thoroughly contemporary due to the complementary colored metal legs.
9. Pick narrow chairs to seat more people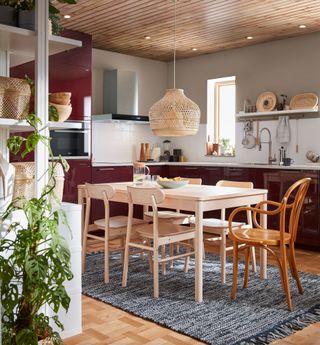 We're not all blessed with a kitchen AND dining room so your kitchen ideas often have to work twice as hard.
Ikea is one of the best ways to deal with small space issues and we love how this dining area has been given more structure with the rug and compact NORRÅKER and RÖNNINGE birch table and chairs. Making sure the chairs neatly fit underneath the table when not in use is key for space saving.
10. Repurpose existing furniture for tight budgets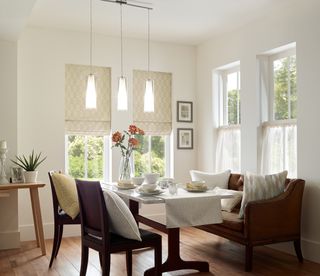 Having a little shift around of furniture can work wonders to improve a space – and using a sofa for one side of a table is a genius idea that we'll be considering in our own homes!
If it's not quite the right height for the table then add extra cushions to sit on – this option by ILIV definitely creates a more relaxed feel and mix and matching different styles of seating creates a more individual look.
11. Go big on color with jewel-like tones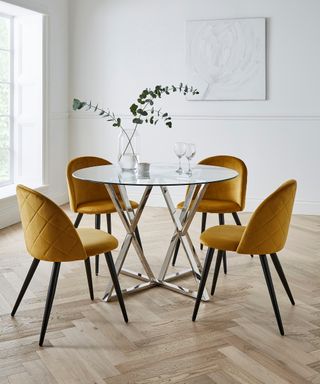 'Rich jewel colours are a timeless interior trend: deeply embedded in historic homes and royal palaces, they have stood the test of time and are still hotter than ever in the world of interiors,' says Nicki Bamford-Bowes, interior designer and founder of & then they went wild and Home Essentials brand ambassador.
'It's not tricky to see why deep emeralds, blues and saffron yellows are still trending in the 21st century; they're bold colours that can be used as accents to add depth to a lighter, neutral room or as wall paint that packs a punch or upholstered furniture for a real statement.'
How can I make a small dining room look bigger?
'A glass-topped table will brighten even the darkest of rooms,' says Real Homes' editor Kaitlin Madden.
'Not only are they easy to clean, but their translucent tops make tiny dining rooms appear bigger and brighter. Oval tables take up far less space, and, with no corners to get in the way, you can squeeze in more seats.'

While Maggie Griffin, founder of Maggie Griffin Design, has other ideas. She says: 'We love using a large-scaled rug to make the space seem even larger. An almost wall-to-wall natural fiber rug (like jute or seagrass) can really ground the room,'
'Consider having a custom table made. Oftentimes, dining room tables tend to be wider than necessary, so a custom-made table made that's around 36-40" wide is preferable.'
Does a small dining room need doors?
'I'd always advise having doors, even if your dining room is small,' says Real Homes' Amy Cutmore. 'Being able to close off the space – say, from a messy kitchen – will be a huge benefit. If your dining room doubles as an office or classroom for the kids, you'll appreciate being able to shut the noise in or out!'
Less of an interior or decoration trend, doors can also completely change the look and atmosphere of a room and should be considered as important as the styling.
'Bi-fold doors are ideal for small spaces as they fold open sideways rather than swinging out (or in) to a room', says Marc Husband, Purchasing Director at Leader Doors.
'Installing them in a dining room can help give the impression of a large open plan space when guests are over, or they can be closed for a more intimate atmosphere.'
'If you look to brighten up the room and allow in more light into your dining room for cozy brunches or festive dinner parties, glass doors and dividers are a great option.'