Whether you've nostalgic memories of eating and conversing with relatives at Christmas, or just really look forward to some guaranteed quality time with family on the weekend, traditional dining room design ideas are the perfect meeting point to catch up with loved ones and share a comforting home cooked meal or takeout.
Dining room ideas can take all sorts of shapes and sizes, but rather than styling your sit-down space with the latest contemporary fashions, sometimes time-honored trends that haven't faded out are the best to save yourself time and money.
So if you're on the look out for a scheme that you won't be stripping down any time soon, take a look at these exemplary examples of tried-and-tested designs.
Traditional dining room ideas to stand the test of time
'Whether you've chosen to make your dining space part of an open-plan room, or the table where every meal takes place in a separate part of the house, the ideas don't end there. Setting the tone for your dining room also has a lot to do with the styling of the table,' says Linda Holmes, interiors director at LuxDeco.
'Ideas for making a more casual dining room statement start with leaving the table undressed. It's the first lesson in how to make a formal dining room feel less formal. When the table isn't set, it makes the dining area feel like an open invitation to sit down and relax,'
'Compare that to when it's set for an occasion, and it feels as though you can't sit down unless it's when food is served – or about to be. Keep the place mats and the crockery at bay, concentrating instead on a floral centerpiece or a decorative bowl placed in the middle.'
1. Mix and match pattern for a maximalist look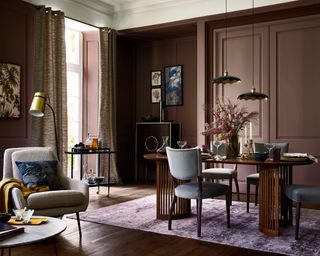 'A bold pattern will set the mood and the color palette so find a wallpaper or fabric that makes your heart sing. If you are planning on plain walls, choose your main pieces of furniture and find a paint shade to complement. Where wood tones are the fixed point, find the optimum color that will bring out their best.' says Helen Stone, interiors writer, John Lewis & Partners.
Sarah O'Sullivan, partner and designer, home adds: 'Hang pendants low to create a soft, moody light, then set the table with a mix of timeless dinnerware and stylish glassware.'
2. Opt for an oak dining set to add a warm family feel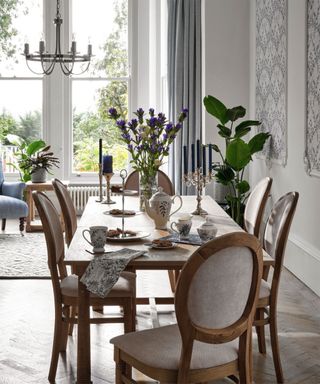 When planning your traditional dining room idea, both comfort and style need to go hand in hand. Because there's nothing worse than trying to enjoy a lovely meal that you've spent hours preparing and cooking, only to get a numb butt mid-way through courses.
Soft, yet structured seating is the way to go, and it means you don't need to spend any of your hard-earned cash on cushions. We love the look of these spoon back chairs from Laura Ashley at Next with their upholstered seats and backs to help you sit up straight at the table without any rigidity.
A handsome, extendable table like this one shown can comfortably seat 6-8 people, so no one misses out. And, the best news is that once it's been delivered to your door, only the legs need to be attached to begin enjoying this piece of furniture. So you can get planning your dinner preparations pronto!
3. Invest in blue furniture for a regal dinner setup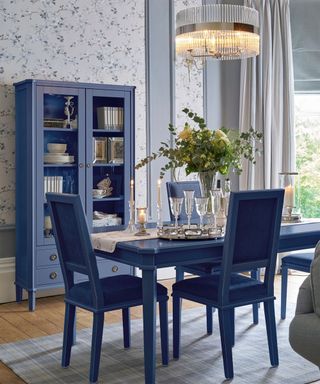 It doesn't matter if you're serving up a casual affair of burgers and fries or a chicken pot pie - every meal time should feel like a royal appointment. So if you want to make supper time something special, consider a co-ordinated dining set and dresser.
This extendable table by Laura Ashley at Next means that you can (quite literally) pull out all the stops to achieve a dining setting fit for King and Queen. Pair with your finest crystal glassware and add long, thin candlesticks for an extra-special eating event.
Opting for the matching Henshaw display unit , you can display your finest bone china crockery and silverware. However, when this room isn't being used as a formal dining room, cram this cabinet with books for an easy home library idea.
4. Add modern twists to a traditional space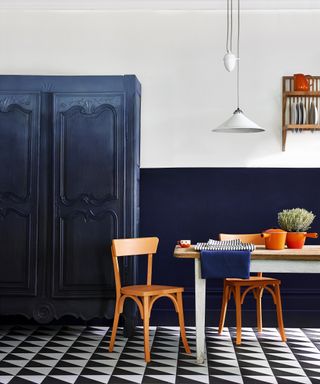 Traditional doesn't have to mean predictable. This space features a fun triangular take on a period black-and-white checkerboard floor pattern. It's a look that can be easily achieved with either tiles or the budget option – vinyl.
This dining room's color scheme is also a contemporary take on the rich dark shades traditionally used in dining rooms.
'A dining space is a wonderful place to be bold or experimental,' says Annie Sloan, color and paint expert. 'This is a room where you want conversation to spark. A rich highly-pigmented blue is a brilliant starting point; bring in joyful exclamatory splashes of clashing orange to harness the best qualities of both shades and make a real design statement.'
5. Pair wood and navy for an old-school feel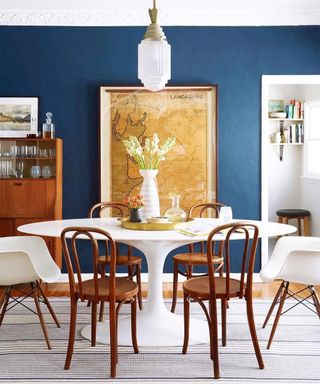 There's something about navy that instantly smartens up a traditional dining room idea. Maybe it's the association with school uniforms, or perhaps the inky blue hue that we link to handwritten study assignments or letters.
Create a richly dramatic space, this Stiffkey blue shade by Farrow & Ball can add a contemporary touch to a previously dusty-feeling dining space. The map on the wall creates a chic academia vibe and can be a talking point to test geographic knowledge at the table.
6. Choose a paint color that changes throughout the day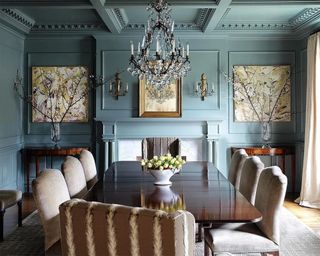 Stuck between a blue or green wall paint idea for your traditional dining room design? We know how hard it is picking a paint color that won't make you nauseous while you devour your dinner. So if your dining area currently looks like a sea of
paint swatches, choose a hybrid hue like Green Blue from Farrow & Ball.
This chameleon-like color needs no other name, it's exactly what it says – sometimes blue and sometimes green depending on the changing light throughout the day. So you'll just have to have breakfast, lunch and dinner in this traditional dining room to see what hue you're presented with!
Keep your other decorations light, so you can really appreciate the subtle differences throughout the day.
7. Warm up a white room with earthy-hued chairs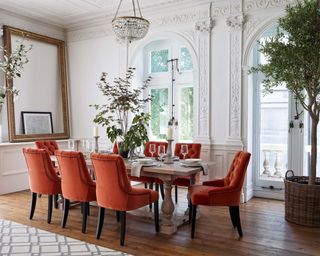 In today's modern world with multi-functional living, it's a shame that formal dining rooms are seldom used. Instead, it's not uncommon to see families eating on the sofa, or kids sneaking snacks into the bedroom. So, more often than not, the safest option is to paint the walls in in a neutral white design.
But, if you don't choose the best white paint for your space, then it can often feel cold and clinical. If you don't fancy repainting your entire traditional dining area all over again, then the next best thing might be to introduce some colorful, yet still classic chesterfield-style quilted chairs in a warm color such as rust or trendy mustard.
Olive and lemon trees in this space add a lovely Mediterranean vibe with a gorgeous zesty and herbaceous scent that'll permeate throughout the room. What's more, you won't have to deal with the wasps or pesky mosquitoes that come with alfresco dining.
Oh, and that large mirror makes the space feel HUGE.
8. Create a DIY focal point using a washing line and pegs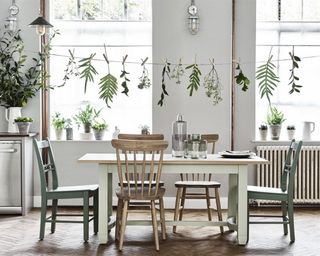 Flowers and plants are a typical feature in a traditional dining room idea. Not only are they visually-pleasing, but they also add a wonderful smell to your eating area - provided you don't have hayfever or other allergies!
This modern take on biophillic decor quite literally brings the outdoors in. To recreate the look, hang a washing line from wall-to-wall and across your dining table. Then use wooden pegs to hang cuttings from various plants found on your forest walks or your backyard.
This can be changed seasonally, using pretty springtime foilage or evergreen winter cuttings. Just make sure that they are affixed securely so that a Holly sprig doesn't end up in someone's meal - no matter how MasterChef that may look!
And it goes without saying, if your pets like to linger in the kitchen in hope of some scraps or a bit of bacon going spare - opt for pet-friendly houseplants in this area of the home to avoid a costly trip to the vets.
9. Pair mahogany and deep blue for a dramatic effect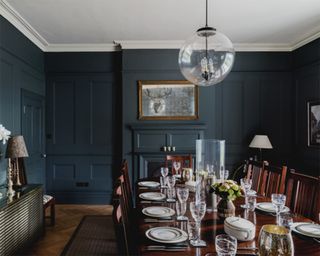 With most of our time spent at work, or in school, traditional dining rooms are mostly used in the evening time when we take dinner.
So turn your last meal of the day into a royal event by combining a dark, moody color with a red-brown wooden dining set. Opt for a color such as Farrow & Ball's Down Pipe to create a stark contrast against the auburn grain of the wood.
This daringly dark hue is fabulous as a background to art, so just like a beautiful wine pairing to food, this shade will sit perfectly behind an ornately-detailed brass picture frame.
10. Opt for a traditional stone floor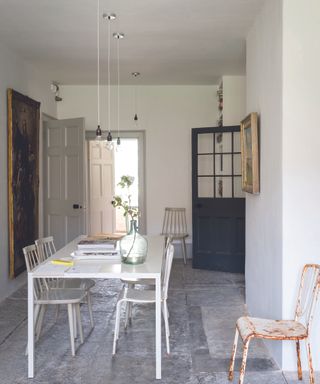 Country-inspired interior design brings the outdoors in and incorporates earthy elements, such as wood and stone into furniture and decor. Whether your house is old or new you can transform it into a characterful country sanctuary.
'Natural stone flooring can be one of the most forgiving floor coverings if the right stone and finish are chosen.' explains Isabel Fernandez, director at natural stone company Quorn Stone.
11. Create a talking point with a surprising feature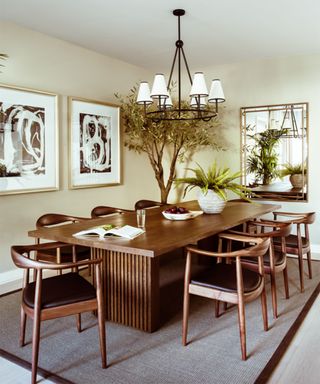 'Every home and design should have some sort of story attached to it. If the design doesn't tell a story about the homeowner, the house or the surrounding area, it can then lack depth and connection,' says Camilla Clarke, creative director at interior design studio, Albion Nord.
'Whether it be a design around an inherited piece of art or a celebration of the classical features of a property, this will help create the soul and character of a home and make it different to any other house,'
'For example we are working on a new countryside project where we are using the wood from a large fallen oak tree that has been growing in the grounds of the estate for hundreds of years to create a beautiful bespoke table in the wine room. By connecting the design to its surroundings, it adds a story of inheritance and character that makes it special and unique from any other design.'
12. Add functionality to your dining room with modular storage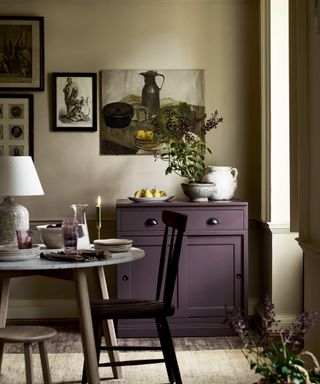 More commonly seen in contemporary dining room setups, modular storage is usually made up of clean, modern designs that are gradually built upon or stacked. But if you're in need of a traditional dining room idea that can evolve into something larger, a piece from Neptune's Chawton collection is an idyllic investment.
This gorgeous berry-colored design is perfect for dark dining rooms, but can also be paired with light beige decor to provide contrast. Dried flowers and oil paintings are welcome additions to create a period-style scheme.

13. Go modern traditional using florals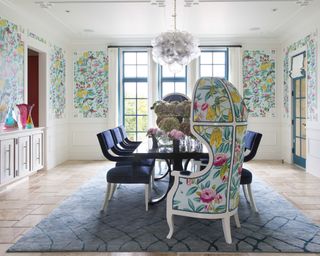 'Dress up the walls. Wall coverings can make a remarkable difference in any room. If you are looking to take it a step further, use a fabric pattern that matches the wall covering on the dining chairs. This will create a custom vibrant look that is sure to dazzle your dining experience,' says Andrea Schumacher, interior designer.
'There's also nothing more beautiful than a well-made flower arrangement as the centerpiece to a curated tablescape.'
14. Incorporate velvet chairs for a luxury tactile touch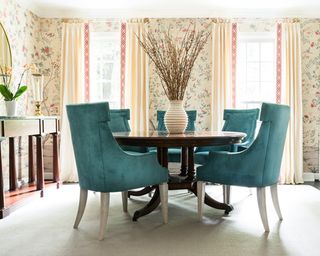 'The color and texture of the velvet chairs are a texture play with the wall covering, which is a painted grasscloth,' says Caroline Brackett, owner of Caroline Brackett Studio of Design.
'We love mixing textures as well as styles, which is why we chose this chair fabric. It brings out one of the colors in the wallpaper and they really stand out in the room. Fully upholstered dining chairs are always more inviting and comfortable in our opinion, and we feel that these chairs beckon you to come sit at the table,'
'The silk drapes with contrasting decorative tape are another way to incorporate a different texture to the room as well as bringing out another color in the paper - the oxblood red which is lovely with the teal chairs.'
15. Think about what's underfoot, too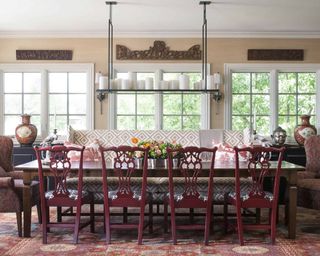 'Using an area rug is a great way to define your space and pull your color from the ground up. Incorporate complementary tones from the area rug into upholstered dining chairs, artwork on the walls.' says Schumacher.
Kristin Bartone, owner of Bartone Interiors adds: 'The most important thing for a dining room is an adequately sized rug that covers the floor under all the chairs, even in the extended position. Many people make the mistake of getting a rug that is too small, or skipping the rug all together.'
16. Use kids art for a fun take on a classic gallery wall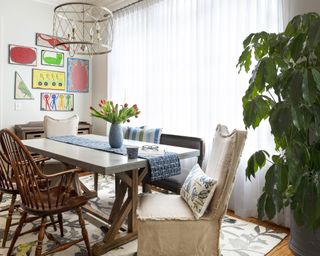 Gallery wall ideas are a great way to show off your interior personality. But as a relatively new concept of curating a set of your favorite framed wall art, it can often look 'too styled' or inauthentic.
Bring a family touch to your traditional dining room ideas by using your kid's artwork from pre-school or a rainy weekend to dress your walls. That way you'll have something that's truly unique to your space, and it won't cost a thing!
17. Don't be scared to use bold colors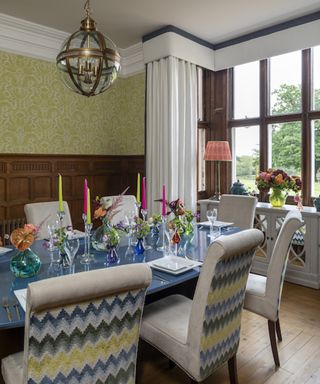 'When it comes to the design elements, for me personally, it's all about color, pattern and personality,' says Emma Deterding, founder and creative director, Kelling Designs.
'As with any room in your home, the dining room should be a representation of your own personality and style, and should be filled with things you love. We are seeing our clients move away from neutral, minimalist dining rooms and choose bolder design schemes.'
18. Create a symmetrical and soothing scheme
There's something aesthetically pleasing about having a symmetrically-designed dining room with an equal amount of furniture mirrored on each side of the room and this white dining room idea is the perfect example of it with its matching dressers, chairs and lighting scheme.
'Our client longed for a soft palette, so we put together a space with soft greens and blues to create a very soothing and welcoming space.' says Mary Maloney, of Massachusetts based, Bees Knees Interior Design.
19. Create an elegant feel with a deep paint shade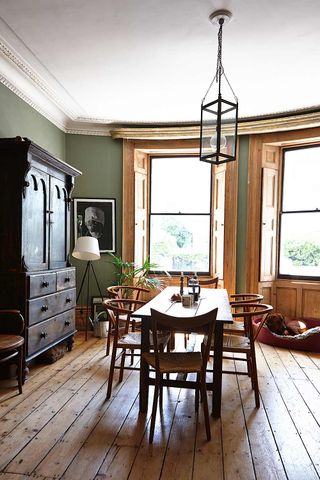 The right paint color can transform any room in the house, and the dining room is no exception. Think about the look you want to create: relaxed and rustic, or smart and formal?
A bright off-white is a fail-safe, brightening option, but we do love greens and reds in the dining room for a more distinctive effect – and if you will mainly be using your dining table in the evening, you can afford to go for a deeper shade.
20. Create an eclectic look with contemporary chairs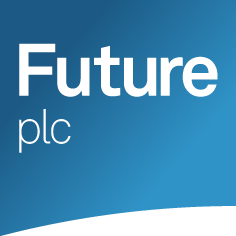 Want to try your hand at combining traditional and modern dining room ideas? The dining room is probably the easiest room to achieve a traditional/contemporary fusion – all you need is light, contemporary dining chairs, matched with a traditional table.
This dining room benefits from a nice contrast between the imposing dining table and modern chairs. Have a look at our pick of the best contemporary dining chairs –most of them will work well as part of a traditional dining room design.
21. Create an exotic design with travel influences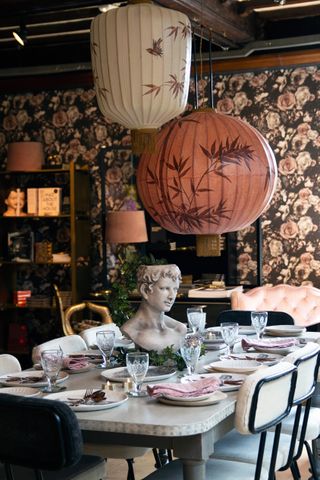 Want a perfect conversation topic over dinner? Travel is not a bad subject to start, especially if your dining room design is a testament to a diversity of cultures and styles.
This dining room cleverly combines Eastern and Western influences; the traditional Japanese ceiling lights and Roman-style bust are both from Rockett St George.
22. Find your own take on a grey design scheme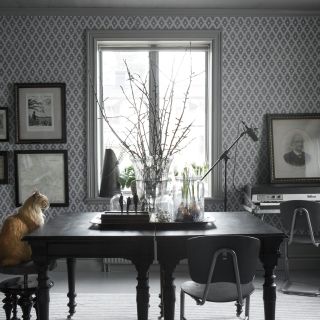 Keeping the design scheme monochrome is one of the easiest ways to achieve a timelessly elegant look. Try a discreetly patterned wallpaper for a bespoke, cozy look. This dining room has been decorated with Viola wallpaper by Sandberg.
But of course, grey wallpaper ideas come in all different prints and motifs, so finding one that suits your traditional dining room design is key.
23. Brighten up the room with a zesty paint shade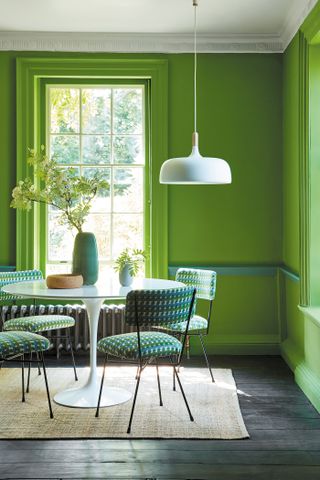 Green is a popular color for traditional dining rooms – it's a soothing shade that makes for a restful room, perfect if your dining room doubles as a breakfast room.
Which shade to go for? The rooms above are in deeper green tones, which is perfect for rooms that will be mainly used in the evenings, beneath artificial light or candlelight.
If you're decorating a traditional dining space that you'll use in the morning, too, a zestier green paint shade will make the room feel brighter and more cheerful. Match it with white and turquoise for a subtle look. This lime green paint shade is from Little Greene and is called Sage & Onions.
24. Add lots of decorative detail for a rustic design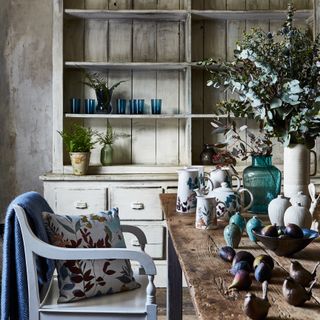 Bring your own personality to your dining room by putting your favorite glassware, ceramics, and even plants on display, You'll need open shelving or a dresser – and then it's just a matter of collecting objects you really like.
Etsy is a great place to start building your collection of ceramics. Or, you could take up pottery yourself to create a piece of earthenware that's bespoke to your traditional dining room design.
25. Make the dining space cozy with printed textiles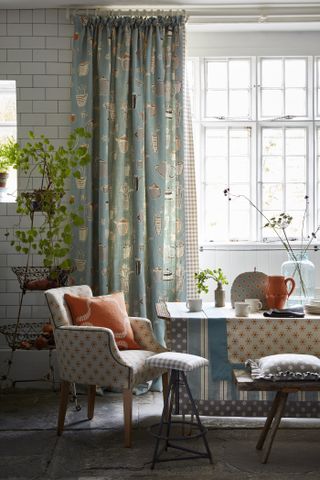 Want a cozy, lived-in look in your dining space? Printed, loosely coordinated fabrics should be on your radar: from colorful curtains to sumptuously upholstered dining chairs, printed textiles are the perfect material for creating a bespoke, vintage look.
This dining room has been designed with fabrics by Vanessa Arbuthnott.
26. Choose stylish window treatments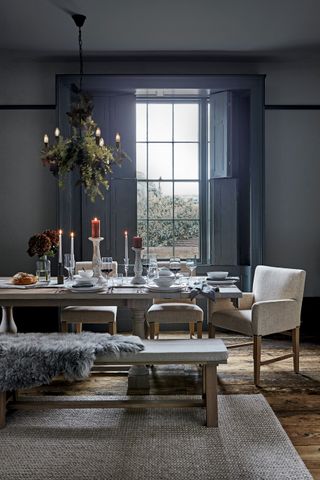 The right window treatment ideas will add style and drama to your dining room, especially if you have a gorgeous, large window you'd like to draw attention to. And for a really grand look, nothing beats shutters.
27. Invest in a quality dining set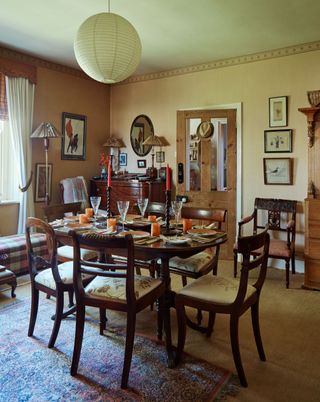 Traditional dining room ideas don't have to be colorful and ornate. You can keep the design neutral and fuss-free, but be sure to invest in a quality dining set, which is the heart of any dining room, traditional or otherwise. Solid wood dining furniture is best for traditional schemes. Personally, we'd start off by looking at the best traditional dining tables.
28. Make the most of a multi-use space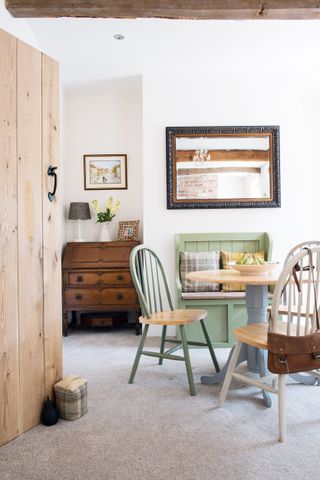 Does your dining room double up as the hallway/living room? Make the most of the available space by choosing compact dining furniture. A round dining table is best, since it has no corners to bump into, and you can squeeze more people around it comfortably. Personalize your furniture for a cottage or farmhouse feel by painting it.
29. Accessorize with table cloths, flowers and artwork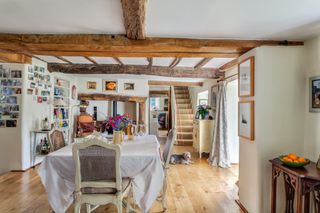 If your dining room is part of an open-plan layout, you'll want to blend its design with that of your living space. Pick furniture that looks equally good in a living room and accessorize in the same way you would in your living space, and you'll create a cohesive look. Use this approach in a dining room-only for a space that feels welcoming and warm, whatever the wall color.
30. Embrace romantic excess with a pink color scheme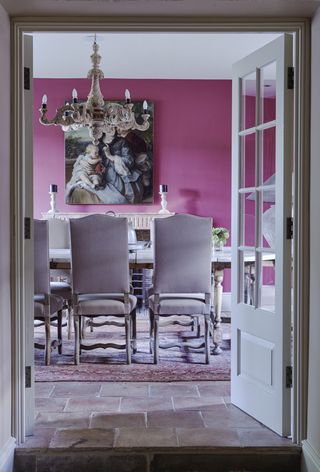 Want to make a real design statement with your dining room color scheme? Choose a less expected, vibrant color for your walls that will instantly personalize the space. Try a color that's usually used in a different type of room (say, a bedroom paint idea) for maximum effect, and complement it with neutral but ornate furniture.
For a similar romantic pink shade try Rangwali from Farrow & Ball.
31. Go boho with lots of shelves and decorations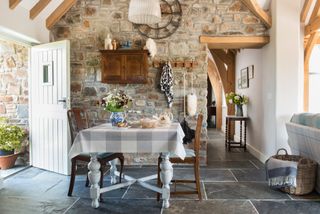 If you want a more relaxed, Bohemian take on traditional dining room style, we have some good news for you: you can forget about the current de-cluttering craze and put your knick-knacks on display instead. A few pictures on the walls, that lamp you picked up in an antiques shop, and a plant garland – hey presto, a dining room that looks lived-in and charmingly idiosyncratic.
Love boho? We have more brilliantly boho design ideas for you to browse.
32. Create a dining area in the hallway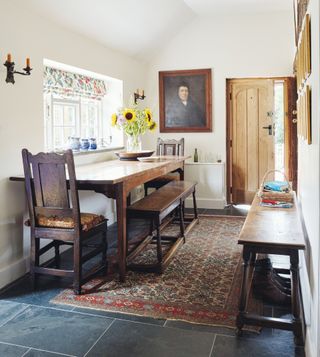 If space is limited, but you still want a separate dining space, think about areas of the home that are underused and could be reworked as a dining area. A wide hallway is definitely a contender – but be sure to choose an oblong dining table to maximize dining space and to make movement around the hallway easy.
This renovated cottage sports an ingenious solution to the lack of space: a hallway idea with a bench for seating.
33. Paint dining furniture for upcycled chic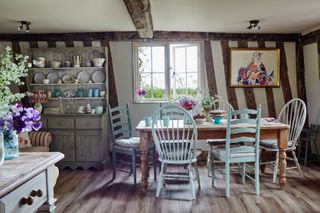 Add a bit of color to your dining room design, and give your old dining chairs a new lease of life by painting them. Find out how to paint furniture in our guide.
34. Experiment with an open-plan layout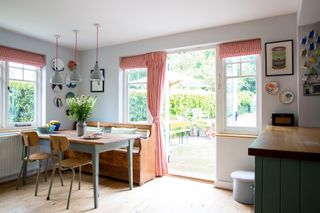 An open-plan kitchen idea can be designed in a variety of ways, and positioning the dining table centrally in the room is just one of them. Symmetry will not suit every room, so think in terms of the space you have and what will work best for it.
We like this traditional dining room design idea created in the corner of this garden-facing kitchen, creating an illusion of more space.
35. Liven up a corner dining space with floral wallpaper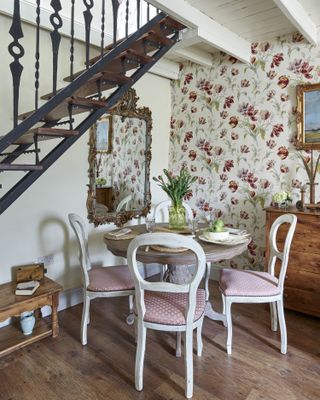 Mini dining spaces tucked away under the stairs or in the corner of a room can look really charming – but you'll need to think of ways to counteract the darkness of these spaces. Brighten up your corner dining space with a bold, floral wallpaper idea; a mirror will also help make the space look bigger.
This dining area has been decorated with Gosford Meadow wallpaper by Laura Ashley.
36. Go all-white for a French cottage look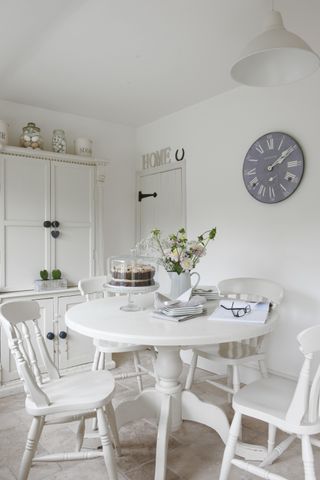 This cottage breakfast room looks very chic, in a summery, Provencal way, thanks to the striking white dining room idea. The doors of the dresser were hand made by the owner, and the table was hand painted with Annie Sloan chalk paint.
37. Get rustic, sturdy furniture to match a cottage interior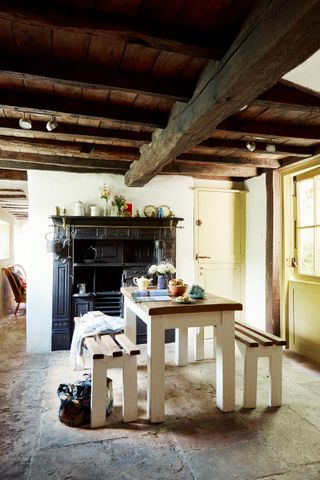 Picking the right dining furniture for a period room is all about proportions – in other words, matching the lines and architecture of your furniture to that of the room itself. Here, a cottage dining room with chunky, beamed ceilings and stone floors needs sturdy, solid furniture to match.
38. Add warmth with wood flooring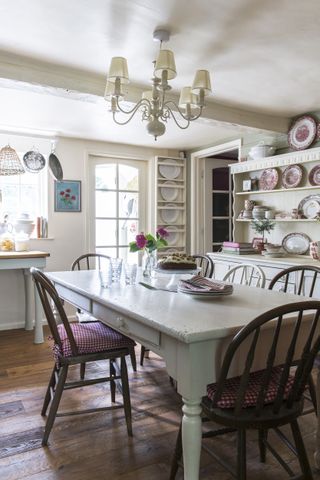 Choosing the best wood flooring is one way to create the perfect traditional dining room design – and it's more practical in the dining room than in the kitchen. Choose rich, dark tones for an authentic or formal look.
What is the function of a formal dining area?
'Formal dining table ideas pivot around how the space is going to be used. If it's purely for grander occasions, this will dictate what sort of table you need. Go with the sense of pomp and ceremony and choose a large, stately, rectangular table that can fit plenty of people around it', says Holmes.
'By the same token, if you're going to be using it more frequently, then it's worth looking at extendable designs that have more intimacy for when there's fewer people, but can grow to host a big gathering,'
'Remember that a circular table feels less formal than a squared edge one, if you want to soften the tone of the room. These will extend into an oval which is a good balance between formal and relaxed,'

'The same advice applies for chair choices – they have the potential to make a formal room feel far more or far less grand. Generally, chairs with arms carry formality.'
What chairs can I use in a traditional dining room?
'Mixing dining chair styles is such a wonderful way to inject personality, and we love using a more traditional armchair with fabric slipcover for the ends of the table, along with a more ladder-back, Chippendale, or Windsor style around the sides.' says Maggie Griffin, founder of Maggie Griffin Design