The past few years have seen us turn to and appreciate nature more than ever before. When the pandemic turned our worlds upside down, nature carried on blooming and gave us something to marvel at and be thankful for every day.
This newfound penchant for the natural world has stayed with us. In our fast-paced city lives, nature can be refreshingly slow, patient, and predictable. The simple joys of discovering the best indoor plants, noticing a new leaf, or watching as the leaves reach out towards the sun, help us to feel grounded, calm, and in control.
'Our desire to reconnect with nature has never been stronger than in recent times. In an ever-increasingly urbanized and technologically-driven world, this reconnection to plants can have a huge impact on mental health, helping people to de-stress and relax, to become more at one with the world,' says Patrick Grattan, owner of Four Store.
Invite nature into your home and create a calming retreat
Incorporating nature into your home isn't just about buying the odd house plant. There is much more to discover in the way of indoor gardening and many other decorative avenues to explore also. Natural, tactile textures can go a long way in making your home feel like a calming retreat. From raw, exposed woods, to fresh linens, rattan, bamboo, cotton, and jute, natural materials are breathable, eco-friendly, and soft to touch.
We've seen an influx in the popularity of nature-inspired wall colors too. From all shades of green to terracotta and sky blues, these earthy shades mimic the relaxing feeling of being outdoors, allowing us to create an earthy retreat, even in the middle of a city amongst the hustle and bustle.
1. Curate a living wall with statement matt black shelves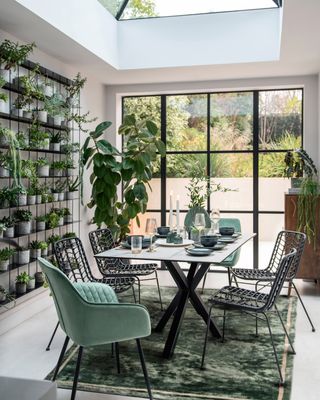 If you're a cacti enthusiast, let your hobby shine with a floor-to-ceiling shelving idea like this that's perfect for positioning smaller pots. This lets your plant babies become like a piece of artwork on the wall, so each and everyone can get the love they deserve.
'Connecting with nature brings peacefulness, and incorporating it into design allows us to bring the natural world into our homes seamlessly,' says interior designer and founder of Interior Kollection, Sanel Konyar.
2. Divide your space with a trailing plant rail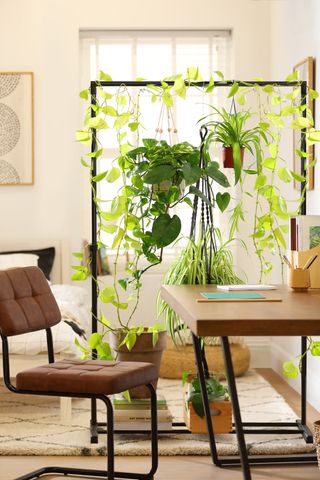 We love a macrame hanging planter, but it can be tricky finding the perfect place to hang them, especially if you live in a rented house. This rail has cleverly been used as a room divider to zone the sleeping and working areas in this room, the trailing plants creating a clear and beautiful wall between the two zones. This earthy and cushioned desk chair and industrial table from Furniture and Choice blends in perfectly with the neutral space.
'Decorating your home with living plants not only releases oxygen and absorbs carbon dioxide, but they have been shown to reduce stress levels and boost your mood,' says Konyar. This makes them perfect for dividing up your home office and bedroom to bring some calm to both areas!
'We always recommend air-purifying plants, for maximum connection to nature. They'll help to remove toxins from the air, which can be caused by cleaning products, for example,' says James Folger, founder of The Stem.
3. Blur boundaries between inside and out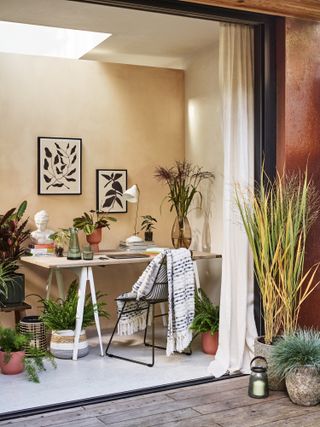 There's nothing like the great outdoors to stimulate the mind and boost creativity, so bring your home office as outdoors as you can. If you're blessed with an office that leads onto your garden or balcony, blur the boundaries between inside and out by leveling your floors and scattering pot plants all over for a jungle-like feel.
'Colors of nature, such as earthy beige, warm clay, and all shades of green have been a firm favorite for this season, however, over the past year nature has become even more important. The outdoors has been an escape, somewhere to go to recharge our batteries or even just take a break from everything. We now want to channel that feeling in our home too, with warm, cozy shades inspired by the natural world,' says Justyna Korczynska, senior designer at paint company, Crown.
Here, earthy shades are used on both the interior and exterior walls, creating a calm and laid-back vibe in the space.
4. Create a beautiful view with photographic art prints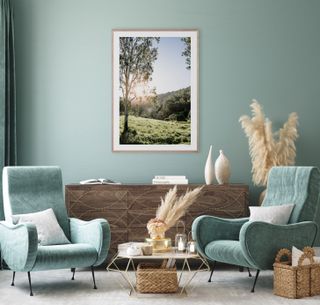 If the view from your window is more urban grunge than natural beauty, insert your own dreamy landscapes with art prints. This relaxing photograph by Lauren Daly gives the impression that you're in the middle of the countryside and is sure to become a focal point wherever it's hung. 'Botanical prints, whether on feature walls or soft furnishings can instantly freshen tired decor and bring a room to life,' adds Konyar.
'With studies showing that time spent in the great outdoors brings numerous health benefits, including stress reduction and increased productivity, the interiors industry has been quick to incorporate natural light and utilize all forms of green, such as plants, furniture, and bold wall hues to make a health-conscious statement within the home,' says experts at Colourtrend. In this green living room, green is used on the walls and furniture to create a soothing living area that is perfect for unwinding in at the end of the day.
5. Bring botanical bliss to your slumber with patterned bed linen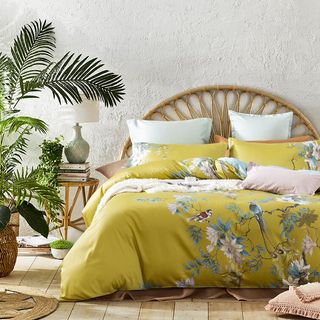 The quickest and most effective way to elevate your bedroom is with fresh bedding. A larger-than-life botanical print in a vibrant, zingy shade like this Juhl bedding set from Wayfair will bring all the citrus, summer feels to your space in an instant. Check out all the best places to buy bedding and you're sure to find one that suits your space.
If you're struggling to sleep or wind down at the end of the day, bedroom plants can help to clean the air in your space for a more soothing and breathable environment.
6. Choose tactile textures for tranquility in a kitchen
'A great way to incorporate the biophilia trend into your home is to choose sustainably sourced natural materials and furniture that connect with the outside world, while at the same time, look after it,' says James Scully, founder of Recork.
When planning a kitchen, choose hard materials found in the natural world. This kitchen combines simple wooden units with contrasting wooden herringbone flooring and a striking marble worktop and backsplash for a space that's bursting with texture and pattern whilst remaining calm and collected.
7. Build a plant shelf into your design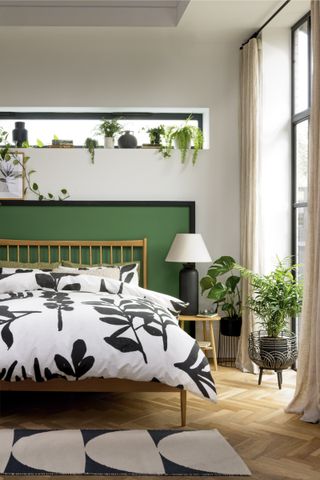 If you're lucky enough to be extending your space, consider where your houseplants will sit right from the start of the planning process. Here, an integrated picture window shelf above the headboard makes for the perfect, light-drenched house plant home and statement feature in one. This monochrome floral bedding set from Habitat gives a punchy and contemporary twist to this nature-inspired space.
"Creating a biophilic design is not just a single appearance of nature like a plant in a corner. It's more about synchronizing the overall habitat into a more natural environment,' says Katie Thomas, founder of interior design company KTM Design. Here the green color block feature wall, wooden hardware and floor to ceiling windows create a calm, restful vibe.
But no matter how many calming shades or houseplants you incorporate into your space, if your space is cluttered, it's never going to feel calm. Bedroom organizers are an essential part of anyone's space, so don't forget to factor those into your design too.
8. Soften up with rounded edges and curved shapes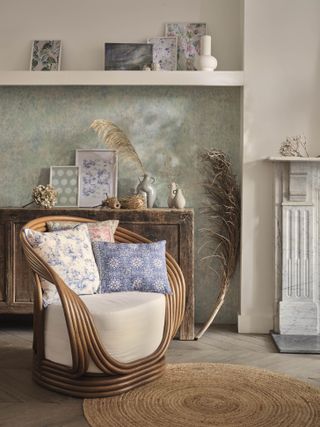 Nature is full of soft, rounded shapes, curvy edges and nonsymmetrical lines, so invite more organic, twisted shapes into your home too. This rattan chair is the ultimate example, the smooth shape creates a relaxed, boho centerpiece for the room. Round jute rugs, curvy stone vases and accessories from the natural world will bring this calm, relaxed vibe to any room.
The best armchairs are the ones that add impact to your space while sitting back with the rest of your scheme, and this design does that to perfection.
9. Embrace the power of pattern with vibrant wallpaper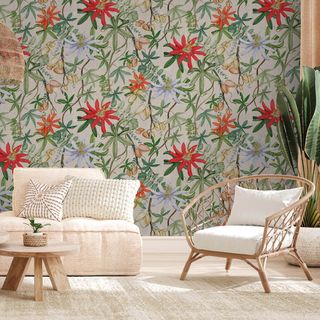 You just can't go wrong with larger-than-life wallpaper ideas and floral patterns are sure to bring the feel-good vibes of nature into your home space. A true celebration of flora, this bold wallpaper brings all the leafy greens and vibrant flowers, without any pressure to keep the plants alive. It's the perfect way to bring lush, laid-back energy to a room.
How can I incorporate nature into my apartment?
Incorporating nature into your apartment decorating ideas is doable, you just have to get creative. If you have a balcony, look to that as your starting point. Hang flower boxes on your railings, and hanging baskets from the balcony above, to maximize the outside space you do have. Align your interior and exterior flooring to blur the boundaries between inside and out, and beckon the outside in.
As for your interiors, maximize plant life with a living wall. There are many types of living wall boxes you can buy – some with in-built watering systems – to add lots of nature without taking up precious space. Hanging macrame planters, introducing natural textures and colors are also easy ways to incorporate nature into your apartment.
What does the term biophilia mean?
The term biophilia originates from Greek and literally means a 'love of living things.' As humans, we are biologically programmed to love nature and to seek out other life forms, in part because finding edible crops is key to our survival. But it's not just about physical survival, we have a physiological need to be in contact with the natural world to boost our wellbeing and happiness.
While more of us than ever are living in big, overpopulated cities, our exposure to nature is dwindling. This is why biophilia has become a trend in the interior design sphere– we're creating ways to bring nature into our home so we can reap the calming, soothing benefits that being amongst nature can bring.