Stunning dining room wall ideas can elevate what is one of the most convivial spaces in your home. Adding colorful decor and aesthetically-pleasing decoration to start conversation and add visual appeal.
Once you've sorted out the fundamentals of dining room ideas – namely a table, set of chairs and lighting – you may still be left with four (or five if you're counting the ceiling) blank walls. That's a lot of room to get creative. From paint and wallpaper, to perfect art picks and more, there are so many ways to decorate your dining space – whether you want a relaxed or formal finish.
Dining room wall decor ideas that wow
'Whether sociable open-plan or cozy standalone, everyday living space or just for occasions, dining rooms come in all shapes and sizes, so why be restricted to one style of decorating?' says Joa Studholme, color curator, Farrow & Ball.
'It's not just the shade you choose, but the way you use it, that creates a versatile, welcoming and visually stunning space.'
1. Match the walls to your curtain design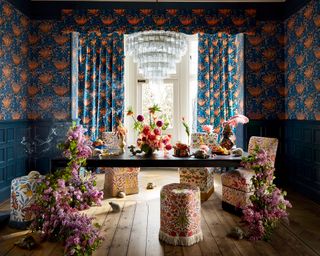 If you're one to throw everything but the kitchen sink at your interiors – this dining room wall idea is for you. Matching your favorite wall decor ideas with your window treatments, and then contrasting these with bold colorful patterns will deliver a moody but maximalist and eclectic look.
'Twisting and turning in harmonious symmetry, the rhythmic colorful curves of oversized flower heads bebop through the decades,' says Claire Vallis, creative director at Sanderson Design Group.
'Originally taking center stage before an adoring c.1905 Art Nouveau crowd, exotic Japanese art influences, mesmerize and mingle, joined by a cast of entwining acanthus leaves.'
'Our energetic reimagination of Pat Etheridge's 1968 Nana celebrates the vision of her original botanic print. Once considered too flamboyant and too risqué for the design world, her trademark bohemian energy lends itself brilliantly to a more liberal time.'
2. Make it a family affair with black and white photos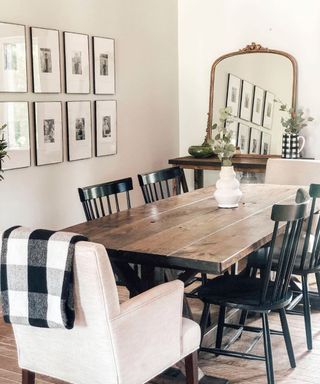 We just love the modern farmhouse feel of this dining room space by Alabama-based, Jennifer Adams. Lots of black and white plaid in the throw and vase pattern, simple black chairs, a solid wood table to tuck into a hearty meal – oh, and that beautifully-framed mirror at the back. Perfect.
But, take a closer look at the walls and you'll see family really is at the heart of this home. The dining walls are plush with monochrome photographs which makes an ideal gallery wall idea if you're looking for something personalized, and that can be switched up super-easily.
Laugh over dodgy haircuts and questionable outfits, reflect on late loved ones and cry with happy tears over memories and pastimes.
3. Create an artistic gallery wall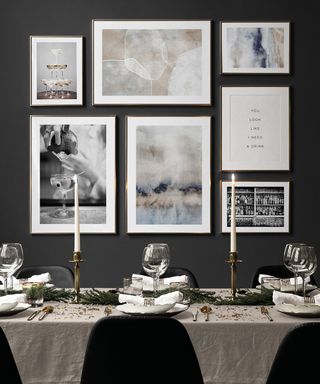 If sourcing family photos or taking them out of albums is just a little inconvenient, turn to the internet for reproduced artwork. It's cheaper and means that you can mix and match different styles, be it slogans, abstract art and famous works to curate your own dining room wall ideas to your taste. We love the Gothic feel of this room with its black wall paint and candlesticks used as the main source of dining room lighting.
'A dining room is a gathering place where loved ones can unite and enjoy food, drink, and good conversation,' says Annica Wallin, executive creative director, Desenio.
'The design of the room should therefore facilitate this; it should feel warm and welcoming rather than stark and empty. A great way to bring warmth to a room is through wall art. Through art prints, you can set the tone of the dining area by choosing a key color scheme, theme, and the patterns that you want to incorporate.'
'Gallery walls are one of the most low-maintenance ways to keep a dining room looking stylish, regardless of whether the table is set or not. Whether you're having a formal dinner for ten or a weeknight meal with your kids, the gallery wall will always anchor the look of the room and keep it looking put together.'
4. Paint up to the ceiling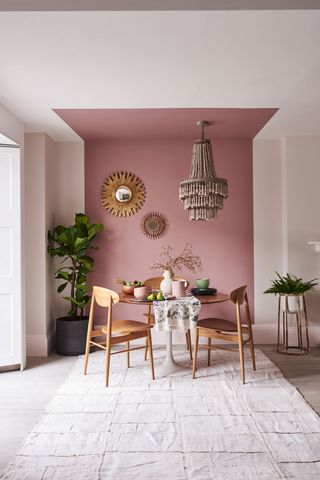 'A quick paint job is the best way to give a well used room a new lease of life - whether you want a whole new outfit for the space, or just an accessory like a feature wall or an eye catching shape painted in a bold color.' says Marianne Shillingford, creative director, Dulux.
5. Use abstract paintbrush strokes to add texture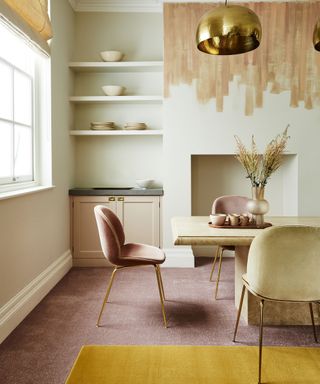 Luxury dining room wall ideas aren't just about neat and tidy lines. In some cases, abstract art racks up at auction, so if you want to make a feminine pink and gold eating area look expensive, add thick paintbrush strokes when painting plain walls.
A quick and easy task, it also adds texture to this space, along with the short pile pink carpet, warm ocher rug, concrete-effect dining table, soft velvet chairs and burnished brass pendant light.
6. Paint over exposed brick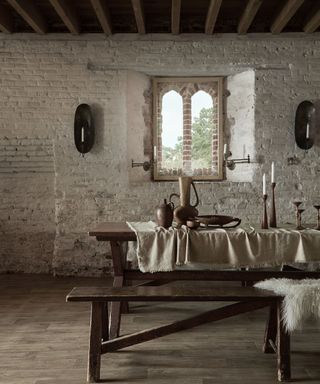 Dining room wall ideas needn't be contemporary. If you're after rustic dining room ideas, exposed brick wall that's been painted over is where it's at. Grab a wooden bench, drape it with organic cotton or linen cloth and style with clay or copper water jugs and candlestick holders for a truly authentic look.
7. Create a diner-like feel with paint and accessories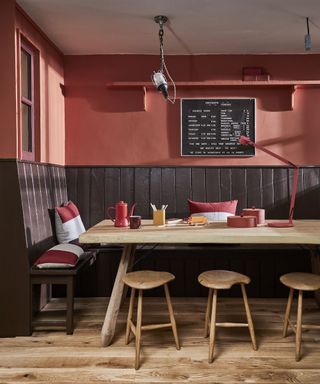 There are all sorts of reasons why you might have to tighten the purse strings and budget. And one of the first things to go when it comes to reigning it in with your disposable income is eating out. Bar the cleaning and washing up that needs to be done – you needn't miss out on the diner-style decor.
We love this half-and-half paint and wall paneling idea in this dining room. You too can create the out-out look inside by following suit. Have fun with accessories like peg letter menu boards and be playful with primary-colored condiment bottles.
Whether it's hotdogs or haute cuisine, this cafeteria-style communal eating space will serve well in your kitchen.
8. Add a neon sign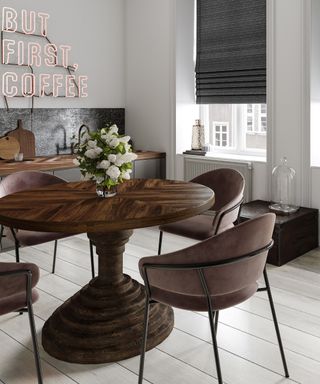 First diners, now cafés. If you want to create coffee shop vibes without customers and dodgy wi-fi connections add a neon sign to your dining room wall ideas. You'll want to pair this order with an espresso-colored dining table ideas and off-white or cream-colored wooden floors to contrast.
9. Frame dining room seats with a painted arch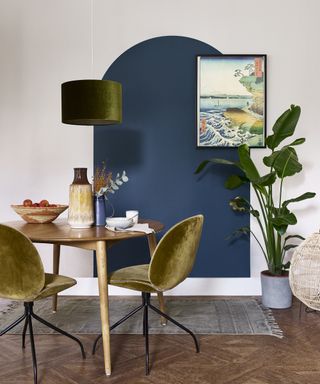 In a small dining room, you might not want to commit to using one paint color in your dining room wall idea – especially if that color is dark. Instead, add interest with a curved or geometric shape.
'Create a cocooning effect for intimate dinner parties, with a rich-colored feature wall, like this arch painted in Dulux Simply Refresh Ink Well.' says Shillingford.
Our very own Jo Lemos has got some top tips on how to paint a wall arch perfectly.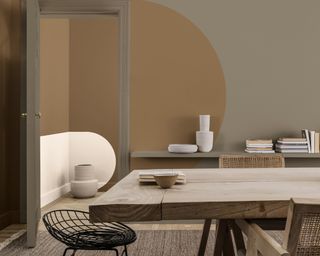 10. Paint your 'fifth' wall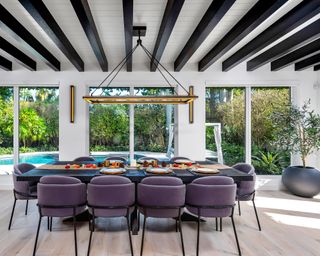 If you're not painting or decorating your ceiling – you're missing an interior trick! No, you don't have to go all Michaelangelo – dining room wall ideas can be far simpler than that infamous masterpiece.
If you're blessed with beams, it's as easy as painting them to cover up the natural wood grain. In this Florida-based design project, we love the contrast between black and white and that statement gold light helps draw the eye up.
'We chose to paint the existing beams in a matte black paint to define the separation between the open floor plan that is comprised of the living, dining, and kitchen area. It also adds contrast and compliments the legs of the dining room chairs.' says Brittany Farinas, principal lead designer, House of One.
11. Add some modular shelves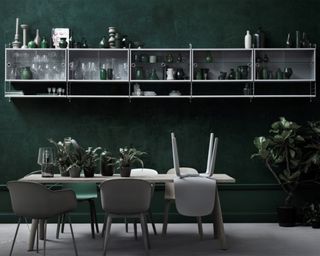 Used to store cups and crockery, open, modular shelving ideas are a fashionable trend that has been inspired by Nordic interiors. We love the light and dark contrast between the forest green walls, grey shelves by String Furniture and the reflective glassware which glisten in the light.
12. Use computer aided design in your mosaic decor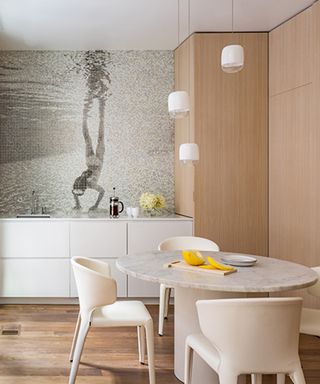 Collaborating with Stern McCafferty, Artaic fabricated this custom mosaic using an image of their daughter during vacation. The minimal design is refreshingly modern, and the abundant sunlight works perfectly with the mosaic backsplash, lighting up the glass tile to make the swimmer sparkle.
They manufacture custom mosaics using proprietary software that uses innovative robotic technology to accurately depict any image or idea through mosaic tile with the utmost detail.
13. Use a wine rack 'wall' to zone a dining space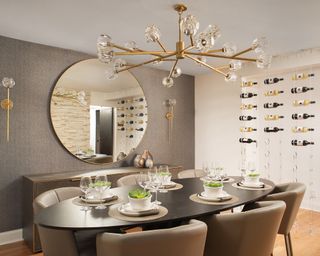 Vinophiles – listen up! If there's a dining room wall idea that's destined for your hosting spaces – this is it. Red, wine, rose, orange or sparkling is the hardest choice you'll have to make in this room. Here a floating wine rack zones off an open-plan space that spills into the hallway.
Lots of other suspended features light the ceiling light, wall lights and large mirror idea all help to bounce light around the room making it feel larger. The latter even creates the illusion that there are far more bottles floating about.
14. Use leftover wallpaper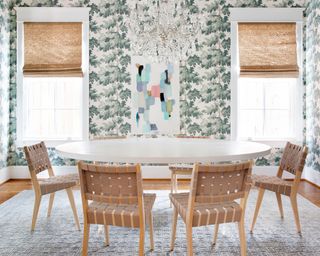 'The client purchased the home with that existing wallpaper,' says Mary Patton, founder of Mary Patton Design.
'It is so pretty, we decided to keep it but chose a modern table and chairs as well as minimal window treatments to keep it from being overwhelming. I would say, don't be afraid of bold colors or patterns in a dining room.'
How can I decorate my dining room walls?
'From whimsical woodland prints to graphic geometrics, wallpaper now comes in such a dazzling array of designs to fit your personal style,' says Nadia McCowan Hill, resident style advisor, Wayfair.
'Think carefully about the mood you wish to create: Lovers of romantic styling might adore blousy blooms or delicate damask prints in soft and subtle shades. If you prefer a more modern look, try optical geometrics which will give your dining room a more clean and contemporary edge.'
How can I decorate an open-plan dining room?
'The breezy elegance of a neutral scheme can work wonders in spaces of all sizes. To keep a dining area from getting lost in a larger open-plan layout, try grounding it with a contrasting wall color or patterned wallpaper.' says Studholme.