Adding an indoor swimming pool
'Cost dictates that an indoor swimming pool only makes financial sense for a property worth £3million or more,' says experienced renovator Michael Holmes. 'For true luxury, the pool needs to be combined with full spa features, including steam room, sauna, hot tub and cold plunge pool or ice house, plus changing rooms and showers. Underfloor heating is a must throughout.'
Before approaching a specialist company, think about how you plan to use the pool – is it for exercise, relaxation, entertaining or spending quality time with the family? 'Key elements to consider at this stage include the size, location, building style, facilities, the desired swimming temperature, and any planning considerations,' says Dave Horne, of Origin Leisure.
How to design an indoor swimming pool
If you're using a specialist pool company, look for a design team that includes architects, structural engineers and planning specialists, along with pool and environmental-control engineers, to make sure you achieve a design that meets your functional and budgetary needs.
Some side and rear extensions to your home as the location for a pool, as well as detached structures within the garden, are allowed under permitted development rights, meaning no planning permission is required. However, the work will have to meet building regulations, and it's best to check with your local authority and planningportal.gov.uk to see what permissions are required. Indoor pools are more cost-effective when housed within a bespoke structure.
Basement pools are another option where space is limited; however, there are additional costs associated with constructing waterproof basements.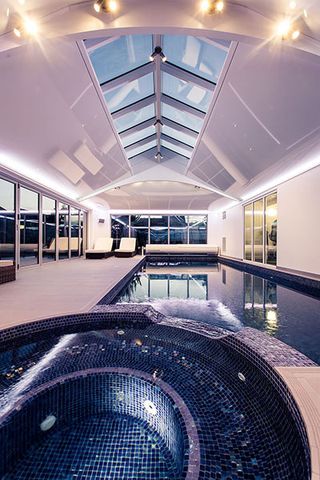 The most popular indoor pool sizes tend to be between eight and 12 metres long and 3.5 to four metres wide, although sizes start at five/six metres in length, usually when equipped with swimming jets, which allow you to swim continuously against a current – great when you don't have a lot of space.
'Indoor pools are most commonly constructed in reinforced concrete block or sprayed concrete,' Dave Horne explains. 'Both of these methods are able to accept a lining system, and mosaic or large-format tiles.'
Indoor swimming pool maintenance
'We all appreciate the importance of regular maintenance on a car, and an indoor pool is similar,' says Dave Horne. 'You want to enjoy your pool at its best and protect the investment you have made, so a maintenance programme can be designed to meet your requirements.' Tasks range from regular water-quality checks and vacuuming of the pool, through to more technical tasks, such as dehumidification system servicing and statutory periodic boiler checks.
How much will an indoor swimming pool cost?
An indoor swimming pool will cost from £1,500-£3,000 per m² for the pool house or room, and £750-£1,250 per m² for the swimming pool itself, including all mechanical and electrical heating, air-handling and filtration.
It means a 50m² pool in a 144m² extension with changing rooms, showers, etc., will cost from £250,000-£500,000.
'Surprisingly, retrofitting a pool in an existing structure can cost more than building an extension due to the demolition and alteration required,' says Michael Holmes.
Adding an outdoor swimming pool
'For a country house in the price range of £2.5million or more, an outdoor pool is seen as an essential,' says Holmes.
'For lower-value properties, the maintenance costs can put potential buyers off, meaning a pool could actually reduce the value of your property, so think twice if you're only installing a pool as an investment.'
How to design an outdoor swimming pool?
The best position for an outdoor pool can depend on various factors, including the orientation of the garden and where it will benefit from the most sun, and the location of any trees, which can cause problems as they drop their leaves. The topography of the land can influence the location, as can proximity to services such as electricity and water.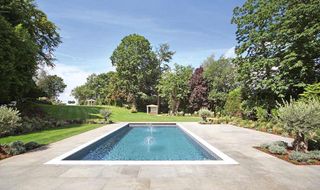 'It's always worth considering the pool surround and paving, too' says Origin Leisure's Dave Horne. 'If you see yourself using the pool area for entertaining in the summer, you will probably want seating facing both the pool and the path of the sun, and possibly a barbecue and dining zone.'
Michael says it is important that a pool's quality be commensurate with the value of the property. 'A cheaply finished pool will detract from a valuable property, while an expensive pool won't add value unless it's in the grounds of a luxury home,' he adds.
Outdoor swimming pool maintenance
Outdoor pools are usually only used from April/May through to September/October. During this time they require regular water-quality checks, vacuuming and filter cleaning. Outside of these times, pools are usually covered over, ready for winter.
How much will an outdoor swimming pool cost?
As a fun pool for children, an above-ground or precast pool can cost just a few thousand pounds – the equipment can be stored in a shed and there is no need for a separate changing room.
A liner pool, measuring 50m², will cost £30-£50,000, plus VAT, and a pool house with changing rooms, showers and an outdoor kitchen, will cost from £1,750-£2,500 per m², plus VAT – so a 56m² pool house would cost between £98,000 and £140,000, excluding VAT.
An outdoor pool built as part of a new dwelling will only be zero-rated for VAT if it's part of an approved landscaping scheme that has full planning permission.
Read more: