Once late sunsets and balmy evenings enter the group chat, my habitat is officially my backyard. Al fresco lunches, afternoon sunbathing, and starlit (or fairy-lit) chats define my summer months and none of these things are complete without decor. Yep, I'm a sucker for outdoor decor, from patio furniture to lanterns and fairy lights. However, the first thing I notice when I step foot in any backyard, from a patio to a balcony is the rug (or lack thereof).
The fact that outdoor rugs are so often overlooked should come as no surprise considering they're quite literally on the floor. However, does nobody care about feng shui anymore?! Extending your living space by bringing the outdoors in and the indoors out, you'll create a sense of harmony and flow almost immediately. Imagine summertime, sipping a cold drink with the sun on your skin, blue skies above you, friends to your side, and a beautiful rug underfoot… that's a multi-sensory yes please if you ask me!
When it comes to choosing an outdoor rug, the first thing to think about is what size you need...
Quick Menu:
1. 8x10 outdoor rugs
2. 5x8 outdoor rugs
3. 9x12 outdoor rugs
A rug is a perfect way to add texture, color, warmth, and character to a small garden, balcony, or patio without breaking the bank. However, when buying an outdoor rug you need to prioritize different things than you would when shopping for an indoor rug. By that I mean, while a tactile experience suitable for bare feet is important for an indoor rug, opt for a less deep pile model to cater to outdoor dirt. Beyond this, don't forget about the weather — is your rug water-resistant or waterproof? This will impact if you can leave it outside all year round as well as its day-to-day functionality.
So, to save you the legwork, I've spent the day browsing the best and have put together a selection of covetable outdoor rugs in a range of sizes, colorways, and patterns! Whatever your personal style, there are so many beautiful rugs on the market, giving you the opportunity to totally personalize your outdoor space without making permanent modifications (renters, I got you). No matter your palette or personality, you're going to fall in love with at least one of these!!
The best outdoor rugs to buy in 2023
Why you can trust Real Homes Our expert reviewers spend hours testing and comparing products and services so you can choose the best for you. Find out more about how we test.
8x10 outdoor rugs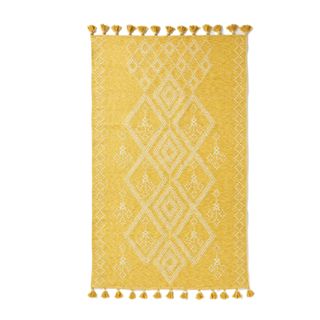 1. Flatwoven Reversible Indoor/Outdoor Rug
Made from: Flatwoven PET
Washable: Professionally clean
Colors: Yellow and white
Price: $478.80
You are my sunshine, my only sunshine, you beautiful Anthropologie rug! Refreshingly bright, the color of this rug alone is enough to put anyone in a sunny mood and transform the dullest of gardens into an adorable summertime hub. I'd love to chuck some boho bean bags around this rug for a chilled-out, backyard picnic set-up.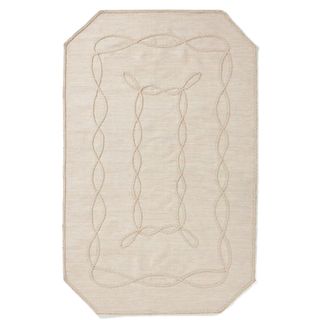 2. Handwoven Soren Indoor/Outdoor Rug
Made from: Handwoven PET
Washable: Vacuum regularly and blot spills immediately with a clean, absorbent white cloth
Colors: 2 options: Natural and navy
Price: $478.80
This rug is just serene. The way the rope detail laces across the front gives it an elevated and sophisticated look, emphasized by its octagonal shape. You can't go wrong with a pale hue, indoors or out, catching the light and making any space feel like a vacation.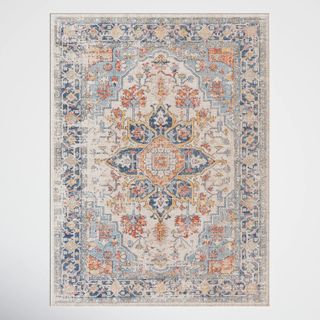 3. Robert Navy/Brick Red/Cream Indoor/Outdoor Rug
Made from: Polyester
Washable: Vacuum without a beater bar or rotating brush
Colors: Navy/Brick Red/Cream
Price: $157
I have this rug and get SO many compliments on it so I'm speaking from experience when I say it's the best outdoor rug ever. Made from polyester, it's super easy to maintain and clean, it's durable and the design is just insanely gorgeous. Rich in color but in a way that resonates with nature, the blues and earthy reds that define this pattern make it perfect for any outdoor space.
5x8 outdoor rugs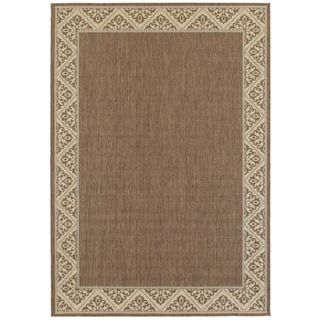 4. Tedrow Flatweave Espresso Indoor/Outdoor Rug
Made from: Polypropylene
Washable: Vacuum With Upholstery Attachment; Spot clean with water
Colors: 5 options: Espresso, grey, navy, charcoal, aquamarine
Price: $65.99
Ahhh I love a pared-back moment with some neutral, cool-toned decor. This rug in the color "espresso" has a chilled-out charm, with an ornate design in an off-white on its border to add intrigue. This is the rug for you if you want to add a rug to your outdoor space for texture and depth but don't want to divert nature's color palette.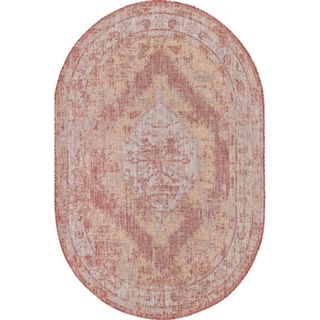 5. Shelly Rust Red Indoor/Outdoor Rug
Made from: Polypropylene
Washable: Vacuum without Beater Bar/Rotating Brush; Spot clean with water or mild detergent
Colors: 4 options: rust red, charcoal, pink, blue
Price: $82.99
Ok, take my money and leave me in peace with this absolutely STUNNING rust-red oval rug. This shape is the perfect way to create the ultimate hosting haven, creating space and encouraging conversation and closeness. What's more, these Moroccan-style rugs are timeless, giving a feeling of warmth and elegance to any space. Rust red and earthy terracotta tones? Yes, pls.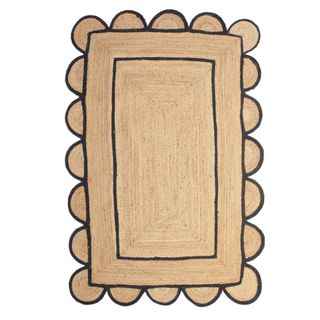 Made from: Jute
Washable: Spot clean with mild detergent
Colors: 7 options: white, green, natural, black, navy blue, sky blue, red
Price: $162

OMG, how adorable is this rug?! Ticking every one of my proverbial boxes, I love its neutral color palette combined with the cute and fun scallop detailing. Adding intrigue without distracting from the color palette of nature, this rug is a winner in my eyes. Oh, but be aware the natural fibers aren't suitable for lots of rain so look after this one.

9x12 outdoor rugs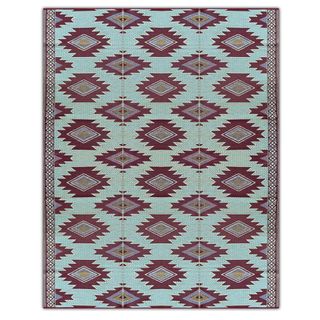 7. BalajeesUSA Recycled Outdoor Patio Rug
Made from: Polypropylene
Washable: Not machine washable but easy to clean
Colors: Red, black, sky blue, yellow
Price: $79.98
There's something about blue outdoor rugs that just works. I love how this color can elevate even the bluest of moods (no pun intended), bringing blue to the outdoors even when the skies are looking gray. This rug really has the wow factor, giving bright, contrasting tones and an electric graphic design! Sure to jazz up any outdoor space, I'd love to see this rug totally refresh a boring patio. Bring life to al fresco dining.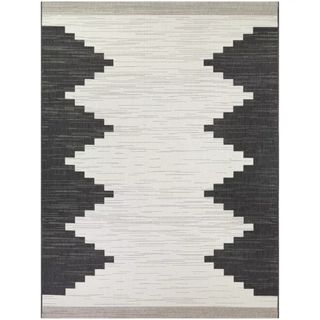 8. Mod Desert Outdoor Rug
Made from: Woven polypropylene
Washable: Spray down
Colors: 2 options: Neutral, Green/Blue
Price: $220
Simple and stylish, this is the perfect outdoor rug for someone who wants to offer monochromatic contrast to a backyard or balcony, without overwhelming the space. I love how the white design in the center of this rug draws the eye in, creating different visual moments in an outdoor space, no matter how small.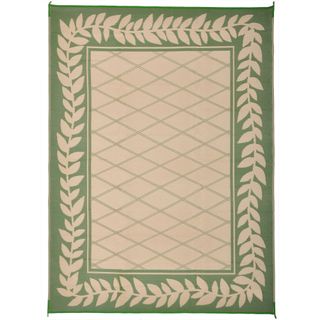 9. Reversible RV Outdoor Patio Mat
Made from: Polypropylene
Washable: Spray down
Colors: 6 options: green, blue, brown, gray, greek key gray, multicolor
Price: $45.95
There's something so soothing about this beautiful green and cream rug. I fell in love the moment I saw it and researching how easy it is to clean confirmed that it deserved a space among the best of the best. Undeniably calming, the soft, sage green that defines this rug is so timelessly popular. It has already sold out in blue so if you love it, act fast.
FAQs
How do you style an outdoor rug?
Styling an outdoor rug is just about choosing the right one for your space. (Or, if you're leaning into the Scandi trend of layering textures for depth and style, you can layer up multiple outdoor rugs — the more the merrier!)
"I would suggest, when choosing an outdoor rug, consider the size and shape of your space," explains Raf Michalowski, Interior Designer and founder of Meble Furniture. "For larger areas, opt for a round or oval rug to create a cozy conversation area. For smaller spaces, use a long runner to make the most of the space."
Raf goes on to advise against skimping on size when it comes to choosing your outdoor rug, "Never go for a rug that is too small for your space, as it will make the area look cluttered. For instance, if the outdoor space is 5x7 feet, choose a rug that is at least 4x6 feet."
What rugs are the best all year round?
I'm a low-maintenance girly and the less trudging my outdoor rug in and out I can do, the better. However, sometimes, (for jute and sisal) I'm willing to bend my rules. Basically, it's important to understand that some rug materials are just simply not suited to the "rain or shine" lifestyle... and that's okay.
"Polypropylene and synthetic fibers are two of the best options for all-weather outdoor rugs, as they are highly resistant to moisture and fading. Look for low-pile rugs that won't mat down in the rain, and opt for UV-resistant colors to ensure that your rug will last for years," explains Raf.
In contrast, Raf proposes that natural fiber rugs, such as jute, should be styled in the shade of your balcony or backyard to reduce color fading. I'm going to stand ten toes down and declare my love for jute outdoor rugs, but I admit if you're looking for that all-year-round durability, synthetic outdoor rugs should be on your radar.
What to consider when buying an outdoor rug
To find the best rug to suit your outdoor living needs, there are a few considerations to know before buying.
Size and location
Before you choose your outdoor rug, think about where you will place it and the size you will need. Outdoor rugs come in all shapes and sizes, so it's important to find the right size for your space. A super large rug would suit big outdoor spaces but will overwhelm smaller patios. Soft-edged, circular-shaped rugs would make a more practical yet stunning alternative. Most rugs can be used indoors so it's great to find a versatile rug to suit both indoors and out.
Material
Quality outdoor rugs are durable, weatherproof, and hardwearing. When buying a rug, it's worthwhile noting what material type is best for your space. Polypropylene is a common material used for outdoor rugs as it doesn't absorb any liquids or stains and makes it mold and mildew resistant. Some modern rugs use jute and hemp materials, while others are made from recyclable materials and are eco-friendly.
Care
Another useful thing to know is how to look after your outdoor rug. After all, you want to ensure you get the best out of it with each use. While most outdoor rugs are machine washable, others can simply be wiped clean or dusted down. It's best to find one that you can easily maintain to guarantee a long life and enjoy all year round.
Where to buy an outdoor rug
Continue your hunt for the best outdoor rug just below.
How we chose these outdoor rugs
These outdoor rugs were chosen based on their customer reviews. All of the outdoor rugs featured in this guide have been rated highly by real shoppers for your peace of mind. We also chose them based on other factors, such as material and price as well as how easy they are to clean.