If you need garden storage ideas, buying a shed, or re-organizing the one you already have, is a great strategy. But when you need small garden ideas possibly because you've no room for a shed at all, other storage solutions are essential.
In fact, even if you are the lucky owner of a shed and you organize it perfectly, it could still not be sufficient so that creating more garden storage is vital. And there is an awful lot to store in the garden. We're talking everything from the mower to tools large and small, the hose, seeds, the cushions for your furniture, flowerpots, compost, the wheelie bins...
We're here to help, though. Take a look at our brilliant garden storage solutions and you can find a place for everything you need to keep in the garden.
1. Discover the power of storage boxes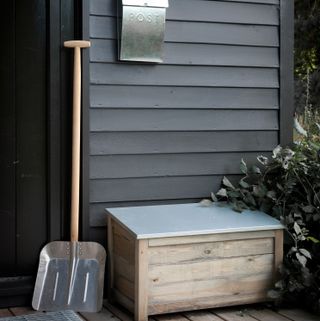 Whether you have a small balcony or an entire garden, a garden storage box or garden storage bench is perfect for keeping all of your gardening tools handy.
If you are looking for storage that will blend in among the flora and fauna, the rustic feel and the light wash of the Aldsworth storage box would fit seamlessly into a corner or against a wall.
2. Introduce stylish garden shelving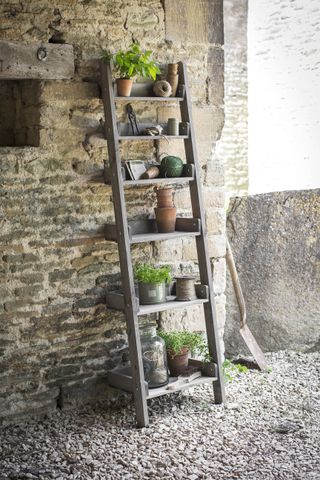 Not everything in your garden needs to be hidden away. Maybe the bulky lawnmower or the tangled hose pipe is best stowed out of sight, but small items such as trowels, twine and watering cans can be used to create visual interest in a sheltered side return.
Shelves or ladder style shelving, such as The Aldsworth Shelf Ladder from Garden Trading (above) or Ikea's take (below), can be both beautiful and practical garden storage.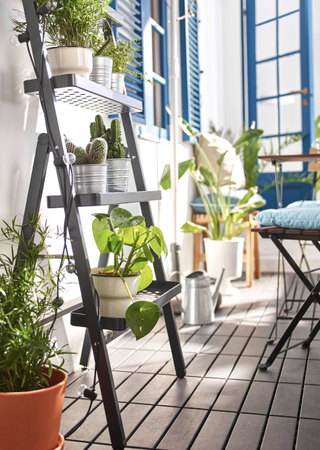 3. Pick a slimline garden storage shed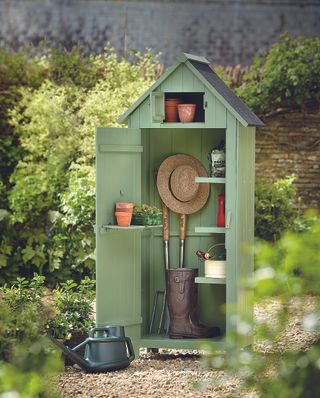 OK, you might be after garden storage ideas because a shed won't fit, but maybe it could if it's cleverly scaled down. It might not be the boho-chic, fairy-light filled, shepherd's hut of your Pinterest dreams but a small, narrow garden storage shed is perfect for storing larger gardening tools. You could even make it into a fabulous focal point by painting it in an attractive shade, or growing climbing plants on it.
This tool shed has plenty of shelves and hooks to maximise garden shed storage potential. The Sentry Shed also comes with log storage.
4. Save space with a garden storage bench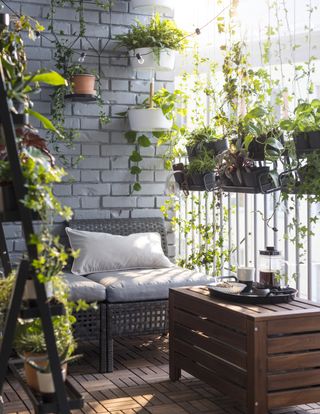 For gardens lacking in space, multifunctional items are the way forward. Invest in garden furniture that can also be used as storage for outdoor cushions, blankets and BBQ accessories.
This bench from Ikea is not only great for storing soft furnishings when it (inevitably) starts to rain but it can also double up as a coffee table.
5. Utilize wall space with wall mounted garden storage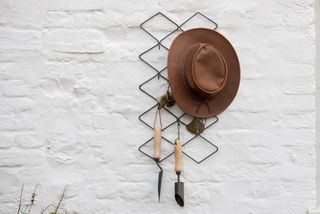 Even the smallest wall area can be put to good use if you're looking for garden storage ideas. Get a ready-made wall storage solution, or add some hooks to a wooden trellis to create an improvised garden tool hanger.
Wall hooks and shelves are ideal for neatly storing your tools and still keeping them accessible. You can find similar garden storage at Garden Trading.
6. Pile up storage crates and baskets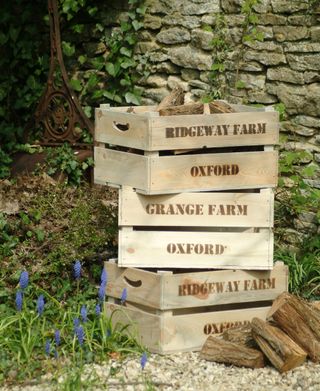 Crates, baskets and even old pallets can be great for storing smaller, everyday gardening items. They are sustainable, too, and will make a great feature in an eco-friendly garden.
Stack up these wooden crates from A Place for Everything, and no one need know that they are actually filled with deflated footballs, muddy boots, and neglected garden tools. That's what we call clever garden storage!
7. Upcycle old furniture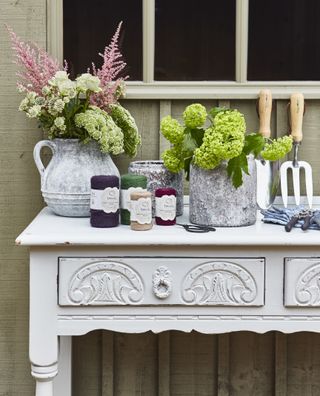 You know that old piece of furniture you have been promising to take to the dump for months? Perhaps it could be put to use outdoors as garden storage instead. A chest of drawers or an old writing desk could be perfect for storing a whole host of items, and provides an extra surface for growing a container garden. Just make sure you use solid wood furniture and protect it well with an appropriate exterior paint, or keep it inside.
8. Make your log storage a focal point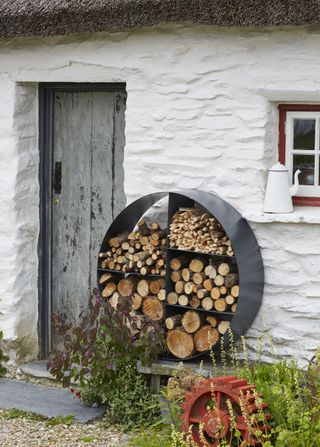 Unless you have copious amounts of room indoors, keeping your supply of logs outdoors is essential. But log storage needn't be purely practical; if you invest in something decorative it can turn a big pile of wood into a beautiful focal point.
The Log Store from The Vintage Industrial has different sections so you can easily organise your firewood and its striking design would make a centrepiece in any garden.
9. Conceal your rubbish bins with bin storage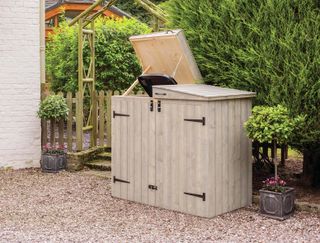 Essential as they may be, wheelie bins don't have any aesthetic appeal, and the last thing you want while dining alfresco is for your view to be spoilt by a rainbow of different-colored plastic bins. Fortunately, there are plenty of garden storage solutions designed specifically to disguise your bins.
The Heritage Bin Store from B&Q can fit two wheelie bins and has lifting lids that attach to the lid of your bin so filling them is easy.
10. Find an arbour with under seat storage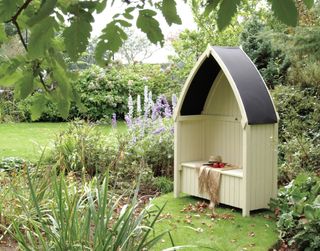 An arbor is the perfect place to relax and enjoy the sunshine – or seek refuge from a shower – but many do also feature handy under-seat garden storage. The seating inside the Winchester Outdoor Arbour from Rowlinson has a removable lid – perfect for storing cushions and throws.
11. Get an outdoor kitchen work station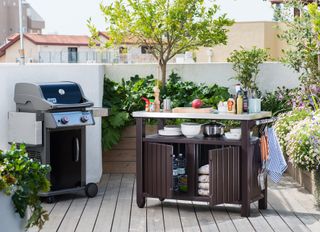 Say goodbye to awkwardly trying to balance plates and glasses on the nearest wall, seat or ceramic toadstool. BBQ workstations provide extra surface space for outdoor entertaining and usually come with plenty of storage for your barbecue accessories.
This outdoor prep table from Keter not only has copious amounts of lockable storage, but it also has a spice rack, paper towel holder and bottle opener. The stainless steel worktop is ideal for prepping, meaning you no longer have to spend the whole of your barbecue party alone in the kitchen!
12. Store compost in plastic storage tubs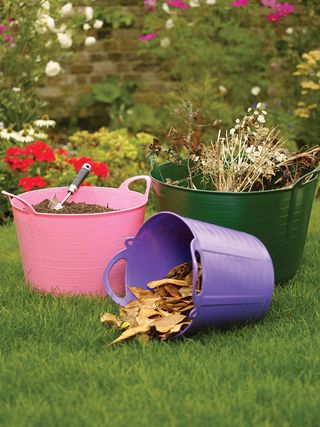 Flexible plastic tubs are ideal for both temporary and permanent garden storage. Use them for hand tools, decant compost into them, collect weeds or leaves inside. You get the picture. They're lightweight and durable, and have handles to make it easier to lug around your garden essentials. You can find similar at B&Q.
13. Make your garden storage portable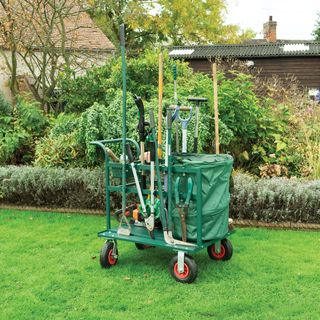 Tired of dragging all your tools around with you as you work? Get yourself some portable garden storage. And no, we are not talking about a rusty old wheelbarrow. There are plenty of garden storage options that conveniently come on wheels.
Go for a design big enough for larger tools plus space for stashing smaller implements. And when you are done gardening for the day you can just roll it away.
You can find a similar design at Dobies, and why not invest in the best gardening tools for maintaining your plot, too?
14. Use a pegboard as garden storage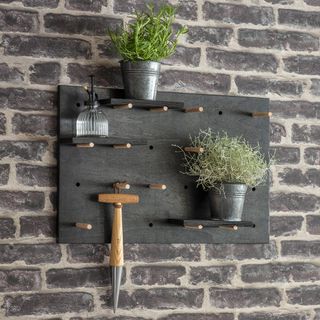 You've heard us rave about pegboards many a time, and we can't believe we only just thought what great garden storage one of these would make. You can use it to store tools, gardening gloves, and even smaller plants. With this Garden Trading pegboard, you get a mix of pegs and shelves, so you can create a set up that suits you.
15. Add some outdoor drawers to your garden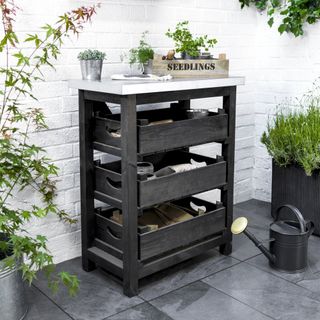 A really stylish way to stash all your gardening bits and bobs, this unit from Garden Trading can be kept in a shed, greenhouse or even on a patio (it is weatherproof). Each drawer can be removed completely from the unit so you can carry a section around your garden. The top would also be a perfect surface for potting up your plants.
16. Tidy up the hose
A hose left lying around will make your outdoor space look messy, and it can hog a lot of room within a smaller garden storage solution. The answer? Hang it where it's needed by the garden tap. We like this Farringdon Tap Hose Hanger from Garden Trading because you don't even have to fix it to the wall. Just loop it over the tap instead.
17. Keep seeds safe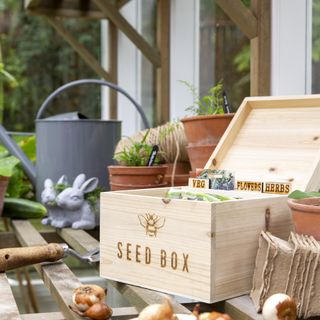 The best garden storage for seeds? This cute Seed Storage Box is a winning choice, we reckon. Made from wood it's durable and good looking (and would make a great gift for a keen gardener). The wooden dividers inside will help keep the seeds organized and easy to locate.
18. Stash tools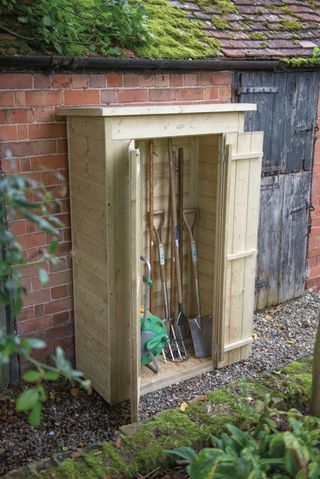 Forks and spades can be hard to find a home for in a small shed-less garden, but this neat little store can accommodate these essentials, plus a broom, a strimmer and even the hose and your wellies.
The Forest Garden Pressure Treated Pent Garden Store from Cuckooland.com comes in a choice of two sizes. It's made from FSC pressure-treated timber to protect it against rot, and has double doors so accessing the contents is easy.
19. Tidy outdoor cushions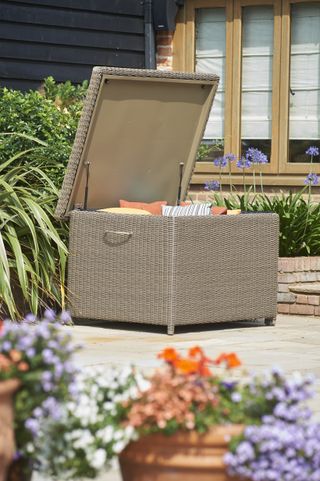 If you've invested in a gorgeous outdoor furniture set, you'll want garden storage ideas to ensure your outdoor cushions stay in great shape. The answer is a Cushion Storage Box like this one from Bridgman. This version is handwoven, and can fit a whole lounging and dining set worth of cushions inside.
20. Store in an apron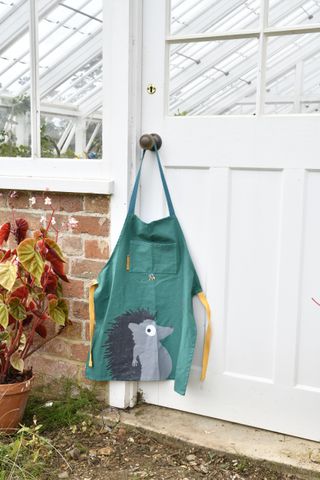 Get a garden apron and you can store essentials about your person as you work in your kitchen garden and around the rest of your backyard for that matter. This version – the Burgon & Ball Children's Apron from the National Trust – lets little ones carry seed packets in the bib pocket, but adult designs have space for hand tools as well. Oh, and whoever's wearing one will keep their clothes cleaner, too.
How do you store garden cushions?
Store garden cushions in a specially designed box like the one in number 19, above. You'll find a whole range of different sizes available so you can size to your needs. You might want a design from the same range as your garden furniture to create a matching set, but there are plenty of other options available, too, that can complement existing chairs and sofas. For a wide choice take a look at the range at Wayfair.
Are garden storage boxes waterproof?
There are garden storage boxes that are waterproof on offer, so you can be confident that whatever you tidy away won't be affected by moisture. Make sure you check the product details before you buy, though, if you require a box that's completely waterproof.
A tidy garden is a happy garden.