With capacity limits at public parks, travel restrictions, and communal pools on lockdown, there has never been a better time to create a beachy escape right in your own backyard. Enter: stock tank pools, the latest DIY trend exploding on Instagram.
Typically made from galvanized metal, stock tanks are intended as water troughs for livestock. Their sturdy construction, built-in drain, and varying size options make them ideal as above-ground swimming pools. (Did I mention you can also paint them for a completely customized, Pinterest-worthy look?)
And, unlike most backyard pools, which can run from $20,000 and up, a stock tank pool can be executed for less than $500. Here's how to do it in five steps.
1. Choose your stock tank
Stock tanks can be purchased at Tractor Supply, Home Depot, and even on Amazon for around $100 to $450. You'll find options made from both plastic and metal, typically galvanized steel. Plastic tanks are typically cheaper and more lightweight, plus they're resistant to rust and corrosion.
But, metal pools are much sturdier, and they don't need an external frame like some plastic tanks. Plus, the metal surface is much easier to wipe clean while you might need to scrub plastic to remove dirt and algae.
Most DIYers prefer metal tanks for their longevity and customizability. You'll also want to consider the size of your tank. While large tanks are better for hosting multiple swimmers at once, smaller tanks use less water. That means, you can easily drain and refill them instead of adding a pump and pool filter.
2. Pick your location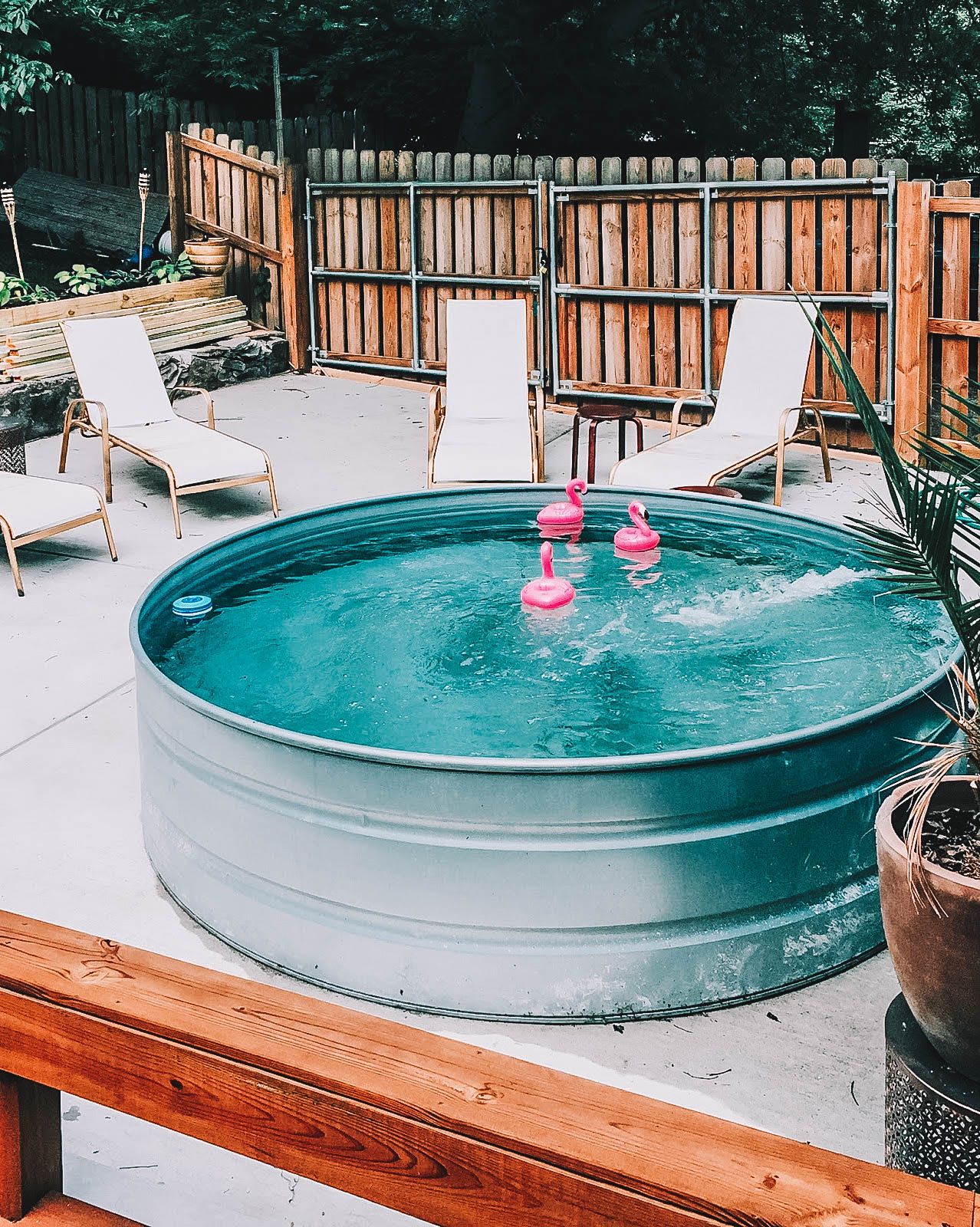 You can't plop your stock tank pool just anywhere. If you're putting it in the yard, you'll need a stretch that is level and free of rocks. You might consider calling a professional landscaper to help pick a good spot or level off an appropriate area. Also, consider a location that has some shade, as a metal pool will heat quickly in the sun.
A concrete patio is a good idea for larger tanks that will have a lot of weight when full. Whatever you do, don't set up your pool on a wooden deck.
3. Add a pump
Unless you've selected a small pool you plan to drain/refill after every use, you'll want to install a filter/pump combo. You can find one on Amazon, Walmart, or through your local pool supplier for $50 to $300, depending on the type/size of pump.
Your pump will come with instructions, but installation typically requires drilling some holes into the tank. You'll then feed the pump hardware into your holes and attach the tubes. This step isn't for those who have never picked up a drill before, so DIY newbies might consider calling in a handyman to attach the filter.
4. Keep it clean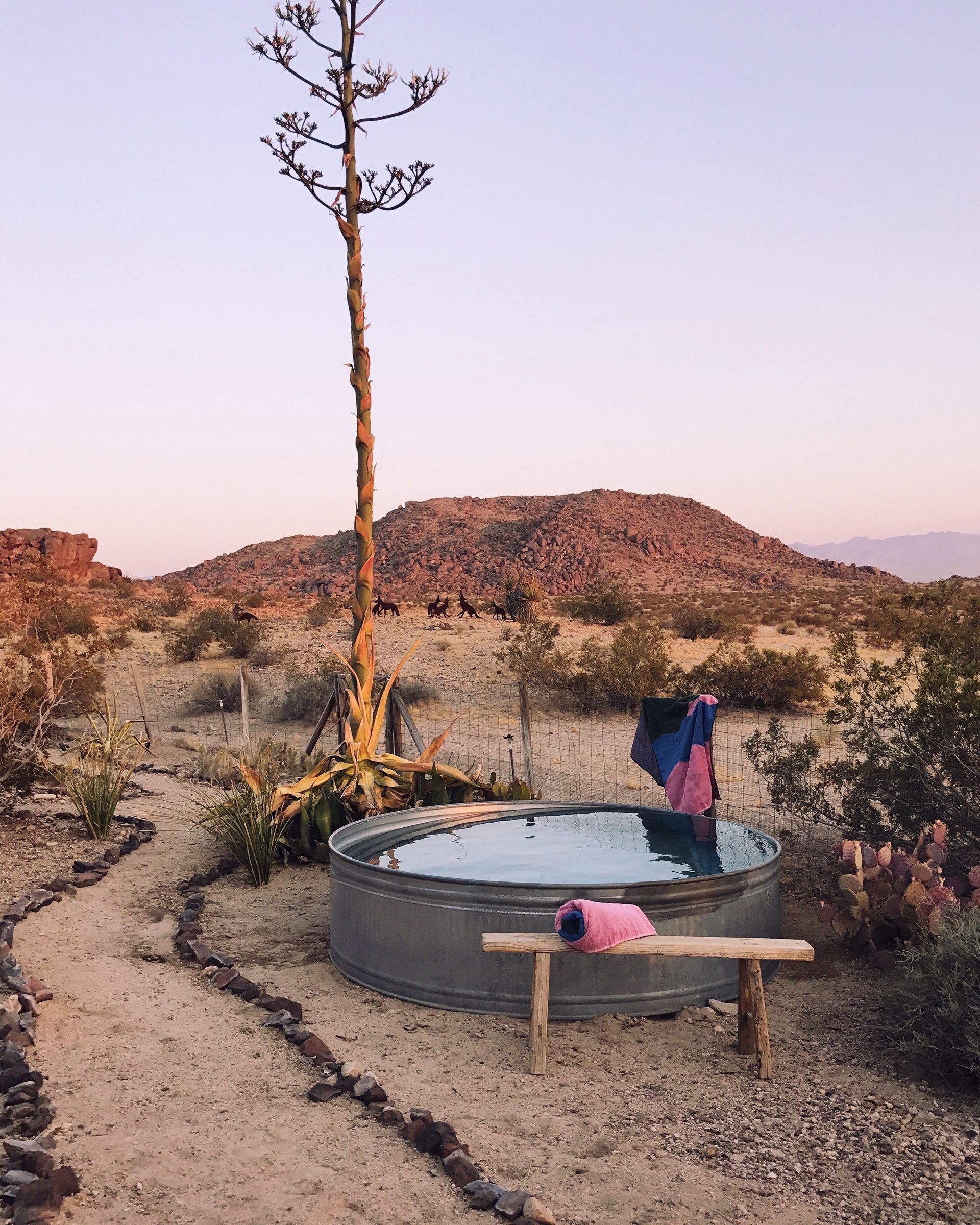 You'll want to use chlorine to keep your stock tank pool clean, just as you would with any other pool. But, chlorine tablets can release corrosive acid into your tank and encourage rust. To prevent this, use a slow-release chlorine dispenser to keep your pool clean without damaging the metal.
5. Make it yours
Now that you've done the grunt work, it's time for the fun part! Personalize your pool by painting it with a paint suitable to coat metal, like Rust-Oleum. Choose a bright hue, add some stripes, or leave the galvanized metal for a country-chic look.
From there, the options are limitless. Some ambitious DIYers add a wraparound deck, or even transform the pool into a hot tub for winter. Another handy idea is to create a comfy border by splitting pool noodles and placing them overtop the pool's edge. Throw in some floaties and it's time to soak!
Read more: