It's officially hot girl summer, and what screams summer more than cooking on your grill? Now, I don't want to hear that you don't have enough outdoor space for a grill because trust me: at one point I thought the same because of my tiny terrace. That was until I tested these portable grills. Now, I'll never look back. Even if I do one day end up owning that grand mansion with a huge wrap-around yard, I think I'll still be using a portable grill. They are just so much less effort than your standard grill, and they're much less of an eyesore. Win-win. Think of a small grill a bit like a small air fryer that you only use when the weather is warm — it's a necessity if you're living somewhere small.
So, I spent the whole of my last summer testing portable grills (and drinking Aperol Spritz) so that I can answer the big ol' question: What is the best portable grill you can buy? Well, depending on what you're after and how many people you need to feed, I've got the perfect grill for you. Out of the ones I tested, the three below were my all-time favorites.
Quick Menu:
1. The best portable grill
2. The best on-the-go portable grill
3. The best stylish portable grill
4. What to consider
5. How we review
Designed to be used atop your table or on another stable outdoor surface, portable grills take up little to no floor space while in use. They also provide enough cooking space to feed a few people, and you can use them to batch-cook food, too. They're ideal if you're not one to use your grill more than 10 times a year, and if you're searching for something that's easy to clean, store and maintain all year long.
The 3 best portable grills to buy in 2023
Why you can trust Real Homes Our expert reviewers spend hours testing and comparing products and services so you can choose the best for you. Find out more about how we test.
Hi! I'm Annie and I've tested all three of these portable grills in this guide. I live just outside the city (London!) and I have a tiny amount of patio space where I reviewed these grills. I've ranked each one based on how well I think it performed and its features. I used these grills to cook everything from burgers to corn and joints of meat, too. All of the portable grills on this list are charcoal, and if you're wondering how to start a charcoal grill, read our guide for help.
The best portable grill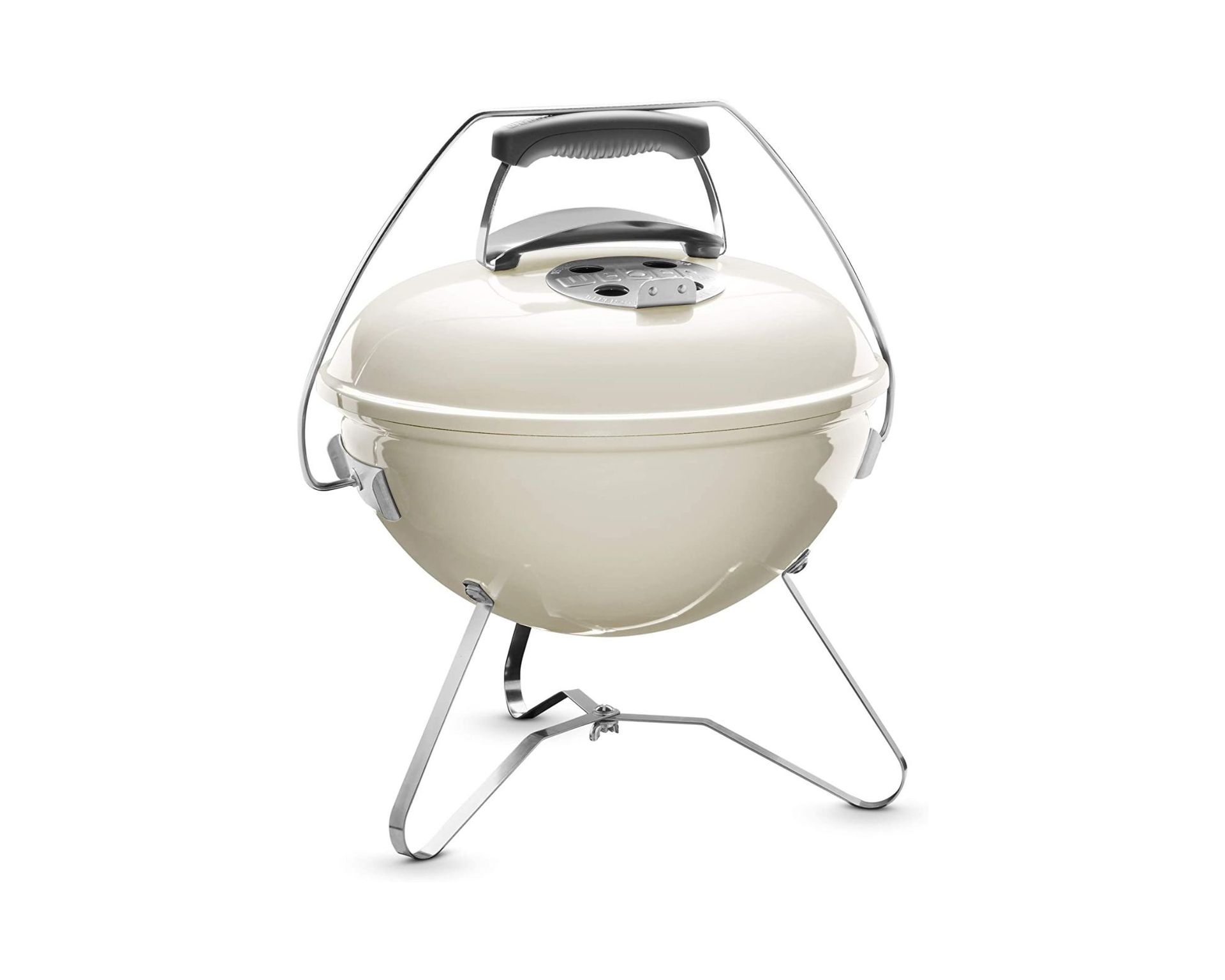 Though compact, this sizeable grill from Weber gets top points from me as it can be used to cook for more than four people at a time. Ideal if you have guests over, I managed to cook eight small burgers at a time on this grill. It's definitely more fitting for keeping at home and using on a small patio or tiny balcony. It also comes in a range of colorways, It's super affordable and takes up zero floor space. Oh, and because you can use its lid while cooking you can control the temperature of your grill and you can use it to cook full joints of meat. In summary, it's a great all-rounder.
In review
I was very impressed with the cooking ability of this small yet mighty grill as we used it to cook everything from burgers to a Tomahawk steak plus kebabs and more. Its cooking space is circular which gives the grill a bowl shape meaning that you can't use it to indirectly cook foods, but no biggie. It was ready to cook within just 15–20 minutes and it stays hot for a good while, so I used it to batch cook for an entire party of people. I loved how the lid can be used while you're cooking or it can sit on the hinge and guard the grill against wind. Its lid also has a damper control so that you can choose how much airflow is reaching inside your grill wasn't a huge fan of its tuck-n-carry lid as It's not as secure as I thought it would be, hence why it's better for use at home rather out and about. If you put charcoal in it for a day trip, I am almost positive it would spill out in your car.
Good to know
It's easy to clean and I put the grates in my dishwasher. It comes with a briquette bowl to measure charcoal with ease. I gave this grill to my parents to use while I tested other grills, and they've left it in their yard for the last year in between uses. It only requires a wipe down before every use and it takes up no space in their huge yard. They say it's perfect for them because they only use a grill a handful of times a year.
The best portable grill for taking on the go
This portable grill is a design statement, that much is for sure. To be honest, it was actually going to go on my wedding gift list so when I was given the opportunity to review one I practically leaped for joy. This is the grill that I still have and use time after time, mostly because it looks so cute on my kitchen shelf when not in use, and it is so convenient. We're yet to take it out of the house and to the beach or park, but it has handles (they get hot!) and it comes with a lid that's also a chopping board plus a plastic food storage tray to hold your buns and more. It gets full points from me for portability, and even more for its stylish design and colorways. To put it simply, it makes grilling a total breeze, whether you're at home or in the mountains. I managed to squeeze up to six small burgers on this grill.
In review
I was skeptical about this one initially as it doesn't have a lid that you can use while cooking. So, it's definitely one for just cooking small pieces of meat and veggies, too. I used it to cook burgers, kebabs, and sausages and they all turned out perfect. I'd avoid cooking any larger joints on there as it will take so long and they will cook a little unevenly without a lid to control the temperature. It doesn't stay hot for as long as our Weber pick, but it's perfect for couples who just use their grill for the basics now and then. I did manage to use it to batch cook and because the design of this grill is a cube, you can rearrange the charcoals once ready to indirectly cook foods, too.
Good to know
Though nice and portable, this is heavier than our other two picks. Also, I found it basically impossible to keep its orange interior clean. The grates I popped in my dishwasher but the orange interior stained fast. Also, do bear in mind that you cannot leave it outside overnight or all of the time. So you need to dedicate some indoor space to it. One of its features that I love the most is that it's just so neat and tidy — the accessories sit neatly inside the grill, with clips to keep everything inside safe and secure. You could definitely fill it with charcoal and take it on a day trip without any worries. Hence why I rated it our best pick for taking on the go.
The best stylish portable grill
This basic grill gets top marks all around when it comes to design. It's rounded in shape and super small (it's the smallest on our list, actually), it comes with a cork lid that doubles as a base, and you can choose from black or white. I loved using it to cook and also found it super convenient to store away. It's pretty perfect for couples or solo gals, especially if you are working with a teeny tiny outdoor space. Or even a shared outdoor space as it needs to be kept indoors anyway and it has a tiny footprint. It brings style and substance to the table (see what we did there?) and I managed to fit five small burgers on its cooking surface at one time. It's pretty faff free and you can't control its temperature, so it's just a case of lighting it and waiting for it to be ready for your food. Though it is the most expensive grill on our list, you can often find it on sale around the $250 to $300 mark, FYI.
Cooking ability
I reviewed this grill last, and while it's quite similar to the Heston Blumenthal model, it's a little smaller when it comes to the cooking surface and weight. I used it to cook smaller pieces of meat plus some veggies and because it doesn't have a lid that you can use while cooking (its lid is made of cork) I couldn't use it to cook joints of meat. Considering its size, it might be best to use this grill to cook for couples or up to four people. I managed to batch cook on it as it does stay hot, but again without a lid, it doesn't last as long as the Weber grill. I liked that its cork lid doubles as a base for the grill, to protect your table. Just make sure that you line up the dips of the lid with the vents to allow airflow while cooking. Though round, the design of the base of this grill is flat so that you can use it to indirectly cook food if you wish.
Good to know
It comes with both a grill lifting tool and a carry strap, but in my opinion, the carry strap was no good. I just couldn't get it to securely hold the grill on my shoulder after multiple tries. It's easy to clean and move around though thanks to its handles, and I popped the grates straight in my dishwasher. You can't leave it outside because of its cork lid and bearing in mind the price tag, you probably wouldn't want to do this anyway.
What to consider when buying a portable grill
1. Size
Portable grills come in all shapes and sizes. Some are traditionally kettle-like in shape and are usually lightweight for easy transportation. Alternatively, portable BBQs can be even more compact with a strap, lid, or even handles to help you get it from A to B.
2. Portability
You've already thought about handles, but also note your grill's weight and if you can buy a carry bag if you'll be taking it out of the house a lot. The lightest BBQ on our list is the Weber Smokey Joe Premium, which you can buy from Amazon.
3. Fuel type
Consider whether you would prefer to cook on gas or charcoal (both have their positives and negatives). And think about how easy this fuel is to carry around. You can fill the majority of portable grills with charcoal before you leave home, providing they have a secure lid. Otherwise, check the side of the compatible gas canister (and the weight of it!).
4. Colours
Those who aren't too bothered about the look of their grill can skip this one, otherwise, there are several grills on our list that get top points for style. Including Everdure's The Cube, and the BergHOFF Leo Tabletop grill, both from Amazon.
5. Extra features
Selected grills will come with accessories that will prove to be handy whilst in use. Consider whether you need these, and if your grill comes with no accessories, think of what you might need (such as a carry bag) and check prices before hitting pay. Also, don't forget to think about how to clean a grill. Portable models by nature are easy to clean.
How we review portable grills
I managed to review all three of these portable grills in the summer of 2023, testing them to feed family and friends on my spacious terrace. I considered everything from how easy they were to use to their design, their portability, and their price tag. I used these grills to cook everything from meat to veggies, and I currently still have two of them and will be using these this summer.