Got great grill skills? You might be considering the cost of an outdoor kitchen. And with so many appetizing alfresco configurations, it's hard not to be tempted to take your dinner prep outdoors.
The best BBQs can be smokingly high in price, but building a space to cook outside needn't be eye-watering if you haven't got a tasty budget to play with.
We put the property experts in the hot seat and got them to answer the all-important questions. So if the thought of an external cook space whets your appetite, tuck into this juicy interview on outdoor kitchen prices, and understand which elements might make your setup more expensive, and where you can save dough.
With no jargon and easy-to-understand comments, the pros put their industry knowledge on a plate for you and manage your expectations on the price of an outdoor kitchen.
What's the cost of an outdoor kitchen?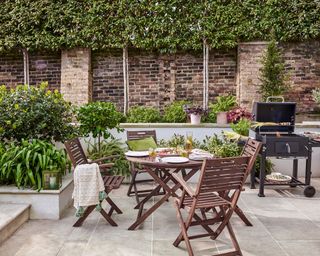 What is the point of an outdoor kitchen?
'The garden is no longer a place merely for recreation and greenery. It has become a real extension of the family home.' says Brendon Haxby, co-founder of Naken.co.uk

'The evolution of outdoor cooking has followed. Homeowners want technologically-advanced barbecues that will not only perform on the cooking front but fit into the home's aesthetics, as well as more options over the kind of food they can cook.'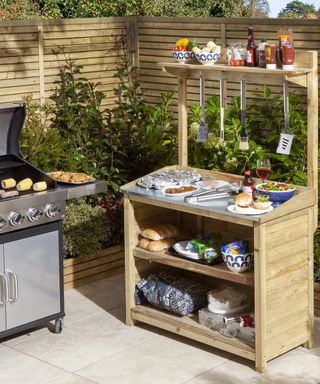 How do I build an outdoor kitchen on a budget?
If you aspire to have an outdoor kitchen in your backyard, courtyard or balcony, you might assume it'll cost a fair few bucks. But, with careful planning, thrifty purchases and a bit of DIY, you can create a scheme that appears more expensive than it is.
'Building an outdoor kitchen on a budget may seem like a daunting task, however it can easily be achieved,' assures Gregory Smith, property expert PriceYourJob.
'Firstly, consider the basics you need for a functioning outdoor kitchen, for example worktops, BBQ/grill and storage. These basics can be purchased inexpensively from hardware and furniture shops.'
'Let your creativity flow and repurpose goods from second-hand stores or even furniture you already have to fit into your outdoor space. Reclaimed wood, pallets and even unused floorboards can be built into your outdoor kitchen without needing to spend on brand new furniture.'
As well as being used to create an outdoor kitchen infrastructure, we can show you how to make pallet furniture, if you haven't got the budget for the best garden furniture for your guests.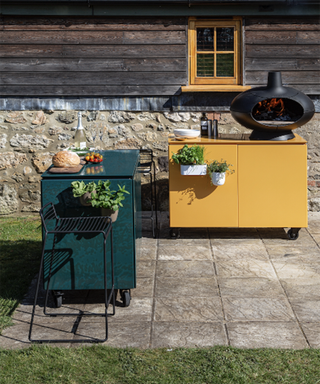 Alternatively – don't think you have to build your external scheme all at once. If you're worried about the cost of an outdoor kitchen, consider a modular setup that you can build up over time. Better still, find something that works both in and outside the home if outdoor kitchen prices seem extortionate.
Speaking of their indoor/outdoor kitchen range (pictured), Ced Wells, creative director at Vlaze says: 'Our ADAPT range, a collection of sustainable modular and freestanding outdoor kitchens and furniture, has been designed with outdoor living in mind. The pieces offer the perfect solution for food preparation and alfresco dining,'
'The units are designed to be the centerpiece to gather friends and family around. Simply wheel into position on your terrace, decking or balcony and you'll have the perfect station for preparing food, serving meals and hosting drinks. Ample storage teamed with ingenious magnetic pots means everything is close to hand.'
'As the name suggests, our units can be built bespoke to suit your exact requirements for your outdoor cooking and lifestyle needs. The units can be built to integrate a sink, grills and Big Green Eggs for an all-in-one outdoor cooking solution.'
What is the cost of an outdoor kitchen plumbing system?
'If you are installing a working sink then you should consider your current plumbing set-up. Keeping your outdoor kitchen close to existing pipes means you won't need to do too much work to install this, resulting in lower costs,' assures Shepherd.
'But, with the correct equipment, seasoned DIY-ers can install an outdoor tap themselves, and this can help save them £100s.'
However, there are regulations and considerations to keep in mind, such as:
Installing an isolation valve, ensuring you can install your outdoor plumbing without turning the entire water supply off
Freeze-proofing outdoor plumbing
Ensuring the taps have a double check valve, to prevent water flowing backwards into your main water supply
'In addition, you must ensure you have the correct equipment, including drills and a drill bit to go through external walls, measuring tape, wrench, and a suitable pipe cutter. If DIY is not for you then hiring a plumber may make things easier. The cost of installing both hot and cold taps cost around £200 for 2-3 hours' worth of work.'
But if your indoor kitchen sink is nearby, and you don't want to install an outdoor fridge, there are thriftier budget garden ideas to keep guests cool with a cold beverage.
Chris Moorhouse, category director, timber, building, decor, garden, Wickes says: 'Whether you want an area to prepare drinks or just store them, you can keep your beverages at the ready when you're entertaining guests,'
'If you have an electrical supply nearby, an outdoor-suitable fridge or wine fridge is a perfect place for your bottles and cans. For a simpler solution, create a space for an ice bucket and keep your drinks chilled all day and all night.'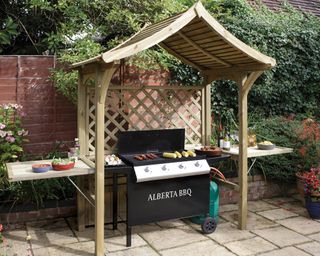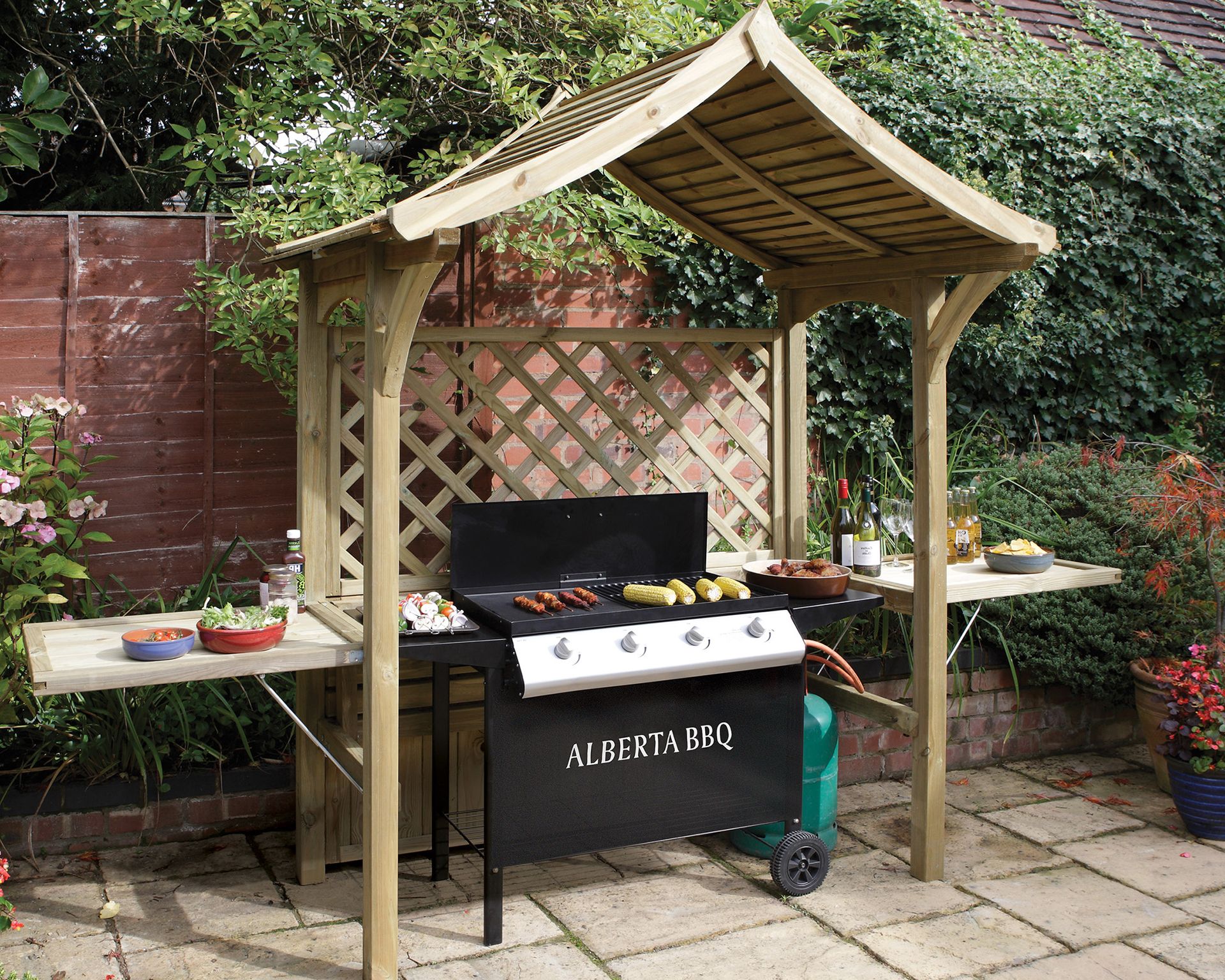 How to keep an outdoor kitchen from rusting
Building an outdoor kitchen and buying the best BBQ tools is one thing, but looking after your setup comes with its own challenges. While knowing how to BBQ on gas or charcoal is an admirable skill to have, you'll need to maintain and look after your grill and gadgets if you want to repeat your barbecue experience of cooking ribs, burgers, corn and the like.
Thankfully, most outdoor kitchen equipment is protected from the elements to stop wind and rain from causing it to corrode. Many retailers will stock stainless steel or aluminum powder coated steel setups. But if you don't want to take your chances, it's worth listening this expert advice...
'The biggest factor to keep in mind is the weather,' warns Shepherd.
'As much as the idea of an outdoor kitchen may seem nice, summer weather can be unpredictable, especially in the UK, meaning you may not use it as much as you imagine. '
If you're worried about the rain ruining your plans, we've got ideas for patio covers galore. And, if clean up causes you stress, our guide on how to clean a BBQ will make de-gunking you grill a piece of cake.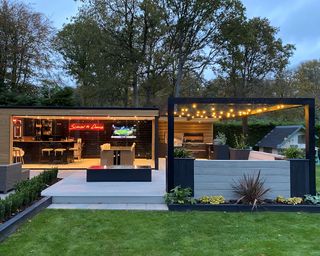 Is an outdoor kitchen worth the money?
If you know how to light a BBQ properly and frequently use it to char-broil foods, you could be getting more bang for your buck, compared to those who use their setup sparingly. So if you're out there the minute the sun is out, consider an outdoor kitchen a worthwhile asset.
Digging into the debate in more detail, Shepherd says: 'This is entirely dependent on how often you will use it and how much you intend on spending,'
'From an investment point of view, it depends on the finish of the outdoor kitchen on whether you will see a good return on your money. For example, a fully-equipped outdoor kitchen, that looks sleek and doesn't seem difficult to clean, will add value to your property, whereas a kitchen not done to a high spec, say on a budget, may not add a significant amount of value to your home.'
And commenting on the fruits of your labor, Gian-Carlo Grossi, managing director at Roofing Megastore concurs. He says: 'Having [an outdoor kitchen] could increase the value of your property by up to £6,500 on average. A garden bar, pergola and built-in pizza oven all followed as features which could increase your home's value by between £4,900 and £5,600.
So if you want to make some money selling your home, discover our DIY garden bar ideas, and ideas for pergolas, including how to build a pergola yourself.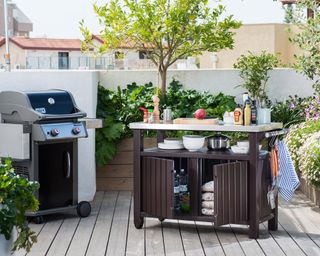 How much does a small outdoor kitchen cost?
The cost of building your dream scheme can tot up quite quickly. This is because outdoor kitchen ideas require hardy and durable materials in order to withstand changing temperatures and seasons, naturally resulting in higher costs.
On average, a small garden idea is expected to cost around £4,000 altogether, however, this is dependent on factors such as:
Finish of the kitchen
Exact size
Number of appliances you decide to include
With clever use of the space, even the coziest of external kitchenettes can house the best pizza oven for quick and cheap dinners. Or, consider a portable BBQ that can sit on your patio dining table and be put away once cooled and cleaned, with modular equipment with wheels.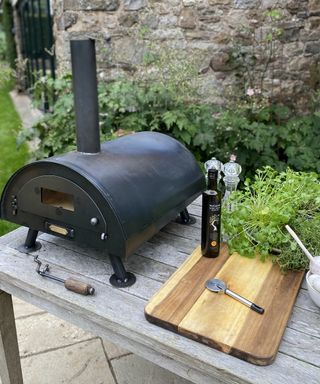 'The Tabletop Pizza Oven (from The Cotswold Company) is ideal for small gardens and balconies as well as larger spaces and is a great option for al fresco garden parties,' says Paul Deckland, buying director at The Cotswold Company.
'Sporting a unique, industrial-inspired aesthetic, the tabletop pizza oven evolves over time to form a rusted patina, giving it its own unique appearance.'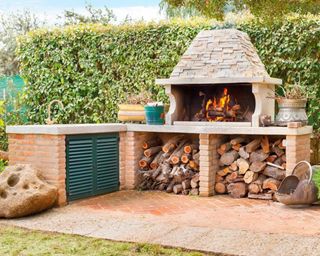 How much does an outdoor grill cost?
This all depends on how extravagant or expansive your BBQ area ideas are.
Depending on your DIY knowledge, building an outdoor grill can be done relatively simply and inexpensively. To build your own brick BBQ grill can cost a fraction of the price of a brand new BBQ, as the materials you will need can all be either purchased inexpensively from hardware stores or can even be found on websites such as Facebook marketplace and Freecycle:
Barbecue grill set
Bricks and brick sets
Cement
Sand
Trowel
Shovel
Paving slab
Moorehouse says: 'When it comes to cooking, choose something that suits the size of your space and your budget. It can be as simple as a standalone barbecue sat next to your worktop, or as high-end as an integrated grill or pizza oven.'
'Consider what you like to cook and let it influence the kind of cooking setup you create for yourself. As well as a functional choice, it's also a stylistic one. Choose between modern grills that offer a sleek, contemporary aesthetic, or a rustic brick oven for something more classic.'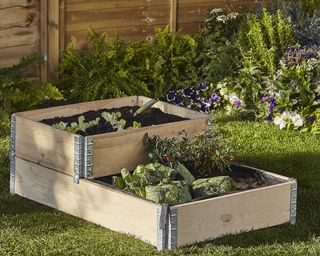 As well as showing off your best gas bbq, remember that your garden is a place where greenery grows too, and that might include ingredients or garnishes for your meals and drinks.
So if you have the space, why not zone your backyard and create a kitchen garden area? This way you can access to the freshest herbs, fruits and veggies for a quick side salad or grilled fruit dessert to cleanse the palette.
Or if space is at a premium, we can show you how to make a raised bed for homegrown, organic fare that kids will love to pick or pull out of the ground. This Verve Small Raised bed kit 0.48m², sold at B&Q is as cheap as chips and ideal for growing items like lettuce and tomatoes.