Learning how to build a raised garden bed can open up so many opportunities for the amateur gardener.
From trying out easy-to-grow vegetables to becoming a self-sufficient food grower, raised beds are great whatever your gardening ambitions. What's equally great about them is that they are so easy to make yourself making them a winning garden idea.
This guide takes you through the process of building a raised garden bed, as well as answering many of the common questions about the best materials to use, positioning, and maintenance. Ready to start your own kitchen garden? You're only a few simple steps away.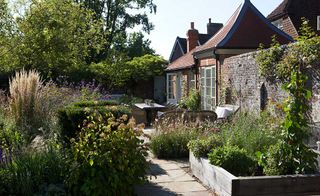 What's so good about raised garden beds?
The most obvious advantage of learning how to make a raised garden bed is that it provides the opportunity for customizing the soil mix. This means being able to grow plants that otherwise would not thrive in your garden, while starting with a weed-free base. Plus, the soil in raised beds warms earlier in the spring than in the ground, meaning you can get a head start on the growing season.
We spoke with Stannah's Gardening Expert, Mark Lane who appears on BBC Gardeners' World about how to make raised garden beds work for you. 'Lifting the garden up to a manageable height is really key to a workable garden...this can be a raised bed if you can twist your body.'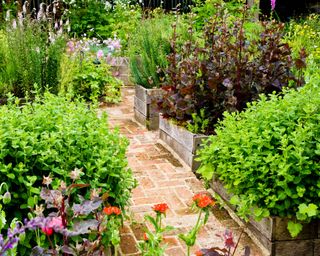 How to build a raised garden bed
You will need:
1. Level your spot
Before building your bed, you need to make sure the site is completely level and clear of debris and vegetation.
2. Stake out
Stake out the corners of your bed with wooden stakes or posts, around 5x5cm. The size of the bed will depend on the length of your chosen planks, which are commonly anything between 1 - 4m in length.
For long beds, add extra posts along the sides, every 1.5m. Avoid creating a bed that's wider than 1.5m, as you'll struggle to access the plants.
3. Build the sides
Making a garden bed is essentially learning how to build a garden box. To create the sides of your bed, screw or nail your planks to the posts, with the edges of the planks bedded around an inch into the ground.
4. Think about drainage
Beds laid on free-draining soil won't need drainage but is built on poorly drained soil or on a solid base, you will need to add a layer of gravel, stones, or rubble, covered with a geotextile membrane.
Lane adds, 'Soil in raised beds will eventually drop, so liners are a good investment. They keep the soil within the raised bed, but they too will not stop soil from settling. The great thing though, is that it is easier to top up with compost or topsoil.'
5. Fill with soil
Now you can fill your bed with soil (see below for more info on the best soil types.)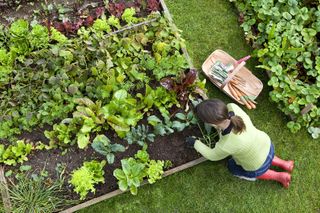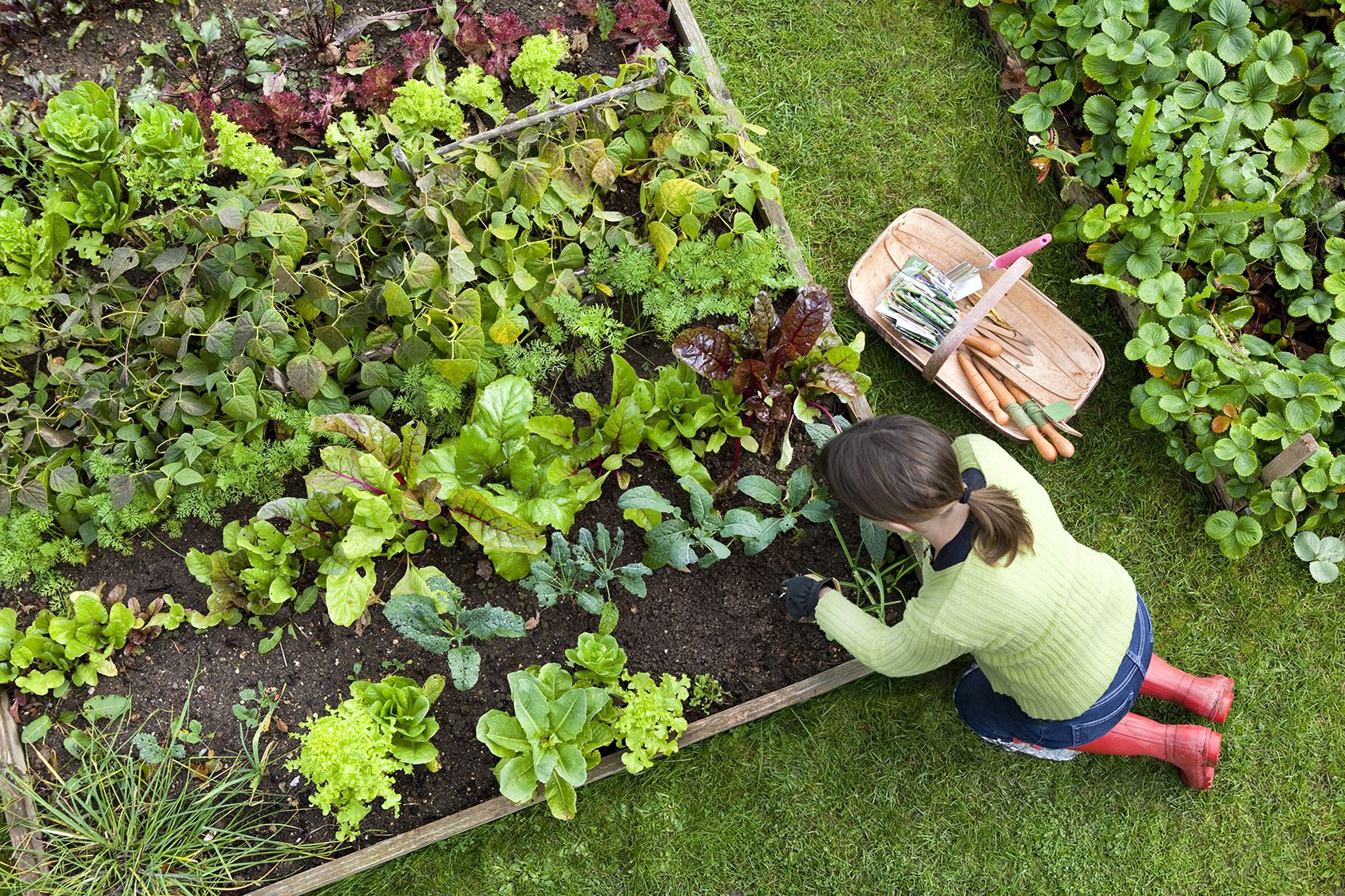 6. Let the soil settle
You'll need to give your raised bed a couple of weeks to settle before planting it. After this time, the soil may need topping up.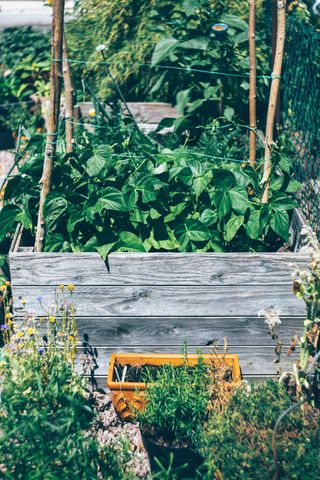 What can I grow in raised beds?
Pretty much any small to medium-sized plant can be grown in raised beds, but they are typically used for fruits and vegetables. There are of course lots of flower bed ideas to bring to life where extra height is desirable for viewing or maintenance. Consider growing the following:
Root vegetables such as carrots, parsnips and beetroot are ideal for growing in raised beds as you have greater control over the quality of soil, which should ideally be free from rocks to allow them to spread out. Potatoes also thrive in raised beds, as they like loose, well-drained soil.
Leafy greens such as cabbage, lettuce and spinach don't like water-logged soil, and raised beds offer better drainage than the ground. The height also makes it easier to keep an eye on them and harvest the leaves.
Crops with a long growing season, such as onions, are ideal for raised beds as the soil warms quicker than the ground, giving them a head start. They also like plenty of organic matter, which is easier to control in a bed.
Berry fruits such as strawberries and raspberries are easy to pick from raised beds. You may also find it easier to add netting to protect the fruit from birds.
Herbs are always useful for cooking and add scent to a bed. Some varieties make ideal companion plants; try teaming basil with tomatoes in a herb garden as they make a delightful culinary pairing in the kitchen while the basil wards off pests in the garden.
Herbaceous perennials that die back in the winter are garden border heroes, and make ideal plants for raised beds too – especially where you want to grow your own cut flowers.
Shrubs can also be grown in raised beds where you want to create structure to the garden.
Plants that don't suit your native soil are ideal for growing in raised beds as you can create your own soil mix.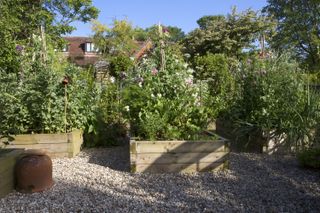 Should I build my own raised beds?
Building a raised bed is a job that can be tackled by most people on a DIY basis. However, there are a number of ready-made timber raised bed kits available that will help make the job a lot easier. Most of them arrive flat-packed and simply need to be assembled. Wayfair, among other places, has a large selection of ready-made raised garden beds.
Alternatively, you could buy a raised planter or trug with legs that can be sited on your patio, to keep your produce closer to the house. These are also supplied as ready-to-assemble kits, and are a moveable, less permanent solution – although they will be heavy when filled with soil.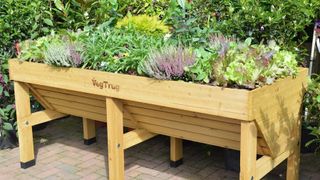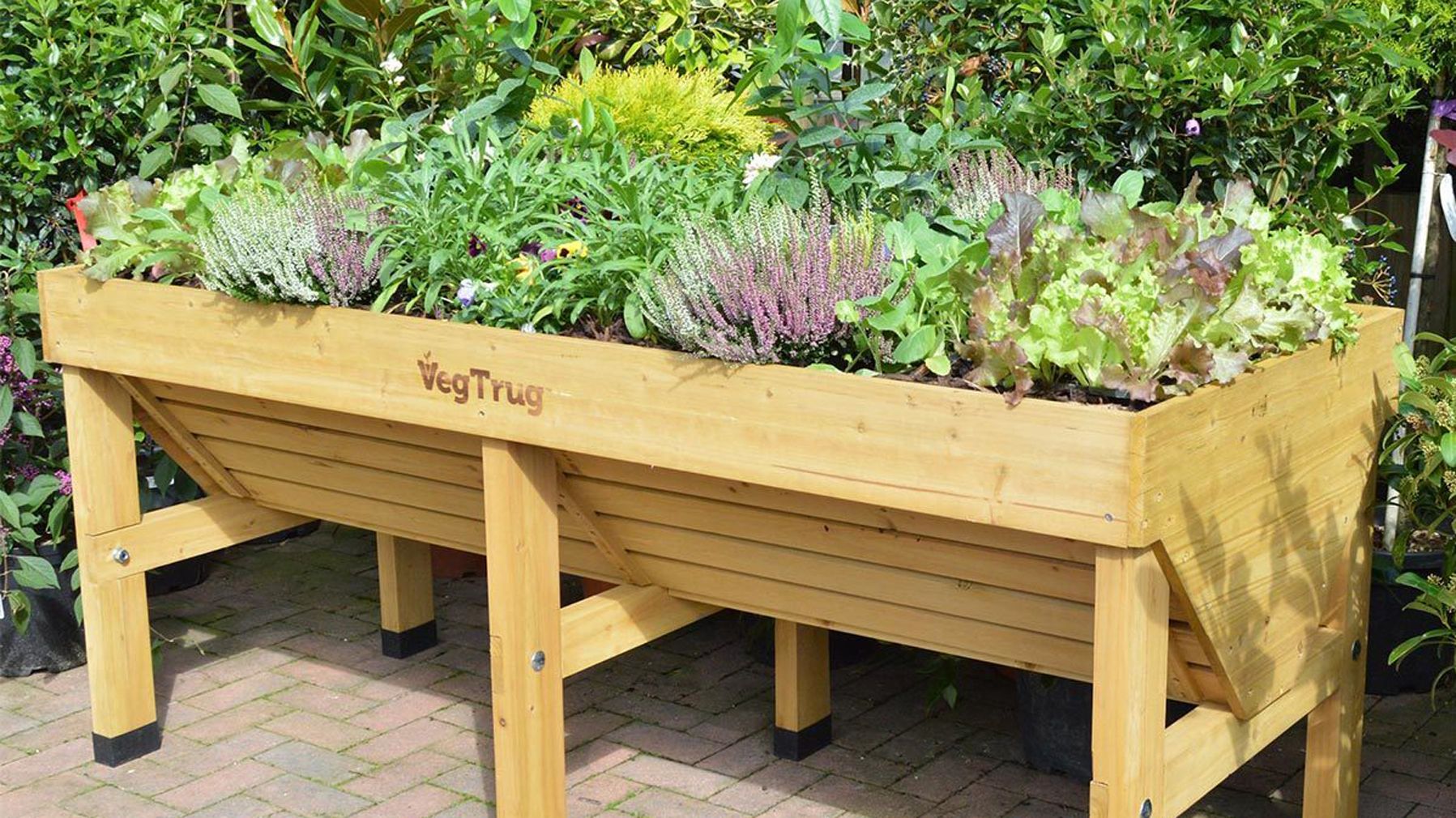 What is a good size for a raised garden bed?
If you want to be able to sit on the edge of your raised bed, it should be around 40-50cm high and the sides 20cm deep.
If you need more of an accessible garden, Lane recommends 'If you are planning a permanent raised bed then do not make it any wider than 1.2m, especially if you can only access it from one side.'
Where to position your raised bed
The location of a raised bed is of optimum importance, and will largely depend on what you wish to grow in it. Steer clear of low, wet areas where the soil gets water-logged, and ideally site it within reach of the hosepipe.
With all plants it's important to look at their individual needs, as some require more shade than others. However, not many plants thrive in deep shade. For growing vegetables, a site that receives sun for most of the day is ideal.
If you plan on building more than one raised bed, then you need to allow enough room between each one. Make sure there is space to kneel down between beds.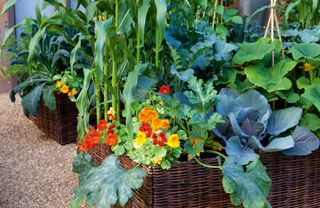 Which soil is best for raised beds?
The beauty of adding raised beds is that you can create the perfect soil blend for what you want to grow. For example, Mediterranean garden plants dislike heavy, clay soils, but you could grow them in a raised bed filled with gritty compost.
Whether the plant prefers acidic or chalky alkeline soil is also a key factor, as it needs to have the right pH balance. Acid-loving plants such as rhododendrons and hydrangeas will respond to ericaceous compost, whereas alkaline lovers such as lavender and geraniums may benefit from the addition of mushroom compost.
According to the RHS, a good soil mix includes organic matter to enrich it, plus sharp sand to ensure drainage – try a mix of 7 parts topsoil to 3 parts organic matter and 2 parts sharp sand.
Raised garden bed maintenance tips
To ensure that the plants you're growing in your raised beds are thriving, follow these simple tips:
Water your raised beds more frequently than the rest of your garden as the soil in them dries out quickly
Fertilise: start with a granular fertiliser in early spring and then proceed to liquid fertiliser throughout the growing season
Top up with fresh soil annually: the existing soil n your garden bed will compact, leading your plants to being too deep in the bed; top it up with fresh compost once a year, in spring.
What is the best material for raised garden beds?
Raised beds can be built from a variety of materials, most commonly timber, brick or stone. More skill is required to build a masonry bed, so you may want to hire a professional, although it is a long-lasting option that is particularly well suited to incorporating seating. Lane adds, 'If you use treated softwood sleepers laid on their longer flat edge you can create a perching spot all the way around the soil area, enabling you to garden sitting down. If you're using brick or blockwork, try and aim for a frame c. 20-30cm wide, which is just big enough to perch on.'
By far the easiest and quickest way to build your own raised bed is by using timber planks. Most gardening experts recommend using cedar planks. What makes cedar wood so good for raised beds is its natural resistance to rot, which means that your raised beds will last a long time – up to 20 years, in many cases.
You can use other types of wood, including softwoods such as pine, but they'll need to be pressure treated to make them resistant to rot and pests such as termites.
Ultimately, the material you choose will be a matter of design preference. There are raised garden bed ideas that are more rustic (wood will be your natural choice here), and then there are those more suited to contemporary and urban garden designs.
What kind of wood should I use for raised beds?
Should I line my raised garden bed with plastic?
No – always avoid using plastic to line your raised beds. While it will stop weeds, it will also stop drainage from your raised bed, leading to all kinds of problems for your plants. You can use old newspaper, straw, or even an old potato sack instead – these are permeable materials that will prevent weed growth but will not impede drainage.
What is the cheapest way to build raised garden beds?
The cheapest way to build raised garden beds by far is to use wooden crates or pallets. Wood pallets from Ebay cost as little as $8-10 per pallet and you can easily stain or paint them to make them look a bit smarter.
If you're doing house renovation work and are getting rid of an old bathtub or even old furniture, you have free materials for raised garden beds. Remember: the only thing your raised garden beds really need is drainage and good soil. The rest is a matter of your DIY ability and imagination.
Get growing!