These bbq area ideas will guide you to create the outdoor barbecue space of your dreams. Whether your backyard is vast, with the possibility of building a whole outdoor kitchen area, or tiny, with the barbecue sitting right next to your outdoor furniture, we have ideas to make it all work seamlessly and stylishly.
The best bbqs make alfresco cooking a joy – if you use yours often, it makes sense to create an outdoor bbq area. Find the perfect look and configuration for your outdoor space.
1. Create a dedicated bbq area on a patio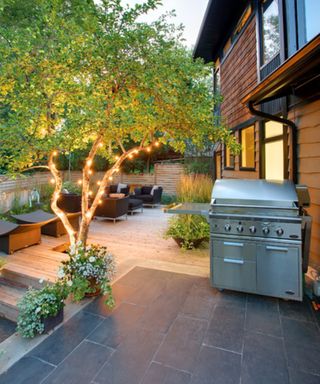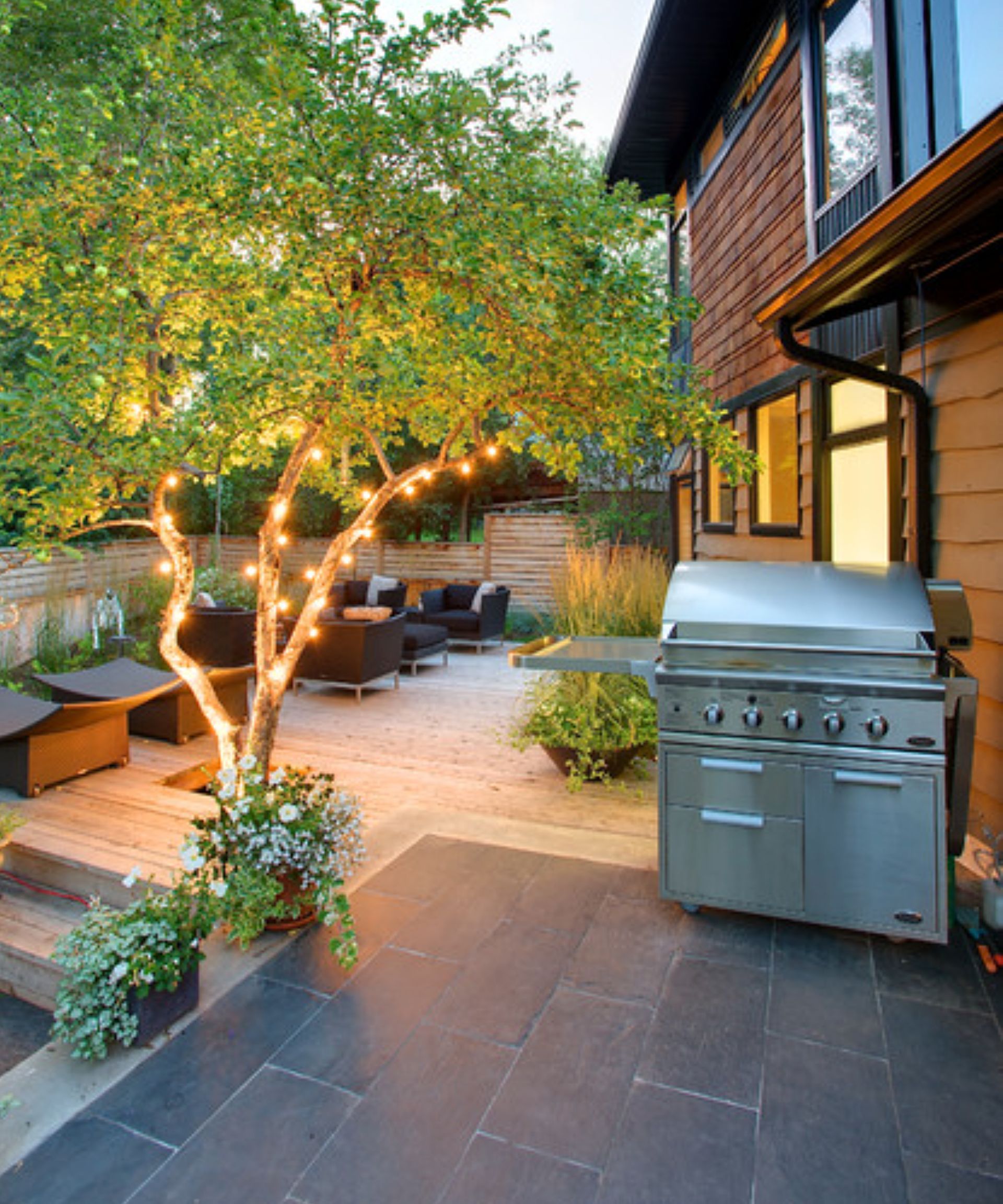 The easiest way to create an outdoor bbq area is by dedicating your patio, if you have one, to it. The rest of the backyard can then be for relaxation and dining. And if you don't already have one, exploring patio ideas is well worth it.
You could even lay a patio yourself. Take inspiration from this bbq area created by VisionScapes – we like the way the dark patio slabs contrast with the rest of the backyard.
2. Add a canopy to keep the area shaded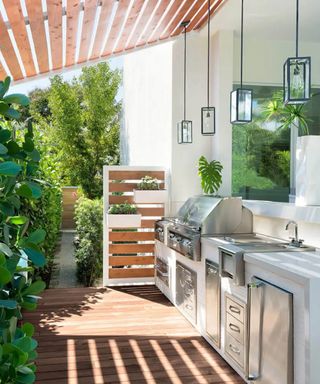 If your outdoor bbq area is in a sunny spot, you'll benefit from exploring deck shade ideas. While everyone loves a bit of sunshine, preparing dinner for five in the blistering heat is not so pleasant.
You don't have to go for a solid deck cover – go for a slatted design like the one used in this gorgeous bbq area created by Maite Granda. You'll still get to enjoy the sun, but it just won't be quite as intense.
3. Small bbq area? Go for a smaller barbecue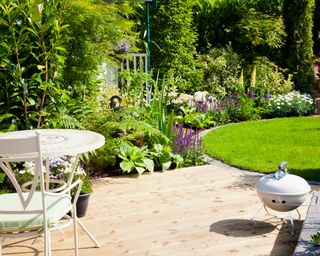 It is always better to be realistic about how much space you're working with for your outdoor bbq ideas. If what you have is a small deck or patio, a massive gas bbq just won't be an option.
To keep the area neat and easy to move around, go for a small charcoal bbq, or even a portable bbq for the smallest footprint.
4. And get clever with your outdoor furniture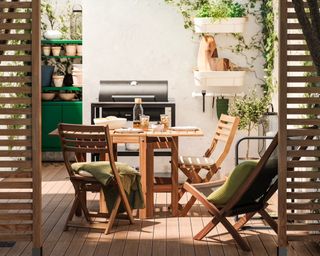 If your bbq area is actually also the entirety of your outdoor space – say, if you only have a balcony or small deck – you'll have to choose furniture that can be moved out of the way when needed. Explore patio dining sets that are foldable, like the Applaro from IKEA.
5. Incorporate your bbq into an outdoor fireplace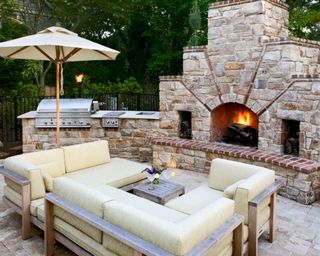 If you live in an area where the nights get cold, an outdoor fireplace will make a dramatic difference in how long you can stay outside enjoying your barbecued meal.
If you're getting a fireplace built from scratch, incorporating the bbq into the fireplace structure will save you a lot of space and create a sleek design. This luxurious bbq area with a stone fireplace has been created by Bruce Palmer Coastal Design.
6. Configure a breakfast bar in an L-shaped area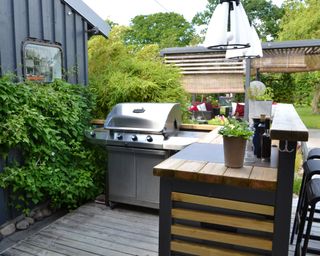 Thought an L-shaped patio was a curse? It's actually a blessing for exploring bbq area ideas. Create a cozy corner area for cooking; if you then add some bar stools on the other side, you'll have yourself a breakfast bar idea.
7. Use geometric zoning to designate different areas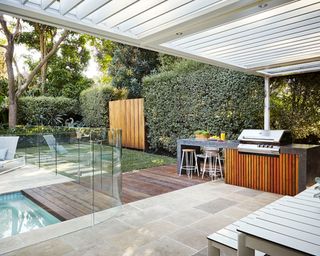 If your bbq area is also your pool area and your dining area, you can create the illusion of separate spaces by using several paving materials instead of just one.
Combining pool deck ideas and outdoor dining ideas in one space can be as simple as opting for paving slabs right next to the pool deck, as in this neat example by Fifth Season Landscapes.
8. Narrow backyard? Get clever with the layout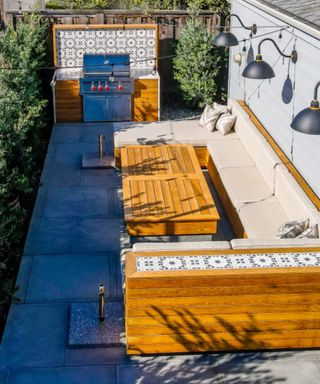 Bbq area ideas for narrow backyards have to take into account the restricted width of these spaces. A bbq is by all means still possible, but you won't be able to go for the traditional layout in which the barbie and the patio furniture set are grouped close together – it'll just be too difficult to move around the area.
Instead, position your outdoor furniture lengthwise, and flush against your garden wall or exterior. Round tables won't work here, so go for a rectangular design. Take inspiration from this brilliant layout in a bbq area design by Cross Construction.
9. Get a folding table to give yourself prep room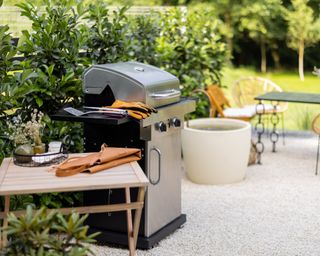 Let's face it, not all of us are able to install an outdoor kitchen, whether that's because we don't have the space or the budget for one. However, if your barbecue doesn't come with any prep or storage space, you may struggle to find space to rest your cooking utensils and gloves.
This is where a portable, folding outdoor table comes in. You don't need anything very fancy: an outdoor folding table can be bought from Bed, Bath & Beyond for under $50.
10. Go for slim-framed furniture in smaller areas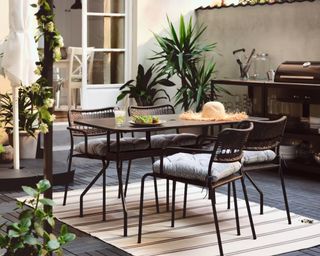 If you're exploring bbq area ideas for smaller spaces and don't want folding furniture, go for a slimline, slim-frame design, like the Viholmen from IKEA. It's made from powder-coated steel, which makes it durable, and we like the dark-gray finish, which matches the bbq nicely.
Where is the best place to put a bbq?
According to outdoor experts at Artisan Exterior, safety should be your top priority when choosing where to put your bbq in your backyard. That means not putting it right next to your back door, and 'away from any potentially flammable debris such as rubbish bins or mulch. The same goes for low-lying trees and hedges.'
The positioning of your bbq will also depend on what it will be next to. You don't want smoke blowing into your bedroom window/your neighbor's property, so ideally you want to place your bbq a little away from your home, or at least facing away from windows.
Other than that, it really will depend on the shape and size of your backyard.
What do you need in a bbq area?
The exact list will depend on how much you plan to bqq, and how advanced your cooking game is, but most people will need (all can be bought from Amazon):
A spatula
A plate to rest the cooked food on
An outdoor table to put everything on