Just invested in the best barbecue ever, figured out the perfect ratio of Pimms to lemonade, accounted for the vegetarians and curated the best BBQ playlist ever? It doesn't mean a thing if you haven't got the gear to make sure it goes off without a hitch. Our pick of the best BBQ tools gathers the coolest grilling accessories into one place to ensure no burnt fingers, sticking fillets or – perish the thought – chilly-inside sausages.
We all love BBQs for their laid-back vibe, but it's important to think about safety first. Our top pick for the perfect cookout this summer is the Etekcity Lasergrip Infrared Thermometer, which measures the temperature of meat without so much as touching it thanks to clever IR technology, meaning less risk of food poisoning and cross-contamination. In that same spirit, we've also included Weber Premium BBQ Gloves, which keep burns at bay without hampering your movement.
1. Etekcity Lasergrip 774 Infrared Thermometer
Checks sausages, chicken and other notoriously pesky foods for peace of mind
Specifications
Best for: Food safety
Measures from: -50 to 380℃
Distance spot ratio: 12:1
Reasons to buy
+ Tests temperature without touching + Lots of useful applications
While the slightly more intuitive method of cooking is what attracts many to the art of barbecuing, it can sometimes feel a little like playing with fire. For extra peace of mind, especially when cooking for those with low immunity or pregnant women, it makes sense to grab yourself a grill thermometer to test the interior temperature of the meat, and this one from Etekcity is considered the best by reviewers. Users loved the accuracy and value, and the fact that it doesn't need to come in direct contact with the meat, unlike many other models, means no risk of cross-contamination.
2. Landmann Beer Can with Chicken Holder
A new take on the beer can for whatever you choose to infuse
Specifications
Best for: Chicken
Capacity: 250ml
Material: Stainless steel
Diameter: 10cm
Reasons to buy
+ Makes juicy, flavourful chicken + Stable wide base
If you haven't tried the beer can chicken method for yourself, chances are you've at least heard about it. But if you don't fancy the indignity of grabbing a can of Stella and putting it somewhere unmentionable, this Landmann version offers a slightly more distinguished take on the barbecue classic. The stainless steel 'beer can' has a wider base for added stability, keeping your chook upright, and its reusable nature means you can choose your own marinade, whether that be wine, stock, or any manner of inventive concoctions, resulting in a juicy, tasty bird.
3. Kodiak Klaws Pulled Pork Shredder Claws
Embrace your inner beast with these awesome meat shredder claws
Specifications
Best for: Pulled pork
Material: Plastic
Number of pieces: 2
Reasons to buy
+ Strong, intuitive tools for shredding meat + BPA-free heat-resistant plastic
Anyone who's ever tried to shred meat with a couple of forks and a shedload of patience knows that it's probably not the most efficient method, and the makers of the Kodiak Klaws clearly agree. These shredder claws ensure you won't burn your hands or bend your tableware out of shape in the pursuit of perfectly pulled pork, brisket, or poultry – they even come recommended for tossing salads, serving spaghetti and holding fruits firm while cutting, giving these claws more mileage than you might think. And with a BPA-free and heat-resistant plastic construction, it's perfectly safe for you to get stuck in.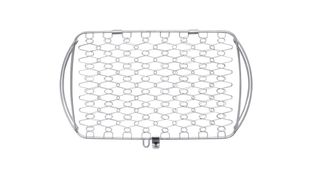 4. Weber Original Large Fish Basket
Thou shall have a fishy on a little dishy, and all in one piece too
Specifications
Best for: Fish
Material: Stainless steel
Size: 16"
Reasons to buy
+ Expands to fit up to whole fish + Dishwasher safe stainless steel
Get the pescatarians in on the fun, or simply expand your grill skills, with this BBQ fish basket by Weber. It solves the age-old problem of fish sticking to, and inevitably falling apart on, the grill, meaning you lose half of your delicious catch to the coals. This basket simply holds fish of all sizes firmly and allows for easy turning to ensure an even cook. The expandable design means it can stretch to fit everything from sardine fillets to a whole fish, and it's even dishwasher safe for simpler cleanup, although reviewers do recommend giving it a soak first.
5. Outset Oyster Grill Pan
Aw shucks, who knew barbecued oysters could be so good?
Specifications
Best for: Unusual
Material: Cast iron
Capacity: 12 oysters
Reasons to buy
+ Use with shucked or half-shell oysters + Can be used cold to serve or hot for grilling
For those who have already mastered langoustine and sea bass as part of their BBQ repertoire, this oyster pan represents the next step in gourmet grilling. You can use it to serve chilled oysters without the risk of spilling any of that amazing liquor thanks to the perfectly-sized inlets, or grill shucked oysters to perfection. The heavy duty cast iron offers even heating, a must when cooking over open flames, and the seasoned non-stick coating means no struggles when it's time to serve up.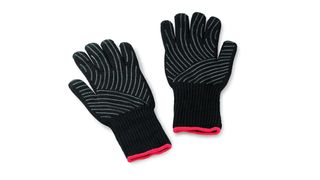 6. Weber Premium BBQ Gloves
Make sure it's only the sausages that get sizzled, and not your digits
Specifications
Best for: Avoiding burns
Sizes: S/M, L/XL
Effective up to: 260℃
Reasons to buy
+ Close fit maintains dexterity + Silicone palms for grip
You want to feel the heat at your next barbecue of course, but not literally. That's where these BBQ gloves, also by Weber, come in. They protect your hands from the heat of the grill and any conductive metal implements, and are engineered to withstand temperatures up to 260 celsius without reducing dexterity. The slim-cut knitted design means you can still feel what you're working with, so no clumsiness for the sake of safety, and the silicone grip cleverly woven into the palm ensures that even oil-slippery handles are no match.
Read more about cooking out: