The best BBQ tools will take your grilling skills to the next level. Throwing the perfect barbecue involves more than just rolling out the barbie onto your patio. For starters, you need some form of heat protection; after that, depending on what you're cooking, there are all kinds of tools and accessories that will make grilling different types of food that much easier.
Our pick of the best BBQ tools gather the coolest grilling accessories into one place to ensure no burnt fingers, sticking fillets or – perish the thought – undercooked sausages. From oyster cookers to meat thermometers, pork pulling claws or just your run-of-the-mill spatula and tongs, we've got the tools and accessories you need to turn up the heat this summer.
If you've not yet found the best BBQ or best gas BBQ, check out our guide. Otherwise, learn how to barbecue right with help from us.
What do you need for a barbecue?
Why you can trust Real Homes Our expert reviewers spend hours testing and comparing products and services so you can choose the best for you. Find out more about how we test.
The first three barbecue tools and accessories in the list below are the basics that you'll need for barbecuing; the rest are helpful extras. We've also included a few BBQ accessories for cooking things like fish, chicken and pork, just for a helping hand.
Long handled tongs – this is your main BBQ tool;
A fork – use this sparingly (and don't pierce meat with it or you'll lose the juices;
A spatula;
A long handled basting brush
A temperature gauge/thermometer;
BBQ gloves;
A stiff wire grill brush;
A fire extinguisher (never hurts);
A flashlight or head torch for night BBQing.
THE BEST BBQ TOOLS AND ACCESSORIES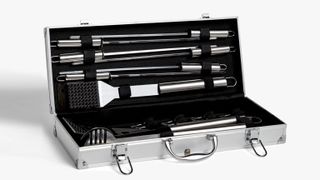 No barbecue is complete without the right gear, and the John Lewis & Partners Stainless Steel BBQ Tool Set gives you everything you need. Eight corn on the cob holders, six skewers for some serious grilling, as well as a brush, spatula, fork, tongs and carry case.
Everything can be placed in the dishwasher and used again and again, so say goodbye to single-use skewers and improvised kitchen appliances.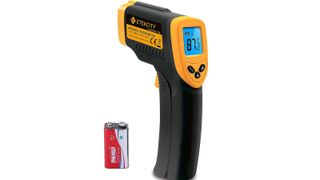 While the slightly more intuitive method of cooking is what attracts many to the art of barbecuing, it can sometimes feel a little like playing with fire. For extra peace of mind, especially when cooking for those with low immunity or pregnant women, it makes sense to grab yourself a grill thermometer to test the interior temperature of the meat, and this one from Etekcity is considered the best by reviewers.
Users loved the accuracy and value, and the fact that it doesn't need to come in direct contact with the meat, unlike many other models, means no risk of cross-contamination. If you're only looking to invest in one BBQ accessory this summer, this is the best BBQ tool you can buy, bar none.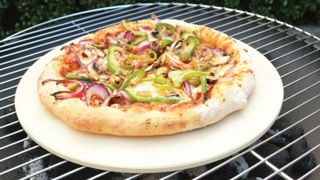 Designed to add some versatility to your grill, the All Things Brighton Beautiful Pizza Stone can be placed atop a BBQ to rival one of the best pizza ovens. It's not too expensive and can be used for pizzas of up to 12 inches.
Simply get the pizza stone piping hot on the grill and add your fresh pizza dough before closing the lid and allow it to cook for a few minutes. Once you open up you'll have perfectly cooked pizza. Easy.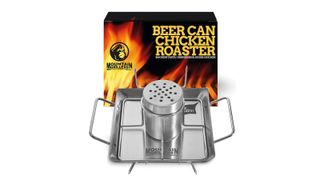 If you haven't tried the beer can chicken method for yourself, chances are you've at least heard about it. But if you don't fancy the indignity of grabbing a can of Stella and putting it somewhere unmentionable, this Mountain Grillers Beer Can Chicken Roaster Stand offers a slightly more distinguished take on the barbecue classic.
The stainless steel 'beer can' has a wider base for added stability, keeping your chook upright, and its reusable nature means you can choose your own marinade, whether that be wine, stock, or any manner of inventive concoctions, resulting in a juicy, tasty bird. The best BBQ accessory for cooking chicken, we think!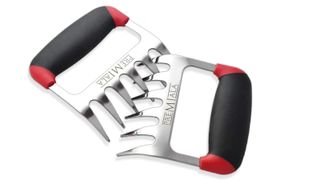 Anyone who's ever tried to shred meat with a couple of forks and a shedload of patience knows that it's probably not the most efficient method, and the makers of the Premiala Meat Claws clearly agree.
These shredder claws ensure you won't burn your hands or bend your tableware out of shape in the pursuit of perfectly pulled pork, brisket, or poultry – they even come recommended for tossing salads, serving spaghetti and holding fruits firm while cutting, giving these claws more mileage than you might think. And with a high-quality stainless steel construction, it's perfectly safe for you to get stuck in. A must-have BBQ accessory for cooking pulled pork this summer.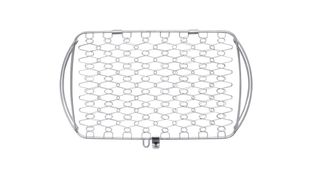 Get the pescatarians in on the fun, or simply expand your grill skills, thanks to this BBQ fish basket by Weber. It solves the age-old problem of fish sticking to, and inevitably falling apart on, the grill, meaning you lose half of your delicious catch to the coals.
This basket simply holds fish of all sizes firmly and allows for easy turning to ensure an even cook. The expandable design means it can stretch to fit everything from sardine fillets to a whole fish, and it's even dishwasher safe for simpler cleanup, although reviewers do recommend giving it a soak first. The best BBQ accessory for cooking fish.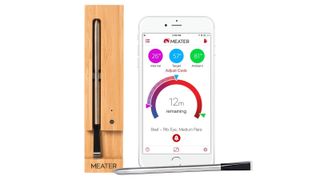 If there's one thing you don't want at an alfresco party, it's undercooked food. The Thermomix Meater takes out the guesswork by syncing to your phone and alerting you when the optimal internal temperature for your dish has been reached.
It's dishwasher safe and the smart features will even estimate how long your meal will take to cook. That's a win for flakey fish and juicy lamb chops, without any of the risks.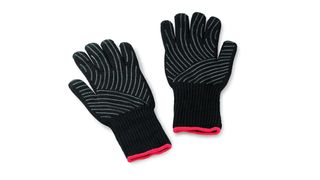 You want to feel the heat at your next barbecue of course, but not literally. That's where these best BBQ gloves, also by Weber, come in. They protect your hands from the heat of the grill and any conductive metal implements, and are engineered to withstand temperatures up to 260 celsius without reducing dexterity.
The slim-cut knitted design means you can still feel what you're working with, so no clumsiness for the sake of safety, and the silicone grip cleverly woven into the palm ensures that even oil-slippery handles are no match.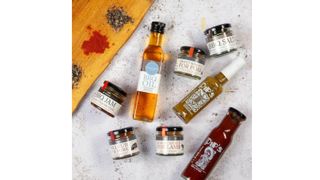 From BBQ salt and oil to Moroccan rubs for lamb and pork, the Ross & Ross BBQ Hamper is designed for foodie home chefs who want to elevate their cooking. It includes hot sauces and BBQ jams, and is guaranteed to be a talking point at your next grill.
While it's a great gift, the Ross & Ross BBQ Hamper is also an excellent way to treat yourself or prepare for some entertaining. Simply cook up the goods and leave the sauce selection to your guests.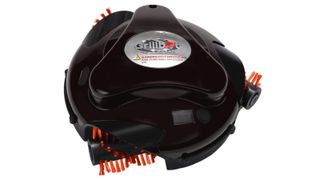 The Grillbot Automatic Grill Cleaning Robot works on hot or cold grills to buff away grease and grit that's been left on the grill after use. It's designed for use with grills that have lids, so just press the start button, close the lid and let the Grillbot get to work.
This would make a quirky and fun gift to BBQ lovers, but users really do rave about it. A robot vacuum, for your grill. Revolutionary!
What are the best BBQ tools?
We all love BBQs for their laid-back vibe, but it's important to think about safety first.
Our top pick for the perfect cookout this summer is the Etekcity Lasergrip Infrared Thermometer, which measures the temperature of meat without so much as touching it thanks to clever IR technology, meaning less risk of food poisoning and cross-contamination. Similarly, the Thermomix Meater will alert you when your meat is cooked to make the process safer. In that same spirit, we've also included Weber Premium BBQ Gloves, which keep burns at bay without hampering your movement.
Our pick of the best BBQ toolset is the John Lewis & Partners Stainless Steel BBQ Tool Set in Case. It features 16 tools inside a carry case, all of which are made from bamboo and steel.
More for BBQ season