There are so many reasons to own patio dining tables. From having a place to play a game of cards, to planning a party, having some familiar company around the table can make your heart feel full. Add a plate of food, and your stomach will be soon sated too.
Outdoor patio dining tables sit high up on the best garden furniture list because they are practical and can quickly add style to your exterior scheme. That's because today's most recognized retailers are becoming more experimental with their designs, often merging different styles together and not being afraid to mix materials.
And, as we as consumers become more eco-conscious and discretionary with our dollars, stores have to be savvy when it comes to creating products that are not only kinder to the environment but will last too.
Our patio dining table picks include everything from trendy concrete to toughened glass, FSC wood, and galvanized iron. We've also made sure to include a mixture of cheap, mid-range and investment buys to suit all budgets.
Patio dining tables to sit around
Why you can trust Real Homes Our expert reviewers spend hours testing and comparing products and services so you can choose the best for you. Find out more about how we test.
'Dining and entertaining outdoors is one of the great pleasures of the warmer months, but it can sometimes be a challenge to compose a space in which eating and communing outdoors is both comfortable and welcoming,' says Alyssa Stearns, marketing associate, 2Modern.
'Because a modern outdoor dining table may become a key furniture purchase for your patio or deck, it's worthwhile to think carefully about how you'll be using that exterior space, and how your outdoor dining table will function inside that space.'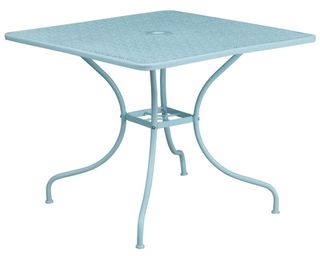 1. Zipcode Design Laine metal 4-person dining table
Table: H28.75 x L35.5 x D35.5 in | Colors available: 6
Brighten up your backyard with one of these cheap and cheerful rain flower-detailed outdoor patio dining tables, available at Wayfair. Shown in sky blue, it's also available in classic black, white, red, grey, and even gold. Transform it into a complete patio dining set by adding the matching chairs to create a coordinated scheme.
---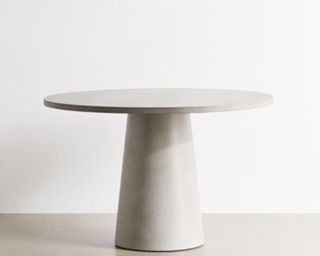 3. West Elm concrete outdoor round pedestal dining table
Table: H29.5 x D32 in | Colors available: 1
Blur the boundaries between urban living and nature with this industrial-modern concrete round table from West Elm. While it's a little on the pricey side, this heavyweight glass fiber reinforced patio dining table will stand the test of time... Especially with that tapering pedestal base and sleek silhouette. Style with colorful cutlery, crockery, or glassware for tonal contrast and added interest.
---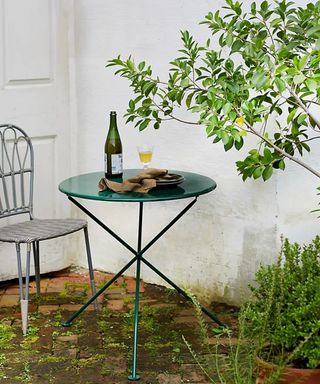 3. Anthropologie folding galvanized iron dining table
Table: H29 x D28 in | Colors available: 2
A small space shouldn't stop you from investing in a patio dining table to eat outside. And this green folding galvanized iron dining table proves you can entertain - even if your space is itsy-bitsy. While we love this gorgeous emerald tone, it's also available in silver too to create a rustic or industrial backyard feel. Includes a wall hook for fuss-free storage.
---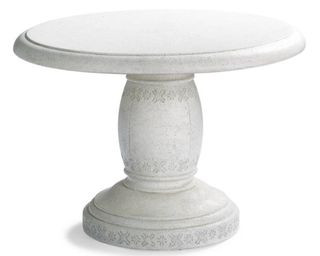 4. Marana faux-stone bistro table
Table: H29.25 x D42 in | Colors available: 1
If you're debating between a patio dining table and a garden sculpture – why not have both?! Chic and composite are two words we'd never usually put together, this is proven in the artistic construction and ornately details of this shapely and classic fixture.
---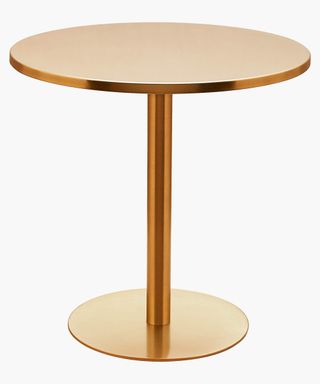 5. CB2 brass bistro table
Table: H28.25 x D27.5 in| Colors available: 2
From snacking to mealtime, make eating a celebratory occasion with this brass bistro table from CB2. Make from a durable mix of stainless steel, cast iron, and engineered wood, this patio dining table isn't just a pretty face, as far as outdoor furniture goes. We'd style these with the similarly-colored outdoor dining chairs in our shopping edit, also from CB2. Also available in stainless steel.
---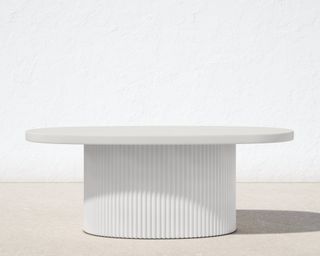 6. Allmodern Polaris stone concrete indoor/outdoor dining table
Table: H30 x W42 x L80 in | Colors available: 1
We're sure you've seen that fluted textures are a massive trend inside of the home. From stylish vases to elegant glassware, this ribbed finish makes your interiors look more expensive, so why not take this trend outside? Combining industrial-modern and Scandinavian influence, this 8-person white concrete patio dining table will be the pièce de résistance, along with the yummy food you serve your guests. Style with the matching stools for the cherry-on-top appeal. A word of warning, however: it is an investment buy and will have to be covered in extreme weather.
---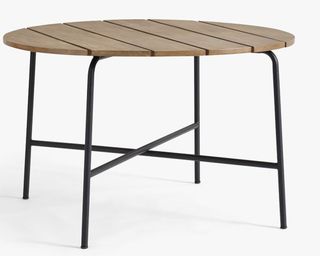 7. Pottery Barn Tulum Acacia wood patio dining table
Table: H30 x D48 in | Colors available: 1
Create a summery Scandi vibe with this FSC Acacia wood dining table from Pottery Barn. Fusing light wheat-colored wood with contrasting black steel legs, this round table, can accommodate up to four people comfortably. Pair with the matching all-weather wicker stacking dining chairs for a beautifully breezy aesthetic.
---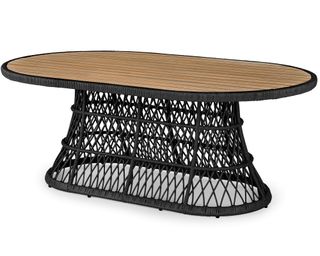 8. Article Calliope acacia wood patio dining table
Table: H30 x W78.75 x D47 in| Colors available: 2
Bring all the bohemian vibes to your backyard with this Calliope patio dining table, shown here with black trim. Seating up to six comfortable, share peace, love (and good food) with this seventies-inspired, wicker-based buy. Also available with a natural base for a softer scheme.
---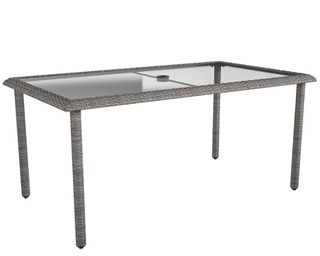 9. COSCO outdoor living Lakewood ranch steel and wicker dining table with umbrella hole
Table: H29.53 x W63.39 x D35.3 in |Colors available: 1
When making an investment purchase like a patio dining table, you shouldn't have to compromise for what you truly want. So why choose between a wicker or glass fixture when you can have both? Double up on designer trends with this tempered glass, steel-framed outdoor table wrapped in durable, weather-resistant gray resin rattan wicker. Add a grey patio umbrella to the center of the table for a sophisticated eve outside.
---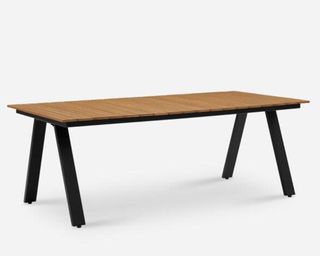 10. Castlery Sorrento dining table
Table: H76 x W184 x D100 cm | Colors available: 1
Struggling to find the middle-ground between a laidback alfresco lunching and formal fine dining? This Sorrento dining table can do both. This modern and breezy aluminum-framed patio dining table with resin wood slats can work for both types of occasions saving you from splashing out on two types of furniture. Sits up to six people comfortably.
---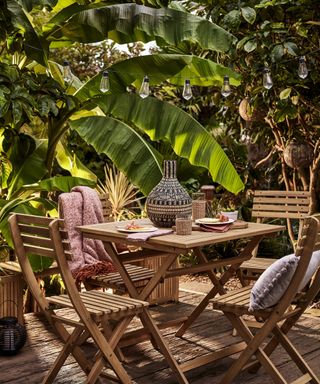 Which shape is best for an outdoor dining table: round or square?
'There are reasons to choose a round table over a square or rectangular one, and vice versa. But whether shopping for modern outdoor dining tables or any other outdoor table, shape should be a consideration, but not because there are any rules as to which shape is best,' says Alyssa Stearns, marketing associate at 2Modern.
'Buy what appeals to you visually, but also think about practicality, functionality, and durability. The shape of your designer patio dining table or any outdoor furniture should be the end result of those factors, not the driving force behind the choice you make.'
What type of patio dining table can I buy?
'Outdoor patio tables are available in a wide range of styles for every sort of home. Here are a few popular options,' says Sarah Rogers, senior digital marketing manager, West Elm.
Natural wood dining tables. Classic teak, weathered wood, and combination wood and metal tables let you pick the style that fits your home.
Rugged, contemporary iron styles: Go ultra-contemporary with a durable, high-quality all-iron or metal table.
Expandable tables: Need more space for surprise dinner guests? Expandable tables open and close so you've got seating for everyone no matter how many last-minute RSVPs you get.
'Enjoy your breakfast, lunch, or dinner outside with family or your favorite dinner party guests.'
What size should my patio dining table be?
'Obviously, the size of outdoor dining tables are, to a large extent, informed by the sizes of the spaces they'll occupy,' says Stearns.
'Still, if you decide you need a patio dining table, for instance, think about size in relation to the other pieces of furniture that may or may not be in the space, and how your table will fit into the overall design scheme,'
'And also consider how you're likely to use your patio dining table. Will it primarily be used by you and your family only, or will you be frequently entertaining? It's important to think about size in relation to the dimensions of space, but also in relation to how it best complements your lifestyle.'
How many chairs should I buy for my patio dining table?
'If your patio dining table is used most frequently by a small group of people, say 2-4 people, focus on purchasing comfortable chairs for those who will be benefitting most by the outdoor space,' says Stearns.
'In other words, even if your outdoor dining table is large, don't waste resources on chairs that will only be used occasionally when you entertain. When you entertain, side chairs that are easily stored away or stacked when not in use are a much smarter way to tackle adequate outdoor seating for parties or small gatherings. As is the case with patio dining tables, outdoor seating should be geared more for your everyday life than for rarer occasions, like dinner parties.'
What material should I choose for a patio dining table?
'Today, you'll find a whole range of materials – wood, metal, plastic –tailored specifically for outdoor living, and which material you settle on is, ultimately, a matter of personal preference,' says Stearns.
'Ideally, the material you choose for patio dining tables or any outdoor furniture should be both durable and designed to withstand most outdoor conditions. But bear in mind that outdoor spaces should ideally be extensions of your indoor rooms, rather than presenting a jarring visual break from the inside of your house or apartment.'
'As long as you approach designing your outdoor space as you would any other room in your home, you'll more than likely make the right material choice for your contemporary outdoor dining tables and all outdoor furniture choices.'