Wondering how to clean a BBQ? There's a high chance that you may have had too many beers at your last backyard bash and postponed cleaning a BBQ full of grease and grime.
Throwing away ashes from your BBQ base is the easy bit; it's getting the grill clean that can be a challenge. Grilled-on grub on the grate can be a nightmare to get rid of (if you don't know what to do). But, we've got some smoking tips and tricks so that you can flip burgers and flip kebab skewers on the best barbecues.
Speaking to garden experts and cleanfluencers, we've discovered the best ways to get yours sparkling clean – and not spend hours scrubbing. Cleaning a BBQ should become second nature when getting to grips with how to barbecue so that you, your family and your friends can fully enjoy the fruits of your labor when cooking outside.
How to clean a BBQ
Why you can trust Real Homes Our expert reviewers spend hours testing and comparing products and services so you can choose the best for you. Find out more about how we test.
'First things first, you should never attempt to clean a BBQ when it is cool instead strike whilst the irons are hot - literally,' says Andrew Lovell, product manager, LANDMANN.
'Ensure it is safe for you to do so (meaning you aren't going to burn your hands) and wipe away the mess with a damp cloth straight after you grill whilst it is still warm - but not hot enough to burn you.'
1. Clean a bbq grill with baking soda
Baking soda/bicarbonate of soda is a wonder ingredient for dissolving all kinds of organic substances, and is brilliant at tackling grease and stuck-on food. Sprinkle liberally all over a damp barbecue grate and let sit for 10 minutes. Then activate the soda with warm water and a scourer sponge. Rinse and you should be ready to go.
As well as cleaning a BBQ, you can also extend your baking soda cleaning regime to other areas of your home. You can use this budget cake riser to clean an oven too. Pretty handy if you start off cooking your meats in the oven, or need to keep them warm for guests that turn up late to your backyard cookout.
Despite its powerful cleaning properties, baking soda won't scratch your BBQ which is super-important for maintaining your metal grill.
'Stainless steel is used for barbecue grills as it's hard-wearing and doesn't rust like most other metals - when cleaning it you should be really careful not to use anything too abrasive that might damage the metal coating.' says Paul McFadyen, managing director, metals4U.
2. Use vinegar to clean a bbq grate
Make a vinegar solution with equal parts white vinegar and water, spray onto your grill, and let sit for half an hour. Then, empty the bottle and refill with a small quantity of neat vinegar. Spray again, let it sit for another half an hour, and then wipe your grate clean.
The magical ingredient in vinegar is acetic acid which degrades dirt and food debris But this is just one of many ways to use vinegar to clean your home.
Add a little table salt and you've transformed your seasonings into a rust remover.

'A common problem is to open up your BBQ after the winter to discover rust on your grill,' says Lovell.
'But all is not lost, simply soak the grill in a mixture of salt and vinegar overnight and then wipe clean. Your grill will be looking good as new in no time!'
Lara Brittain, kitchen expert at Currys concurs that vinegar is the way to revamp a dirty bbq. She says: 'Spray the grill with the vinegar from the spray bottle and then take a ball of aluminium foil and use that as a bristle brush to scrape the grime off,'
'If there's still some hard pieces which are not coming off the grill, scrub them in hot soapy water – use a fresh ball of aluminium foil to get the trickier pieces off the BBQ.'
3. Clean your bbq with coffee
This method works especially well if you know how to use a coffee maker to make filter coffee. Simply refill your un-emptied percolator (also known as a Moka) with hot water, and pour the coffee all over your grate. Coffee is acidic and will break down crusted-on food.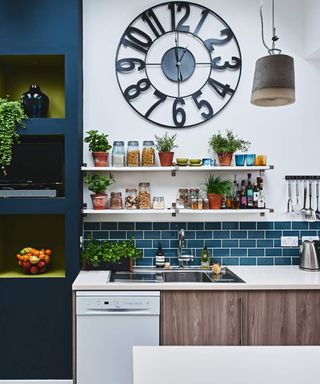 4. Stick the barbecue grill into your dishwasher
This method obviously only applies if the size of your grill matches or is smaller than the size of your dishwasher, but unless your BBQ is very large, this should be the case.
Stick them in and run your dishwasher on a heavy duty cycle. Find out more weird ways to use dishwashers to speed up cleaning. And, find out how to clean a dishwasher (you might need to afterwards).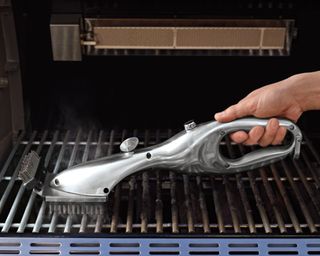 5. Use a specialized barbecue grill cleaning brush
All-purpose brushes and scourers aren't the best option for cleaning BBQs: they're likely to not be heavy duty enough, and you'll need to apply quite a bit of extra pressure with your hands to get a result. A grill cleaning brush, on the other hand, has a longer handle with a rough scourer attached, which means that you don't have to work quite so hard.
The GRILLART grill brush and scraper BBQ brush on Amazon is a customer fave with almost 13,000 ratings.
6. Use a pumice stone to clean your bbq
Did you know that the same stuff many people use to exfoliate their feet works magic on a dirty grill? Pumice stone is naturally anti-bacterial and removes stuck-on food very effectively. And you can get ones especially for cleaning charcoal grills.
We found that the long-handled pumice stone from IMPRESA, available from Amazon works on your barbie surfaces, and, seeing as they come in a 2-pack, you can use the other to clean a toilet – just make sure they're clearly labeled so you don't mix them up.
7. Soak your bbq grate in soapy water
This method is obvious, but the key to its success is patience. Fill a large plastic tray full of hot water and one of the best washing-up liquids on the market. Then, submerge the grill, and leave it be. This will take a while, at least half an hour before the burnt-on food loosens and can be removed with a simple scrubbing brush.
8. How to clean your bbq with lemon
When life gives you lemons – learn how to clean a bbq with them. Yes, they can be squeezed over fish and meats to cut through the rich umami taste of your protein, but they can also be used to clean the surface they were cooked on too.
The bigger your lemons, the better (so to speak). Slice the lemons in half and dip them into salt crystals. Heat up your BBQ, and then rub and squeeze your lemon halves all over the hot charcoal grill. You've got abrasive action from the salt, and cleaning and antibacterial action from the citric acid.
Lemons are useful all around the home; while this is just one way to use lemon to clean your home, these sharp yellow fruits can also be used to get a stain out of a white shirt. Definitely something you need to know if you've spilled ketchup or mustard on your fave light-colored blouse.
They can also be used to clean a wooden cutting board and sanitize it – an essential bit of know-how if you're using it to chop chicken and other meats.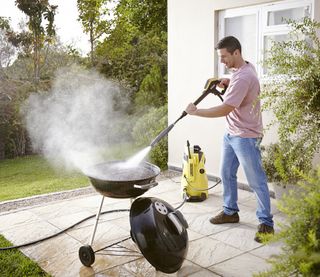 9. How to clean a charcoal grill with a pressure washer
Happen to own one of the best pressure washers? You can use it to effortlessly clean a charcoal grate. First empty the barbecue of ash, replace the charcoal grate, and then stand it away from anything you don't want to splash (the middle of the lawn is perfect; near a compost heap better. Then simply turn your pressure washer on a medium setting, and wash downwards, not up, to avoid making a mess.
If time is of the essence, and you find yourself spending more time cleaning than eating, it's worth investing in something like the Kärcher K2 Power Control Home Pressure Washer, available on Amazon. Read the Kärcher K2 Full Control pressure washer review for our honest take on the product.
10. Use a dedicated bbq grate cleaner spray
Don't like DIY cleaning? Use a commercial bbq grate cleaner spray. The benefit of these sprays is that they come in spray bottles with 360-degree nozzles, which means you don't have to hold the spray in any particular way to get the solution onto your grill. Then, it's just a case of following the manufacturer's instructions. Our pick? The Goo Gone Grate cleaner from Amazon is available as a 2-pack.
Alternatively, cleanfluencer cult fave, The Pink Stuff, available on Amazon is a miracle all-purpose cleaner if you prefer the consistency of a paste. It also happens to be one of the best cleaning products, as tested by the Real Homes team.
11. Nuke the nitty-gritty with newspaper
Roll up roll up! We've breaking news on how to clean a barbecue, and it comes from Julia Creasey, product buyer at Home Essentials. She says:

'A clever cleaning trick for your barbecue grill is to steam it using a sheet of slightly damp newspaper. Once the barbecue has cooled down slightly, spritz some water over a sheet of old newspaper and lay it on top. Put the lid of the barbecue on top and leave it for half an hour to work its magic. The heat from the barbecue and the water from the newspaper will produce a steam to get rid of any grime caked on the grill itself.'

Tristan Sissons, garden buying manager, Homebase warns however that you should: 'Keep an eye on the newspaper to make sure it doesn't burn, as this will cause even more mess!'
And Lovell advises the best time to take action. He says: 'Whilst you are tidying the garden or entertaining friends the wet newspaper will steam the grease away making it easy to wipe clean.'
12. Eliminate grime with an onion
There'll be no tears when you have a bbq that looks like new. So chop open an onion (a brown or yellow one will do) and get to work. The Allium cepa is great at attacking all sorts of substances found on your barbecue be it food, or bird poop (if you've happened to leave your grill uncovered).
'An unlikely cleaning savior, an onion attached to a fork.' says Creasey.
'Whilst there is still heat in the grill, attach half an onion to the end of a fork and use it to rub over the hot bars. The water in the onion steams away any stuck-on food and uses its natural antibacterial properties to remove impurities.'
13. Banish debris with beer
'In the unlikely event that you do have some left-over beers after your barbecue then pour half a bottle over the warm grill and scrub using a bristle brush or some old newspaper,' says Creasey.
'Wire brushes have received some bad press lately over the wire bristles falling into the barbecue and ending up in your food so make sure you chose your cleaning tools carefully.'
14. Keep your bbq clean with ketchup
Whether you call it ketchup, catsup, cetchup or red sauce, this condiment, which is a quintessential accompaniment in barbecued cuisine, can be a useful foodstuff for cleaning a bbq.
'Not only does ketchup spice up our barbecue burgers, it also is a great way to prevent rusting on your barbecue,' confirms Creasey.
'This hack is ideal for barbecues left out in the garden exposed to the elements. All you do is a apply a small amount of ketchup to any areas of rust and leave for a few minutes then wait to see your results!'

And Lynsey Crombie, aka Lynsey Queen of Clean says: 'Ketchup is an amazing cleaner for removing rust!'
15. Don't forget the outside of your bbq
'Whilst the grill itself is likely going to take up all of your attention whilst cleaning your BBQ, don't forget to wipe down the outside of it,' says Lovell.
'Simply use hot soapy water to wipe clean and then buff with a dry cleaning cloth to keep it mark free.'
How to clean a gas bbq
We spoke to Sarah Fisburne, director of trend and design at Home Depot who ran us through the steps of cleaning a BBQ that runs on propane gas, before and after each grilling season.
Pre-heat the grill for 15 minutes on high heat, then turn off the grill.
Turn the gas off; either on the propane tank or the gas line.
Clean the grill using a stiff wire brush dipped in water. Do not lean over the grill while cleaning, as this will create plenty of steam.
For tough grease spots, add dish soap to the water or a grill cleaner.
Once the surface has cooled, wipe the grate with a damp cloth to remove residue or brush bristles.
Remove burners from the gas supply line and remove blockages to the burner's gas ports using a dry wire brush. Clean the ports by brushing side-to-side instead of up-and-down, as the vertical motion may push debris into the ports.
Clean the burner valve with soapy water and run water through the inside of the valve.
Clean the inside of the grill using a wire brush and warm soapy water and rinse with water. Towel dry the burners and reinstall.
Refer to the instruction manual for specifics on how to clean the outside of a grill. Certain materials may be sensitive to harsh cleaning agents. For a stainless-steel grill, use a specially formulated stainless-steel BBQ grill cleaner and microfiber cloth. Ceramic, porcelain and painted steel surfaces can be cleaned using soap and water.
If you have a propane grill, you can store it outside with the propane tank attached. If storing inside, remove the propane tank and keep it outside, away from direct sunlight.
Is cleaning a bbq necessary?
As well as being an eyesore, not cleaning a bbq can have severe consequences on your digestive system. But that's not all; it can also affect the performance of your backyard broiler and how tasty your steaks and sausages are.

'A grill can quickly build up grease and smoke residue. This can cause it to not keep a consistent temperature, or can affect the flavor of grilled food.' says Fishburne.