Heading out for a backyard barbecue? The best grill will cater for you, making sure that you have a smoking HOT summer. Whether it's a simple and compact grill you want, or a no-holds-barred mighty grill for entertaining a crowd, we've found the very best gas grills, charcoal grills and even kamodo grills to get the party started.
Why you can trust us
The Real Homes grill testing process is editorially independent. The majority of those products you see featured are currently undergoing at-home testing so, for now, we have used our experience to-date and the opinion of other customers to ensure that you get the best grill this summer.
How we review grills
About Real Homes reviews
This page was last updated on 19 May 2022, and all of the products you see here were available at that time.
You'll be able to enjoy your favorite foods with that game-changing barbecue flavor. All the juices will be locked in. And you'll even get those satisfying grill marks. This sounds good to us already and so to whet your appetite a little more we've created this round up of our top seven grills, to help you get a taste of summer.
All factors have been considered. Aside from judging by the amount of dollars one of these grills will set you back, we've also looked into how easy they are to set up and use. You'll note that many of these grills come on lockable wheels, meaning it's just a case of wheeling them out whenever you want an outdoor meal. Others are large and powerful, but what they lack in portability they make up for in sheer grilling capacity. Customer reviews have been taken into account, along with our own opinions because sometimes we are lucky enough to review featured products on your behalf.
Keep scrolling to see what the brands such as Weber, Char-Broil, Z Grills and Kamodo Joe have to offer. Then, check out our best pizza oven guide so you can feast on homemade pizza in the backyard, too.
The best grills of 2022
Weber is a solid brand in the grilling scene and it's not hard to see why. Not only is it pretty affordable, but this Weber is equipped with all the accessories and features you need to cook for big and small parties.
This Weber Spirit II runs on liquid propane and is equipped with two burners and a warming rack. Shrimp, fish, and vegetables are best cooked on the thin side of the reversible porcelain-enameled cooking grate, while red meats and other heavy foods are better prepared on the thicker side. Thanks to the integrated hooks, you can have your grilling tools by your side, and if you like prep space near the grill, the foldable table comes in handy.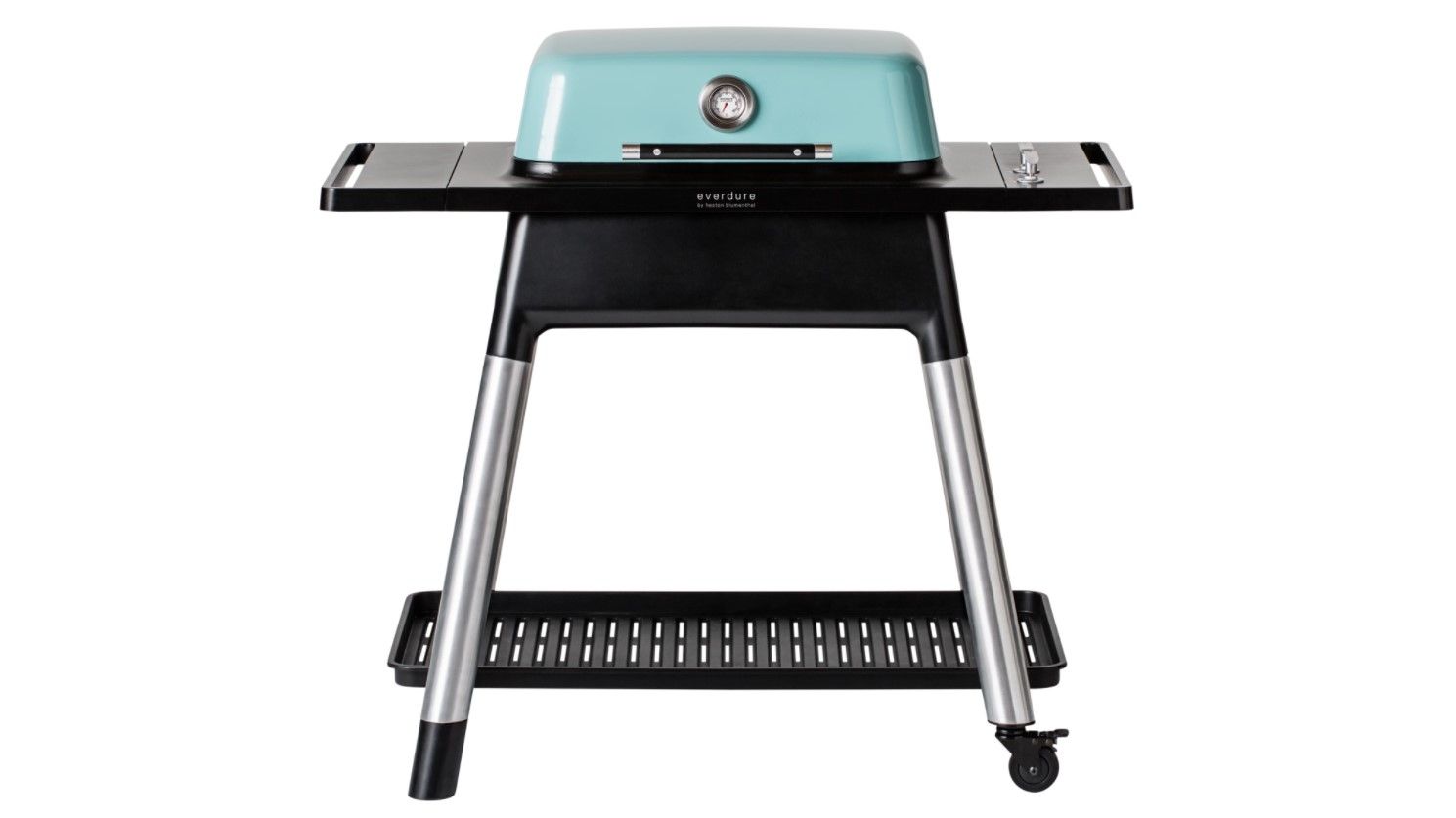 Offering outstanding control and good looks, it would be a great investment if you buy the Everdure by Heston Blumenthal Force 2 Burner Gas BBQ. It's one you can also see featured in our best gas BBQ guide, too, so you know you're onto a winner.
You just know that any cooking gadget or appliance with the name Heston Blumenthal attached to it is going to be great quality and well thought out, and this Everdure by Heston Blumenthal Force 2 Burner Gas BBQ is no exception. It features two independently controlled gas burners for cooking on and off the heat with variable heat control so you can ensure that ingredients are cooking at the perfect temperature. And you can cook with the hood up or the hood down, with the hood being high enough for convection cooking if you fancy a large joint of meat.
It has side shelves and space below for storing sauces and salads. What's more, the die-cast aluminium body is rust-proof and feels extremely sturdy and durable.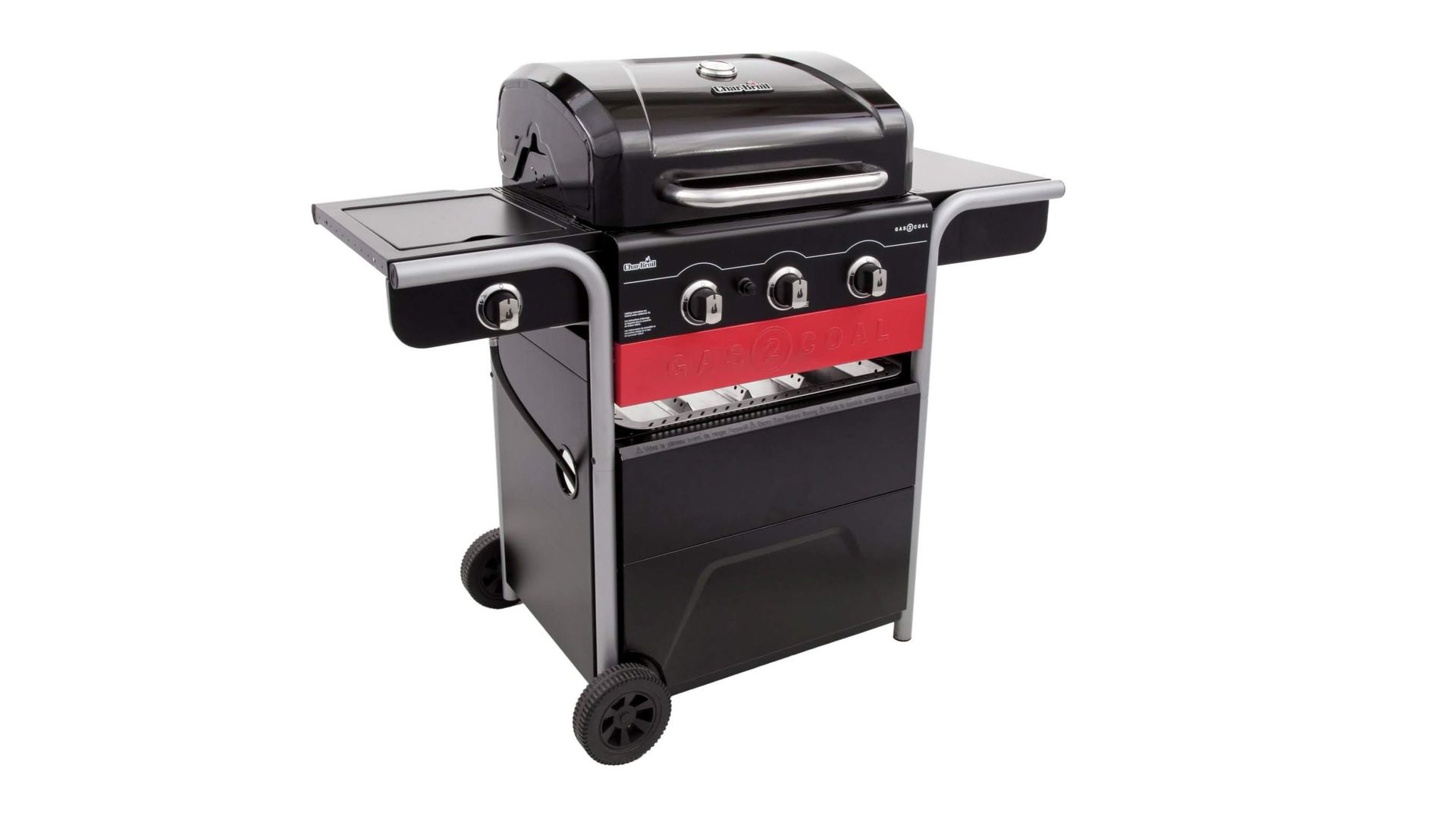 If you can't decide whether to cook with gas or coal, then consider getting a hybrid grill which will give you both options.
This 3-burner design offers great gas temperature control that allows you to get the temperature just right when cooking with gas. There's an off-heat cooking option for that smoky, slow-cooked flavour while the ability to cook without the heat on in the charcoal mode is great. The results, flavour-wise, are stunning - we know, trust us.
It has on-board storage space with a side shelf and warming rack, which is also handy for keeping food warm. There's also a warming rack which we found useful to keep food warm whilst more was cooking.
If you're searching for a compact grill, perhaps because you have a small yard or maybe because you rarely cook outside? The Weber Smokey Joe is the best option for you. This brilliant little grill might lack a little when it comes to size, but it certainly makes up for it when it comes to features. You can use this small yet mighty grill to cook everything from burgers to a Tomahawk steak.
Cooking features
For a portable model, it's packed full of features such as a steel cooking grate, a tuck-n-carry lid, a steel charcoal grate for aeration, and a briquette measuring cup so you don't overdo it on the heat production. It's pretty simple to use and it's more than easy to get good results. We tested this grill with everything from burgers to a Tomahawk, kebabs, and lots of smaller cuts of meat. It's safe for us to say we were more than impressed. In fact, one of the times we tested this grill we cooked for around 20 people, making burgers in batches, and it performed brilliantly.
Storage space
There's no storage space with this grill, but you wouldn't expect it for such a small model or such a low price. It sits atop a table when in use. Though not technically storage, it does have a hinged lid that can be used for shielding the weather whilst in use.
Added benefits
At just 7.7lbs, this is lightweight enough to take with you to the beach, park, festival, or camping site. When we tested this BBQ, we noticed that though it does have a tuck-n-carry lid, it's not the most secure. Bearing this in mind, we wouldn't suggest putting it in a car filled with ash or charcoal in case of spillage. You can also use this BBQ to indirectly cook food by rearranging the coals once they've burned. This is great when it comes to cooking joints and delicate pieces of fish.
Not everyone can use a gas or charcoal grill. If you have a compact outdoor space or don't want to kick up any smoke, opting for an electric grill is a smart choice. The Char-Broil Bistro Tru-Infrared Electric Grill (opens in new tab) can simply be plugged in to start, making it easy to ignite and small enough to fit on a terrace or balcony (landlord permitting).
This grill has a warming rack and a burner that can fit enough grilled meat for the while family. It's also got lockable wheels and a wipe-clean frame.
Some people swear by charcoal grilling because they like the smoky flavor it adds to meats and vegetables. If you're in the market for a charcoal grill, you can't go wrong with this Kamado Joe Classic II Charcoal Grill (opens in new tab). It's made of ceramic to hold in high heat temperatures. Inside you'll find multiple tiers that allow you to cook different foods at different levels and temperatures, resulting in a much better grilling experience.
Those who love smoky flavors will be won over by the Kamado SlōRoller smoke chamber, designed to distribute smoke and heat in even waves around the food. This technology reduces heat spots and helps the food to cook evenly. Bonus – you can also enjoy rotisserie with the Kamado Joe as it has a rack powered by a motor that can hold 50 lbs of meat.
As with all cooking gadgets designed by Heston Blumenthal, this grill has been cleverly designed when it comes to both features and looks. It means that you can cook outside no matter how much space you have, whilst ensuring your cooking method isn't an eyesore. Pop it atop your table, take it to the beach or even bring it to a friend's house. It's the ultimate versatile grill.
Cooking features
We used this grill to cook smaller cuts of meat, such as burgers and chicken, and it cooked everything to perfection. Whilst looking like perfection! It's nice and compact so that you can easily transport it, or tuck it away in a cupboard after use. It's designed to sit atop a table, and due to its design, you could place it in the center of a large table and dine around this grill, adding your own meat to it whenever suits you. Makes for a sociable evening!
Storage space
Whilst you can't expect any built-in storage when it comes to a portable grill, this model has the added bonus of a food-grade plastic tray, which can be a handy storage area for either food or cutlery and napkins, and a bamboo tray for prepping. This makes it easy to grill whether you are at home or out of the house.
Added benefits
The Everdure Cube has a lid that securely clips into place to avoid spillage, and it has two sturdy heat-resistant handles. We did find that these did get hot, so wouldn't recommend touching them whilst you are cooking. Choose from a range of colors, with orange being our favorite. When it comes to cleaning, it's a bit difficult to keep clean inside as the orange interior stains easily. Otherwise, you can pop the grates and the fire basket in the dishwasher.
You'll need a spacious backyard or patio to use the Z Grills Wood Pellet Grill Smoker. Trust us when we say that this grill is well worth the space it takes up. It has a grilling surface area of 700 square inches, allowing you to cook a lot at one time. This 8-in-1 piece of cooking technology doesn't just grill – it smokes, bakes, roasts, sears, braises, and barbecues with the help of 100% hardwood pellets that add a touch of wood-fire flavoring to your foods.
The grill has a built-in Smart Digital Controller. What this means is that once you set the grill temperature between 180 and 450 degrees, the grill will remain within a 20-degree difference of your chosen setting. Effectively, you could burn 20 lb. pellets for 15 hours. An innovative grease bucket holder lets you drain grease via an integrated spigot, which makes a post-grill cleaning routine much simpler.
Apartment dwellers and those who don't want to brave the cold to grill: the Chefman Electric Smokeless Indoor Grill (opens in new tab) is perfect for you. As the name implies, you can use this inside the house. The grill has a water tray that when filled between the minimum and maximum line, cools grease and prevents a lot of smoke from occurring, so there is no need to worry about the smoke alarm going off.
There is 150-square-inches of grilling space which is enough to cook a bundle of asparagus and three chicken breasts at the same time (with room to spare). This grill plugs into the wall so you don't have to put aside money for fuel. For those who hate washing dishes, check this: the grill plate and water tray are both dishwasher safe!
For the best wood pellet grill, you're going to want to invest in the Traeger Grill Pro Series 780. Not only will you enjoy a wood fire-infused taste to your food, but you can grill, smoke, bake, roast, braise, and barbecue on 780-square-inches. That's large enough to cook six rib racks or 34 burgers at one time.
If you've never used a wood pellet grill, Traeger makes it simple, allowing you to set the temperature of the grill as you would an oven. With Smart features, you can use the Traeger app and WiFIRE controller to adjust temperatures and set timers. This particular model makes it even easier with Alexa voice controls. A simple command and Alexa can monitor your food, create alerts, and change the temperature to cook your food just like you like it.
If you can overlook the hefty price tag for the Lynx 30-inch Smart 2-burner Gas Grill with Rotisserie, you'll be able to see that it's the future of grilling. This baby runs on liquid propane or natural gas and it's less of a grill and more like a spaceship. Open it up and you'll find two Trident infrared burners which is a fancy way of saying that the burners offer instantaneous temperature control between 300 and 1000 degrees. The burners actually heat the grates directly beneath your food rather which most grills don't have the capability to do.
In addition to a rotisserie feature and a smokebox, the chef in your life will have a blast playing with this grill's technological features. The crowning achievement of the Lynx is that it can be controlled by the SmartGrill by Lynx app. You can adjust the temperature or the flame level, turn it off or on, or time the cooking of a dish. The Recipe feature teaches you how to cook a dish per easy-to-follow instructions and calibrates the temperature and timing needed to complete the recipe with the grill.
What is the best grill?
If you'd like a recap of our favorite, we'd vote for the Z Grills Wood Pellet Grill Smoker (opens in new tab) because it can do it all – grill, smoke, braise, you name it – and at a pretty affordable price. On the other hand, if you can chuck out the cash, you won't be disappointed by the Lynx 30" Smart 2-Burner Gas Grill with Rotisserie (opens in new tab) or Traeger Grills Pro Series 780 Wood Pellet Grill and Smoker (opens in new tab), both of which have Smart features that are, in basic terms, super fun.
How we review grills
Here at Real Homes, we like to have hand-on experience with all the grills we've featured in our guide. Which is why we have made it our mission to review the Weber 44010001 Spirit II E-210 to the Kamado Joe KJ23RHC, or something very similar. You'll know when we have tested the grills by one of our badges. Only those which have scored four-out-of-five stars would've made the cut, so you know you are getting the best-of-the-best for your money.
The things we look out for in our reviews include; how easy it is to set up, cook meat and veggies, store and maintain after each use. We also take into consideration the size of the BBQ because we know that not everyone has a large yard.
We like to test products for a minimum of six weeks so, for the interim, we have considered what other customers think of the product/s and have called upon our barbecuing knowledge thus-far to share what we think are the best grills right now.
Which type of grill should you use?
When buying a grill, there is a lot to consider -- the price, how much space it takes, its capacity to hold food -- but there is one aspect that buyers tend to get hung up on: what's the best power source? Charcoal, liquid propane, electric, and wood pellets are the main power sources for grills and each offers a little something different.
Learn more below:
Electric
Electric grills are usually small in size and used inside, though there are a few outdoor electric grills. They can be much easier to clean than other types of grills, however, don't expect to be able to grill a lot on electric grills as they don't tend to have large surface areas.
Charcoal
A lot of barbecuers love charcoal. It offers a smoky, delicious taste to food and they don't tend to take up a lot of space. Though we've included a top-notch charcoal grill in this guide, there are a ton of cheap and affordable options like the Weber 441. (opens in new tab) Keep in mind that charcoal grills take much longer to heat up and the temperature is much harder to control. Plus, when you're done using a charcoal grill, you have a bit of a mess to clean up.
Liquid Propane or Gas
Propane grills are convenient. You don't have to wait for anything to heat up and you can begin cooking right away. The drawback is that you never know how much propane is left in a tank and they don't generally offer smoky or woodsy flavoring that's associated with charcoal or wood pellet grills. Some even claim you can taste the propane, but that might be a bit of a stretch. If you're looking for ease and convenience or even the ability to adjust your temperature quickly, then a propane grill is the way to go.
Wood Pellets
Most people don't cook over open wood fires anymore because it takes too long for the fire and heat to built. The grilling gods have found a way to create the same effect with wood pellet grills. If you can afford them, wood pellet grills are phenomenal because they grill, roast, sear, smoke, and much more in one grill. Like an oven, you can set your temperature with wood pellet grills and don't have to worry about it getting too hot or burning too low. Many, though not all, wood pellet grills have Wi-Fi connections and apps that can control the grilling features on your phone.
You've reached the end of the page. Jump back up to the top ^