Buying the best pizza oven can save you a trip to your local takeout spot, with indoor and outdoor pizza ovens for cooking up a pizza party in your own back yard.
You may recognize some of our top pizza oven picks, from the likes of Gozney, Ooni, and Breville. Some of them we've even been lucky enough to try hands-on, and in our best pizza oven guide you'll find our thoughts and reviews to make your decision easier than ever.
Some will opt for an outdoor pizza oven that makes a year-round statement, whereas others will enjoy an indoor pizza oven, such as Breville's Smart Oven, that can be stored away easily and taken out when you're in the mood for some home-made 'za.
Pick up your paddle and get your dough at the ready, because our best pizza oven guide will have you craving a homemade pizza pie in no time. And when that's done, take a look at the best grills with gas and wood-powered options for every home.
The best pizza ovens 2023
Why you can trust Real Homes Our expert reviewers spend hours testing and comparing products and services so you can choose the best for you. Find out more about how we test.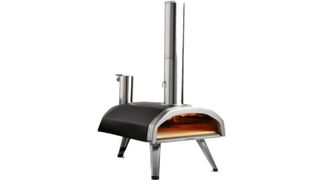 The Ooni Fyra Portable Outdoor Pizza Oven wowed us in testing. We found that it heated up to 950° Fahrenheit in 15 minutes, and assembly only took 10 minutes from the package. The chimney has a removable lid that prevents rain from falling into the oven when not in use.
Thoughtful touches included the small hole in the door of the Ooni Fyra, which allows you to keep an eye on your pizza without opening the oven. It cooks fast. We found that if we didn't turn pizzas after 30 seconds, they would char on the side that is closest to the fire. Turning halfway through cooking will give you a perfectly cooked pizza in just one minute.
This pizza oven has been reviewed by one of our editor's. It's scored (at least) four out of five stars so you know you're onto a winner.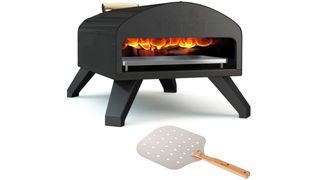 The Bertello Outdoor Pizza Oven is a great compact pick because it does not need a chimney to operate. That's because there is no letterbox-style door, but because it gets to hot, you won't need to close it up anyway. With heats of up to 930°F, this pizza oven can cook your margherita in a minute flat.
Like many of the best pizza ovens, you can't cook anything larger than a 12-inch pizza. Because it's so speedy though, you can always go back for a second if you're not pizza partied out! The oven does not have a gas burner included, but you can buy one, making it a top pick for multu-functionality.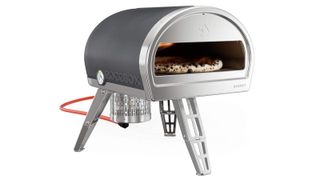 Gozney's Roccbox pizza oven has the choice of either a striking green or matte black exterior. It has a lower hanging wood chamber that burns for long periods of time and is easy to top up. We found in testing that the side thermometer was a great touch, especially because this isn't a feature you'll find in any old pizza oven. We did struggle to reach the advertised 932°F, though, and our pizzas took a little over 60 seconds to cook.
The pizzas we made in this oven came out very evenly, which is a testament to it smart design. Because it lacks a chimney the Roccbox will work well in more compact spaces, and it comes with a peel to make it easy to turn the pizza halfway.
This pizza oven has been reviewed by one of our editor's. It's scored (at least) four out of five stars so you know you're onto a winner.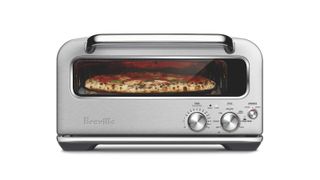 We seriously love the Breville Smart Oven Pizzaiolo. It's the smartest pizza oven we've ever used, with a panel upfront displaying the different types of pizzas you can make. Simply select the right one and the temperature and timer will automatically adjust. You can also place a magnet over the display to convert this into a more manual pizza oven.
The Breville Smart Oven Pizzaiolo has seven presets and you can also switch to manual controls if you want to take the reigns. Presets include an option for New York, Pan, Crispy, and even Frozen pizzas. Despite how hot it gets, the oven always stays cool to touch. The in-built pizza stone heats your pizza from above and below, replicating a wood-fired oven but without the smoke or uneven heat. When testing our pizza came out even and perfectly cooked when we followed the instructions exactly. The only downside is the price, but if you lack an outdoor space and still want fresh pizza, this indoor pizza oven is the one for you.
This pizza oven has been reviewed by one of our editor's. It's scored (at least) four out of five stars so you know you're onto a winner.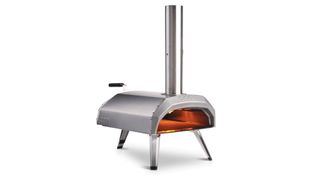 Another one we've tried ourselves, the Ooni Karu 12 Multi-Fuel Pizza Oven is the top option for those who want versatility. We enjoyed how the Ooni Karu converts into a gas oven, with an easily attached burner that simply hooks up to a canister for straightforward ignition. It takes minutes, but unfortunately the gas attachment costs extra.
The Karu can also cook with charcoal for slow and smokey cooking, and regular wood for that classic Italian-style pizza. We noticed that heat is less even when cooking with wood than gas, because the flames are less drawn along the top of the oven, so be sure to turn regularly for sizzling toppings and a crisp crust.
This pizza oven has been reviewed by one of our editor's. It's scored (at least) four out of five stars so you know you're onto a winner.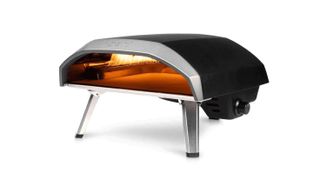 Pick from the 12 or 16-inch Ooni Koda for a gas-fired pizza oven that will look right at home in any outdoor space. It doesn't have a chimney because there won't be any fumes, and the legs fold away for even easier storage.
Ignition is similar to turning on a gas grill, you simply press a button and watch the flames ignite on the inside of the oven. Gas is a lot more reliable than wood at reaching those high high temperatures, so opt for the Koda if you want an authentic thin-crust pizza cooked in a minute or less.
What is the best outdoor pizza oven in 2022?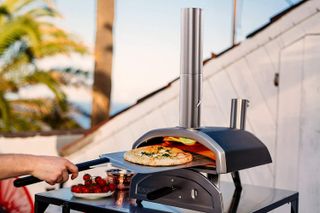 Where to buy a pizza oven
Our top pick of the best pizza ovens is the Ooni Fyra Portable Outdoor Pizza Oven. When we put this pizza oven to the test we loved the authentic wood-fired pizza we were able to make, which had all the charm of a classic pizzeria. Another top pick is the Gozney Roccbox, which has an in-built thermometer and no chimney to worry about. We did struggle to bring it up to the full temperature, though.
For the best indoor pizza oven, the crown goes to the Breville Smart Oven Pizzaiolo. It's immensely powerful and cooked our pizzas the most evenly of any pizza oven we've tested. This electric oven is less suited to outdoor use, but it's still a top pick.