Elevate your favourite bottle with the best wine fridge in your home, and improve your wine storage situation at the same time. Regardless of whether you're drinking red, white or sparkling, these fridges will unlock a whole new drinking experience for you and your guests, with your purchase becoming the star of your kitchen.
And don't worry if you are looking for the best wine cooler on a budget, as they are slowly becoming less of a high-price tag item. Rather than splurging your cash, you can pick up a small under-counter model for around £100. We have included the energy rating information too, so you can check you are buying something cheap to run. Or, if you're investing in a larger model to host your wine collection, we've collated options that can store over 100 bottles, which is enough to earn you the host of the year title if you feel like it.
Aside from exactly which wines you're going to store in it, there are a few practical considerations when it comes to your new wine fridge. Think about size and capacity, as well as the installation process, especially if it's a hefty appliance. Options with different temperature zones in order to keep your reds and whites separate are a must for anyone thinking of growing their collection.
You might even want to consider a wine cooler with smart features so that you can tinker with the settings of your fridge from afar, and get your perfect bottle of wine at the right temperature stress-free. For more appliances that can transform your kitchen, why not also check out our guide to the best fridge freezers on the market.
The best wine fridges and coolers
Why you can trust Real Homes Our expert reviewers spend hours testing and comparing products and services so you can choose the best for you. Find out more about how we test.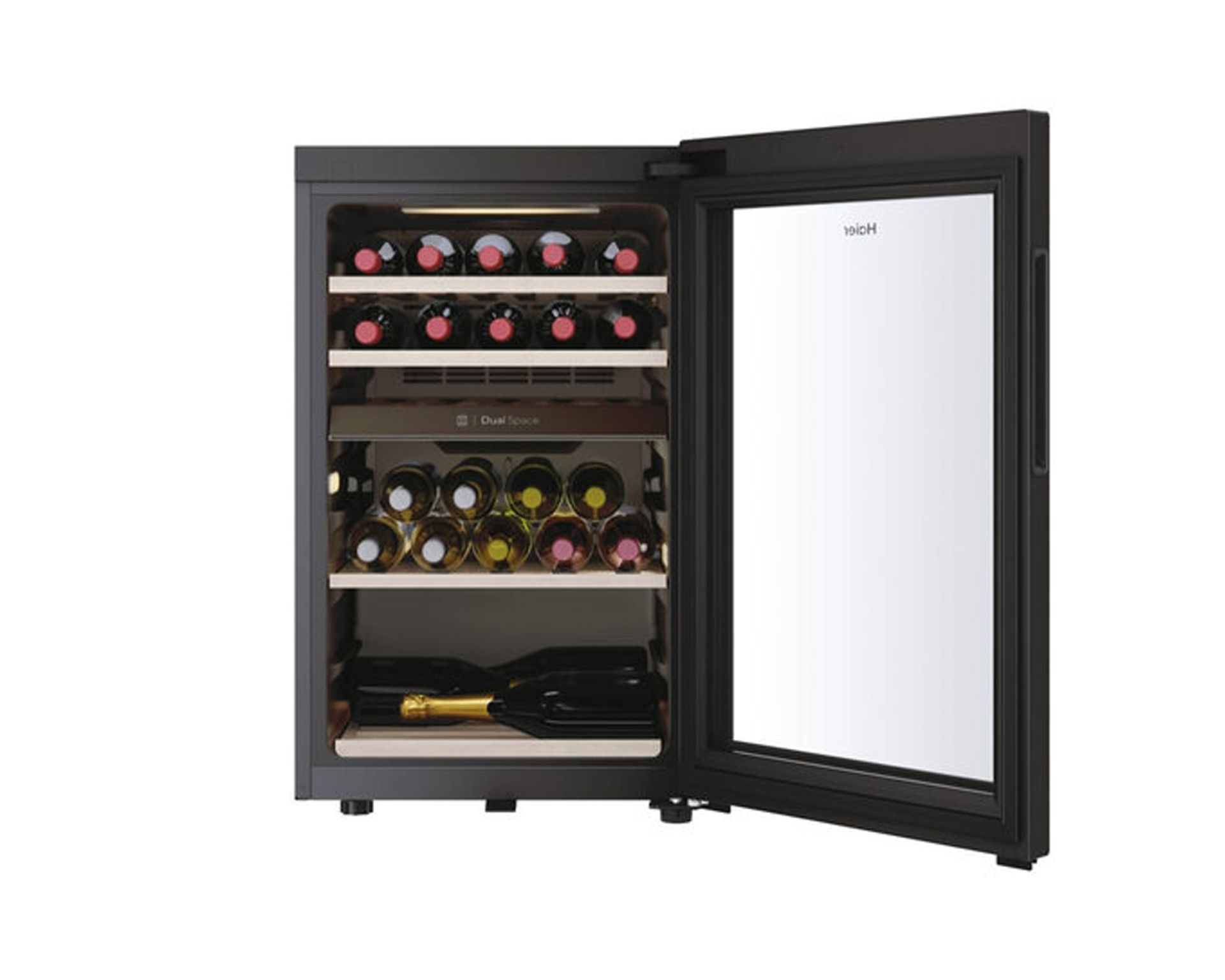 This Haier HWS42GDAU1 combines elegance and practicality, with enough space and gorgeous lighting to keep the rosé flowing all summer and the mulled wine at an optimum temperature all winter. With space for 42 bottles across two customisable temperature zones, you'll be able to enjoy all your favorite beverages thanks to your sleek new purchase.
The warm LED lighting of this fridge will frame your wine collection perfectly, making this cooler the envy of all of your friends and family. The spotlight effect of the lights means that the whole fridge will be illuminated from top to bottom so that no bottle is left behind.
Depending on the layout of your kitchen or basement, the handles can be reserved on this model to suit you – though, like the installation of this cooler, this is likely a two-person job. The freestanding design means that you can place this cooler under your countertops, or arrange your room so it catches attention stood alone.
Temperature zones are sure to be a must-have feature for any serious wine connoisseur, and with this fridge, you can alter the temperature between 5°C and 20°C in two custom compartments. The lockable feature on this fridge is also a practical addition for anyone who fears wandering hands near their collection, as well as an alarm that sounds when the door has been open for 60 seconds, in order to maintain the temperature.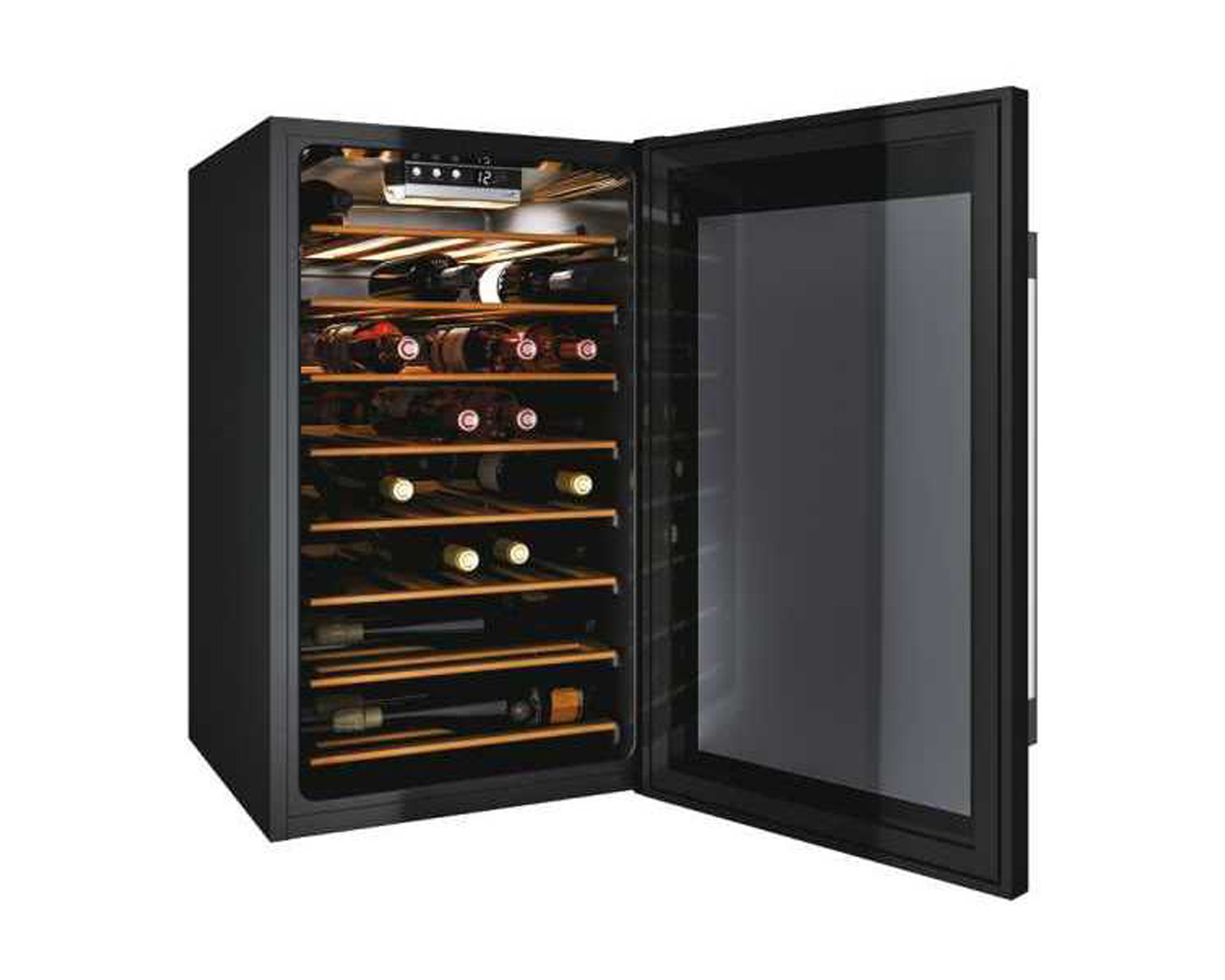 The Hoover HWC 150 UKW/N wine cooler is affordable, spacious, and would look perfect in any modern kitchen. Up to 41 bottles can be stored at once within this cooler, and despite the specifications stating that there's only one temperature zone, the difference between the top and bottom of the fridge means you can easily store both white wine and rosé, which is a total win if you need to save a little money on your purchase.
This particular wine fridge is also freestanding, so it can be placed under a kitchen or utility counter without any fuss, and blend in nicely with your kitchen design. We love the bamboo shelves too, which give an eco-friendly edge to the whole design, and are complimented by the range of LED lights. As with more pricey models, this fridge can also be controlled via an app, so that you can set the temperature remotely, and simply pick up your perfectly chilled bottle of wine when you fancy it. The app will also give you tips for storing your wine and recipe pairings so that you can learn more about your wines too – making this the best wine fridge for wine buffs.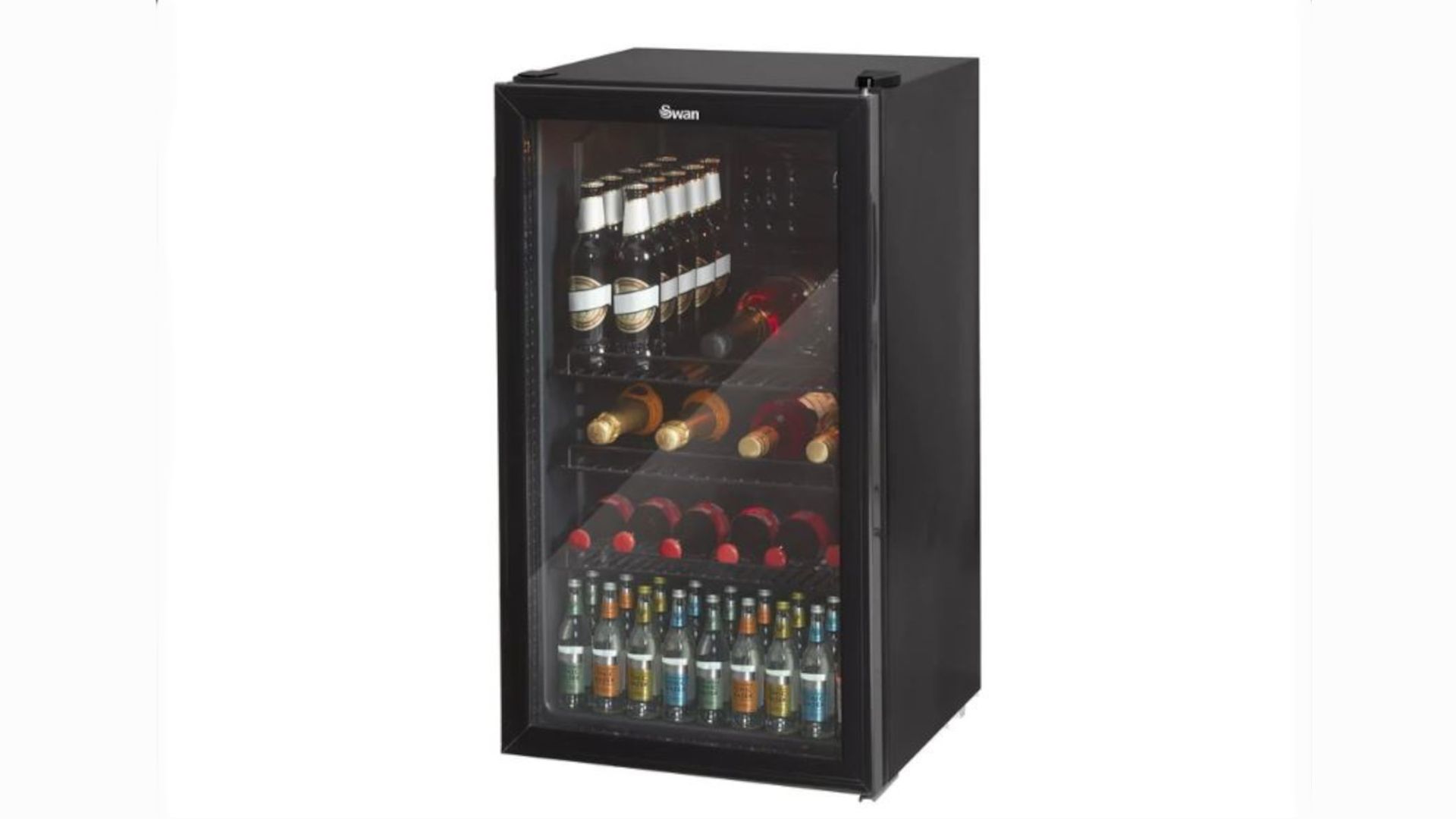 Having a wine cooler is a bit of a luxury, but we love this bargain buy that makes having a drinks fridge a bit more accessible. The Swan SR12030BN is smaller and less high-tech than our top picks, but it does a great job of storing and cooling your favourite beverages. What's more, it actually has a better energy rating than most, so it is more affordable to run, too.
The design is simple: a minimalist black fridge with three shelves. One is a half shelf that can only really go in one spot near the bottom, but the other two can be moved to optimise space. It is said to hold 20 wine bottles, and we found the base of the fridge to be a great place to store cans and shorter bottles so you can store more if you have beers and tonics in there. There is an internal light that you can switch on, but that will be on permanently so we preferred not to use it. At this price, you aren't getting app connectivity or notifications to tell your your Chablis is too hot, but if you want a spare fridge for drinks, it does more than enough. The only drawback we found was a bit of frosting on the back and initially the door kept misting up, but after some adjustments to the temperature dial this was minimal.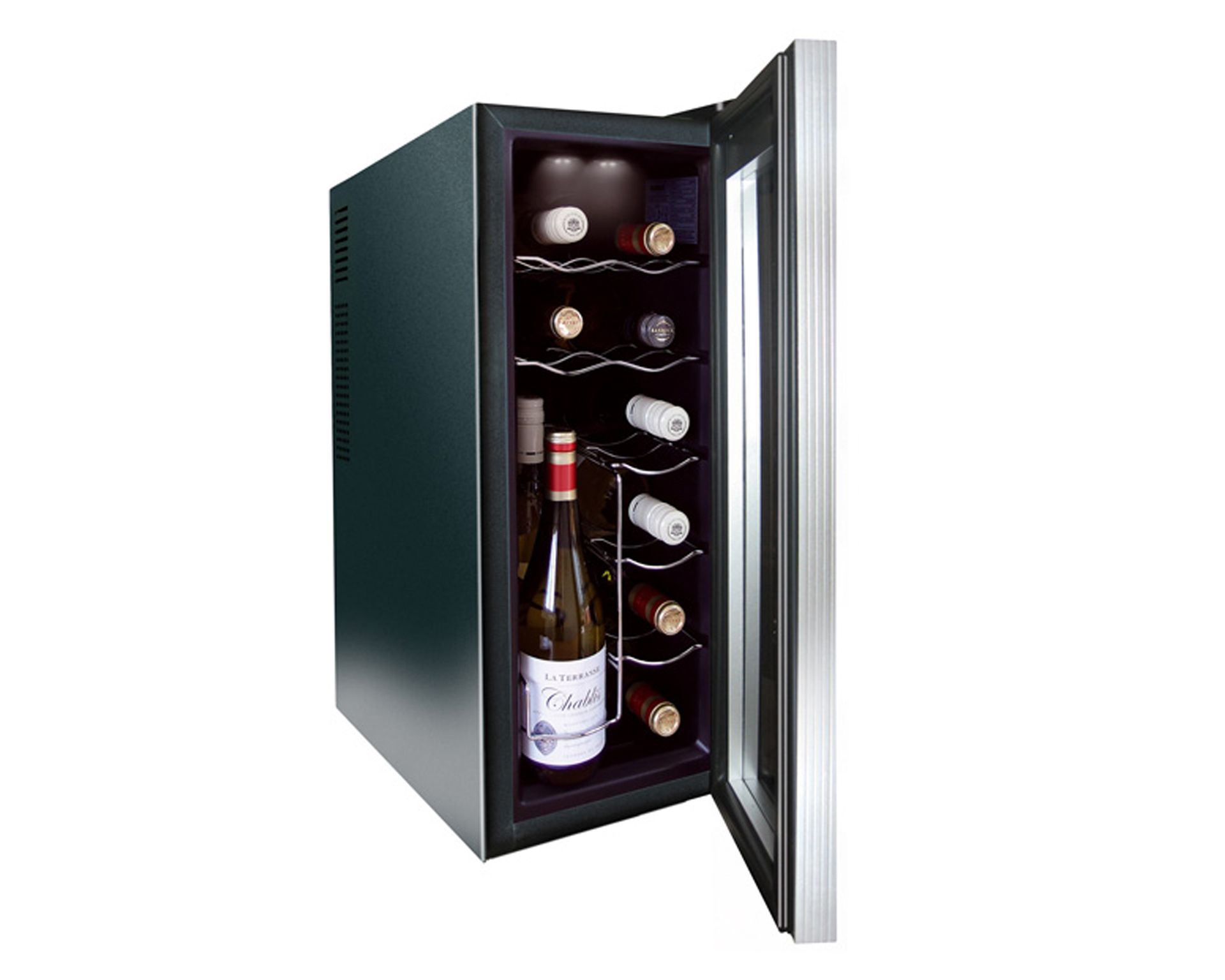 Though this cooler is super slimline, you won't be restricted in the wines you can store, with space for 12 bottles to keep a whole dinner party happy. You can arrange your wines across five different shelves, and keep four bottles upright too, which is perfect for already opened drinks. The curved effect glass door is bound to win over design fans too, and gives you the perfect opportunity to show off your curated collection.
Though this wine cooler is totally affordable, it also has the benefit of touch screen controls, which allow you to cater to the type of wine inside easily. The anti-vibration technology within also prevents the bottle sediment from being disrupted, so the expensive bottles that you're keeping for a celebration won't go bad. A huge selling point of this fridge is its perfect compact size, but you'll also be swayed by the elegant design and practical features.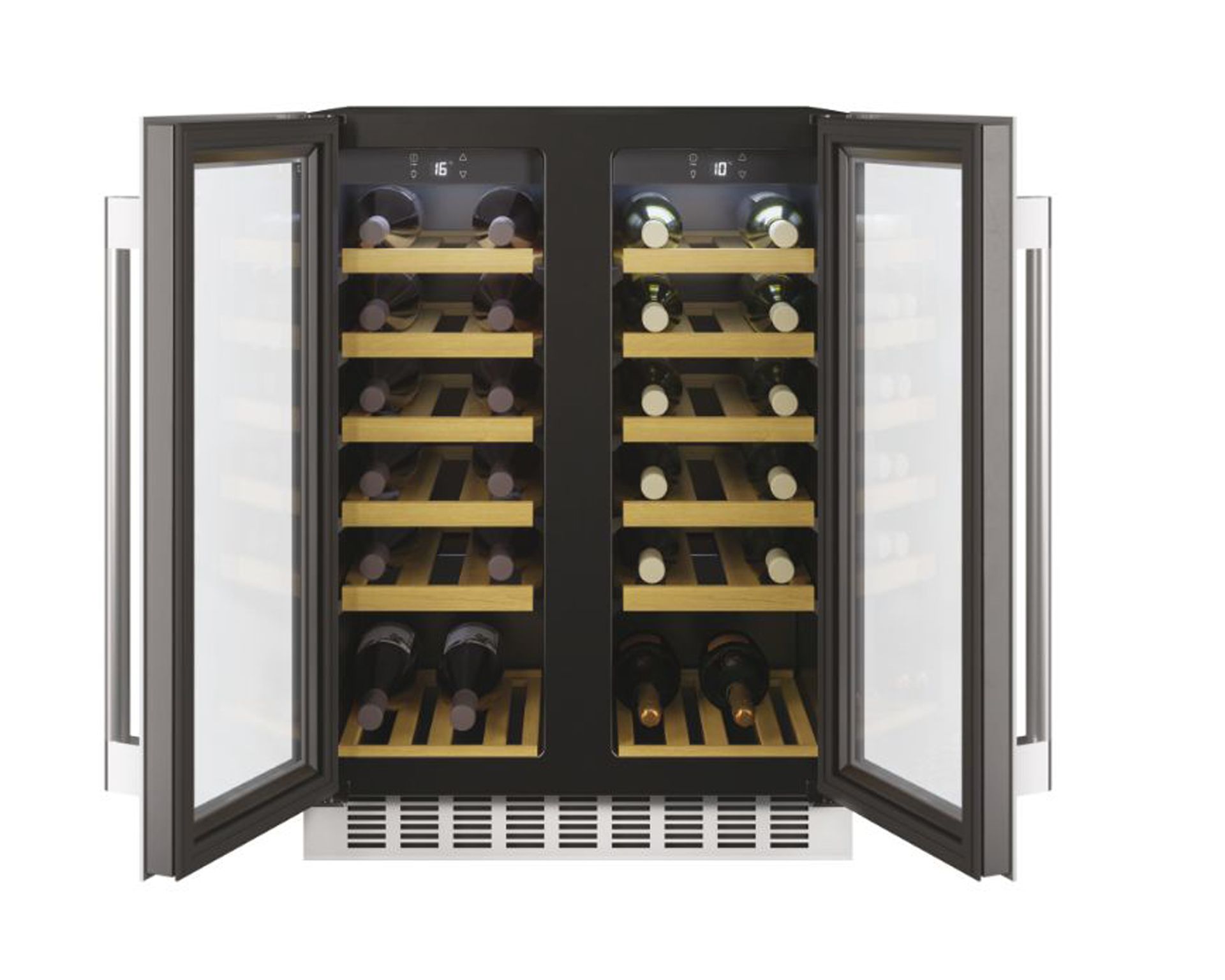 You can have it all with this Hoover wine cooler, which has enough space for 40 bottles of wine, and two temperature zones that make storing red and white in the same space totally possible – so you don't have to make any tough decisions. Adjust any area with ease between 5 and 18 degrees, and even find space for beers and ciders if you fancy it too.
Handily, this wine cooler is a built-in model, so it can just squeeze in under your countertops and merge with the rest of your appliances. The LED lights throughout the interior will spotlight your wine collection expertly, while the two-door setup means multiple guests can get involved with checking out which drink they want next.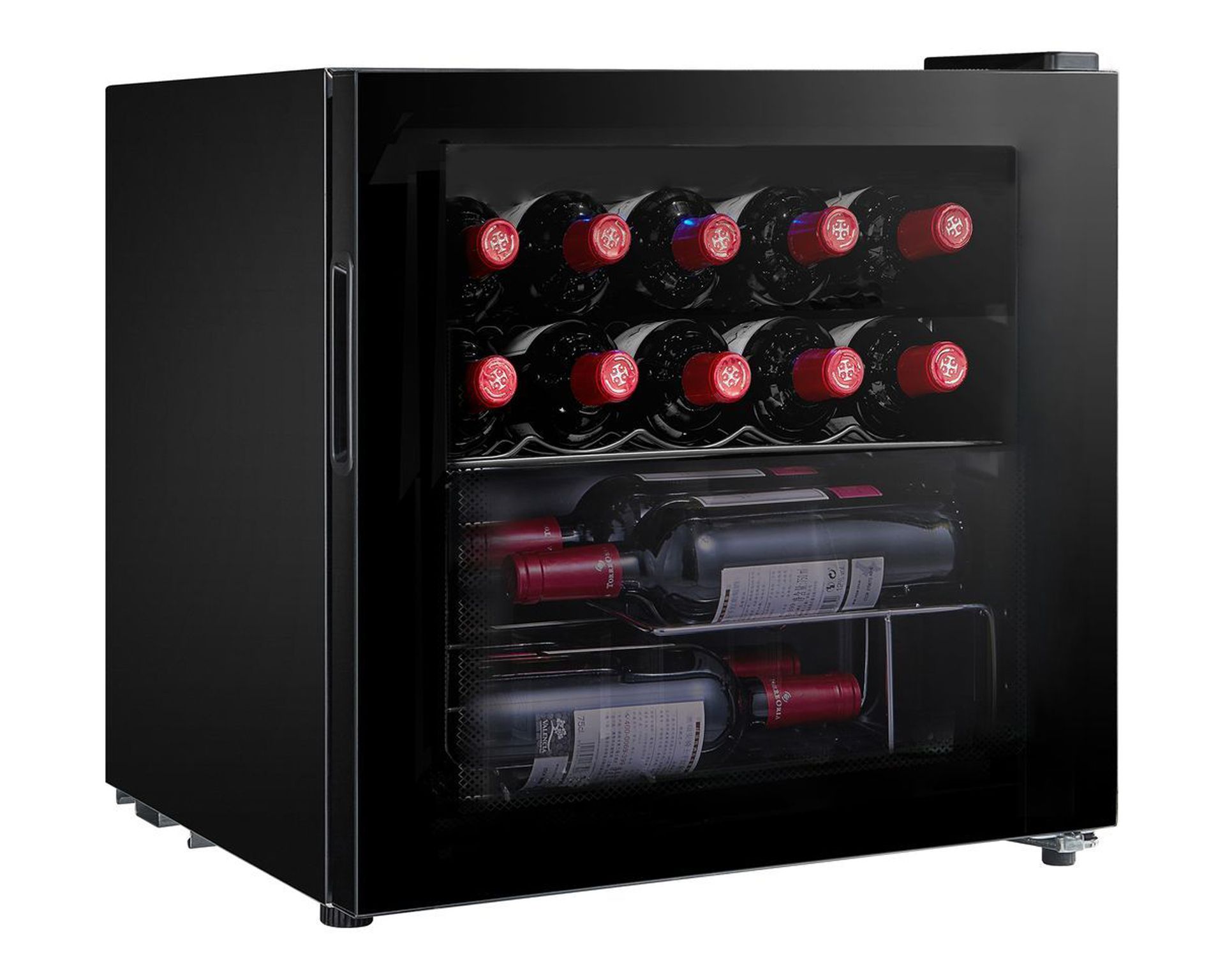 For less than £100 you can store 15 bottles of wine in your home with this Essentials cooler, which sounds like a pretty good investment to us. Forget jamming your fridge shut next time you entertain guests and store it all in this compact cooler, which has a door that can be installed on either side, to perfectly suit your kitchen.
You can adjust the temperature between 5 and 18 degrees with the simple dial control, and enjoy your chilled glass of wine from this dedicated appliance. We love the fact that you can store bottles either way too, which is especially good if you have a particular bottle you want to show off. It is small, but if you want extra drinks storage and only have £100 to spend, this is the one.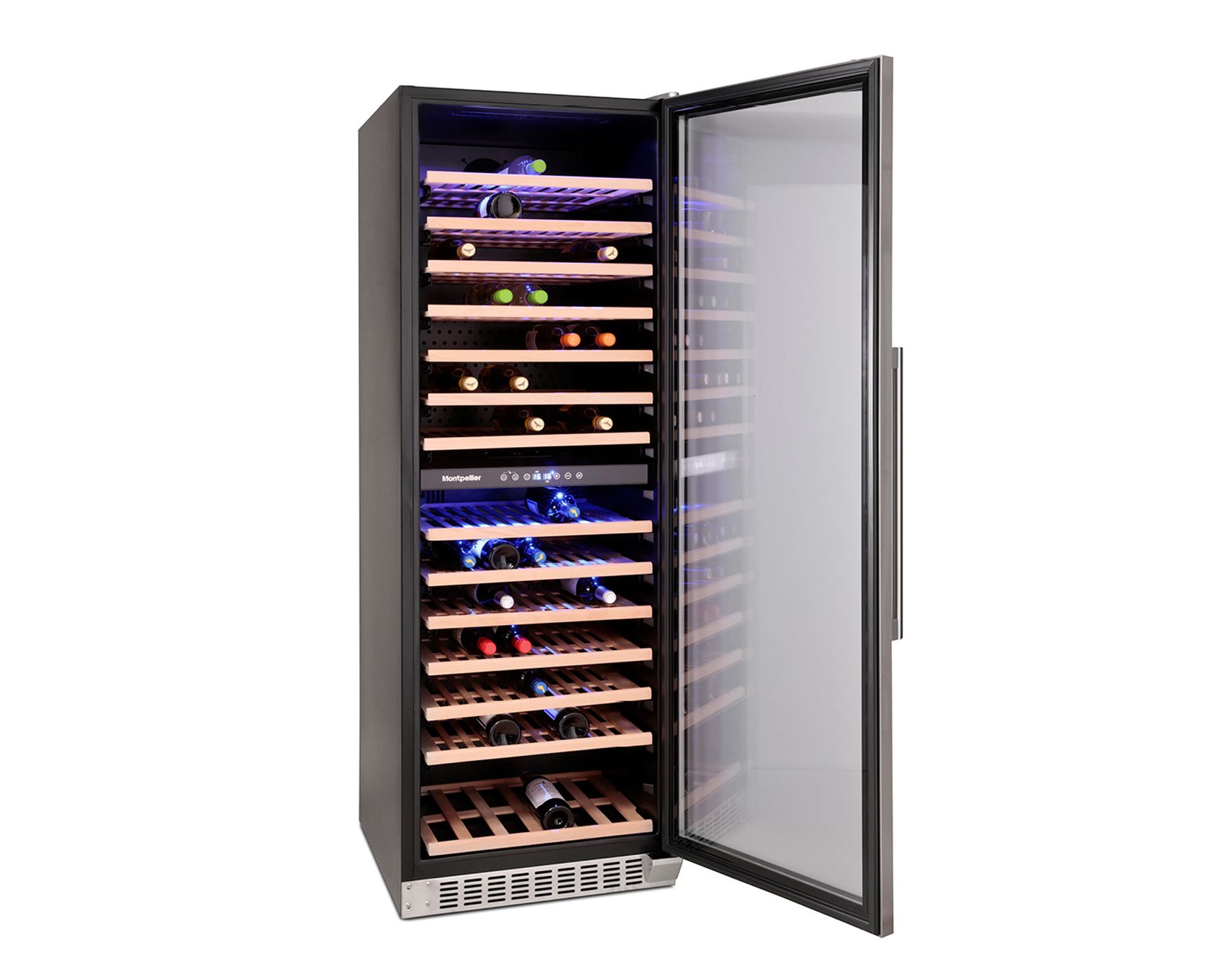 Escape to the heights of luxury in your own home with this gorgeous Montepellier fridge, which has enough storage for 166 bottles (yes, really!) of whichever wine you like. We love the blue lighting throughout this model, which gives it a glow a little different from other coolers on the market.
Any wine buff knows that keeping the temperature regulated isn't the only important thing when it comes to creating a collection. That's why this cooler also has a triple glazed door, to prevent expensive accidents and a UV-resistant panel, which means that the lights from your kitchen won't do any damage either.
The technology within this cooler also keeps it vibration-free, and the anti-fingerprint exterior will save you time polishing your new favourite appliance. Control everything you need to with the touch screen inside, and then sit back and admire your wonderful new wine fridge!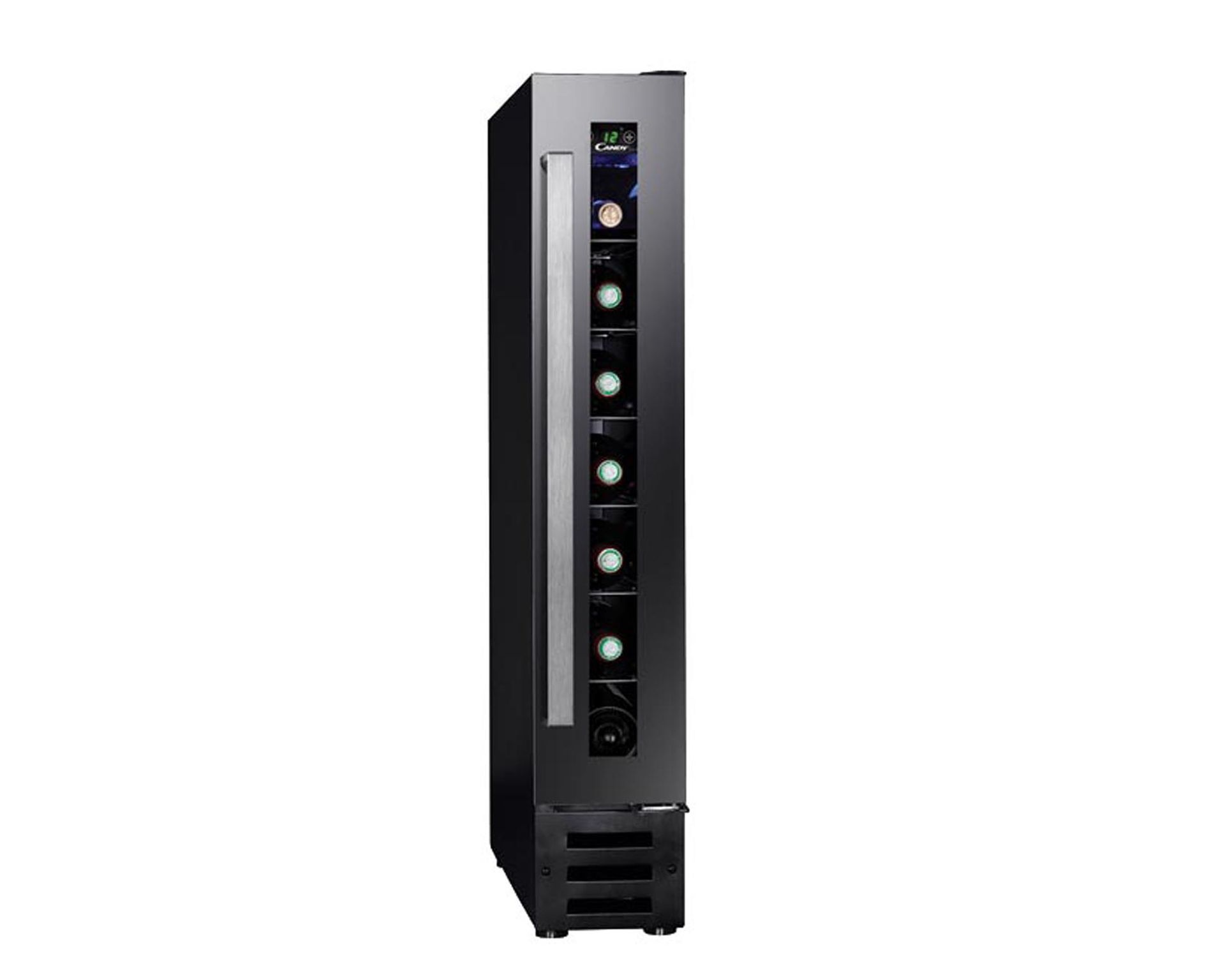 Save space with this 7 bottle wine cooler, which is perfect for fitting into that last snug spot in your kitchen. This cooler is so compact that it won't overcrowd your kitchen, but will allow you to keep your wine of choice in arms reach, and at the optimum temperature. If you want a place to keep your wine, but are restricted by budget and space, then this fridge couldn't be a better choice for you.
Though this cooler is super sleek, you'll still be able to see everything inside with the extensive LED lighting. And don't worry about the light within your room damaging your bottles, with UV-resistant glare applied to the doors of this cooler too. What's more, the adjustable feet of this fridge mean you can tweak the height to perfectly match your countertops. The price may seem steep compared to models on our list that hold more bottles, but this is a proper space saver, and we love the added touches like the door that you won't get on budget models.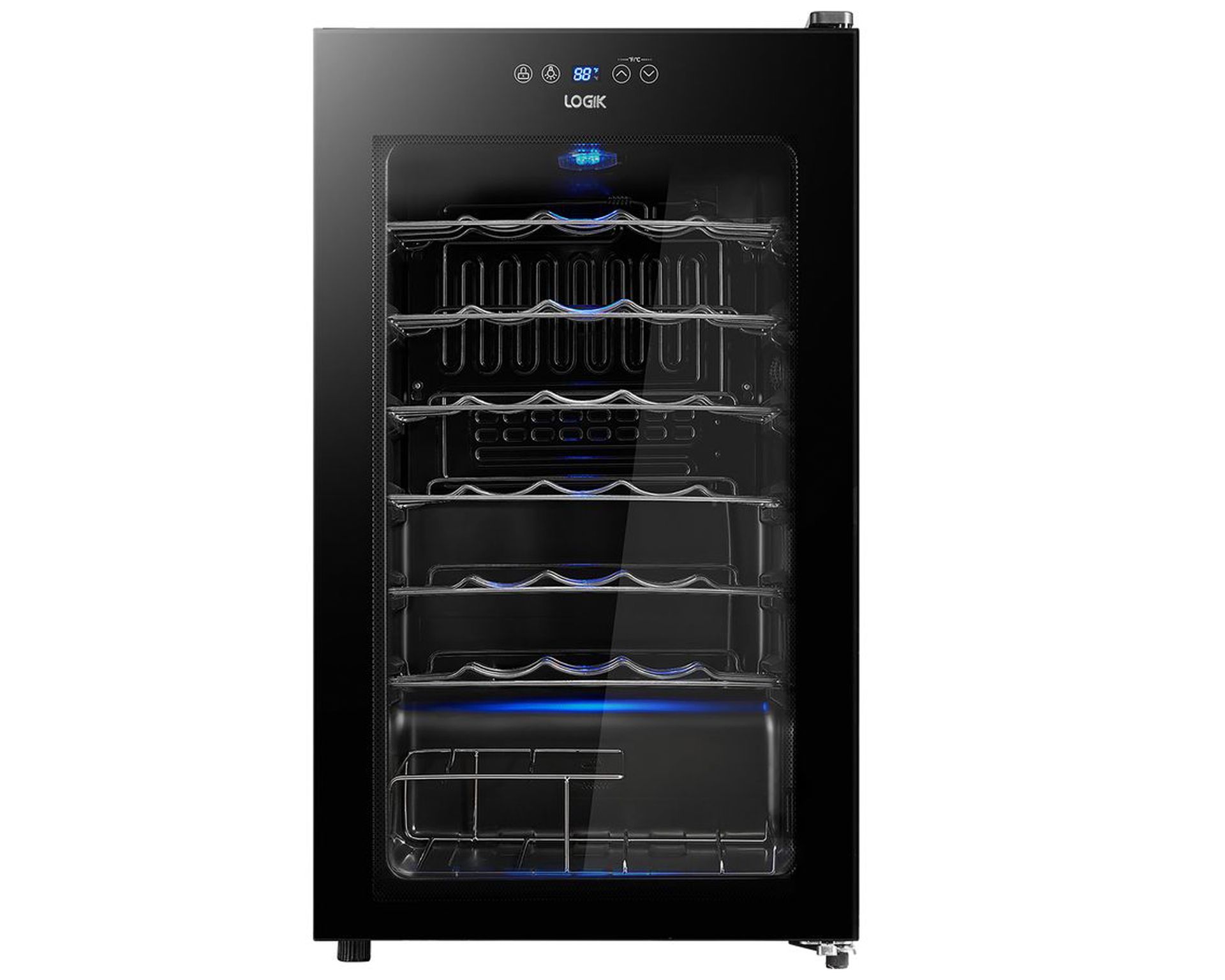 Combine affordability and capacity with this LOGIK fridge, and face no compromises when it comes to stashing your favourite. With the capability of holding 34 bottles, this cooler is a chance to build up an impressive wine collection without breaking the bank. There's also an alarm system that will notify you when the door is left open too long, great for ensuring that the conditions inside your cooler stay absolutely perfect.
The modern style design of this LOGIK cooler features blue lighting and space for larger bottles to be stored at the bottom of the fridge. You can alter the temperature between 5 and 18 degrees, and its compact size means that you won't have to worry about moving around other appliances to make space for it. You get a lot of features for your money with this cooler – the only thing pushing it down our list is there are more efficient models for a similar price point.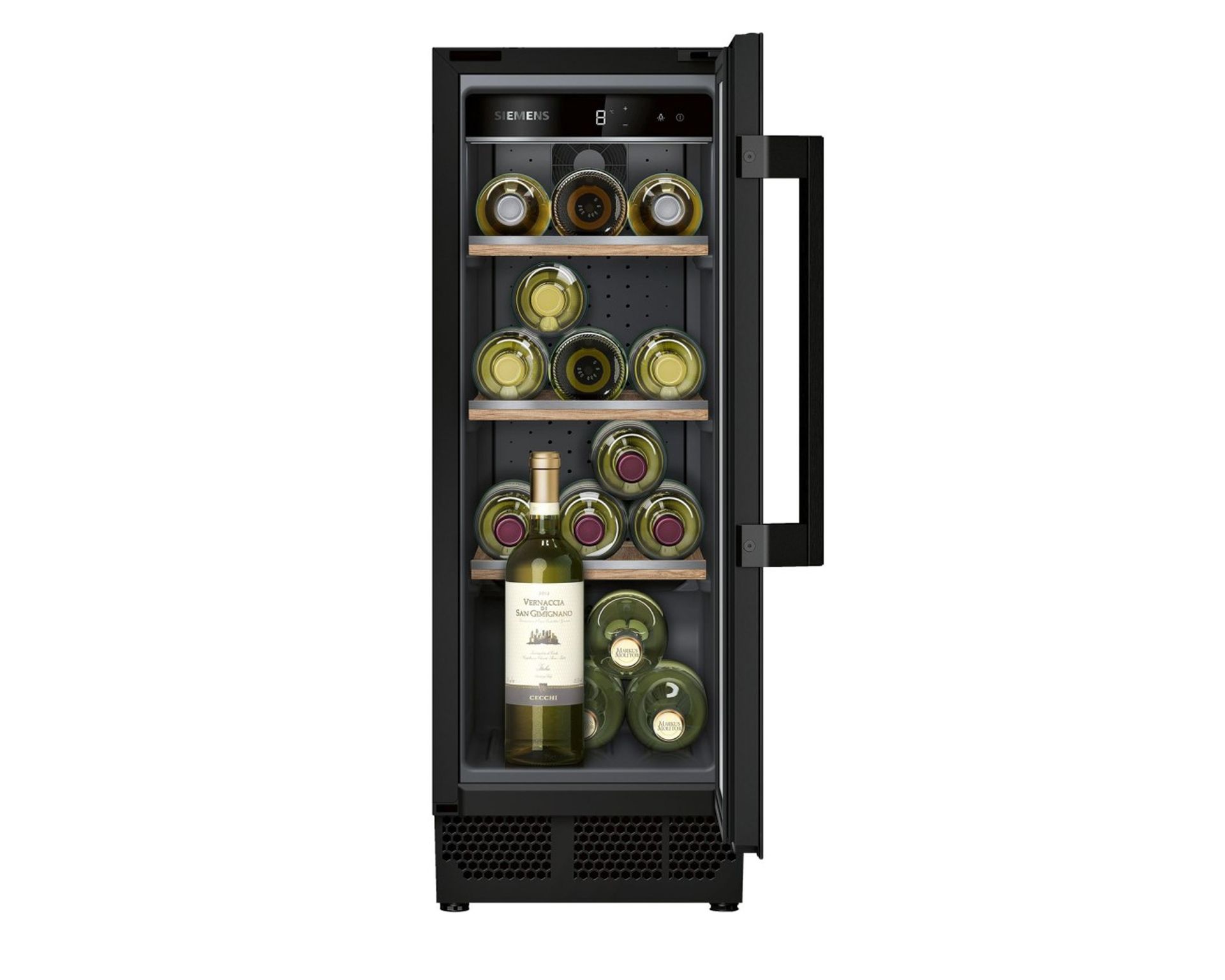 Have all eyes on your new wine storage with this Siemens iq500 cooler, which boasts oak shelves for high-end presentation, and a full-length glass door design with black accents. It's hard to resist the design of this Siemens cooler, which is why it's our best wine fridge for style – and with a 21 bottle capacity to match, it's easy to see why it would be a great appliance to have around as you host friends and family.
The clean fresh LED lights in this wine cooler are really something to admire and allow you to showcase your best wines and match your decor at the same time. You can rely on this appliance with the two-year warranty that comes alongside it too, and rest assured that you can seek help if you need it. It's also available in a range of finishes; black, white and titanium, so that you can color match it to your cabinets perfectly.
Real Homes review process
We have tested as many of these wine fridges as we can in our own homes. We have not been able to get our hands on every model on this list though, so we have checked third party reviews on the products we haven't tested ourselves to make sure they are well-rated.
Just like everything we test at Real Homes, we made sure to recreate the setting you would use them in. So, we wheeled them in to our kitchens and utilities (and a lounge in one case) to put them through their paces for at least two weeks. In this time we tried them out with a good rotation of different wines and other drinks – it is a tough job, but someone has to do it.
We are sometimes gifted the products free of charge for our reviews, which means we can update them over time as we test them for longer.
Meet our testers below.
Laura has tested plenty of products for us during her time working with Real Homes, including everything from vacuum cleaners to mattresses.
She tested the Haier HWS42GDAU1 Wine Cooler and the Hoover HWC 150 UKW/N Freestanding Wine Cooler in her family home last year. She was in the midst of renovating her home, so enjoying chilled drinks at the end of long days of decorating was much deserved.
Lindsey Davis is Editor in Chief of Homes Ecommerce and works with her team reviewing and researching the best products for your home.
During her own kitchen renovation earlier this year, she was given the Swan SR12030BN to review. It was perfect for storing not just wine, but milk and other perishables while she had no kitchen fridge. She tested it for a month, but it has now taken residence in her sister's garden office to be used for outdoor entertaining and is very very well stocked with beer and bubbly.
3 things to consider when buying a wine cooler
When choosing a wine cooler fridge there's a lot of things to consider – let alone the type of wine you want to drink – before parting with your cash.
1. They're not for laying down wine
It's worth noting that wine fridges aren't intended for long-term storage – a specialist wine room, such as a cabinet or cellar is far more suitable if you're particularly serious about collecting – but rather for keeping a select few bottles chilled and to hand.
2. How much space do you have?
After budget, the next big thing to consider is your kitchen's layout. If you have a large kitchen with space to spare, a freestanding full-height wine fridge looks very striking and has a larger capacity than an under-the-counter model, ideal for serious wine-drinkers who like to keep a variety of bottles to hand. Under-counter fridges, meanwhile, often come in slimline designs specifically made to meet space concerns, making them suited to small modern flats and crowded kitchens.
3. Think temperature zones
Finally, for maximum versatility, you may want to look for a wine fridge with more than one temperature zone, which means you can meet the needs of two or more different types of wine at once using targeted climate control. As with many things, the more zones a fridge features, the higher price it can command, so we've included a mix of one- and two-zoned fridges in our buying guide to suit a range of budgets.
What temperature should you store wine at?
We all know red wine should be served warmer than white wine, but did you know there are recommended temperature ranges for each variety? For optimum enjoyment, here are the storage temperatures you should be aiming for:
Red wine: 12–18ºC / 53–65ºF
White wine: 8–12ºC / 46–53ºF
Sparkling wine and Champagne: 7.2–8.5ºC / 45–47ºF
Rose wine: 9.5–10.5ºC / 49–51ºF
What do you need to know about humidity and wine?
When the air is humid, higher levels of moisture in the air can risk the quality of your wine. Andreas Larsson, wine expert and sommelier consultant for ASKO says: 'Wine is a living product. What everything really comes down to in the end, is how the wine has been stored. Wine should be kept in conditions with a humidity level of around 70% to ensure maximum flavours.'
Look for a wine fridge that reports and controls the humidity to ensure your wine is kept at its best.
Where should you put your wine fridge?
Choosing an undercounter wine fridge will give you a greater range of placement options, but before you just plug it in, think about where it makes sense in your kitchen. Many people choose a place adjoining entertaining spaces, so sometimes the outward-facing side of a kitchen island works well. However, be mindful that UV light can impair the flavour of your favourite wines, so avoid a spot that gets a lot of sun.
To get the best from your wine fridge and ensure the internal temperature is as constant as possible, it should be installed in a room where the temperature is 22–25ºC/71–77ºF. Above and below these temperatures will make it harder for the fridge to regulate itself, meaning it uses more energy in the process.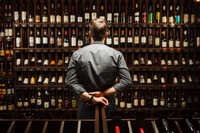 What is the best wine fridge?
To recap, the best wine cooler is the Haier HWS42GDAU1, which has two temperature zones and ample capacity for a medium to large household – so great if you like to entertain, too. It has everything we are looking for (apart from the wine included...) which looks great and isn't too pricey, either.
It comes with handy smart features to help you look after your wine remotely, and offers plenty of tips and advice on wine pairing, via the app.