Knowing how to decorate kitchen walls isn't always so obvious. It's not the first place we think of to hang our latest art finds after all, however, there are some fine kitchen decor ideas out there that are sure to make you think otherwise. It's not all about adorning your shelves with bunches of onions in a bid to create your own still life (although that's not a bad idea) and however you choose to fill your blank wall, you're sure to bring more personality and appeal to your kitchen space in the process.
Michael Ayerst, Managing Director at Surface View notes how 'The kitchen is the heart of the home, yet our kitchens are often overlooked when it comes to wall decorations. When decorating your kitchen walls, it's important to find art, prints and patterns that reflect your personality. Although most households lean towards functional rather than creative in their kitchens, we really recommend being bold and choosing unique wall decorations to truly take your space to the next level and let your personality shine through.'
1. Terrazzo tiling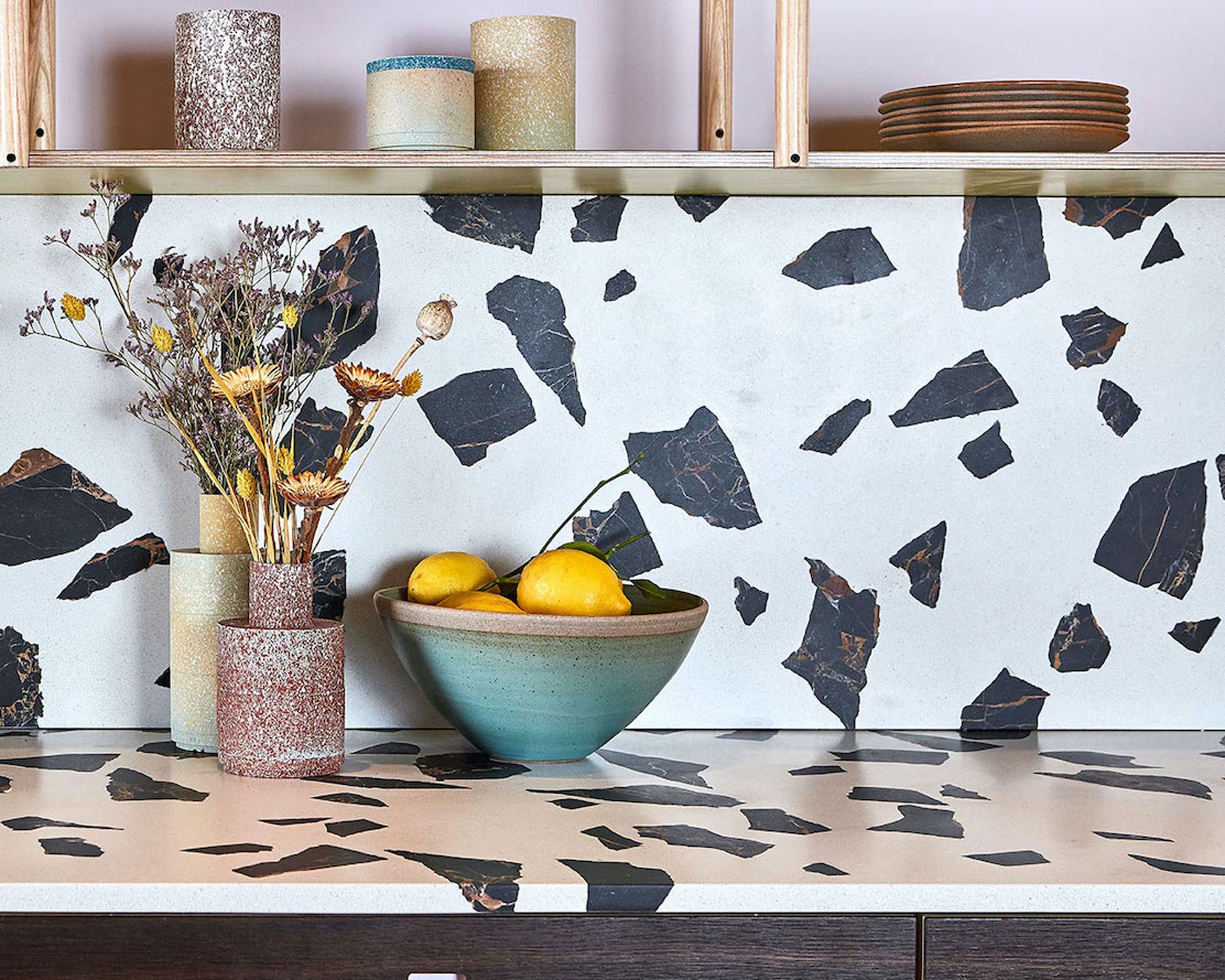 Tiling will feature in your kitchen somewhere, without a doubt. Match it up with your counters in an eclectic print for a statement and artistic look on your walls.
2. Display pots and pans from a height
A good space-saver and way to fill a blank canvas of a kitchen wall, hang excess pots on railings close-by for a rustic look that is also functional.
3. Go to town with all you have
Katie Mack of @candycoloredhome leaves no blank kitchen wall space in sight. From the open shelving filled with bright wine glasses and other trinkets, to the hanging wall clock and small photographs in the corner – it's kitchen wall decor at its finest.
'Make it easy for everyone to help themselves in the kitchen with open storage. Keeping crockery and glasses next to the dishwasher and sink makes restocking the shelves a much speedier process, and is also a great way to put your favourite wine glasses and best crockery on display. Using kitchen walls to free up drawer space is also more practical and transforms your kitchen into a more casual area that looks lived in and homely. Stashing knives on a magnetic rack near your food preparation area is more convenient than having them all mixed up in a drawer.' Says Clotilde Passalacqua, Interior designer manager at IKEA.
4. Show off kitchen wall coverings
Martin Waller, Founder of global design brand Andrew Martin notes to 'Use contrasting colours to demarcate distinct spaces and inject personality into different areas of a kitchen/dining area. Choose darker colours to create intimacy in the dining area and opt for neutral shades to make a kitchen appear brighter. Wallpaper can also be used in certain areas of a kitchen space to create a distinct zone.' Mack makes her kitchen space pop by choosing a wallpaper that picks out the main colors present in the rest of the space.
5. Combine prints with trinkets
If you like softer looking kitchen wall decor ideas, keep your prints and their colorways minimal but combine them with a few trinkets for added interest.
6. Big canvases that overstep the line
Open plan kitchen spaces which many of us have, provide a great chance to blend the artwork featuring in the living space area, into the cooking section. Don't be afraid to blur those lines.
7. Fun signage
Whether it's your initials, or a kind reminder to go to the grocery store, signage doesn't need to be cringe-worthy. And, it adds character to this kitchen space we're sure you'll agree.
8. Mirror the view
Elevate a kitchen wall with the simple addition of a mirror. The perfect match for a small space or one with a dark and dramatic color scheme to add a little more light and life.
9. Blank frames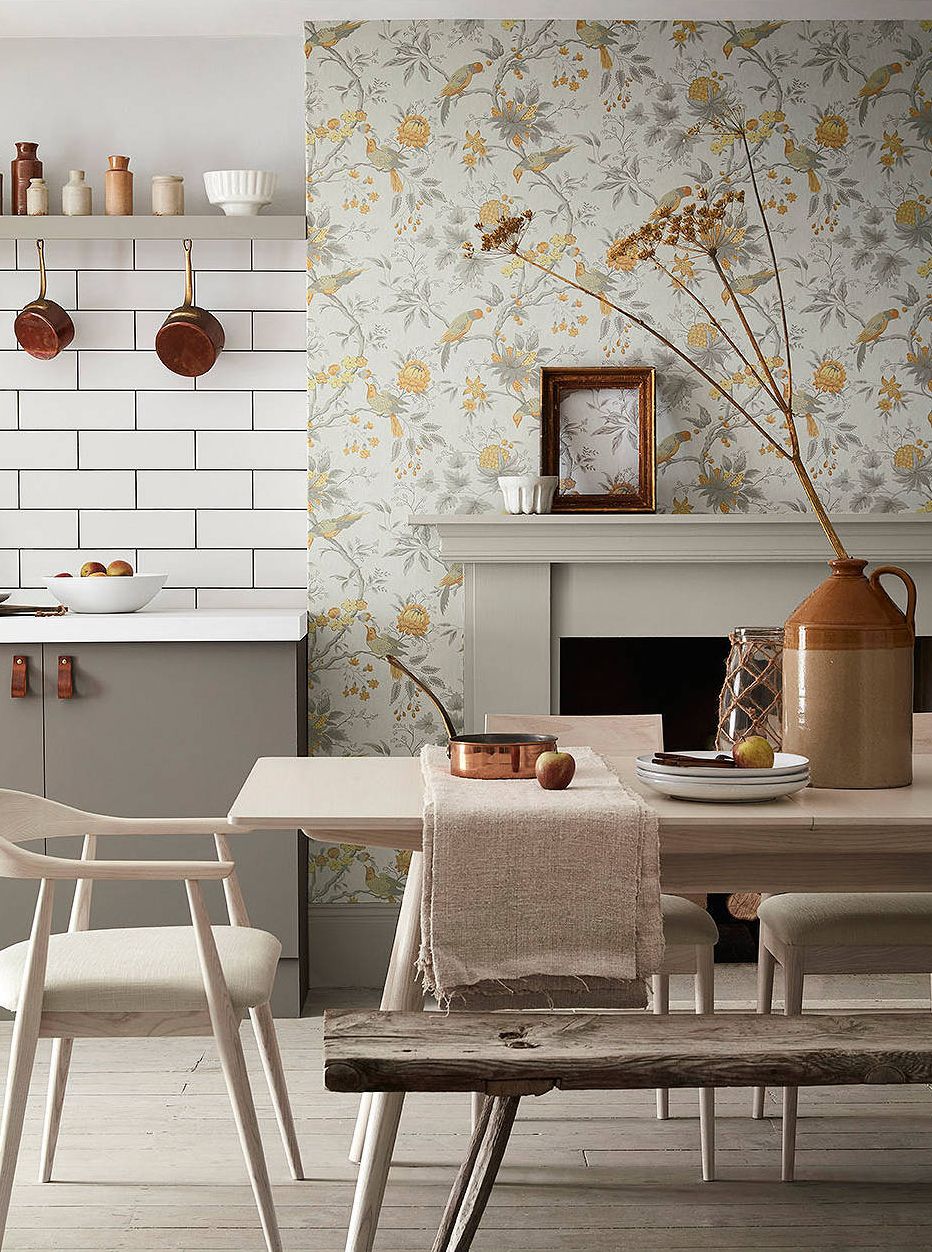 Not into art? That's okay as even blank frames on a nearby mantlepiece can add a light decorative touch to feature walls in kitchen spaces. Wallpaper by Little Greene.
10. All about the paneling
Consider wall paneling on large kitchen walls to fill space with chic design and pair yours with a gorgeous wallpaper like above from Hygge & West for a modern finish. This will also make it easier on the pocket than traditional board and batten paneling right up to the ceiling.
11. Artistic splashback
Kitchen splashback ideas can be as colorful and as you'd like. DIY yours with a mix of different tiles or paint over existing ones as Lucy did in her kitchen makeover and enjoy functional kitchen wall art at its best.
'We personally love printed ceramic tiles for a stunning kitchen wall. You can stick with subtle yet stylish neutral tones, or you can be daring with vibrant colours to brighten up the room.' Adds Ayerst.
12. Uniformity from afar
Amanda Cotton of @houselust creates a view from afar in her open plan kitchen space by using hanging plants for texture on open shelving, teamed with a trio of wall pendant lights that gives this space an art gallery-esque finish.
13. Create a gallery corner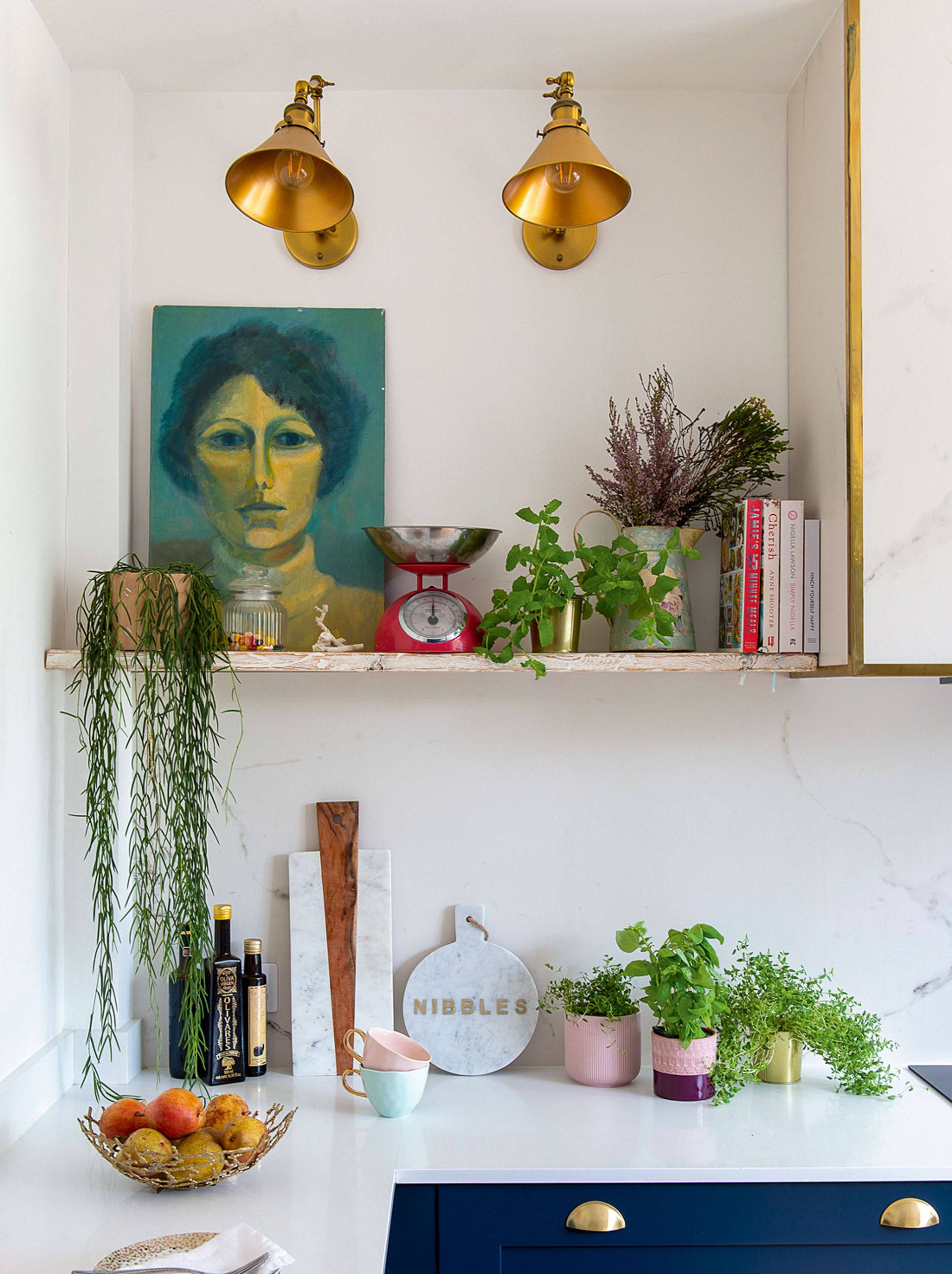 If you don't have so much wall space but still feel the need to fill it, focus on a corner of the room and fill it with a mix of prints, plants and books, scales, what have you, to create a personalized gallery display that will add depth and character.
14. One statement piece of fine art
The tones complement the countertop materials and dining table, even the hydrangea pulls out those pink notes making this one piece of kitchen art, the perfect addition to the a painted wall.
15. Fill gaps with bold block signage
Some signage can fill that (often blank and awkward) gap after a final top shelf in a kitchen, or can get brighten up a bare corner. Make yours eclectic and decorative like this one from Amazon.
Let's eat!