We could scroll through pink kitchen ideas all day. In recent years pink has shed its Malibu Barbie, teenager's bedroom, pastel-hued nursery, skin and become a whole different beast, that's very... grown up. We've even moved away slightly from the Millennial Pinks of 2017, and this rosy color is being taken a whole lot more seriously by designers and interior enthusiasts the world over.
Using pink in your kitchen may seem like a bold move, but it's such a versatile color and with so many shades to choose from, we are sure you will find something here to suit your style. We've covered them all, from the palest of baby pinks to hot fuchsia.
'A warm and playful color, pink is a versatile shade to use in the kitchen. It can be toned down and balanced out with muted timber accents, paired with black or grey for an industrial feel or placed with contrasting, vibrant shades for a lively and dynamic design.' explains Jayne Everett, Design Director at Naked Kitchens.
Just keep on scrolling to find out how you can have fun with this most trendy of shades in your kitchen color scheme...
1. Paint you kitchen walls pink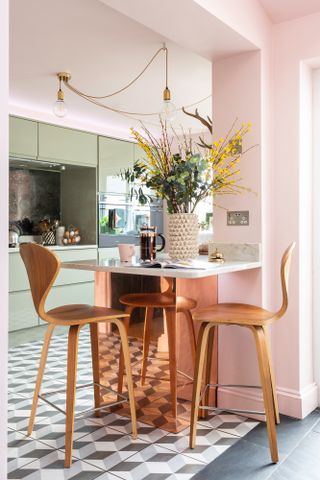 Let's start off with a simple one. If you want to bring pink into your kitchen but you don't want to do anything as drastic as choosing pink cabinetry, painting your walls is a cheap and easy update.
If you are a bit of a colorphobe, we'd say stick with something that's really liveable like a very pale pink. It's almost like a neutral with just a bit more about it, and you can pair paler pinks with so many other colors depending on the look you are going for.
Mix it with white and cream for a softer style or go bolder and try out a sage green – just look how lovely they look paired in this kitchen. And that copper breakfast bar? Dreamy stuff.
2. Go for a two toned kitchen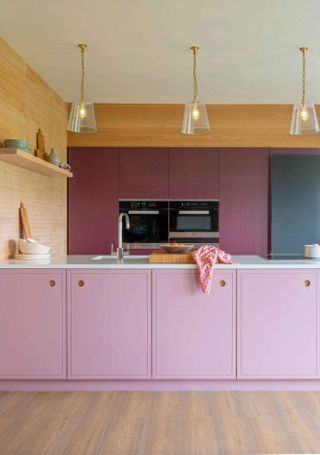 If you are thinking pink for your kitchen cabinets but concerned that going all out pink might look too saccharine, ground those paler pinks with something that has more depth.
The most straightforward way to do this is to pick one color for your floor cabinets and one for wall cabinets. But if you are blessed with enough room for an island you could add the contrast there instead.
You're going to want to make sure the undertones of the colors you pick are the same too. For example, if you are going for a more blue toned pink, pick a darker shade that also has that blue in there. Just be sure to order samples and swatches to see how your color combos look together in your space.
3. Pair pinks with green for an on trend look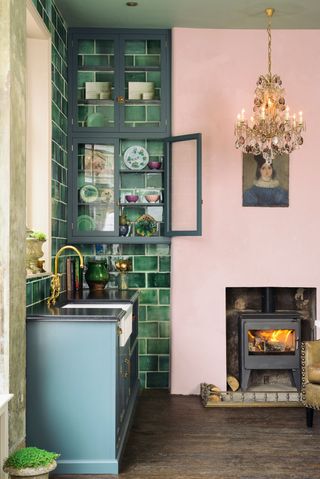 Pink and green sounds like it shouldn't work, but the thousands of gorgeous rooms we've seen over the past few years that showcase this combo have proved us wrong. It's actually a really liveable color palette and is so versatile depending on what tones your choose.
Pick a deep green and a dusty pink for a very 2021 contemporary look. Or go for a more Regency vibe with pale pink and pale green if you have a more period-style kitchen. Check out our traditional kitchen ideas for more inspo.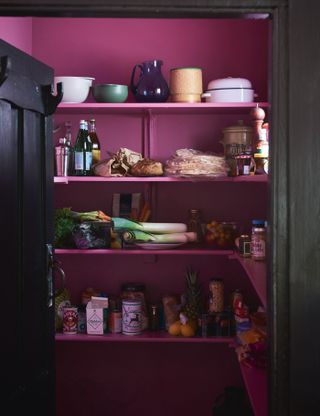 If you are lucky enough to have a pantry, they are perfect spaces for testing out bolder colors that you might not be quite ready to use in your main kitchen. We are loving this hot pink, it really makes something this small space, turning it into a fun feature of the kitchen. You could link your pantry color to the rest of the kitchen by bringing in that bold hue in your accessories, artwork or lighting.
No pantry? No problem, why not try painting the inside of your cabinets so everything you open them you get a dose of this happy hue.
5. Keep your kitchen neutral with plaster pinks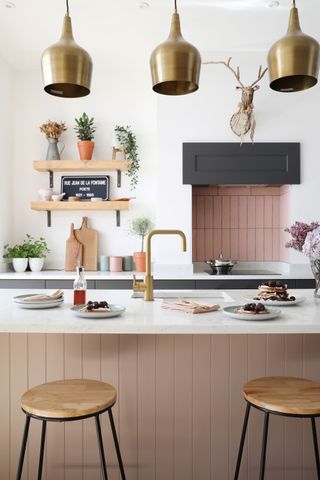 These kinds of plaster-like, beigey pinks are perfect if you still want your kitchen to remain neutral. In this kitchen, the pinks are paired with dark grey and a bright white – a classic combo that's always going to work. The pinks soften the space but it still remains very fresh and modern feeling.
The brass lighting and the wooden accents only help to further warm up the space, plus the few houseplants dotted about provide that green/pink contrast in the most gloriously subtle way possible.
6. Match your walls and your cabinets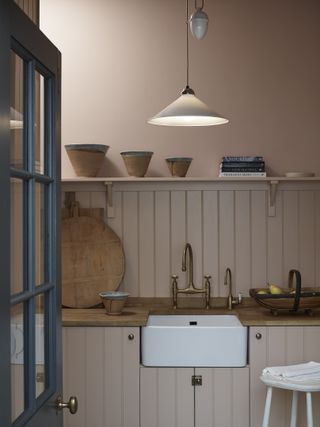 More of that lovely plaster pink! As you can see this shade is the perfect all over color. You can go with it for your walls and your cabinetry and even your ceiling if you like without it overwhelming the space. In fact, this is the perfect pink if you have a small kitchen that needs to stay quite light but you want something softer than just white or cream.
It looks perfect styled with darker woods and brass hardware for a modern, country feel. Plus if you can get in a contrasting color like the dark blue of the door here, it will balance out the look.
For a similar color, you can't go wrong with everyone's fave right now, Farrow & Ball's Setting Plaster.
7. Let a pink wall shine without cabinets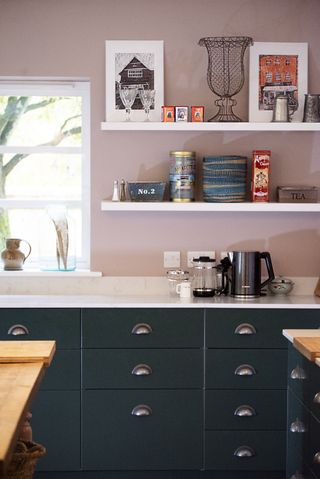 If you can afford to scrap your wall cabinets, even in just in one section of your kitchen do so. While wall cabinets are obviously super practical, they can make a kitchen feel crowded. Switch them for open shelving and paint the walls behind them pink to create a lovely backdrop for your fave prints, decorations and kitchenware.
We have plenty of shelving ideas to help you style them perfectly, so check those out next.
8. Experiment with perracotta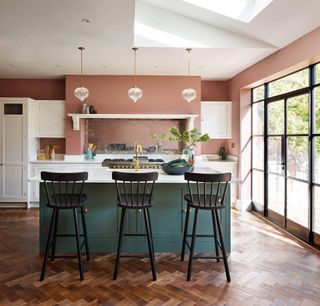 What is perracotta we hear you ask? Let us enlighten you. As the name suggests it's a mix of pink and terracotta and the result is totally dreamy. It's a very earthy pink with plenty of brown and orange undertones and is perfect if you want your pink kitchen to still feel very chic and grown up.
As with most pinks, it works with deep forest greens and navy blues if you want to introduce another color. But would also work perfectly as the solo color to bring warmth into a neutral kitchen.
9. Use wallpaper to add color and pattern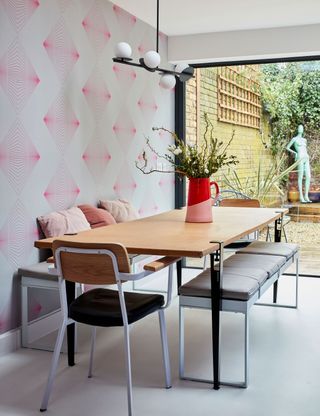 Kitchen wallpaper is a really quick and easy way to bring in some pattern and color to your kitchen. It's a super budget-friendly way to get in on the pink trend too. Pick one wall if you want to make it a feature, wallpaper your splashback (yes that's a thing if you do it right) or be very 2021 and wallpaper your ceiling.
Add pops of pink elsewhere to make the look more cohesive – note how in this kitchens there's neon pink on the wallpaper but then it's toned down by the blush pinks used throughout the rest of the room. Neon pink done right.
10. Paint an ombre pink wall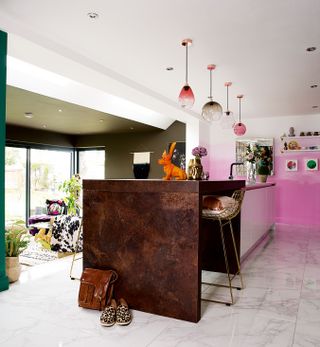 Bit of a maximalist? Adding a neon pink ombre wall to your kitchen could be what your home is missing. You can easily DIY this look yourself, just follow our guide to how to create an ombre wall.
If you are looking for something more... subtle, you can always create a similar effect but just tone it down by using a blush pink instead.
11. Go for retro vibe with candy cabinetry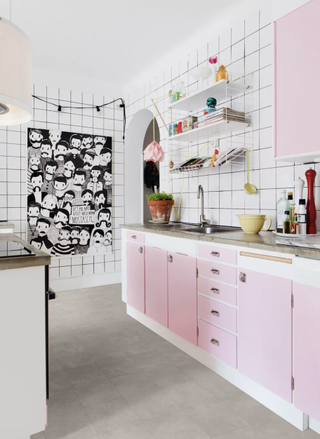 Retro kitchens have made a big comeback in the last few years. Okay, maybe we have scrapped the lino flooring or even worse the carpet tiles, but the curved cabinets and checkerboard tiles are things to be embraced.
And what works better in a vintage kitchen than some bubblegum pink tones? Paired with the stark black and white scheme going on in the rest of the room it still has a very chic and contemporary feel just with just the right amount of 70s style going on.
12. Don't be afraid to color clash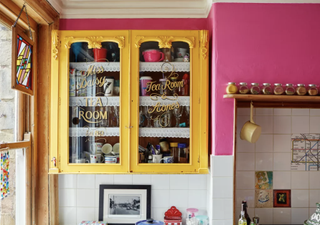 This fabulously colorful kitchen renovation just demonstrates how you can go bold with a pink kitchen but still recreate a classic elegant space. What makes this corner work is the fact that the cabinet is glass fronted – it means there's more of a pop of yellow than a block of it. Plus the clean white splashback that goes halfway up the wall makes the colors stand out and at the same time slightly tones down the contrast.
13. Paint above a splashback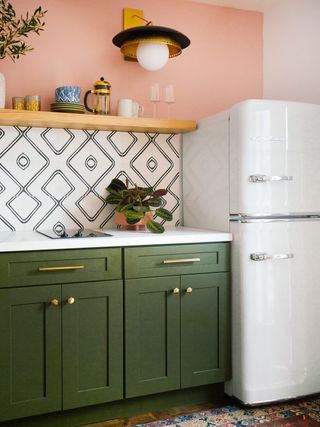 If you want to add just a subtle pop of pink, choosing a pale coral (something like Lick's Pink 02) and painting only above your splashback will bring in the warmth but won't be the full focus of the kitchen.
We love how in this kitchen the splashback and the pink wall are separated by the open shelving – it neatens up the look but also provides a place to add some decor and personality. And need we mention the olive green and coral combo? Definitely one to test out.
14. Mix pink and gold for a glam vibe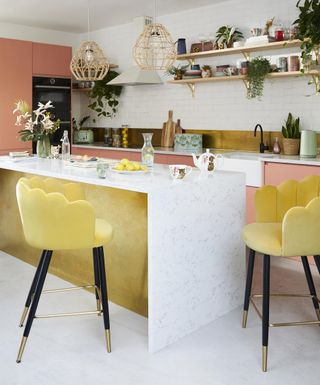 Gold and pink are a classic pairing and we love the modern take in this kitchen with the slightly brassy gold and coral pink. Add in some marble too to complete the luxe feel and of course you'll need a couple of houseplants and scalloped bar chairs too to take it up to Pinterest levels of dreaminess.
15. Tile a splashback pink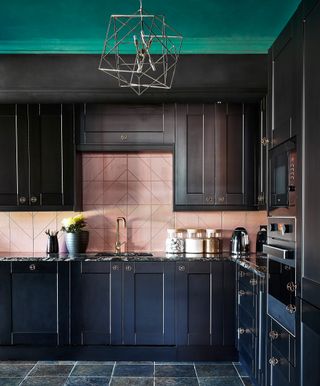 Tiling a splashback is actually something you can do yourself in just a weekend, so if you want to add pink quick, this could be the way to do it. And if you don't trust your questionable DIY skills, you can paint tiles too for an even easier DIY. You can also create some fab designs too just using a marker pen (we've seen it on Instagram and therefore it can be done) so get creative and give your tired tiles a glow up.
And one more thing to take from this gloriously gothic black kitchen, that turquoise ceiling!
Is pink a good color for a kitchen?
Definitely. Pink is a great color for a kitchen. Sure, it's definitely an 'on trend' color but it's been popular for years now and our love of pink doesn't seem to be going anywhere. If you are looking at designing a new kitchen with longevity, you could always play it safe and pick neutral cabinetry and bring pink in with your accessories and decor instead.
What colors go with pink in a kitchen?
Pink is a really versatile color, so if you already have a color scheme in mind, you'll find a pink to add to it. Pink and darker colors like greens and blues are having a bit of a moment as is pink and olive hues. Sound like a color scheme you want to test out? Just head over to our green kitchen ideas gallery for plenty of inspiration.
If you are more of a neutral lover, pink works well with grey too – a classic combo that works with loads of different styles. Of course, you can also layer the more muted blush pinks with creams and white too for a softer style in your kitchen.