Looking for great looking vinyl flooring for kitchens? It's easy to see why you might be considering a vinyl kitchen floor. It's affordable, easy-to-install, and you can create so many different looks.
Kitchen flooring ideas are endless ... You could choose to brighten up a neutral kitchen with a strikingly bold design, or you could opt for a relaxed, New England look with stone effect flooring, or add rustic style luxury vinyl wood effect tiles to a farmhouse kitchen.
David Snazel, Hard flooring Buyer at Carpetright says, 'Vinyl flooring is a great and inexpensive way to add color, pattern and personality to kitchen without compromising on safety or quality. Being highly durable, slip-resistant and moisture proof it is ideal busy households with young children.'
Experts at Amtico explain more about luxury vinyl flooring, 'Luxury vinyl flooring – known as LVT for short - is a brilliant choice for a kitchen and feels warmer underfoot than other tiles. It comes in lots of finishes, from wood-effect to stone, and can be laid in all manner of different patterns, including on-trend herringbone.'
'LVT is really easy to clean, maintain and keep looking as good as new – a quick sweep and a regular light mop are all that's needed. Spillages are easy to wipe up and LVT's hard-wearing surface is also waterproof and stain resistant – making it the perfect floor to sit beneath a dining table.'
In the past, vinyl flooring got bad rap for looking cheap and being an outdated, '60s throwback, but these fresh ideas are proof that this interiors stalwart has improved dramatically in looks and performance.
Plus, if you're thinking about vinyl flooring but don't know where to start, we have a guide for that: how to choose vinyl flooring.
1. Realistic wood-effect vinyl kitchen floor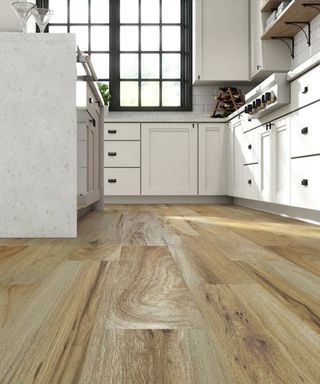 If you have quite a traditional kitchen, you may want the look of real wood without the upkeep. We're right there with you.
Wood effect vinyl can look ultra realistic and these vinyl planks from Lowes are a fine example. With an embossed textured wood look, you get the look and feel of the real thing with the durability a kitchen demands.
Plus, it's 100% waterproof, easy to install and a breeze to clean. What's not to like?
We always recommend asking a professional floor fitter to lay vinyl but if you are a DIY aficionado, here's how to lay it yourself, with thanks to experts at Bidvine.
'Before you start, make sure you have stored your vinyl planks indoors to adjust to the indoor temperature to avoid shrinkage or breaking.'
'You might need to remove your existing floor. Some vinyl can be installed over the top of your floor, but for best results use plywood as your base.
You'll now want to work out the floor layout. Set up a sample layout on your floor to be sure you like it.'
'Apply and spread the recommended adhesive on the floor. It needs to sit for a while so the adhesive will become tacky and ready for the tile. Make sure you use trowel for even spreading.'
'Mark out exactly where you'll be starting, and lay a full piece.'
'Lay your plank against the adhesive and press down firmly. Make sure it does not slide into position as this can put adhesive on the wrong side and look messy.'
'Use a laminate roller to firmly set your tile into place. This ensures it correctly adheres to the floor surface.'
'When you need shorter pieces to fit, cut against the underside of the tile with a utility knife. It should cut easily with the right pressure.'
'Now that your floors are done, clean up your extra materials and tools. You'll want to give your floor a good clean so it's set to enjoy!'
2. Patterned encaustic tile vinyl flooring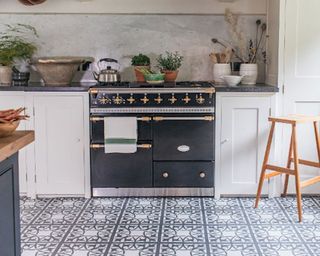 Inspired by encaustic cement tiles that have decorated the most exclusive buildings for centuries, you can buy sheet vinyl or vinyl tiles which offer this premium look at a way more affordable price. Plus, your floor will be warmer underfoot.
This decorative Moorish style vinyl flooring from Harvey Maria adds a decorative spin to an otherwise white kitchen.
3. Geometric tile effect kitchen vinyl flooring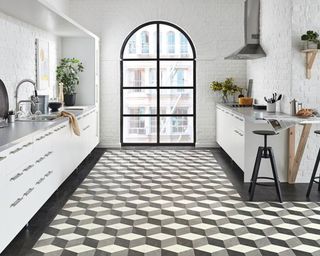 Geometric cubist tiling is well known for making rooms seem bigger than they are. If you don't fancy paying through the nose for the real deal to create this effect, Karndean's striking vinyl floor tiles are just the ticket.
4. Slate effect vinyl tiles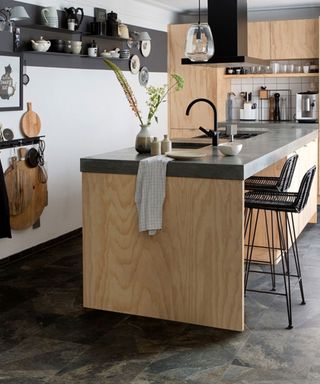 Really love the textured look of slate but don't fancy entering the kitchen first thing in the morning barefoot to catch a chill? Keep your tootsies snuggly at all times with realistic looking Mustang slate tiles from Moduleo.
5. Be bold with pattern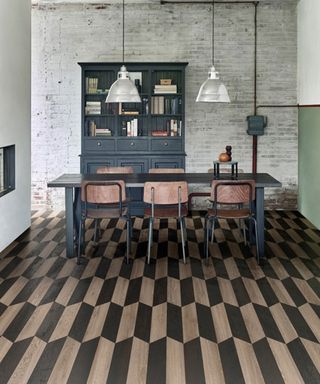 If you want to really make a statement with vinyl, Moduleo have you covered with their Arrow collection which features a chevron pattern with two tone tiles.
The finished look is visually striking and comes in a few neutral color combinations. Pair with mid century modern furniture and freestanding furniture for added wow factor.
6. Parquet effect vinyl floor tiles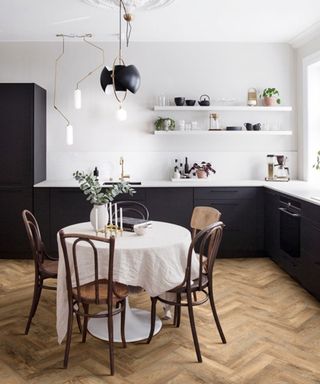 Timeless, classic and striking all at the same time, parquet flooring is on everyone's wish list. Parquet luxury vinyl flooring offers the same stunning look but without the cost and practicality issues associated with its natural counterpart.
Whether you want a more traditional oak look or a more modern grey shade, there's a hue for every style of kitchen.
7. Create your own vinyl floor pattern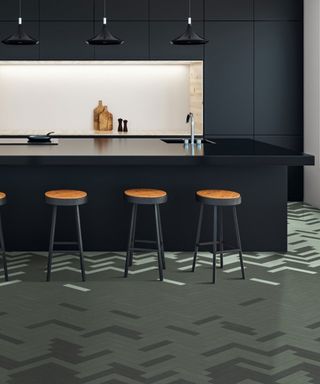 If you're looking for a bold kitchen floor tile idea, this one is right up your street. In a classic herringbone style, create your own blend of colors and create your own pattern.
Keep the pattern to small planks to keep the look finessed without seeming disorganised.
8. Create a patchwork of vinyl flooring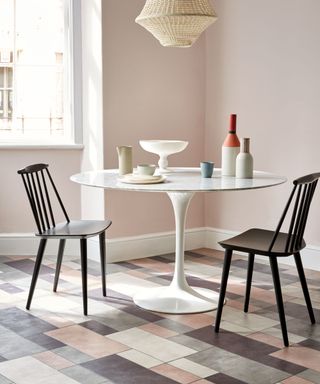 A modern take on the traditional flagstone design, Amtico's The Scape collection recreate the gentle shift of grain in natural stone in softly colored neutrals in rich pinks and purples.
This look would work equally well in an industrial style kitchen as it would in a more modern kitchen idea.
9. Wood effect vinyl tiles in an open plan living area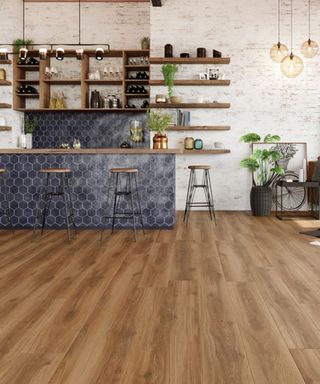 When you are fitting out vinyl flooring in an open plan living area, keep a seamless look by keeping the same throughout.
David Snazel, hard flooring buyer at Carpetright says, 'Open plan layouts are growing in popularity and selecting a contemporary style floor that can flow through all areas, connects the zones and creates the illusion of a larger space.'
'In a broken plan layout carry the same flooring through from the kitchen to conjoining areas to create a consistent flow between the rooms.'
'Chevron wood flooring can be especially effective running from a narrow kitchen into a separate dining or living space to help these areas feel harmonious.'
10. Use patterned vinyl tiles to create a focal point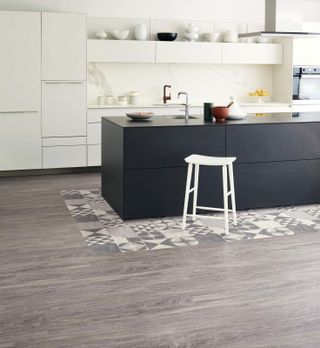 Add playfulness to your vinyl flooring scheme by using a mix of contemporary wood effect flooring and break it up with a dash of pattern to highlight a focal area of your kitchen.
11. Create the effect of natural stone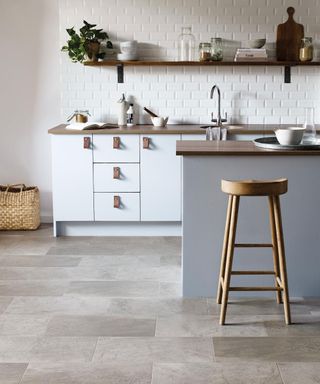 Perfect for both rustic country kitchens and industrial style kitchens, opt for a stone effect floor that has a weathered finish.
Plus wave goodbye to cold feet and no need to find out how to clean stone floors because vinyl flooring is super easy to clean.
12. Mix and match vinyl floor designs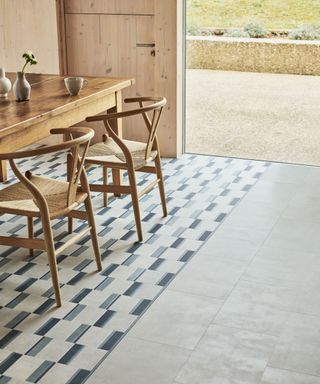 Looking to distinguish an open plan living area or to enhance a small space? Create a mash up of two flooring looks to separate out a kitchen from a dining area so they have their own statement look.
13. Match your vinyl floor tiles to your kitchen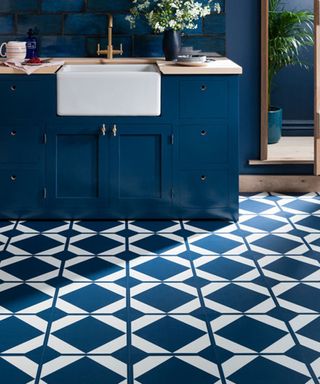 Dark blue kitchen units contrasts with the white of Harvey Maria's iconic Dovetail Oxford Blue patterned vinyl flooring seamlessly to create visual impact.
A contemporary looking pattern will work well in almost any style of kitchen.
14. Solid color vinyl kitchen flooring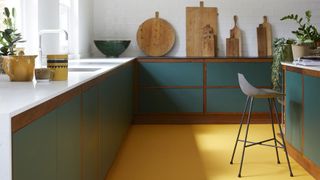 Think sheet vinyl is old news? Thing again.
Opt for a matte sheet vinyl in a bold color for a kitchen floor. This sunny yellow shade from Carpetright will look right at home in a retro kitchen.
Team with lots of rich mahogany and mid century modern touches to keep it looking bang on trend.