From sleek, modern kitchen styles, to French country vibes, to shaker kitchen designs, there are so many kitchen ideas to choose from it can sometimes seem like an overwhelming decision to pick a kitchen theme that's right for your space. Plus, remodeling a kitchen is a hefty investment and involves a lot of disruption, so it needs to stand the test of time.
Struggling to pick a direction for your kitchen design? Elizabeth Sherwin, Senior Designer at Naked Kitchens explains, 'There are a few key things to consider when choosing a style or theme for your kitchen. First of all address whether this is to be a long term home or whether you are renovating the property to sell on; this will inform budget but may influence your color/finish choices too.'
No need to fret though, as we're here to help you make up your mind. We look through the most popular kitchen styles and themes and give you a steer in the right direction, while debunking some kitchen style lingo along the way.
The most popular kitchen styles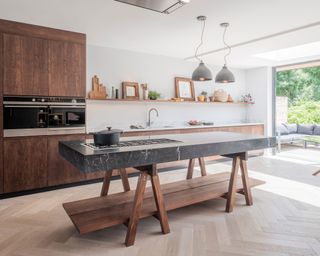 1. Modern style kitchens
The term modern can vary widely, but when it comes to kitchen design it usually means frameless cabinets, sleek and simple hardware, and strong horizontal lines.
Modern kitchens are a popular theme, probably because they are usually associated with clever, unfussy designs that keep clutter to a minimum. A modern kitchen looks best without busyness, so think bare countertops, and slick surfaces like stainless steel.
That's not to say that wood isn't the perfect go-to in a contemporary looking kitchen. Wood can look ultra modern when paired with slimline cabinetry, handleless cabinets, slick hardware and functional storage.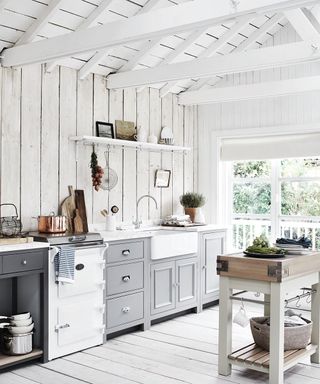 2. Farmhouse kitchens
Also known as a country kitchen, the farmhouse kitchen exudes the look and feel of a rural retreat. Think freestanding furniture, large chunky tables in rustic wood, timber cabinetry, and an eclectic mix of finishes like antique brass and natural stone to help create a lived-in effect.
The experts at Magnet say, 'Country kitchens are a beautiful way to bring rustic charm into your space. They're warm, welcoming, and timeless, effortlessly merging both comfort and style.'
The key to styling a farmhouse kitchen is imperfection and a lived-in feel. Try mixing colors, textures and finishes, rather than matching. Neutral colors are incredibly popular for farmhouse kitchens: Think warm-white cabinets, a rough-hewn wood island, and nickel finishes that'll allow a natural patina over time.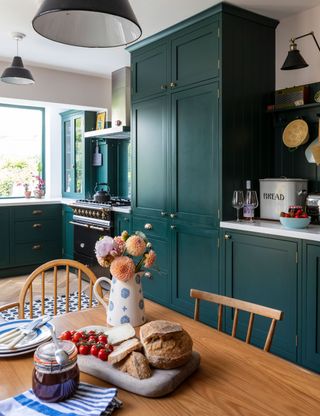 3. Shaker kitchens
Shaker kitchen designs date back to the mid-18th century and evoke simplicity, combined with fine craftsmanship and functionality.
Traditional shaker or colonial style kitchens feature unadorned oak and timber finishes and soft muted color palettes of grey, white and cream which keeps the look bright and airy.
Experts at John Lewis of Hungerford explain, 'Shaker kitchen doors are classically portioned and elegant, with distinctive square frames that can be customised using an array of handle designs.'
'The timeless Shaker kitchen design integrates seamlessly into both traditional and modern homes, making it a popular choice among families with a variety of kitchen needs.'
Add a modern twist on the classic style, by choosing a gloss finish, polished brass or gold handles and glossy worktops, such as granite or marble.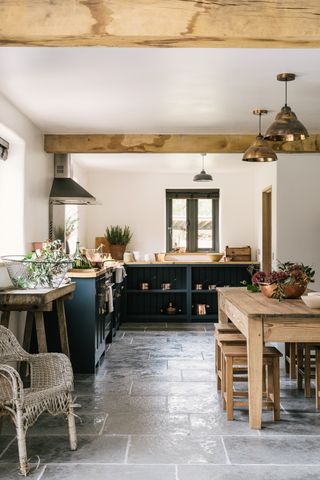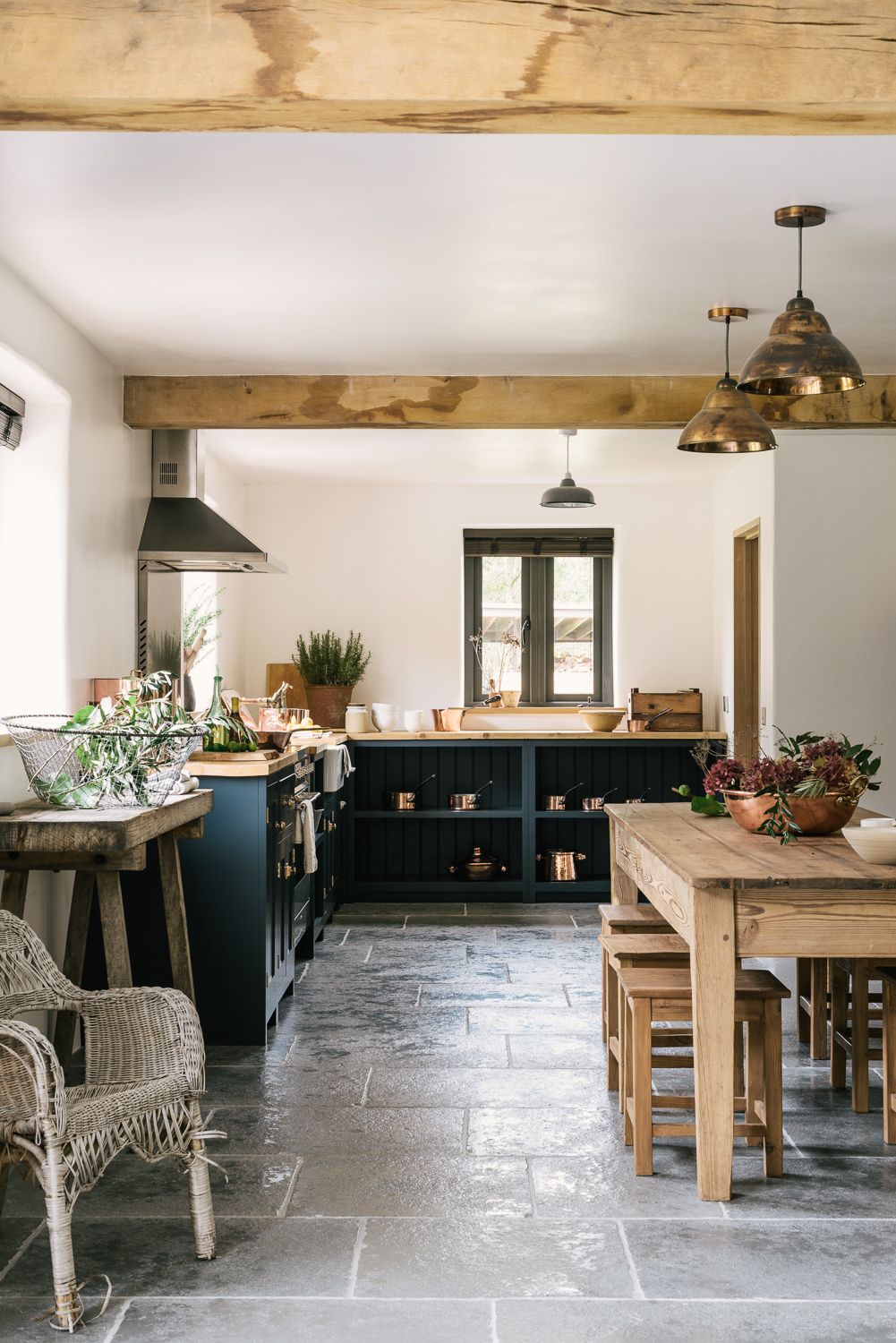 4. Rustic farmhouse kitchens
Think rustic and we immediately picture plenty of wood and charm, and that's exactly what a rustic kitchen design entails. Wood has so many unique features like knobbly bits, gouges and textures that give it visual interest.
Hence why rustic kitchens feature lots of wood, from exposed beams and hardwood floors to stripped back wood furniture and butcher's block-style countertops.
There'll also be a healthy dose of stone and brick surfaces, as well as vintage appliances, antique brass fixtures and fittings, freestanding units and even fireplaces.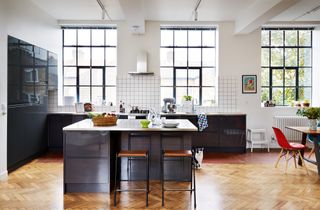 5. Industrial style kitchens
Born out of the clean, pared-back style of a restaurant kitchen, an industrial style kitchen makes use of neutral colors like grey, brown, black and white, plenty of concrete and lots of exposed features.
Magnet Kitchens' experts explain more, 'Industrial kitchens are all about exposed elements, open spaces, and deceptively simple décor.'
'They utilise a variety of materials layered together to create a kitchen that values both form and functionality. Despite their stripped-back appearance, industrial kitchens are social spaces that bring together cozy comforts and understated design.'
Think white metro or subway tiles, bare brick walls, open shelving, overhead pot racks, concrete flooring and/countertops and wood slabs for butcher style counters.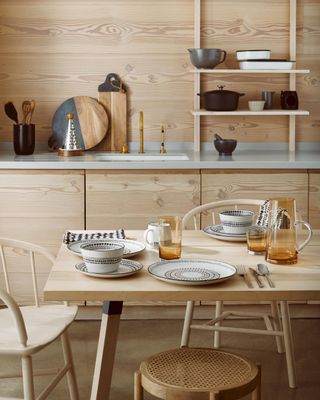 7. Scandinavian kitchens
Also called Nordic style or Scandi style, Scandinavian kitchen designs opt for modern, clean lines, organic shapes, and plenty of natural materials.
Everything about this cozy theme is practical and functional, yet always has a crisp, fresh look. Probably because calming white takes a leading role for the color palette which allows lots of light to flood in and reflect off the walls.
Create focal points in the space with hanging pendants and mix in wood flooring, furniture with a healthy pop of color, a dash of pattern, and some contemporary wall art – et voila, a Scandi style kitchen in all its glory.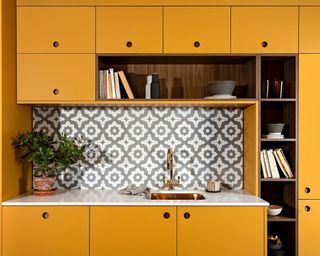 8. Mid century modern kitchens
Midcentury modern kitchens are always on trend. Characterised by vintage simplicity and functionality, you'll often see some design influence and similarities with Scandinavian style kitchens.
Experts at Grundig add, 'Mid-century modern kitchens are generally open to color. Mint green and burnt orange were favorites of the time and are seen on everything from lighting to textiles. Also, wallpaper was a mainstay, and often in whimsical patterns.'
'The mid-century modern kitchen is the ideal space to showcase funky accessories and eclectic collections. Colorful ceramic jars with folk patterns and sunburst clocks are classic nods to the optimism of the era.'
Think retro appliances, geometric shapes, clean lines and open shelving, which all fit in really nicely with contemporary, modern and eclectic home styles, mixing effortlessly with today's materials and newer kitchen trends.
How to choose the right kitchen style for you
Picking out an overall style for your kitchen can be a daunting task as there are so many options out there to choose from. There can be a lot riding on it too, from adding value to your property to improving your day-to-day use of this all-important room.
If you are in a position where you know what you like or you just can't make up your mind, here are some things to think about before making the big decision:
1. The architecture of your house
Unless you have real design flair it makes sense to match the style of kitchen with the age and style of your house.
For example, a formal Victorian home might suit a shaker kitchen or or even a rustic country style. While a renovated property could go for something a little more modern.
Naked Kitchens' Senior Designer, Elizabeth Sherwin, explains more, 'The age and style of the property can often influence the cabinet style chosen.'
'Clients completing sympathetic extensions on Georgian or Victorian rural properties often choose a shaker style kitchen to link back to the age of the property, whilst including all the modern conveniences of a 21st century kitchen (integrated appliances, pullout bins, Quooker taps etc).'
'If you have a new build, or specifically wish to create a dramatic contrast within the property, then you may wish to be more adventurous with the unit style or color scheme.'
2. The layout of your house
The layout of your house and kitchen will somewhat dictate your style.
For example, if you want to bring light into a small kitchen, choose something pale and reflective. If you have a big, south-facing space, then a matt finish is better than glossy.
Space is also a huge factor. Elizabeth Sherwin, Senior Designer at Naked Kitchens explains more, 'If you have a smaller room and storage is key, choose a frameless cabinet style with overlaying doors as this will allow you to utilise as much of this space as possible. In frame cabinets are slightly less space-efficient.'
3. What appliances you have/want
When thinking about your kitchen style, consider the appliances you want to include as they need to blend well with your kitchen theme...
Unless you want them to stand out, such as a stand-alone American fridge freezer, a colorful AGA or something more retro.
4. Your personal taste
A certain style may suit your home but it may not suit your personal taste or needs so consider how you can add elements of other own style into it to make it your own.
It's also important to make sure your kitchen suits you and your lifestyle. If you hate cleaning, don't pick high maintenance materials or glossy finishes and if you hate clutter, make sure you include loads of close cabinetry to stash away all your bits and pieces.
Choose a kitchen theme with colors that you enjoy or pick bright neutrals to uplift as a failsafe, adding pops of color in accessories instead.
Elizabeth adds, 'Create a moodboard/collection of images/Pinterest board of kitchens you like in terms of style. Sharing these with your kitchen provider will allow them to help you pull together the key themes that you are drawn to.'
'This will help you to choose the individual unit style and finishes that are right for you.'