Looking for inspiring small living room layouts? Well, good because we have all the answers to your snug lounge woes right here. As most of us live in diddy dwellings ourselves, we've learned a thing or two about getting the layout right to make the most of the room you have. So we of course had to share.
Your living room – no matter what size – works hard. It has to be a space to chill out and binge-watch your Netflix faves, it also sometimes has to be a home office, and, is a place to pack full of your friends for a competitive games night that turns into dancing on the sassiest sofa that you can squeeze into your space. So the configuration has to work with all of these uses too.
Thinking a bit outside the box when it comes to your living room ideas can be a game-changer and really open up your space. As you will see with these small living room layout ideas, it's not all about pushing everything against the walls and leaving a sea of empty space in the middle of your room...
1. Pick furniture that fit your small living room layout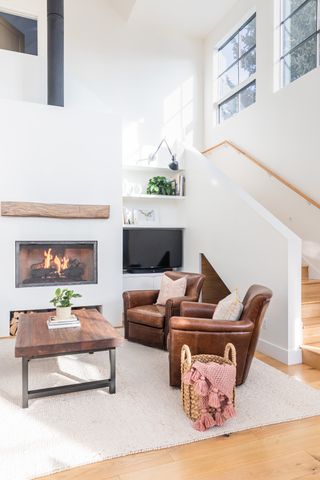 Sounds obvious, but think really carefully about what furniture you bring into a small living room. We would say go as far as to draw up a floorplan and check if any new furniture you are buying would fit nicely into the space.
You want your pieces to have room to breathe. And you don't want to have to squeeze between furniture to be able to move around your space. This might mean you have to cut down on the amount of furniture you have or pick small pieces so the room doesn't feel too cluttered.
We spoke to the interior design experts on how to choose furniture for a small living room if you're a little unsure of what to shop for, and here's what they had to say:
'Maximize space in a compact living room by first considering the key pieces of furniture,' explains Jen & Mar, founders of Interior Fox.
'Many people think they need a small sofa in a small living room but actually filling it and getting the biggest sofa that can fit the space will make it feel cozier and bigger. Choose a sofa that has legs, it will reveal more of the floor and give the illusion of space. Coffee tables are often considered essential when actually a side table that can be easily moved around the room could be a much better option.'
'A soft footstool is another great coffee table alternative. Pop a tray on top to balance drinks or use it for additional seating for when guests visit.'
2. Use an L-shaped sofa to create intimacy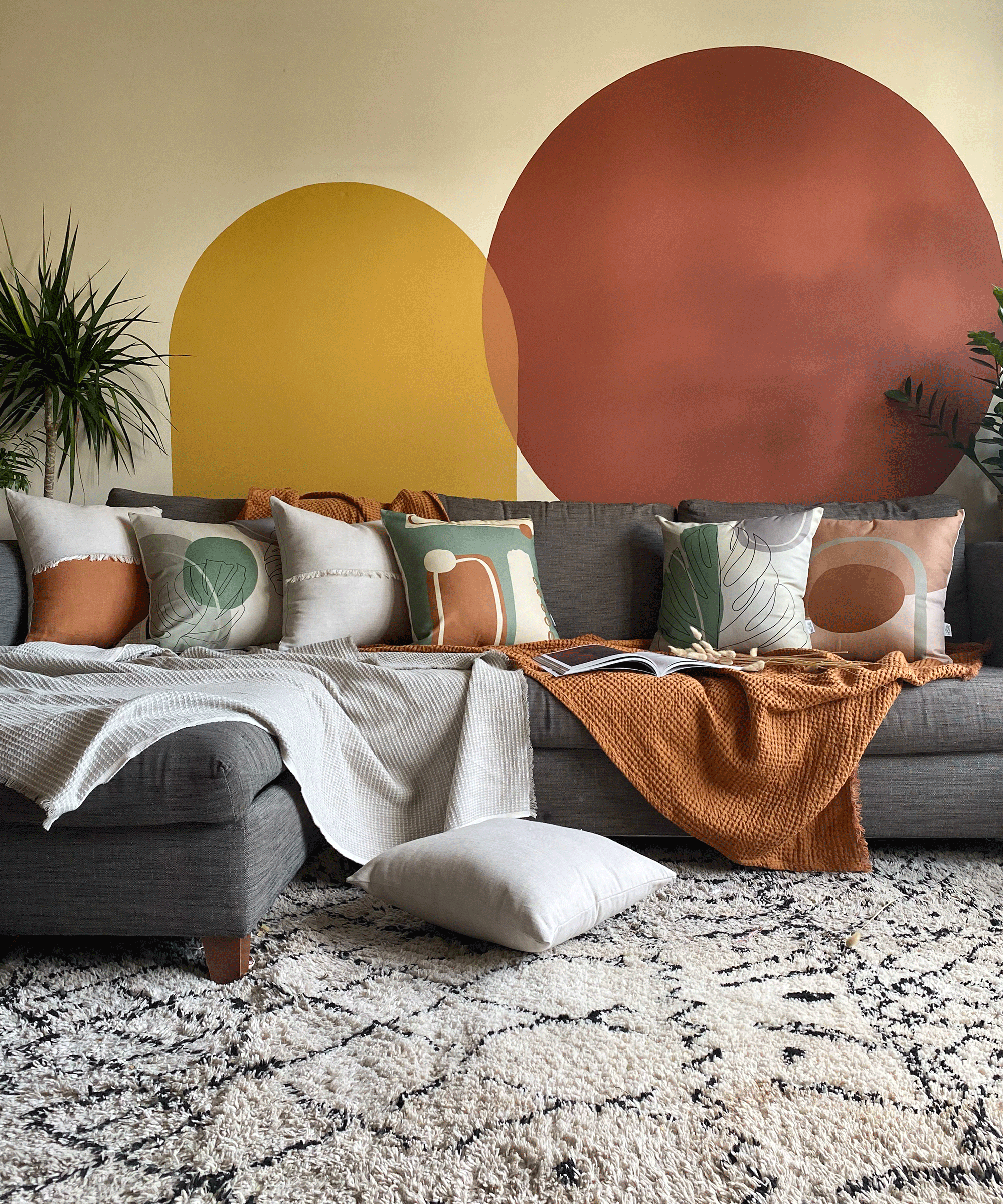 'For smaller rooms, you can use your sofa with a matching armchair to create a circular space for your family and friends to chat around or snuggle up with while enjoying your favorite TV programs,' says Kelly Collins, head of creative at Swyft.
'Position the armchair facing the vertical section of your sofa to create this effect. Simply swivel it round to face the television if you are having a night in front of the box.'
'In the center of your circle position one or two round coffee tables. These are more space-friendly than rectangular tables and help to draw everyone in towards each other.'
3. Avoid pushing everything against walls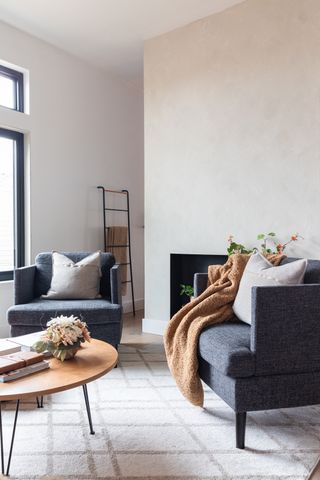 'If your living room's on the smaller side, it's tempting to put all of the furniture against the wall to make it feel bigger,' says Emma Sims-Hilditch, co-founder, Neptune.
'This actually just creates an empty space in the middle that isn't as usable as you might think and leaves your room feeling off-balance. Instead, in any size room, build your layout from the center to make it feel more intimate and welcoming.'
4. Use windows to your advantage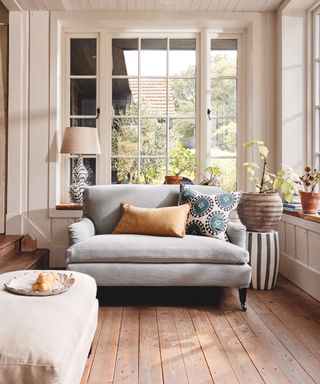 If you're working with an awkward living room layout that's long and narrow, it can be a challenge to create a scheme that feels homely. But if you happen to have a large window in your lounge, use the natural light to your advantage and place a sofa in this area. This will create the illusion of a wider and brighter reception.

A word of warning, however: you may want to think twice about popping your best leather sofa here as 1) it can get hot and 2) unless UV-treated, the color can fade from sunlight.
5. Split an open plan space with open shelving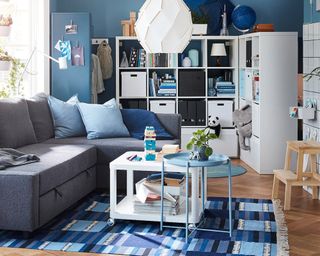 Small apartment living room designs are often open plan which typically means that your lounge and cooking space compete for attention. So when searching for storage, why not choose one piece that'll function for both spaces and split them up at the same time?
'Large shelving units serve as smart room dividers, and open shelves make it possible to take out what's stored from both sides.' says Becky Martin, interior design leader, IKEA UK & Ireland
We also like the idea of caster wheels on a coffee table (as it means you can move it with ease). Though if you can't find something 'off-the-shelf', consider making your own DIY coffee table idea, with wheels from Amazon.
6. Expand space with a symmetrical layout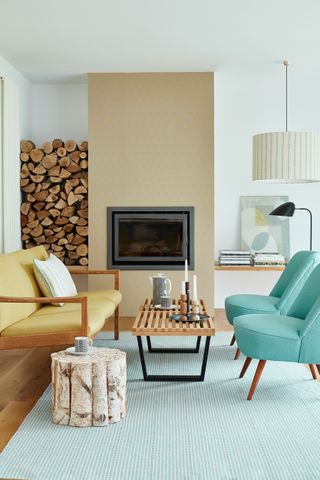 A symmetrical layout can work wonders in a small living room. It's very visually pleasing seeing a room that mirrors itself and this can really allude to more space too.
If you can't fit in two sofas to sit across from each other you can create a similar effect using a sofa and two smaller armchairs, as you can see above. Pop an area rug down too to ground your furniture in the center of the room.
7. Or create a more flexible, multifunctional layout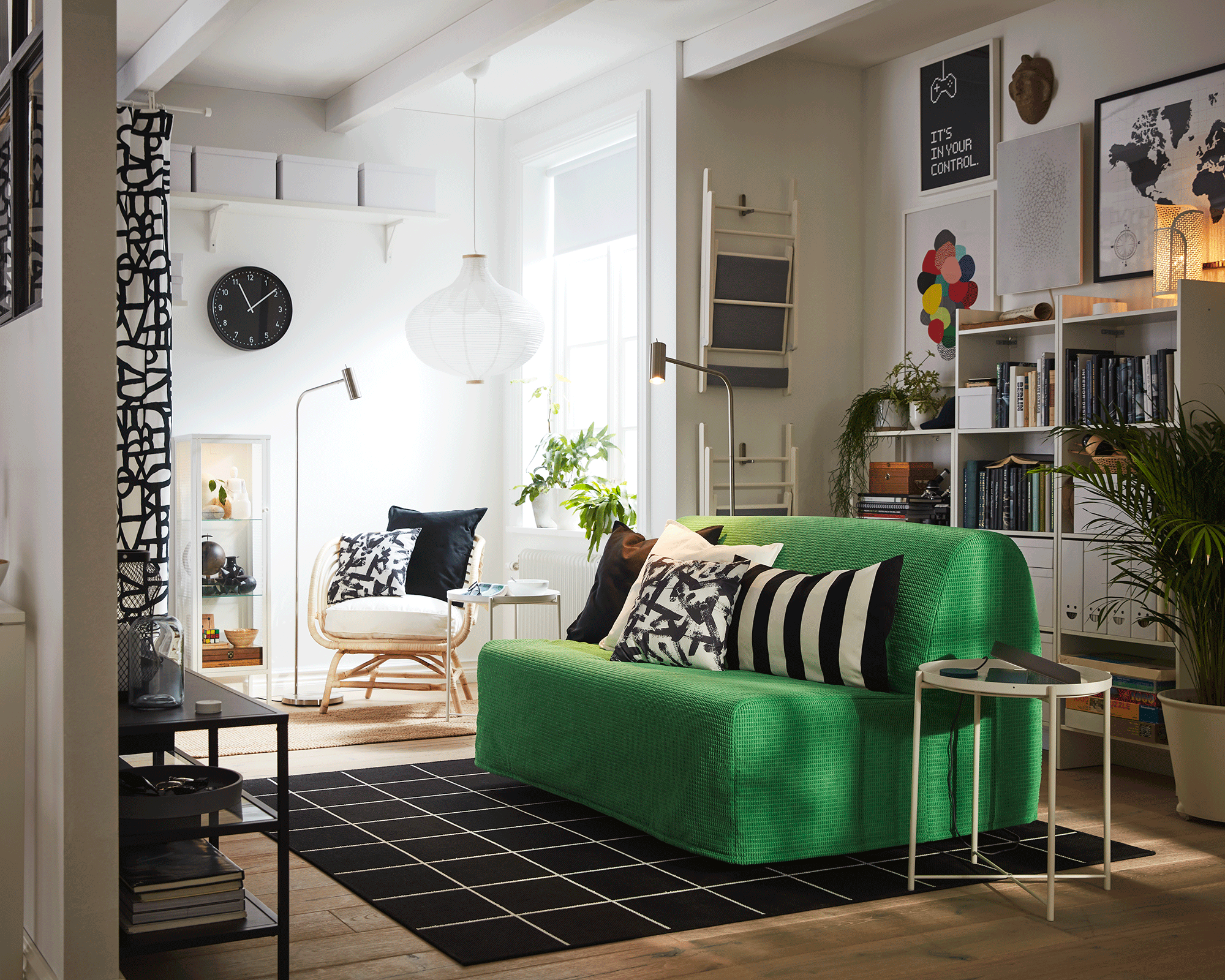 Or the other option is to go down a more relaxed, flexible layout route. Decide on the best position for your biggest piece of furniture first – most likely that will be the sofa – then dot your smaller furniture a bit more randomly in the space.
For this layout, we would say try putting your sofa lengthways with the coffee table in front, because that just makes sense, but then place mismatching chairs, stools, and even small tables in the space opposite.
Having an open mind about your small living room layout also means that it can be multifunctional. For instance: if you choose a small sofa bed, you can transform your small sitting room into a chic guest room idea.
8. Build in your storage to free up floor space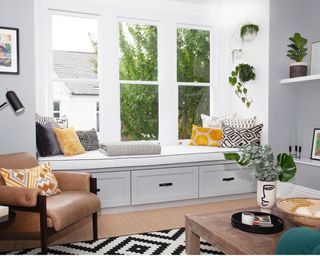 Storage is key for creating clutter-free small spaces, but it can be tricky to back room for it in your layout. So that's why built-in storage can be such a great choice, as it's going to take up minimal space and won't visually intrude too much into your space.
A window seat with some storage underneath is such a great addition to a small living room as you gain some extra seating too. But you could also go for built-in cupboards in any alcoves or wall-mounted shelving ideas to keep all your storage up off the floor.
Talking about the above, Interior Fox says: 'The best way to utilize that gap between the windows was to build this custom bench seat by Hansford's Joinery with drawers for extra storage. Summer or winter, this nook is where you want to be!'
9. Enhance the coziness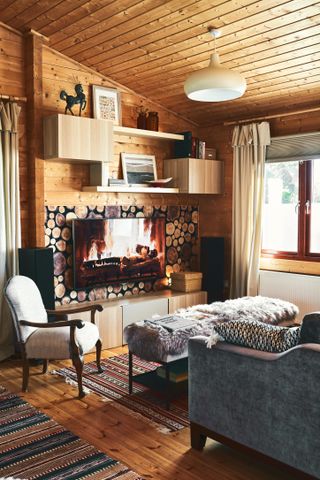 Sometimes a living room layout isn't all about making the room feel bigger, sometimes it's about embracing the small proportions and just rolling with it. Normally, you probably wouldn't put all this furniture into such a small area, but in this rustic living room idea, the warm color scheme and natural textures make the space feel cocooning rather than cluttered.
10. Anchor your furniture with rugs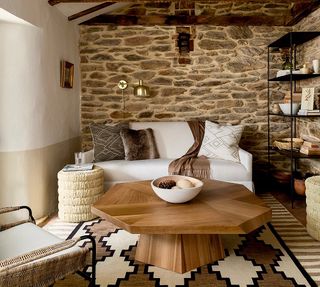 This is a hack we learned and tested recently, and can fully recommend. Layering up your rugs not only makes your space cozier and inviting it can also make the space feel bigger.
Start with a large area rug and use that as the edges of the room, instead of the walls, then layer a smaller rug on top to be the focal point, so you have kind of created a zone in your space rather than just going with the traditional, furniture against walls and smaller rug in the center. In need of a new one? Check out our best rugs shopping edit.
11. Keep the space open with a sectional sofa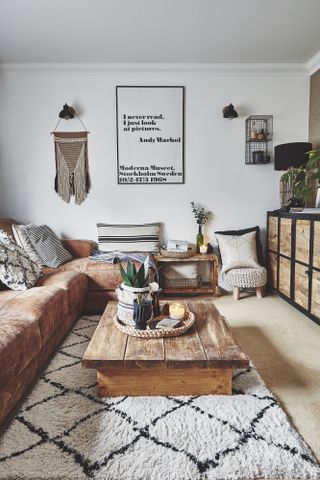 If you aren't willing to give up on owning your dream sectional sofa – don't worry. They can still work in a smaller living room. Just cut down on the rest of the furniture in the room and keep any pieces you do want really minimal – nothing too bulky, so just make sure legs are very slimline and up off the floor so light can still flow around the space.
12. Switch out seating for floor cushions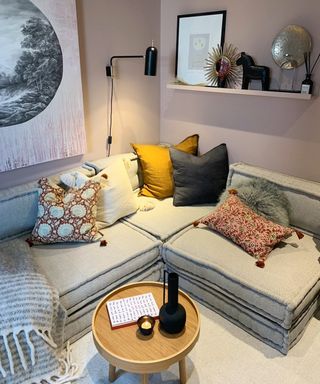 Yes okay, it all sounds a bit hippy sitting on floor cushions. But we're talking about adding floor cushions in addition to your sofa, and instead of bulky armchairs. Floor cushions are making a comeback too – you can find some really stylish options on Urban Outfitters that would be a great addition to smaller living rooms.
Plus, they have the added benefit of being able to move them around so you can switch up your layout really easily. And low-slung furniture is always a good idea in a small space, especially if you are dealing with a low living room ceiling design too.
Alternatively, they can be used as a breakout space in a living room corner for teens to socialize in. That way older relatives like nanna can still have something a little more... back-supporting at family gatherings.
13. Think about your lighting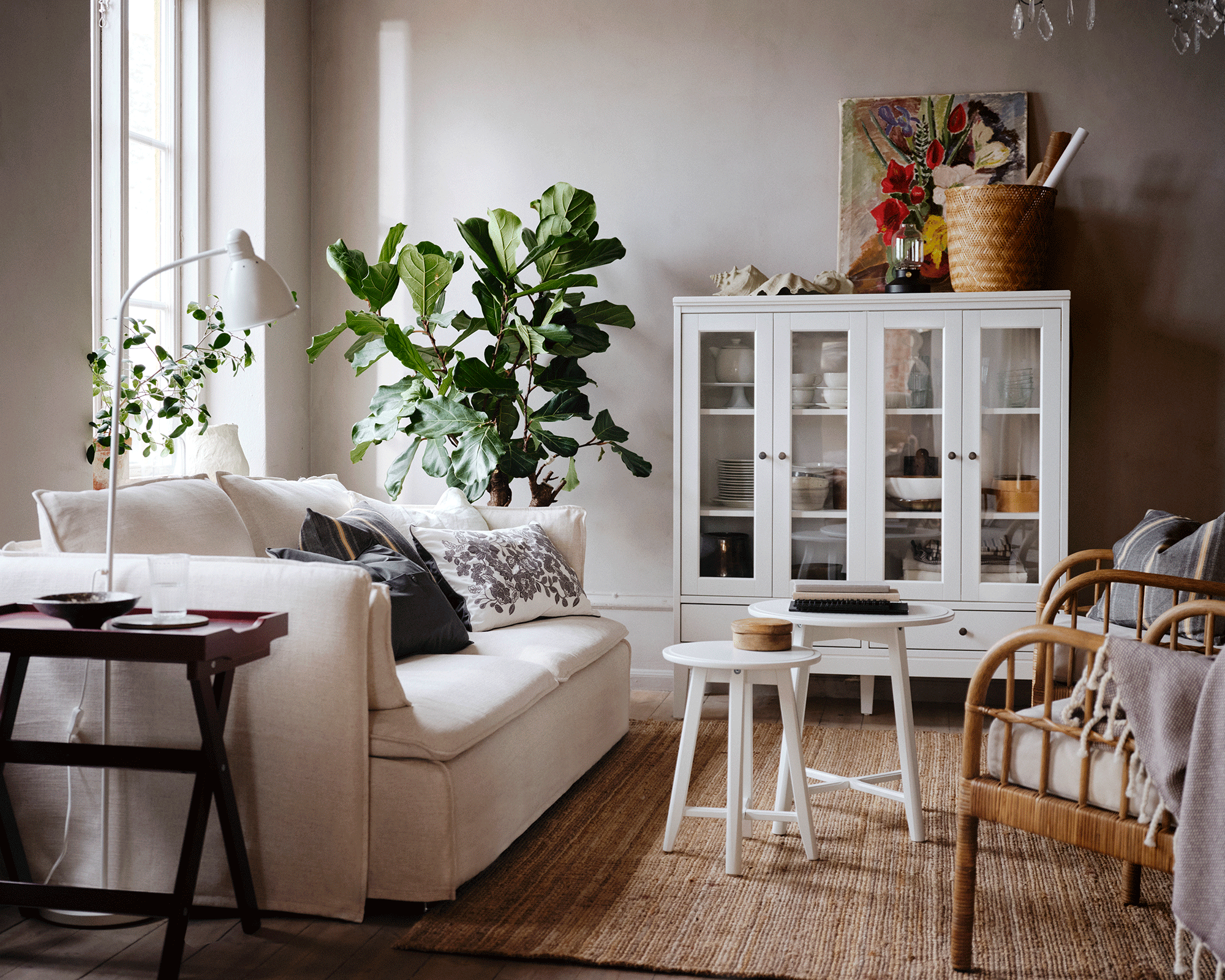 Lighting is actually key to your lounge layout. It can create a different feel in different parts of the room. For example; a floor lamp next to an armchair creates a cozy reading nook, an anglepoise light on a sideboard can create a small home office idea, and a pendant light in the center of the room adds a focal point.
Just make sure you have lots of different living room lighting ideas so you can layer your light, and make sure where you place them makes sense for what you tend to do in that area of the room.
What is the best furniture for a small living room?
The best furniture for a small living room are pieces that aren't going to feel too bulky in the space or block out lots of light. Try and pick more slimline pieces that allow light to flow underneath them which will create the illusion of their being more floor space. Glass coffee tables, and hairpin console tables, for example, are two quick wins if you're looking for decor that'd suit a modern small living room.
How do you maximize space in a small living room?
To maximize space in a small living room really think about the essentials. What do you actually need in your living room? Can you scrap the coffee table maybe, and go for some smaller side nested tables, could you pick a smaller sofa and add an armchair too? Maybe you could wall mount the TV to get rid of a unit? The majority of the time, less is more when it comes to deciding on a small living room layout, and is Feng Shui 101.
How do you arrange a small living room?
Jen and Mar know their stuff when it comes to reordering a small living room. They swear by: 'Strategically placing mirrors where the light naturally falls. It's one of the oldest but best tricks in the book, it enhances the natural light and makes the room appear much larger and brighter.'