When you walk into your new home for the first time, your immediate thought might
be, 'What now?' You spot a rotting window here, a wall of visually offensive 1970s wallpaper there, a cramped, old-fashioned layout, and don't have the first idea where to start.
Alternatively, it all clicks into place straight away. For Briony and Peter, the first item on the to-do list was the dark, cramped and detached kitchen they inherited when they bought their 1930s home.
Keen to bring the space in alignment with the rest of the bright and spacious house, the couple decided to extend to create an open-plan kitchen-diner that would accommodate dinner parties and festive guests. Read on to find out the steps they took to transform their home…
Be inspired by more real home transformations on our hub page. Or, find more ideas for an open-plan kitchen.
Profile
Owners Briony Gowlett, a publisher, lives with her husband, Peter, who works in IT, and their whippet, Winston
The property A four-bed 1930s semi-detached house in Enfield, north London
Project cost £71,200
'When we went to view the house, what we loved the most – what sold us the house – were the two adjoining rooms downstairs, a reception room flowing into the dining room. We could see the potential. The kitchen was the project that would take the longest and cost the most, so we tackled it first. It was small and accessed through an archway, so it felt detached from the rest of the floor.
'The kitchen itself was falling apart. The guy who lived here before had built a cupboard under the exposed staircase and the space just didn't work. The windows and doors were rotting and there was a horrible lino floor. It was all in a sorry state and it didn't feel like a nice space. The whole house needed a revamp, but this was the biggest structural change.'
'We took on an architect for the project. We had strong ideas of our own but we wanted to balance adding space and spending money in the right places. The architect helped with that. For example, I wanted to take out a wall and leave an exposed brick column, which would have cost a lot of money. The architect explained that the benefit would be minimal for how much we'd pay.
'We got quotes from a few builders and narrowed it down to two. The architect talked us through them and added an extra layer by telling us about each company. One was larger than the other, which meant, as the architect explained, that there would be lots of unfamiliar faces on site every day. We picked the smaller company so we could have one familiar person throughout.'
'Before this property, we had a house and a flat. We'd only ever thought about what would appeal to potential buyers when we sold them. In contrast, this house was about creating personality. I love the look of Crittall doors, but they were out of our budget, so I looked into black aluminium doors instead.
'We visited kitchen companies and researched online. I loved Pluck's style and what they offered was bespoke. They advised on what looked good and were honest about our requests. For example, I love navy and we knew we wanted Atlantic Blue for the kitchen, but they suggested pink as an accent colour and making a feature out of the larder by using a different kind of wood. They led us down the right path instead of trying to fit in everything we wanted.'
'We had a contingency of 15 per cent, which we spent, but we didn't go over on fixtures and fittings. It was the unexpected costs that caught us out. For example, the builders found a nail in a water pipe while they were digging down in the back of the house, so we had to have it replaced.
'Other times, it was our conscious decision to spend a little more. We were planning to get a wooden floor until we saw the microcement style other people were getting. It was still within our budget but slightly more expensive than what we were originally going for, especially because you have to install the underlay first. When we moved in, we borrowed a little extra on our mortgage because we knew we
were going to do this project.'
'I love the kitchen and it's such a talking point. The rooms are so big and my natural inclination was for cool colours on the walls, but I'm pleased that we made it cosier. I didn't want the kitchen to feel like the main feature of the room, so we've tried to integrate it into the living space and make it softer.
'Ultimately, we needed an entertaining space – the reason we loved the house in the first place was because it has so much more room to have people around. They can sit on the sofas while I'm cooking and we can still chat. If I have friends around for dinner, my husband might sit in the living room and close the door to create a sound barrier. We love throwing parties here, and now we can really make the most of it!'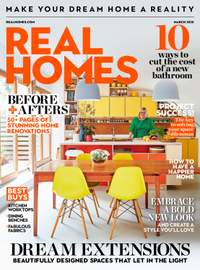 (opens in new tab)
Subscribe to Real Homes magazine (opens in new tab)
Want even more great ideas for your home from the expert team at Real Homes magazine? Subscribe to Real Homes magazine and get great content delivered straight to your door. From inspiring completed projects to the latest decorating trends and expert advice, you'll find everything you need to create your dream home inside each issue.
Read more: