Shared bedroom ideas can be a tough gig to design correctly as there are a lot of variables to weigh up.
From working out how to split a small kids bedroom idea, to deciding the age limit for sharing, there are are lots of decisions to be made when creatively configuring a cute bedroom idea that works.
First you've got to tackle privacy, then maybe a separate space for socializing and of course you can't forget about a functional wardrobe idea – all while trying to keep a younger sibling away from his or her clothes and toys.
So before you decide to tackle this task head-on (and accumulate a few more grey hairs), consider doing your homework on how to design a kids room.
Shared bedroom ideas for kids of all ages
1. Create a gender-neutral shared bedroom design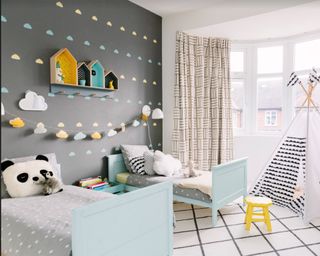 If you want an all-over theme that isn't too divisive, then why not consider a neutral scheme? By choosing something to suit both children, there will be no fighting or jealousy if one side of the bedroom looks 'better' than the other.
And this idea isn't as new or innovative as you might think. Celebrities and influencers have been making way for their new arrivals with gender neutral nursery ideas.
This gorgeous mint, yellow and grey bedroom idea shows how calming cohesive design can be. Diana Greenhalgh, co-founder of My Bespoke Room says, 'The client had a tight budget (under $1,400 / £1,000) and originally had wooden bunk beds which we suggested separating and painting in a brighter color and highlighting that color around the room (in the cloud wallpaper and shelving) which could be updated as they grow older.
'The rug and curtains were kept in a more safe and neutral pattern for a longer life span as they were more expensive, and the additional pops of yellow added a fun element!'
'This was a project for a family based in London whose two small children share a room. They are brother and sister and so the theme had to appeal to both.'
2. Embrace separate tastes with accessories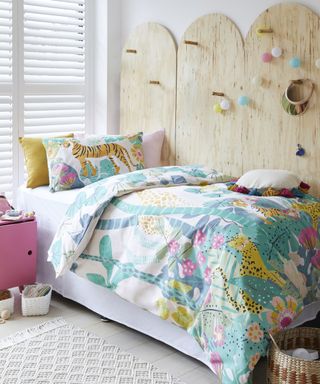 Let's face it, in a world where kids are encouraged to be their authentic selves and express their identity, a monotonous shared bedroom idea is just not going to work.
Instead, part the room 50:50 and give your children an equal allowance to embrace a bit of interior design. From duvet covers to cushions and soft furnishings, let them decide on the decorating details. And don't forget an accent wall design. This is a great way of distinguishing which space belongs to each sibling.
3. And remember to enjoy the consultation process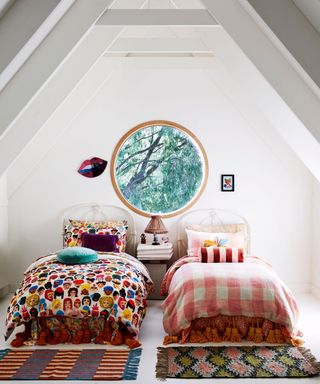 By letting your little one's imagination run wild, you could end up with a garish final look. But with a bit of parental guidance, the final execution will put a smile on both their faces.
It's also a great bonding idea to find out what your children's interests and hobbies are.
Try and talk to them otherwise and you may be faced with the sound of silence and and a look that could kill. Awkward.
4. Create a 3-in-1 bedroom to make way for a newborn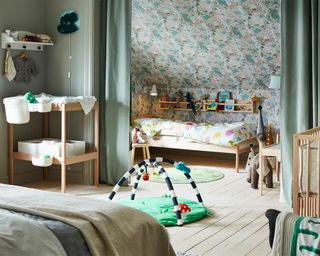 Expecting a baby can be a wonderful life event which brings happiness to your home. However, if you already have a young son or daughter who is being promoted to big bro or sis, this can present a spatial challenge.
And while moving into a bigger home might seem the obvious option, real estate prices are rising. This may mean that uprooting to a house with another room might not be a financially feasible option.
By splitting your existing master bedroom idea into sections, this can create a harmonious solution where everyone gets a (nearly) fair piece of the pie.
To do this, add an adjustable cot bed for a growing tot, create a cool changing area and prioritize playtime in the center of the room. It may also be a sensible idea to curtain off the older child's space so that they not only feel important, but have a private place to sleep when baby wakes in the middle of the night.
5. Show sibling love through chic wall art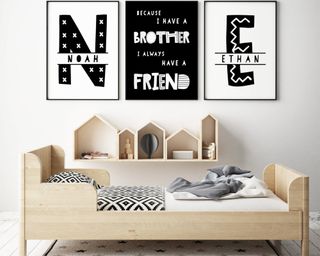 Boys will be boys as the adage goes, but if your sibling kids are allies, then show off this pally partnership with some trendy wall prints.
As always, we encourage you to shop around on Etsy and Ebay to support independent artists and businesses. By giving your dollars to the little guys, you will no doubt know that the finished work will be made with love. What's more, these marketplace vendors have to stick out from the crowd, so are likely to offer a more personalized service.
We love this boy's bedroom design which perfectly pairs a sweet message with bespoke name art. As they get older, you can of course grow this into a fully established gallery wall idea.
6. Partition straight down the middle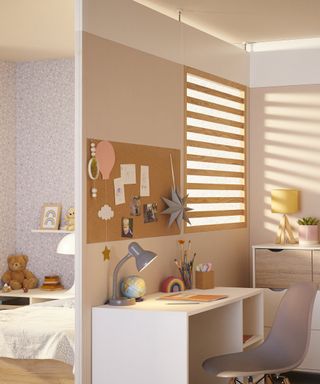 Considered packing your bags after hearing yet another teen temper tantrum? Sick of mediating arguments over intrusions and encroachment? We've got the answer.
Wall panel room dividers offer a clean division right down the room without any expensive bedroom remodeling or renovation.
These affordable solutions allow you to create an easy to install, completely custom space for your kids. And don't worry about disrupting their sleep schedule as these strong, secure and safe partitions with push fit connections avoid you having to build in a permanent wall.
Starting costs for these panels from B&Q cost £5/$7 for a small panel all the way up to £75/$104 for larger sizes. Just remember that you may need to add on posts, extenders and other accessories.
Paint these panels to match the decor of your shared bedroom design and you're all set!
7. Use voile curtains to create a light and airy division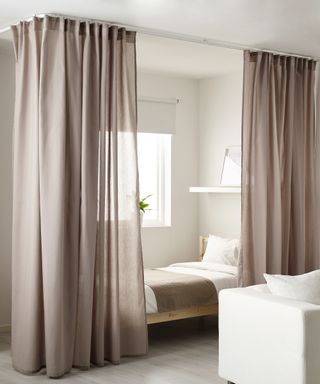 If a set of four-poster beds is out of budget for your brood, then look to cheap, affordable curtain ideas to create a light and airy translucent division between your offspring. Voile isn't just en vogue for bedroom window ideas, so get stuck into this fresh idea.
To do this, you can create a room divider with brackets and track rails that can navigate around corners. The VIDGA curtain rail system from IKEA gives you more flexibility and less complexity with easy assembly and no visible screws.
But, as always, be sure that these curtains do not present a strangulation risk when installed in a shared boho bedroom idea.
8. For a retro vibe, use a beaded curtain design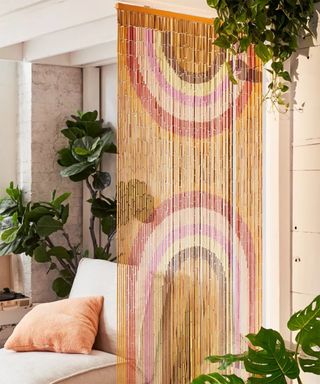 As parents, we often see interior trends from our childhood come back in fashion. From macrame wall hangings to tie-dye print, bean bag chairs and bold wall decor ideas, the latest designs are a blast from the past.
Oozing 70's charm and natural texture, this beaded curtain design from Urban Outfitters is on our lust list, let alone the kids! Use as a semi-sheer room divider or add interest to a walk-in closet idea.
9. Give each kid space with a smart storage idea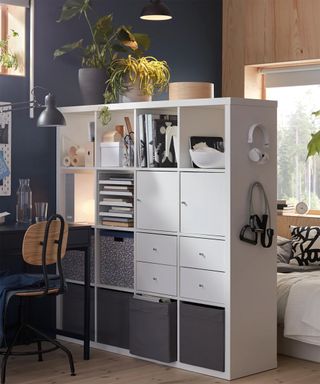 Sticking a bedroom storage idea bang in the middle of the room might seem a bit 'out there' but if the experts say it can be done, then who are we to argue?
Anna Blom, Artist and Creative Consultant for IKEA says: 'Create a semi solid wall with a smart storage unit.
'This KALLAX shelf is accessible from both sides, but you still get the feeling of two independent 'rooms'. Use different inserts to organize your stuff and free up desk space.'
10. Divide a teen bedroom with a DIY houseplant design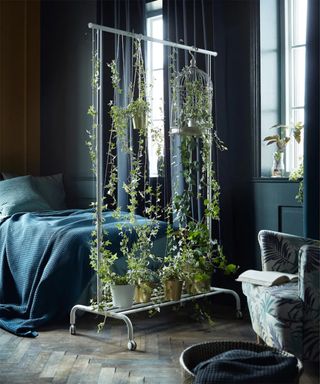 Plants and male teens. It's not the match made in heaven we know. But if it means that each boy gets his own space, then they might be game. This edgy and cheap DIY idea will zone a room and distance siblings in a shared bedroom idea. And, it's a breeze to install.
Rita Mestre, Interior Designer for IKEA says: 'Pimp a clothes rack with climbing plants (one with wheels is a plus so you can move it around).
'Use your favorite species or mix and match different greens in standing and hanging pots. Fasten a few vines to the top bar with thread.'
Just make sure that they're both given a rota to water the plants to keep this houseplant idea healthy.
11. Section off areas with barn doors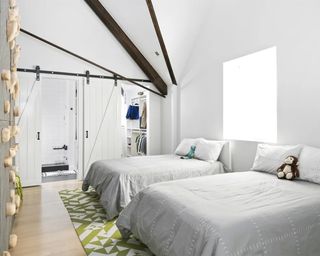 Incorporating a shabby chic style into their sleeping quarters, barn doors add buckets of character and are often made from lightweight material.
Therefore, a sliding door design will provide not only easy access, but a way to slam-free way to shut off different areas in the room. Perhaps you want to create two dressing areas for privacy, or section off a study space for when one child wants to work and the other is in play mode.
Do be careful however, with trapped fingers and stubbed toes as an aggressive push can catch your little darling's digits.
12. Add a screen for a cozy pop-up wardrobe idea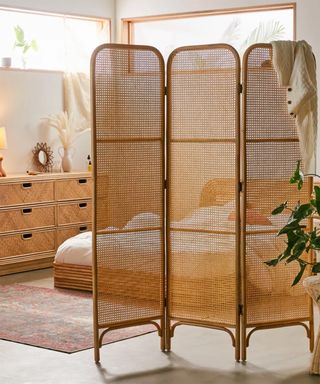 A room divider is an affordable way to break up a shared bedroom idea. Great for small bedrooms, a tri-panel screen folds up for easy storage when one child may be sleeping over at another house.
And, there's not just one type of screen so be sure to shop around to incorporate a design that suits the interior space. While rattan gets the thumbs up for boho-approved appeal, a Chinoiserie print is perfect for a vintage bedroom idea.

Sophie Birkert, Founder at Screen with Envy says: 'Since the pandemic, our homes have become multi-functional, so splitting spaces up is a quick and easy way to manage rooms being used for a multitude of tasks.'
'Indoor screens are the perfect choice for a unique room divider thanks to their ability to add decoration alongside privacy, as opposed to the more traditional half-walls which are so often not stylish.'
'This way a space can easily be split, separating a section for doing makeup and getting ready, or even to create a cozy reading nook- all while keeping a room on trend!'
13. Use a black-framed glass for a minimalist design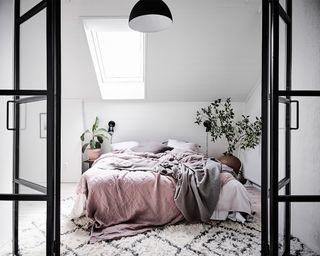 Black framed glass or Crittall windows (as they're called across the pond), provide a minimalist chic to shower screens and garden door ideas in the home.
But, for a modern bedroom design, these popular multi-pane glass solution offers sleek steel style and privacy to a shared bedroom idea.
If you've two children with significant age gaps, this bedroom idea will open up the door to independence for your first born and keep a younger child away from the receiving end of a hormonal teenager.
13. Choose beds that grow with them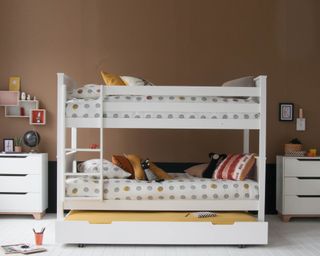 With their super-snacking abilities and their acceleration into adolescence, kids sure do grow up fast. So while bunk bed ideas do offer their advantages, some designs become obsolete quite quickly!
However, by choosing the right bedroom furniture, you can future-proof a shared bedroom design and in turn, save some serious dollar!
Made from solid beech hardwood, the Nordic inspired convertible classic beech bunk bed by Little Folks Furniture is a perfect example of flexible bedroom decor.
Once the sharing phase is over, these bunk beds split down into two full size singles. The storage trundle can be rolled out from under the bed; pop in a trundle mattress to turn it into an instantaneous sleepover solution!
14. Divide decor by side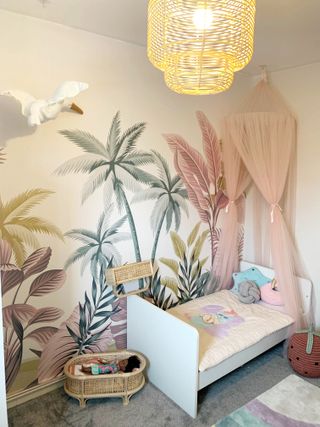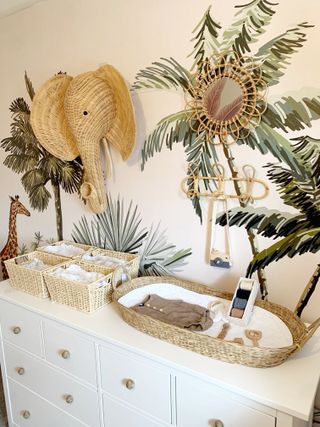 Real Homes expert blogger Alimah Shadia Sitta created a subtle division for her gender neutral room for two room by tweaking the decor slightly on each side of the room. While both sides shared a boho, tropical-inspired style, her daughter's side retained some of the pink decor it had when it was a room for one, while she added more neutral decor to her infant son's side of the room.
How do I arrange a shared bedroom?
Sam Grigg, Interior Stylist at IKEA says: 'When two siblings with two very different personalities share a room, it can be tricky getting the space just right for each child. A few accessories and simple changes can give both of them a space of their own.'
'Different rugs on the floor help zone each child's bedroom space using pattern and color. Add small stools to provide a handy bedside surface for night lights.'
'Try washi tape to personalize simple furniture and make it feel unique. It's easy to remove and change whenever children want to try out a new design.'
'Use hooks and shelves to display kids' favorite toys and drawings around their room – and keep clutter off the desktop. If children share their desk, make sure they each have a desk chair in their own choice of color.'
'Lastly, make it easy for kids to get creative, with individual drawers for their art materials and a color-coded sticker system for each child.'
Zoe Warren, interior designer, priceyourjob.co.uk adds: 'You could get a bed tent or canopy, or, for older kids, a large bookcase in the middle of the room might help divide the space. Designate special areas for each child's belongings and give older kids a secure spot, like a box with a lock on it, to keep their treasures away from prying little hands if they are sharing with younger children.'