Want to find out how to make a small kitchen look bigger? You've come to the right place.
We get that making a kitchen functional as well as beautiful can often be a challenge, particularly when square footage is in short supply. That's where small kitchen ideas come in handy.
Experts at InSinkErator explain, 'Cramped and dark rooms can make us feel low, whereas walking into a lighter, brighter room can instantly lift your spirits. There is no reason why a small kitchen can't exude some serious style and feel more spacious than it actually is. A kitchen of any size can feel roomy if you know some simple design tricks to make the most of the space.'
We've put together some simple tips that will help you make the most of even the smallest of kitchen spaces, with tips from kitchen experts.
1. Draw the eye to the ceiling to make a small kitchen feel bigger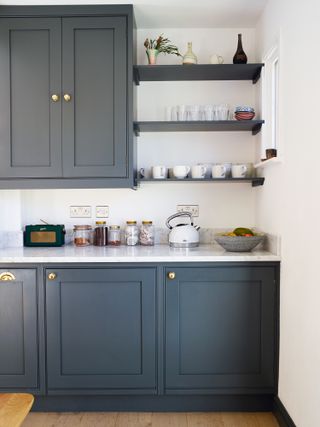 Been blessed with high ceilings? Make the most of them! Building up with cabinetry is the most obvious strategy here, but don't forget to give those spaces some decorative love too. Add in open shelving for practical small kitchen storage that you can also use to display cute common house plants, plates, prints, etc.
Experts at Wren Kitchens say, 'When storage space is of the essence, you'll want to optimize wall space. However, rather than choose solid cabinets – which can make the room feel smaller – consider open storage options. Shelves offer plenty of space for lighter kitchen accessories and appliances.'
Bring the eye up with beautiful moldings, a painted ceiling and statement kitchen light fixtures, too. Adding style above your head will make a big impact without wasting any floor space.
Obviously, if your small kitchen isn't graced with a high ceiling, you can still use the same concepts when it comes to vertical storage and even low ceilings can look cool when painted in a light, feature color – just check out our guide to how to paint ceilings.
2. Leave no kitchen storage opportunity unused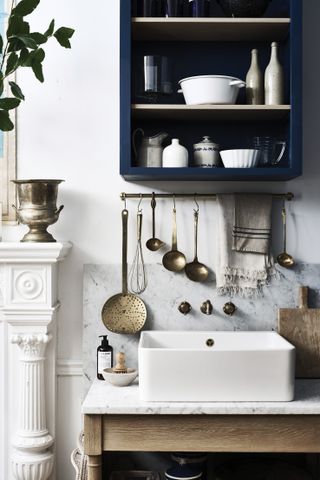 When designing a small kitchen, you not only have to think about designing the look of the overall space but also how each cabinet will be used. By doing so, you can use add-ons to make the interior of the cabinets more efficient, and the workflow of the kitchen more effective.
Consider the back of doors as hanging space, the underside of shelves for cup hooks and every inch of corners and high cabinets for occasional storage.
Where custom building, use often overlooked small spaces like the cabinet kickboards (the area beneath the cabinets, which can be made into hidden, pull-out drawers for larger items such as baking trays), the area above doors and the ceiling for clever storage spaces.
Check out our small kitchen storage ideas, clever pantry storage ideas and neat jar storage ideas for more inspiration.
3. Use clever lighting to make a small kitchen feel bigger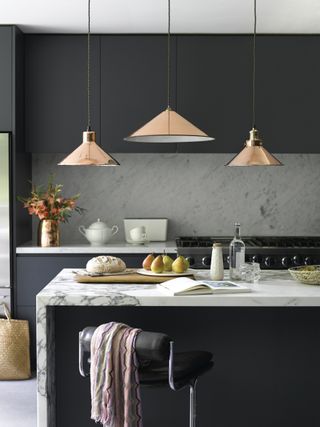 Planning good kitchen lighting will go a long way to making a small kitchen look bigger.
Experts at Wren explain, 'If you have a small kitchen with a high ceiling, a statement light shade can be a beautiful addition to a kitchen design. However, if you have a standard or even low ceiling, avoid cluttering the room with unnecessary light fittings.'
'Integrated lighting can be a design-saver when it comes to small kitchens. These lights barely feature in the overall room design, but can be used to flood the room with bright light, which makes the kitchen feel airier at any time of day.'
'Ceiling lights are a must, but there's no need to stop there. Add them beneath cabinets and as spotlights on your countertop to add a soft glow to your prep space.'
When planning kitchen lighting, you will need overall ambient lighting and task lighting at the very least.
Adding decorative and spot lighting will also help make the space feel open and well planned.
Consider how and where you'll complete tasks in the space and light them accordingly. Remember that the color of your finishes will have an impact as well – the darker the cabinets, counters and walls, the more wattage you will need.
4. Limit your kitchen's color palette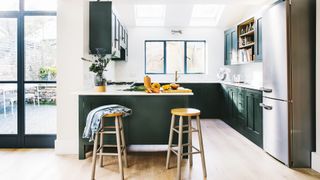 The specific color you choose is a completely personal decision but keep that choice to one or two predominate colors and you will make a small kitchen feel bigger easily. This technique also creates a more coordinated look without you being a master decorator.
Feel free to use different shades of the same color as you mix and match to create some visual texture but avoid big blocks of contrasting walls so that the eye sees the room as one continuous unit rather than smaller blocks.
Get inspiration for your kitchen paint ideas in our feature, plus if you are doing up a kitchen on a budget you could always paint your own kitchen cabinets; just check out our guide.
5. Declutter like Marie Kondo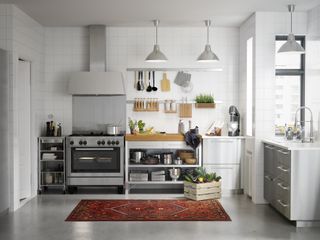 Make like Marie Kondo and be a ruthless editor (get inspiration and organising tips from our guide). The less you have to store, the more organised and functional your kitchen will be.
That means not taking grandma's old microwave but investing in a compact microwave, or keeping that extra crepe pan 'just in case'. Help yourself stick to this goal by creating a space for every single item you store in the kitchen.
Experts at Wren Kitchens say, 'Whether it's on your shelves, in the cabinets or on the countertop – clutter is the enemy of a small kitchen space.'
'Drawers and a narrow larder can help to maximise the amount of storage space available, which allows you to hide away ingredients, utensils and crockery, keeping countertops and shelving clean and clear.'
'That's not to say nothing should be on display. Statement pieces like freestanding mixers will add to the design of the room; daily essentials such as kettles and toasters are impractical to pack away, and fresh flowers, herbs and other small decorative items will keep the room feeling homely, so display them all sparingly.'
When you have run out of space, be strict with yourself and don't allow one more item to come in until you have made room by parting with something else.
6. Use light-reflecting decorative accessories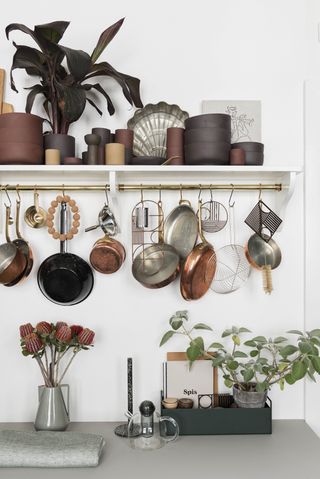 Once you have a well-designed kitchen layout, don't stop there. Treat the kitchen as you would any other room. You don't stop decorating your bedroom with just a bed, so why stop in the kitchen with just the cabinet and appliances?
Used sparingly and in the right scale, small decorative touches really add personality to a kitchen. To make a small kitchen look bigger, pick out accessories that will bounce light around the room. Basically that means all the metallics.
We already mentioned using metallic pendant lights so get some pieces to match – plant pots, picture frames, even practical things like copper kitchen accessories and metallic utensils and pots can help. Not into metallics? White will do.
Wren Kitchens' experts add, 'Mirrors are often recommended for hallways and bedrooms to help make the space feel larger. The same can be said for kitchens through glossy features.'
'Gloss finish cabinets and countertops, as well as stainless steel accents across taps, handles and appliances will reflect the light and make the room feel much larger than it actually is.'
7. Go for an all white scheme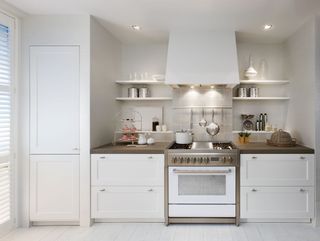 Nothing new here, white reflects a ton of light and makes a small kitchen feel bigger instantly. Paint kitchen cabinets and walls the same (or similar) shade of white, plus use paint to camouflage any bulky radiators.
Create some contrast by choosing a countertop in granite or wood and add a few pops of color in the form of accessories and decorations.
Wren Kitchens' experts explain, 'The color scheme of your kitchen will have a big impact on the impression of the space available. Light colors with plenty of white tint will naturally reflect light, which helps to avoid the room feeling cramped and dark.'
'Bright white or cream is an obvious choice, but don't feel limited. Light greens, yellows, blues and even greys can work well too.'
'Whatever color you choose, try to make the cabinet doors and walls one consistent color. This removes any visual barriers that cause the eye to stop short, thus making the room appear much larger than it actually is.'
Have a look at more of our white kitchen design ideas for inspiration. And don't miss our guide to the best kitchen paints to pick the right finish for the right surface.
8. Clever flooring choices can make a small kitchen feel bigger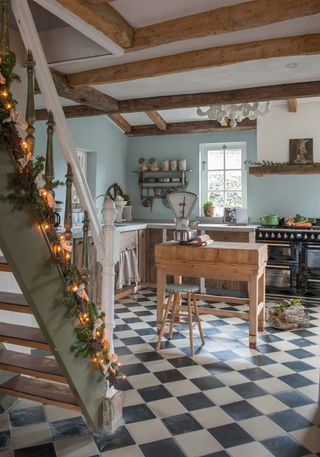 You know how with clothes, the likes of Tan from Queer Eye always go on that stripes can have this optical illusion effect, making you look taller, shorter, wider, slimmer, blah, blah, blah?
Well, you can actually put that theory to use on your kitchen floors. Dealing with a narrow galley kitchen? Using flooring boards or patterned flooring that runs parallel with the length of your kitchen to make it appear longer.
If you want to make your kitchen feel wider, do the opposite, using flooring that runs across the width of the room. Laying tiles? Put them down diagonally to make the room feel longer and wider.
Go and have a read of our guide to kitchen flooring for more tips and ideas.
9. Slim down your kitchen furniture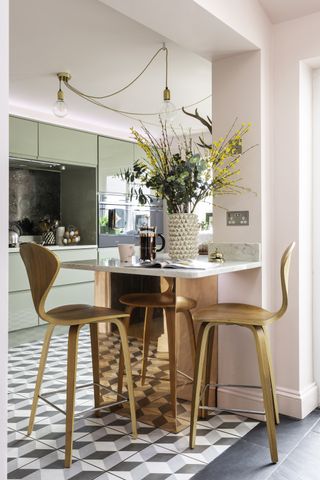 Obviously when you are trying to make a small kitchen feel bigger pick out furniture that has a small footprint, but also choose pieces that are slimline. Avoid furniture with chunky legs or thick outlines that are going to add a load of visual bulk to your small space.
Instead, think streamlined chairs, dainty bar stools, maybe you could even fit in a compact kitchen island – we have loads of kitchen island ideas that could work in a small kitchen.
10. Make a small kitchen feel bigger with glass fronted cabinets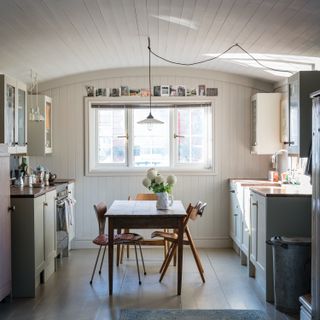 Glass fronts are going to lighten the look of your kitchen cabinetry and will expand your space as the eye will travel through the cabinets.
Just make sure you don't fill the glass cabinets with loads of stuff as this will defeat the purpose.
Keep lower cabinets doors solid and use them to store all your unsightly practical bits and then add glass fronts to your wall cabinets and keep your best plates, mugs and plants on show in those.
Light the interiors to heighten the space-enhancing effect in the evening, too.
Experts at Wren explain, 'Glass-panelled cabinet doors provide the benefits of a normal cabinet while maintaining the open design.'
'Soft lights within the cabinets or beneath the shelving will further open the room and keep this area looking and feeling bright.'
'Make the most of your natural light by keeping your window design very simple with little to no treatments on the glass, or ornaments on windowsills. This will help to maximise the amount of natural light in the room.'
Check out our feature on kitchen cabinetry design ideas, you will find loads of inspirations for small kitchens over there.