Small kitchen lighting doesn't have to be substandard. In fact, when looking at the recipe for a good cook's space, it can be one of the most important ingredients – or set of ingredients as these fixtures can be layered.
Aside from the instant impact they create, these kitchen ideas can also be switched out more frequently, than say, a dining table or appliance – so you can have fun adding a guest-friendly glow or a warm, low-lit ambience to your cooking space.
So whether you're wanting to add a pop of color, create a wow-factor wine bar scheme, or just want to see better when grabbing a midnight snack – let us enlighten you with these bright ideas on lighting for small kitchens.
Small kitchen lighting that looks just as good
'In addition to your chosen lighting scheme, for smaller kitchens, those with lower ceilings, or kitchens lacking in natural light, choosing a lighter colour scheme can also help to lift and extend the space,' says Rohan Blacker, founder of Pooky.
'Meanwhile, using high gloss paints and finishes for the walls, floors, counters and units – and even the appliances – can help to reflect the light and make a smaller or darker kitchen feel bigger and more open.'
'A few strategically placed mirrors are another great way of helping to maximise the available light. Place them next to or opposite windows or feature lights to help bounce the light around the space.'
1. Add colorful pendants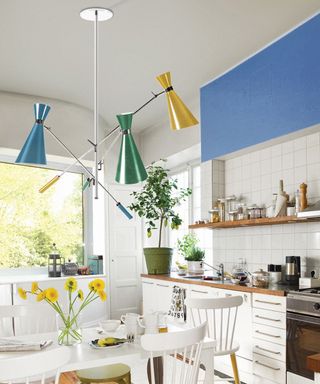 There is often a temptation to keep everything bright, white and light in a small kitchen. But don't feel like you need to sacrifice bold ambition in exchange for a dull design.
This Stanley suspension light fixture by DelightFULL is the perfect retro color pop, and will help to draw the eye up to the ceiling. A clever trick to make your small space look larger.
This vintage lamp's structure is handmade in brass and the lampshades in aluminum with the possibility of having one to five moveable arms for directional lighting. So it's classy and works in your food space's favor.
2. Add task lighting over a worktop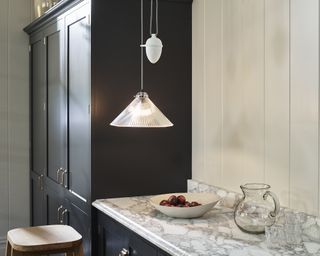 In some small newer-built homes, it's very common for the property not to come with formal eating areas like a dining room. So modern kitchen decor like marble and quartz worktops make for the perfect spot for a coffee and cake, or a slice of toast in the morning.
Whatever time of day you choose to indulge, it's good to include some task lighting such as a pendant over this space so you can see what you're eating.
Traditionally inspired with a modern twist, the Coolie Prismatic rise and fall pendants by Original BTC allow you to adjust height and vary lighting effects, making them the ideal choice for dining tables and kitchens. Simply lower the light for intimate dinners or raise for a broader pool of general light.
3. Use a trio of carefully positioned pendants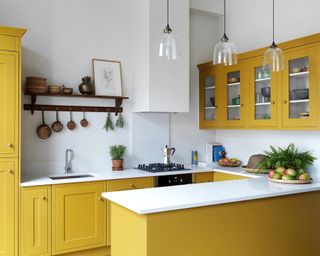 'The right lighting over your kitchen island can really make a bold design statement, which sets the tone for the rest of the space,' says Blacker.
'Pendant lights are the best choice. As well as providing a great source of practical downlight, they look simply stunning suspended over a kitchen island! The right fitting will really set off your pendant lights beautifully too.'
'You should aim to hang your pendant lights around 30-36 inches from the top of the island, and around two feet apart. Odd numbers also work particularly well – try a row of three or five pendants; or for a touch of drama try hanging your lights in a cluster, or placing them at different heights.'
4. Contrast a small pastel kitchen with a dark pendant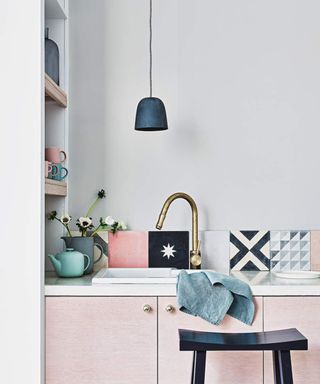 When designing a small kitchen, there is a tendency to choose a 'safe' kitchen paint idea. And while there is certainly nothing wrong with a pastel scheme (I mean, who doesn't love a pink kitchen?) But, to stop it looking too saccharine, toughen up the space with a black stool and small kitchen lighting idea.
While we love the backsplash made from mismatched decorative tiles, the ceiling pendant light over the sink will make washing up a bubbly and boujie affair.
5. Add atmosphere with a neon sign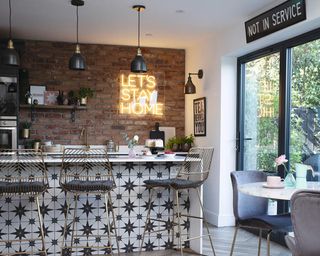 Kitchen styles can be subjective, but some work better for entertaining. Ramp up the drama in a small kitchen with a neon sign and toast to staying indoors with this fabulous 'Let's stay home' lighting idea.
It's the perfect addition to your kitchen wall, drinks trolley or home bar. In this scheme, it adds an edginess to an otherwise Art-Deco theme.
6. Mix wall lights with a small table lamp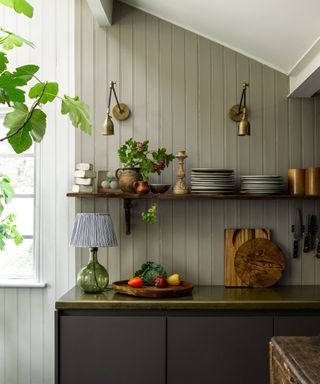 There's a real biophilic feel in this green traditional kitchen, with the indoor tree, sage-colored shiplap walls, ceramic pottery and real wood chopping boards. However the star of these show garden-like setting is the small kitchen lighting fixtures.

Here, a duo of brass lights meets a bulbous olive-hued table lamp. 'There is just something rather beautiful about this endlessly adaptable wall light,' says Blacker, explaining the Pick fixture.
'There's a delicacy about its legginess yet it's been built in keeping with its industrial and functional roots, with an elegant pure brass hood. We've seen it in trios and more, hovering above long worktops, and it looks absolutely stunning.'
6. Create an intimate diner over the island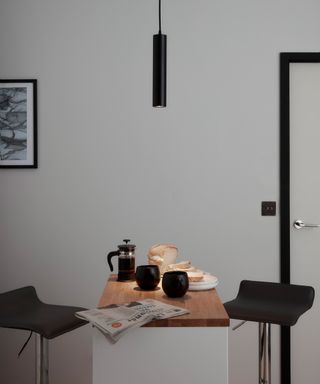 When space is on the slim side – materials matter. So when using a pendant light over a small kitchen island using a brushed chrome effect fixture is sure to make a statement.
The cylindrical design of the Suartone pendant light from B&Q provides a downward light and looks great when used by itself or in multiples. Perfect for date night or just brightening up a snoozy Sunday morning with an almond croissant and sharing a cafetiere of coffee.
6. Add strip lighting to cabinets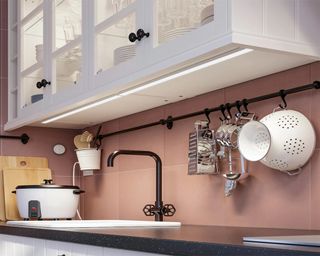 Create a minimalist kitchen by integrating LED strip lighting into your small kitchen storage to provide task both task and ambient light. It's the perfect lighting for slicing veggies on a chopping board or doing the washing up.
'To create the drama, add additional layers of lighting to add interest to your kitchen lighting scheme. Create a floating effect under your island using Contour HD27 LED strip,' says Estefania Marquez, a senior designer at John Cullen Lighting.
7. Integrate lighting into fitted furniture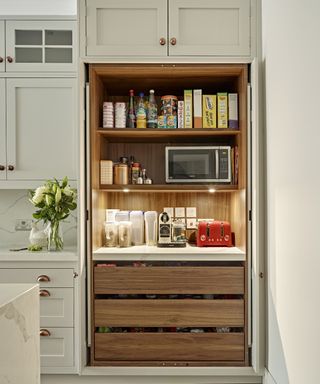 Shaker kitchens come in all shapes and sizes and if you can't incorporate a large design, small components will do. This breakfast station and pantry cabinet with stained oak interior is the perfect way to start your day.
This bespoke kitchen cabinet painted in 'French Grey' by Little Greene features pocket doors to maximize kitchen space, shelf lighting, worktop space and power supply for small kitchen appliances such as toasters, coffee machines and microwaves.
We don't know about you, but the lighting that shines down on the beverage and cereal station makes it look even more tasty.
8. Add an oversized pendant in a kitchen-diner space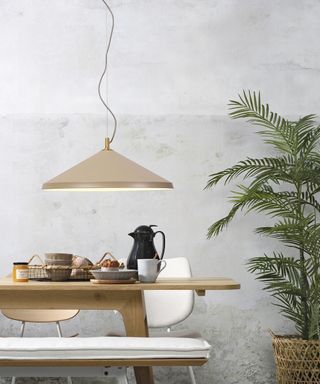 Dining ideas for small kitchens are a damn great opportunity to bring out the oversized pendant lighting. Adding interest and ambience, this Montreux pendant light in sand by Its About Romi is the perfect combination of neutral palette and clean lines.
Paired with a wooden bench and palm tree plant, this scheme is giving us Scandi-chic vibes. But, for a modern twist, this metal cone shade has been highlighted with a chic brass tip to take this Nordic-inspired space to the next level.
10. Light up your shelves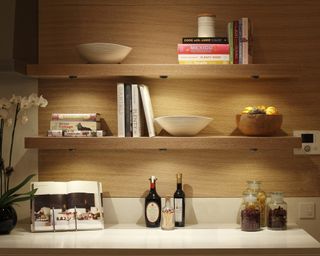 Introducing lighting into your kitchen shelving is a smart idea. It stops you patting around in poor light for the things you need and it's a sassy update to the 'shelfie' for all your decorative bits and bobs. But, you'll need to be careful about glare as one expert explains.
'Top of my best kitchen lighting ideas is to ensure great task lighting under your kitchen cabinets or shelving. This is key to ensure the best shadow-free light in which you work is provided. Etta Eyelid under cupboard lights as shown here are ideal for this.' says Marquez.
How do you light a small kitchen?
'If you have a smaller galley kitchen, for example, a lighting designer can be even more relevant,' says Marquez.
'Enhancing a smaller space is a skill. Layering the lighting plan helps draw your eye around the room, highlighting what might otherwise be dark corners. Always remember to light underneath the kitchen wall cabinets to provide good task light.
'If one side has cabinets and one side shelves, make sure each of the shelves are lit. If any cupboards are glazed, do light them from within as both these elements adds depth creating a greater feeling of space. Uplighting at different levels can make a space feel bigger, too.'
Are LED lights good for a kitchen?
'LED lighting with a lower number on the kelvin scale – between 2000-3000, offers more warmth, where at the other end of the scale, between 4000-7000 you're getting very white bright lighting – better for tasks,' explains Marquez.
'It's our job to select a range of moods which can be mixed and matched to create different atmospheres at different times of day and for different purposes. People find it harder to understand the kelvin ranges than they did with the old halogen bulbs.'
'The advantage of new LEDs is that they last a much longer time, so are a better investment. And in our showroom, we can show clients exactly what the specifications look like.'