Market-fresh farmhouse decor ideas create a warm and cozy, hunker down-home with herds of authenticity and wholesomeness. Whether you're an urban dweller dreaming of a countryside escape, or already reside in a cute little house on the prairie, farmhouse interiors are a popular look for traditional and modern interiors alike - adored by flocks of homeowners looking to root their nests in rustic country charm and contemporary minimalism.
Austin Fain, founder, Perfect Steel Solutions, says: 'Farmhouse style emphasizes practicality, simplicity, and rustic charm in interior design. It's no secret that farmhouse style is a blend of rustic charm and modern conveniences, creating a look that's both warm and stylish.'
'Furniture in the farmhouse design tends to be functional in both form and function, with modest flourishes and an aged appearance. Natural materials and textures, clean lines, warm neutrals, and vintage accents are all hallmarks of modern farmhouse style furniture.'
Bring a little modern country into your home with this home decor trend 2022 that embraces an organic soft color palette, cuddles of natural tactility, and layers of lived-in linens.
1. Bring cottage garden bursts onto walls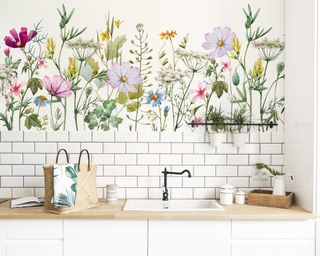 Flowers spread smiles - fact! With this in mind, bring the radiance of colorful blooms onto walls with a blossoming floral wallpaper idea that radiates petal positivity. We love how the crisp white metro tiles pair with this flourishing meadow wall mural for a contemporary backsplash idea.
Amy Stansfield, interiors writer, Wallsauce, says: 'If you want to inject more nature into your farmhouse home, choose a beautiful floral wallpaper, hang dried lavender and herbs in the kitchen or always have a fresh jug of wildflowers on your bedside table.'
2. Or install paneling for a rustic vibe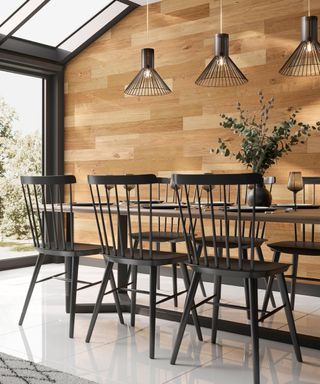 If you're all about adding another dimension to walls with warming, natural texture, try a DIY wall paneling idea (or cheat the look with a wood panel effect wallpaper).
Stansfield says: 'How you decorate the walls is important too. If you have an old property that has wonderfully bumpy walls full of character, simply use warm, neutral paint to not hide them away. If you have shiplap walls, again don't board over them. Keep them exposed and maybe refresh them with a lick of paint. If you have a newer property, install wall paneling or use a panel effect wallpaper (from Wallsauce).'
3. Mix and match new and pre-loved pieces for an authentic farmhouse look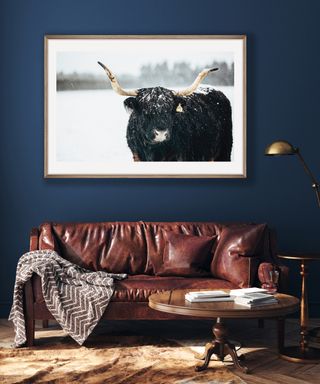 Andra DelMonico, lead interior designer, Trendey, says: 'You can easily find new, faux-aged farmhouse decor at local interior design stores. Limit your use of this type of decor. A few pieces are ok, but an entire room or home of just this decor will look impersonal and inauthentic. Instead, mix these pieces in with decor elements that you find at vintage shops, thrift stores, or yard sales. You could even make your own decor. Not everything needs to be specifically "farmhouse" either. Doing this creates more visual interest.'
Stansfield says: 'Farmhouse décor ideas need a mix of natural and vintage features. In a farmhouse kitchen, a stable furniture piece is a rustic kitchen table and chairs made from natural wood. Whether vintage or made to look old, this is compulsory in a kitchen. For a rustic living room, find a preloved, wooden rocking chair, and for a bedroom, an antique dressing table that isn't too flamboyant. Remember to keep things natural, simple, and quaint. You are aiming for Oklahoma or the English Yorkshire dales ranch life - not Versailles.'
4. Check-in with checks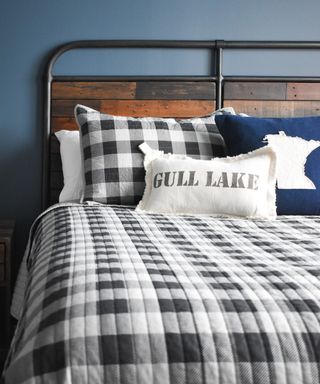 Country style goes hand in hand with on-trend checks, bringing a wholesome, cottagecore look to any space.
Forget the safe plain-plaid, this season checks are bigger, brighter, and bolder than ever before. Cheerfully hot-trotted from the summer catwalk into hunker-down homes, this rustic-ruffled pattern comes freshly delivered with a breezy, mischievous attitude - giving upholstery and everyday homeware a cheerful dollop of whimsical wholesomeness. Generational in appeal, and charming the socks off city and country-dwellers alike, chirpy-checks tick all the new-nostalgia 'boxes'.
We love the combination of chunky mono check bedlinen, and farmhouse industrial bed in this rustic bedroom design - it's super cozy and inviting, just the thing for lazy weekend lie-ins...zzz...
5. Mix and match cabinet styles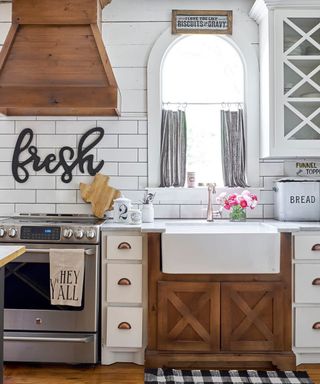 Charm the country socks off your modern country kitchen scheme with a cottagecore-loving mix-up of cabinet styles, for a unique look oozing with pastoral appeal. You could experiment with different kitchen cabinet color ideas, alternated with exposed wood finishes, and accented with worn brass doorknobs and handles for a cozy, lived-in nod. If you're feeling inventive, try your hand at upcycling an old piece of furniture or a butcher's block for a fun farmhouse kitchen island idea.
Graeme Smith, head of retail and commercial design at Life Kitchens, says: 'Cleverly combining traditional and contemporary cabinetry creates a look that is laidback eclectic, liveable but inherently cool.'
'A more nuanced approach to including rustic elements is to include creative accents to the space. Sourcing cabinet handles with ornamental period features, and mixing-and-matching color and finish create an eclectic lived-in atmosphere needed for a rustic scheme.'
6. Add character to your ceiling with a DIY barn beam mantel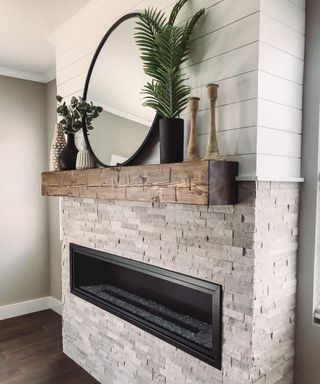 TheCraftyCatsman says: 'Barn beam mantels add character and can easily become the focal point of any room. We prefer to use hand-hewn beams because of the unique and extraordinary character but other cuts of wood can work just as well.'
If you're inspired to try this DIY woodwork project, follow TheCraftyCatsman's full (free) step-by-step guide to finishing and installing barn beams.
7. Choose a neutral color palette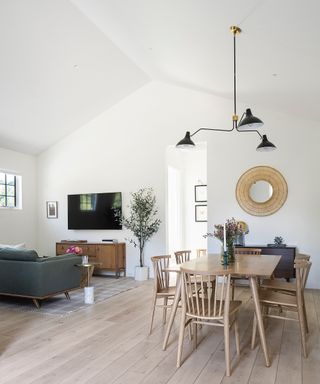 Lisa Slack, Head of Product at Thomas Sanderson, advises keeping it neutral in a farmhouse living room: 'Neutral color palettes are the key for creating this style, especially the layering of different minimalist shades of whites, creams, and grays.'
'Not only will a neutral color scheme crisp up your rooms in the house providing a sophisticated look, but lighter colored walls will also make any space feel bigger than it actually is, especially when combined with plenty of mirrors and reflective surfaces.'
8. Or add a sunshine splash with yellow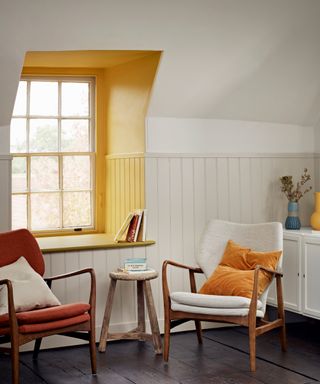 Put some zesty energy into a neutral farmhouse living room idea with a splash of optimistic yellow. Cheerful and calming yet energetic, honeyed shades offer rays of happiness wherever they go. Just the thing for contemporary and traditional spaces alike, there's a sunny-side-up palette to dip into - from moreish lemon curd and buttery pastel shades to richer ochre and mustard kicks. It's no wonder that yellow is a key paint color trend!
Justyna Korczynska, senior designer at Crown, says: 'A color palette of chalky yellows will reflect all available sunlight - for added depth try a livelier shade of yellow on a wall that is at right angles to a window.'
'For a modern look, balance yellows with something cool like a pale gray or an off-white. Try teaming this with natural woods and materials like wicker and bamboo as these will blend in well with the contrasting tones as yellow easily adds warmth to any room.'
We've even rounded up our favorite yellow decor buys to splash some sunshine spirit into your home.
9. No country kitchen is complete without a farmhouse sink and butcher's block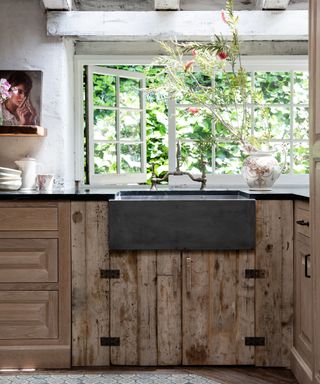 Both absolute staples of the farmhouse kitchen idyll, upgrade your space with a spacious farmhouse kitchen sink, and chunky monkey butcher's block for an instant transformation. These durable characters are built to last, and pack the character into utility.
Slack says: 'Acting as the foundation for modern farmhouse decor, wood is a great natural material to play around with. Counterbalance the exposure of wooden beams and distressed wooden furniture with white marble countertops and a large farmhouse sink to achieve the intended style.'
10. Channel an elegant farmhouse look with a French provincial style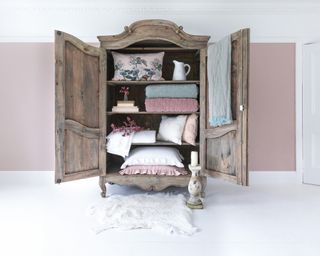 Mitchell Elworthy, founder and director, The Lighting Outlet, says: 'We believe that the French provincial style is going to be a huge trend going into 2022, especially if you're looking for a style that mixes rustic fittings with beautiful ornate details.'
'Farmhouse decor doesn't have to be clunky and dashed with orange and brown. If you love delicate, simple, white-on-white furnishings, glass panes, and beautiful wirework, this is a great way to have a classy farmhouse look. Add gorgeous table lamps and pendants and look for classic urn-shaped light bases that add a perfectly imperfect feeling. Don't shy from shabby chic cracks, dents, and brush marks. Distressed antique walnut furniture matched with tapered calico-linen in shades of cream all add to the provincial allure.'
And if you like what you see, check out these French bedroom ideas to make you swoon...
11. Lay a patterned rug in the kitchen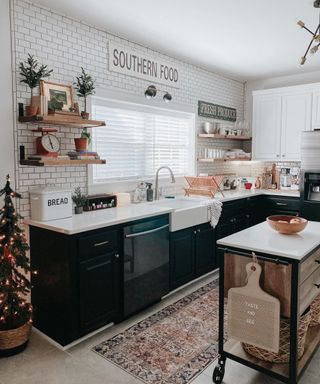 In a mono or black kitchen scheme, add a layer of toasty-toe warming texture with a patterned rug to warm up stone flooring and add a homespun color pop. Choose a runner style to neatly fit between fixed cabinets and a central island. Incorporate natural materials like raw wood kitchen shelving and woven baskets, to layer up the warmth and introduce authentic texture at all levels.
12. Follow the farmhouse trail with earthy terracotta floor tiles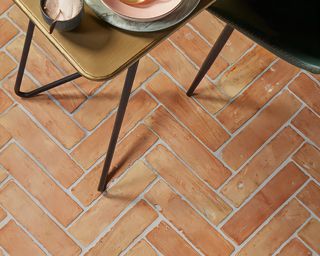 When it comes to rustic kitchen floor tile ideas or any hardworking space, it's all about the earthy goodness of sunbaked terracotta...
Damien Dunne, owner and founder, Adora Tile, says: 'Terracotta is making a huge comeback at the moment and is perfect for farmhouse flooring as it brings a hard-wearing and timeless beauty to any space.'
13. Or add pattern and interest with traditional floor tiles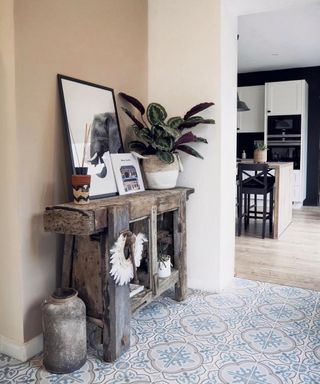 Dunne continues: 'Often imitated but never replicated! Victorian Style floor tiles are the quintessential farmhouse touch.'
They certainly make a brilliant first impression in this attractive hallway idea.
14. Add authenticity with rustic timber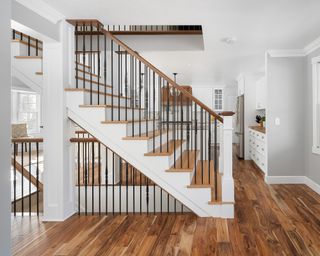 Allison Rhode, interior designer, Ascent Contracting, Inc. says: 'An essential modern farmhouse finish is blending multiple types of wood. While this home features several stationary wood finishes by way of acacia wood flooring and butcher block counters, walnut range hood, oak staircase idea, and fir door, this same look can be accomplished with wood accessories. In the kitchen, try a set of 3 primitive antique breadboards, a modern oak wall clock, and an acacia fruit bowl for a curated, old-meets-new aesthetic.
Graeme Smith, head of retail and commercial design at Life Kitchens, says: 'Incorporating rustic touches to your home is easy to achieve when you know which materials and finishes complement one another to create the look. Timber tends to work best in a country scheme, as its simple, pared-back textures echo the outdoors and reflect the rural surrounding a country space might typically have.'
'Exposed floorboards and uncovered beams to showcase original design features in old buildings is a sure way of creating a rustic aesthetic in the home. If your home is a new build, however, this doesn't mean that this look is completely out of the question. Don't stray too far from the organic quality that is essential for a country-style aesthetic. The term 'rustic' is all about a naturalness, so opting for furniture and cabinetry in distressed finishes will only enhance the character.'
15. Grow fresh herbs for a sensory lift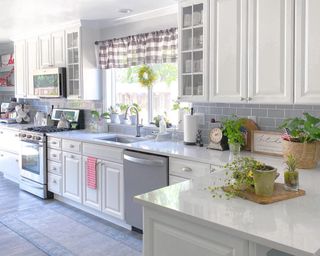 Treat your country kitchen to a fresh hit of green supreme with a variety of aromatic kitchen garden herbs that look as good as they taste.
Pop some trending potted houseplants into the mix for a jungle-inspired twist, and don't be scared to go all out for a more is more approach. Green kitchens are all about creating calm whilst cooking up a storm after all.
16. Choose plantation shutters for a bright and fresh revamp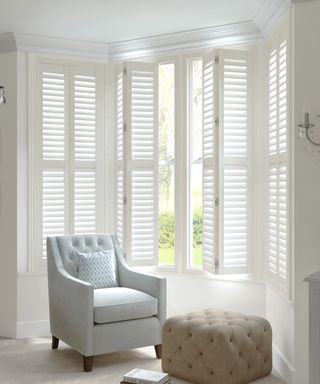 Window dressings are frequently overlooked in the home, and they can totally make or break the look and feel of your interior. Plantation shutters are the ultimate choice, with such a wide array of materials, colors, and styles, they are both elegant and practical. (If you're wondering how to choose window shutters, we have you covered.)
Paul Money, founder and editor, Blindio, says: 'Thanks to their clever louvered design, plantation shutters allow you to let in the perfect amount of light whilst maintaining the privacy and looking fantastic to boot.'
Slack says: 'Switch up your window furnishings. Wooden shutters and blinds are a great addition when trying to achieve the modern farmhouse decor as they fit into the use of natural materials and are also great for privacy and light control.'
'If you want to feel even more cozy, layering sheer curtains over your shutters or blinds will bring softness to the room.'
17. Take pattern onto bathroom walls with decorative wall tiles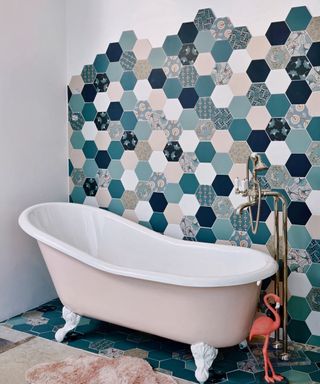 Give your modern farmhouse bathroom added impact with an eye-catching patchwork effect of patterned and color block wall tiles. For a modern bathroom tile idea, take shapely tiles from the floor, and continue up the wall, with a 'broken border' finish.
Dunne says: 'Decorative wall tiles can be used to bring a sense of charm and style to your farmhouse bathroom or kitchen design, by adding a contemporary touch with a classic feel.'
18. Run hot with copper or brass hardware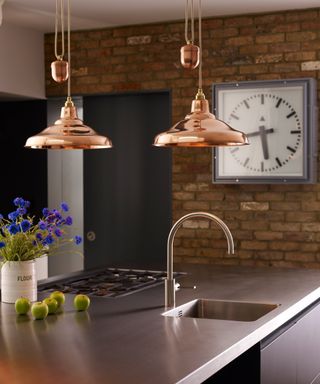 Warm metallic accents are bang on trend for modern country homes, and blend beautifully in a farmhouse scheme, oozing molten warmth across a smoldering palette of burnished brass, rich copper, and oxidized patinas.
Choose brushed finishes on taps, handles, finishes, and kitchen ceiling lighting to soften the overall aesthetic whilst adding an element of refined, yet relaxed luxe.
19. Create a farmhouse games room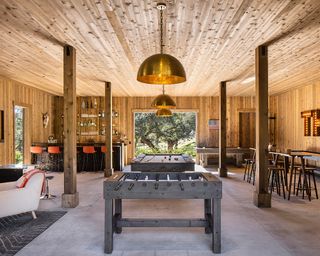 Looking for a fun basement idea? Why not turn an unused space (this could also be a garage or outbuilding) into a super fun farmhouse games room, complete with games tables, a home bar, and a sociable seating area, as demonstrated here in this maxed out barn conversion design by the creative clever clogs at Brandon Architects.
20. Decorate your porch for a warm welcome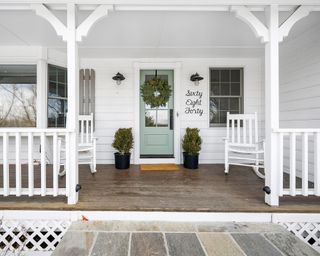 Rhode says: 'A warm and welcoming front porch idea is key to achieving the modern farmhouse aesthetic. Greenery such as indoor and outdoor wreaths say "come on in and stay awhile" without the needlepoint pillow.
Consider a preserved boxwood wreath for indoors or under a covered porch (which requires just a little maintenance) or keep it simple with an artificial eucalyptus wreath.'
21. Choose the comfiest seating for a lived-in lounge retreat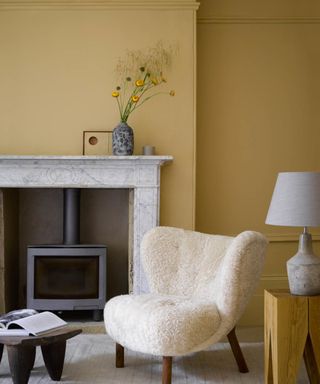 Dani Burroughs, head of product, Snug, says: 'If you're looking to give your home a farmhouse-inspired twist, you're in luck as this style can easily be achieved whether you're living in the countryside or not.'
'Starting with the comfiest spot in the house - your sofa and armchairs. For this look, it's best to stick to a classic shape in neutral colors such as green, taupe and warm grays. For a more contemporary farmhouse look try an olive green velvet (making sure to look out for spill-proof fabric for extra durability), the color really pops against the rustic touches and earthy tones that make up the country home décor.'
We reckon a lived-in leather sofa is a great option too if you want to mix up materials.
22. Display antique kitchenalia as wall decor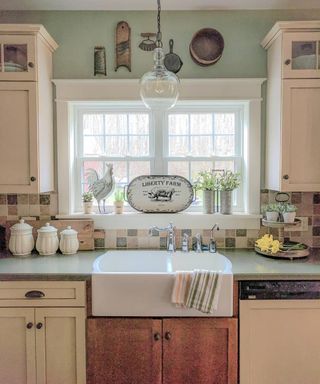 For a quirky, eclectic look that gives your scheme a rich narrative, head down to your local flea market and go on the hide and seek for vintage and antique kitchen equipment that can be displayed as an alternative gallery wall idea. We love a cluster of different antique madeleine trays (at Etsy) featuring aged patinas to add instant interest.
23. Try deep green for a modern heritage farmhouse look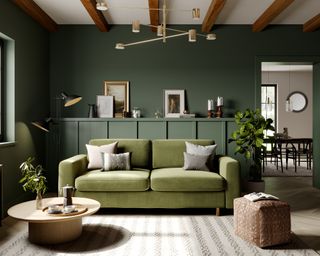 Korczynska says: 'Deep green can work in any style of property, however, I think it looks particularly striking in a period home, as shown in this striking green living room. It's a heritage color that really enhances the richness and grandeur of traditional features and gives incredible character.'
Or if you want the warmth without the drama, she continues: 'Mid-tones are easy to live with. For example, berry tones are warm without being as intense as crimson, or terracotta is much softer than bright orange. These mid-tones work equally well in a modern or traditional setting, with light or dark furniture.'
How can I easily update my home in a farmhouse style?
Rhode advises:
1. Linen or woven roman shades create the perfect balance of clean lines with layers of texture. Roman shades can cover the width of your window casing as shown, or be inset into the window cavity. While "custom" usually connotes high price tags, you'll be surprised to learn that some companies like Blinds Chalet offer such great holiday sales that the price is equal to ready-made. And if you opt for shades set into the window cavity, less material equals less money. We love these Cordless Contemporary Woven Wood Shades from BlindsChalet in the Natural color for their high-quality materials and cord-free design, or the Emery Linen Cordless Roman Shade for a splurge.
2. Oversized lights create a warm, cozy vibe and help all-white kitchens or monochromatic living spaces feel less stark. If your ceilings are lower, opt for airy lights such as these Flynn Recycled Glass Pendants from Pottery Barn or the Crystorama Weston Lantern from Meadow Blu.
3. The more textures used in space, the more casual it feels. Layering in textures such as jute, cane, wicker, and rattan is easy these days when these materials can be found adorning everything from rugs and floor baskets to chandeliers and vases, and their organic, neutral colors blend with any decor. A few of our favorites are patterned jute rugs from Rejuvenation, large textural mirrors from Article, updated takes on barn lights like these from Serena and Lily, and tabletop decor such as this selection from Kirklands.
What colors are used in farmhouse decor?
The most popular color palette for farmhouse interiors is neutral and earth tones. These relaxed shades are not only versatile, and naturally inviting, but they have space-enhancing qualities, making rooms appear larger and brighter. You can still add color pops through accessories and paint ideas for a unique aesthetic that sings with personality.
Country neutrals include white, gray, beige and greige. Mix in earthy neutrals like sand, and chalky terracotta for added warmth.