Looking for some gorgeous French bedroom ideas? Well, you are in the right place because we agree that if there's any room in the home that deserves a touch of elegance and whimsy, it's the bedroom.
A firm favorite among period and modern homeowners alike, the romantic, French-inspired bedroom design is easy to achieve by following a few classic tips. Set the tone with a statement French bed – choose a vintage-style frame with sinuous curves and lavish treatment such as gilding or deep-buttoned upholstery. For a light-filled, heavenly space opt for walls and floors in white, cream, or soft pastel shades. Ornate, vintage wallpapers and draped window treatments really come into their own in French bedrooms. Finish by layering plenty of pretty textiles such as ditsy florals or silky satins, not forgetting that all-important chandelier to add sparkle...
1. Create a refined look with a patterned wallpaper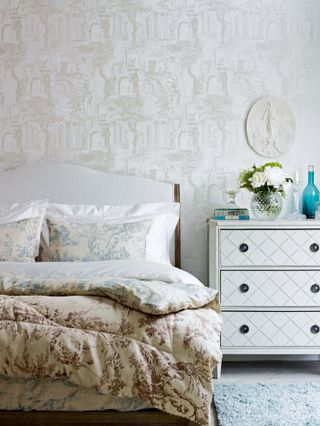 For a simple, more modern-looking French bedroom idea, go for a pale, light and airy color palette. Combine toile prints and soft-hued wallpapers with bucolic scenes, with crisp white linens for a sophisticated romantic scheme.
2. Choose an antique French bed with an ornate headboard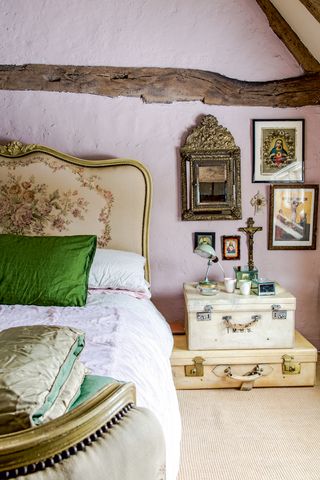 A show-stopping antique French bed with a floral needlepoint headboard adds a pretty vintage touch to this rustic attic bedroom. Why not pinch this French bedroom idea try piling up old suitcases for an easy alternative bedside table.
3. Go for an all-white paint scheme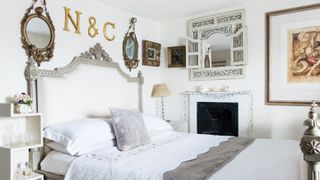 Plain white walls allow the ornate antique mirrors and bed frame to shine through in this calming scheme, so don't be afraid to keep things simple in a French bedroom. Whitewash the walls and even the floors and keep the majority of your furniture white too. Then pick out pieces of decor that will stand out against and soften the white scheme.
Be inspired by these white bedroom ideas. If you want to venture away from the all-white color scheme, there are plenty more inspirational ideas over in our bedroom color ideas feature.
4. Create the classic French look with upholstery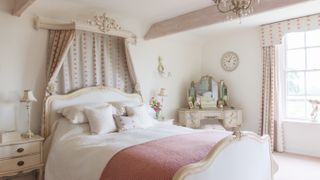 A luxurious coronet, ornate dressing table and pretty drapes give this farmhouse bedroom a quintessential French country feel. And it's a look you can create in your space too, just keep an eye out on online market places and hunt in antique shops for a coronet you could upcycle. You could even pair it will a simple neutral linen fabric for a contemporary take on the look.
Love this French bedroom idea? Take a peek at the rest of this beautiful country farmhouse renovation.
5. Decorate walls of a French bedroom with a bold floral motif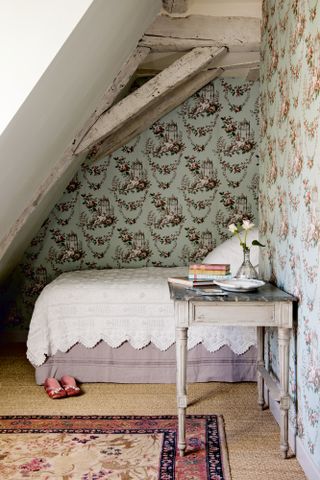 In this French-style bedroom, walls papered with rolls of 19th-century American, hand block-printed wallpaper are balanced with an lace-edged antique bedspread in this pretty and immersive attic hideaway.
If you have a bedroom as small as the one below, you are probably going to want to check out our small bedroom decorating ideas.
6. Choose a rustic bed for an authentic feel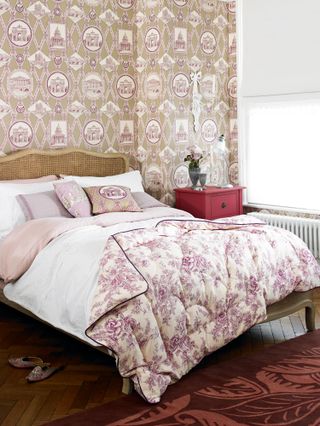 Even in city homes, you'll find rustic-style French furniture to give it that authentic taste. This stand-out Lutece wallpaper creates a magnificent backdrop for the elegant, slightly more minimalist, rattan bed in this contemporary take on a French-inspired bedroom.
7. Hunt online marketplaces for cheap French furniture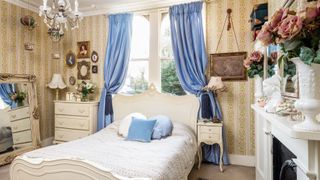 After cheap French furniture? eBay is your go-to. Make use of the 'save your search' tool; that way, you will be alerted every time new products that come under that category are added to the site. And remember, look out for shapes you love rather than stains or colors because you can always strip them back and upcycle them. Learn how to paint wooden furniture with our guide.
8. Layer patterned bedlinen for an eclectic look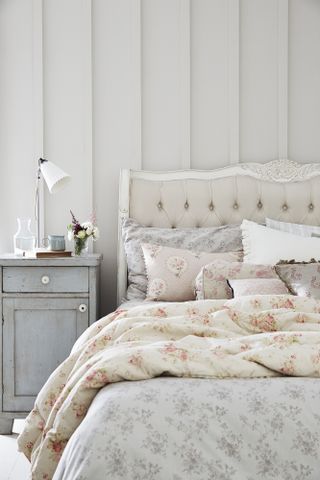 Ditsy bedding layered with floral cushions and an eiderdown (which are making such a comeback right now) give this cool grey bedroom a feminine edge. The wall paneling adds a slightly modern but still rustic feel to the room too, so consider adding some simple paneling to your space for a similar modern country look.
9. Go for a pink paint colour scheme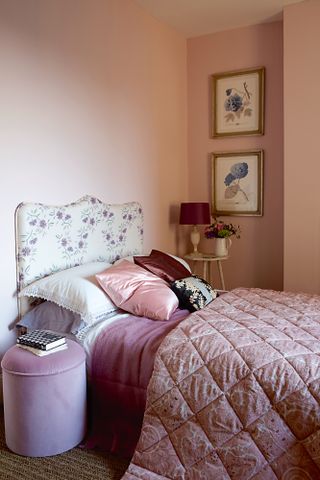 Paneled walls with raised bolection moldings are painted in a gorgeous earthy rose hue, creating a warming, pretty scheme in this French Bedroom. It still feels very feminine but is you decorate with a slightly more muted, dusky pink instead of pastel you get a more elegant aged look to the space, so give something like Farrow & Ball's Cinder Rose a try.
10. Work with rounded furniture shapes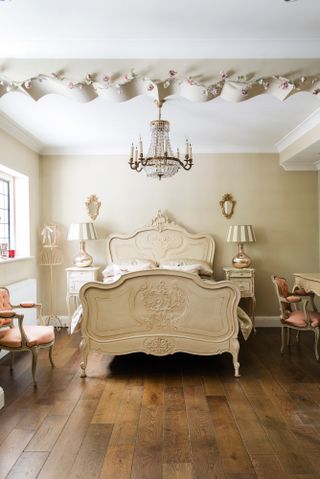 Elegant Louis XV chairs in soft pink and an elaborately carved bed contribute to a romantic, Gallic feel, while the rose garland adds a touch of whimsy in this French-inspired bedroom. Amd how amazing would something as statement as this bed look in a really minimalist, modern bedroom too? So if you prefer a more modern bedroom don't be afraid to introduce some of those OTT French shapes into the space as a contrast.
11. Accent a French bedroom with a floral headboard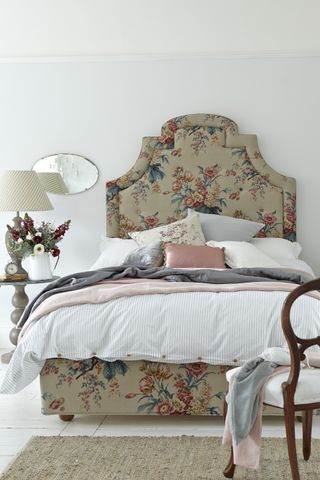 Looking for a quick and easy French bedroom idea? Create a feminine focal point in a muted bedroom with a statement headboard. Pair it with an all-white color scheme to let it really be the focus. You could even DIY a headboard or reupholster one yourself – just check out our DIY headboard ideas for more inspiration.
12. Create a dramatic boudoir with dark colors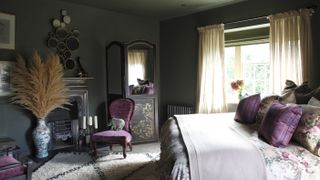 For an alternative take on the romantic look, copy this French bedroom idea and paint walls and ceilings in a dark shade, furnish with antique Japanese pieces and accessorize with flirtatious grasses and glistening metallics.
If you love dark and dramatic interiors, be sure to check out our gallery of black bedroom ideas for more inspiration.
13. Make a feature of beams and old walls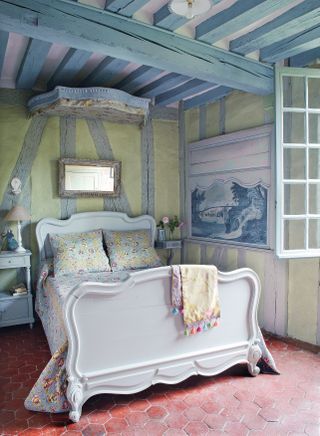 Try making a feature of characterful old walls by highlighting timber beams in pretty pastel shades, as done here in this 17th-century French bedroom. Finish with floral bedding in coordinating colors for a boho-Gustavian feel.
Read about restoring timber beams in our guide.
14. Make a focal point in a small bedroom with a coronet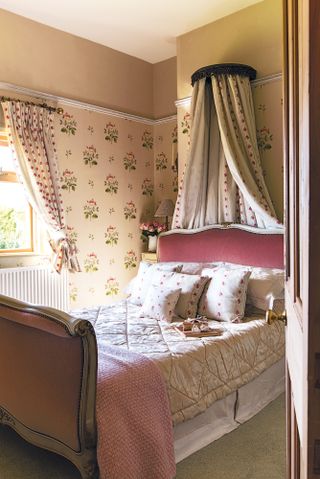 Make the French chic look work in a small bedroom by laying up lots of similar prints. This creates a really cozy look, just top it up with a gorgeous bed canopy and later up those soft, feminine floral prints.
15. Achieve traditional elegance with cream shades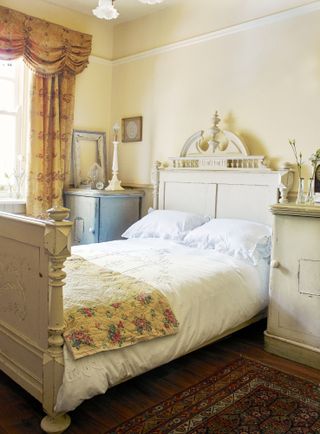 Walls and distressed furniture in a classic cream mix with chintz textiles to capture the essence of pretty vintage style in this French bedroom. You can easily give your existing furniture a French country feel with paint, to learn how have a read of our guide to creating a French country style paint effect.
16. Go for grandeur in a French Bedroom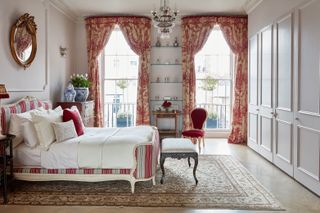 Prefer elegant French bedrooms to more... rustic ones? Just take some inspiration from this stunning space. Bespoke storage, smart use of furniture, mirrored surfaces and a light palette are all devices used here to maximize the feeling of space, while coordinating fabrics and colors bind spaces together.
How can you make a bedroom look French?
The best way to give a bedroom some French-style is to shop second hand. Hunt for pieces that you can upcycle as you'll save money buying furniture and accessories that need a bit of work.
Now in terms of what decor to use to make your bedroom look French, this depends on what version of French interiors you like best. Do what to go more French country or elegant antique-filled, Marie Antoinette kind of French? For the latter bring in plenty of gilt furniture and decor – mirrors, sconces, ornate bedside tables – it's an OTT look but can be toned down and work in contemporary homes too.
For the French country look, you going to want to add in a, yep we are going to say it, shabby chic feel. You want vintage pieces with a distressed look and fabrics that either are, or just look, aged. Soft, muted color palettes work best with this more rustic look. And again it can be scaled back and work in a modern scheme too, lots of Parisenne apartments blend this country-look with a more contemporary aesthetic it and the overall look is gorgeous.
What colors are used in French country decor?
The best colors to use in French country decor tend to be more muted, dusky colors, ones that have an aged quality to them. Try using blush pinks, peaches, duck egg blues, sage greens, creams and light greys. And white always works too if you want to freshen up all those subtle tones.