Looking for basement ideas to turn that unused space under your home into something incredible? Perhaps you want an extra bedroom for guests or a stylish place to entertain, or a cute den-like living room to watch movies? Whatever your basement dreams, leaving it as a dingy dungeon or dumping ground for holiday decor and ski equipment is a waste of valuable square footage! Why not create extra living space for your home instead? A basement conversion can boost the size of your home whether you excavate to create it or remodel it to turn an existing one into usable space.
Basement ideas that explore home bars and beyond...
'A basement can double the area of your living space if you convert the whole area under the footprint of the ground floor,' explains Rosie Caley, design director, The Oxford & London Building Company. 'This is great for buildings that are terraced and provide little opportunity for ground floor extension, and particularly for families who want a nanny annex, or permanent accommodation for a parent to live with them, or to create facilities older houses don't often have, like utility rooms. If you want to invest in luxuries such as a wine cellar, gym, cinema room, or even a pool and spa, a basement is perfect.'
Think a basement reno might be for you? We've rounded up plenty of ideas to show the many ways you can utilize this valuable space, plus practical advice, like basement remodeling costs, which you should consider throughout the design process.
1. Create a cozy reading nook
Grab your favorite page-turner, and hunker down away from all the tech terrors and screen strain, with a gorgeous reading nook idea. A must for book lovers create a curl-up and switch-off space with a plethora of plump, soft, and super squishy scatter pillows, an ambient reading light, and open shelves or a DIY bookshelf, stacked with a library of literary lovelies.
Shown here, we love this inviting built-in reading nook cocoon – it has dive-in appeal and offers an unexpected yet wonderful addition (almost a room within a room) to the overall basement design and layout.
Mindy O'Connor, principal of Melinda Kelson O'Connor Architecture & Interiors, says: 'Look for clever workarounds of mechanical systems or ductwork in finished basement spaces. This cozy niche for reading or lounging was created around some existing mechanical and structural elements. The lowered ceiling in the nook looks natural to the larger space and also makes a detached, comfortable and quiet alcove in the larger basement TV room. Dark blue/black paint deepens the moodiness. Recessed and decorative lighting help accent the walls and provide the right setting for curling up with a good book. Practically speaking, the seating area also doubles as a twin-sized guest bed, with a mattress tucked under the custom cushions, that can be used for overflow house guests or late nights.'
2. Create a comfortable space with furniture and layers
Farah Merhi, style expert for Designer Looks' Furniture comments: 'Layering your room can be as easy as adding a few comfy pillows, blankets, and even a rug to anchor it all together. While most people just shop and go, I challenge you to think about the textures and colors behind your pieces – it goes a long way in creating that comfy, 'I could dive in and stay here all day" feeling! My best tip here is not to be afraid to mix and match your favorite seasonal colors to compliment your room. Pillows, blankets, and rugs are pieces that can be interchangeable, giving your room a fresh, new home feel with every addition! Also, if you're like us, our downstairs is a high-traffic area, so using a large area rug can not only cozy up and anchor the room, but it keeps your flooring safe!'
Merhi continues: 'Deep-seated Sofas are Everything! One of the most important aspects of any finished basement is the couch. My personal favorite has been deep-seated sofas for some time now. This is because they have more room to sit back, lay down, or curl up, which makes them feel cozier and more comfortable. Also, all that extra space to sit means that you can fit more people on the sofa, and that means plenty of space for family gatherings or kids' sleepovers, where a deep-seated sofa can be transformed into a pseudo-bed very easily. This is something we do at our house frequently and is perfect for any household that may not have the luxury of a guest room. One of my favorite deep-seated sofas is The Plush Collection from Designer Looks Furniture. Not only is this sofa deep with its 30' seat depth, but the cushions are also large, fluffy and the entire sofa can be customized in many ways!'
3. Create a secret rock star hangout
Have you always dreamt of a rock and roll lifestyle? Crowd surf sofas in your very own escape space, and lockout everyday stresses with an after-party chillout zone where all the cool cats (and perhaps, early mid-life crisis cats) can relax or silent disco all night long.
To achieve a rock star look, you'll need a bar cabinet or DIY bar cart with attitude, moody lighting galore (it's all about creating a sultry atmosphere), and a prized collection of iconic, album cover worthy framed artworks in a gallery wall idea formation. And obviously, not forgetting a stellar built-in music system (speakers in the ceiling anyone?)!
Shown here, the Bespoke bar made from American Walnut, by fashion-forward Buster + Punch, is designed to be the star of any room and is finished with signature coin screws, knurled furniture handles, and a diamond-etched logo plate.
4. Transform your downstairs space with an industrial farmhouse design
For years, Brooke Grasley, DIY enthusiast, and founder of Restore Decor And More thought about finishing her basement. When it boiled down to an ultimatum of moving or biting the bullet and utilizing the downstairs space, she did just that, transforming a previously unused space into an industrial farmhouse scheme, complete with a home bar, basement storage, lounge area, and a guest bedroom - wow!
Learn all about the design process and elements that went into Brooke's industrial farmhouse basement design, and perhaps put some of your own thoughts into motion..?
5. Make an industrial statement with an exposed concrete ceiling
Embrace a contemporary aesthetic, abundant in raw texture and industrial edginess with an exposed concrete basement ceiling idea.
You can use trending microcement (a cement-based render) to a similar effect. It can be applied to a wide range of surfaces to give a seamless, durable finish with an appearance that is similar to polished concrete. It is applied in four very thin coats giving a finished depth of just 3-4mm – and can be done by homeowners with the help of a DIY kit and some basic guidance.
Sally Hotchin, director at Relentless Microcement, says: 'Because it's hand-trowelled, you get a unique texture with each microcement surface, which is a big part of its charm.'
Hotchin adds: 'When done right, the texture is similar to polished concrete, almost cloudy with a nice subtle variation in color or visual texture.'
6. Care out a kid's bedroom
Pop the kiddy winkles downstairs where they can make all the noise they want in their very own 'kidulthood space.' Sense of independence for them, peace and quiet for the parents - everyone's a winner, and they can spread out the toys, or practice the drums as much as they want!
When designing a basement bedroom idea, Just make sure there's plenty of ventilation to aid healthy sleep, and ensure the lighting scheme is spot-on in windowless spaces to avoid a scary dungeon feel.
Merhi, comments: 'The right amount of lighting is a key element in any basement space due to the fewer windows and natural lighting. Adding more lighting can help create a warm, cozy, and inviting atmosphere - helping turn your room into your "happy space." One of the best ways to add extra lighting is by using floor lamps and ceiling lights for an overall wash of light in a room and then adding table lamps and sconces to fill in darker areas or create focal points.'
'Pro Tip: be sure that the lighting you chose is soft, natural, and bright – no need to over-stain with harsh lighting!'
7. Utilize your basement as a multifunctional family workspace
Giovanni Scippo, director at 3D Lines comments: 'Turn your basement into a productive workspace! It can be a home office, study room, or anything you need it to be for you to have a proper place to do your hobbies and get creative. We've been spending a whole lot of time inside our homes now. The line between work and personal life thinned. Working in your bedroom or living room may be the culprit for your stress. So if you have a basement, designate it as the family workspace. This way, you can separate work and family time.'
Simon Tcherniak, senior designer at Neville Johnson comments: 'Multi-functional study space has historically added value to a property, and this is more evident today as working trends mean people need their homes to double as an office space regularly.'
'A bespoke study is of course a massive asset to a home these days and could be said to rival the bedroom that it might be replacing.'
8. Lead the way with statement stairs…
As the main entrance to a basement, consider making an impactful first impression with statement stair railing ideas.
Home experts at Neville Johnson say: 'Although often overlooked, the staircase is typically the first thing you see when you walk into your home. It can be a very dominant part of your décor and has the potential to create an impeccable first impression to visitors.'
For a personality-packed staircase paint idea, Justyna Korczynska, senior designer at Crown, recommends a DIY ombre effect: 'To create an ombre effect the first thing is to decide roughly where you want your color divide to be, then paint the top portion of your wall down beyond the color divide point. It's important to start at the top first, as this avoids dripping onto the finished lower portion.'
'Use small portions of masking tape to mark a horizontal line, to ensure that you keep your color divide horizontal and central. Finally, where the two colors meet, use a slightly damp radiator roller to apply a thin, feathered dividing line to create the merging of the two colors.'
9. Color me happy
Experiment with color-blocking wall ideas to power up your space and give it some oomph! As the 'hidden gem' of the modern home, basements provide a perfect opportunity to try out bold decorating ideas you perhaps wouldn't be brave enough to in more high traffic, mainstream spaces.
For some fun DIY ideas, Color experts at Crown suggest:
1. Paint the ceiling an opposite color to expand the room
2. Paint a section of the wall using shapes e.g. a rectangle to create interest
3. Match furniture with the color of the wall – color drenching
4. Paint the stairs in an ombre effect
5. Create feature areas of the wall where there is a corner or change in direction
6. Use metallic paint to entice and create a shimmer effect when light is used in the room. This will add shine and reflect the light.
Korczynska says: 'If you don't want to accentuate just one wall in your room, but you're looking for injecting some color and creating a focal interest on your walls you can go for two-tone paint effect and paint all your walls half-and-half. It works best in medium-sized and smaller rooms as it would lose its impact in a large open space. With high ceilings, you can put a darker color at the top to visually lower the height of the room, but in a room with lower ceilings, is better to keep the darker colors at the lower half of the wall.'
'Try something a little different by using a really bright color such as Crown's Fuchsia Fizz on the ceiling so the color visually spills onto plain white walls below. Alternatively, play with tones to suit your palette. A dark turquoise, for example, on the ceiling would partner suitably with mid and paler tones for the walls.'
Jen and Mar, founders, of Interior Fox, says: 'Paint is a great way to define a space, so don't be afraid to introduce different colors to the walls. We love to mix it up with different tones to create interest but also to reflect our clients' individual styles and personalities. For smaller spaces with low ceilings, try to keep the furniture low to the ground and not too bulky to maximize the feeling of space. This will make the room appear larger and prevent it from feeling overcrowded.'
10. Turn a basement into a guest bedroom
Adding a guest suite to your basement is one of the best uses of the space – it's going to create a very handy extra sleep space for guests and of course add value to your home.
The key to creating a basement bedroom that feels lovely and cozy and makes you forget you are in fact underground is a suitable color scheme that's going to expand the space, furniture that isn't going to feel too big and bulky and plenty of light (natural or artificial). We recommend decorating with fresh, light colors and picking out a bed that's low to the ground so as give the ceiling that allusion of having more height.
Build in any storage to make the most of the space and stop it feel cluttered, and make sure you have plenty of light sources to make sure the space never feels gloomy. If you are lucky enough to get any natural light in the room, be sure to maximize that by keeping the space around the windows as clear as possible and choose light and floaty curtains.
11. Create an extra living room in the basement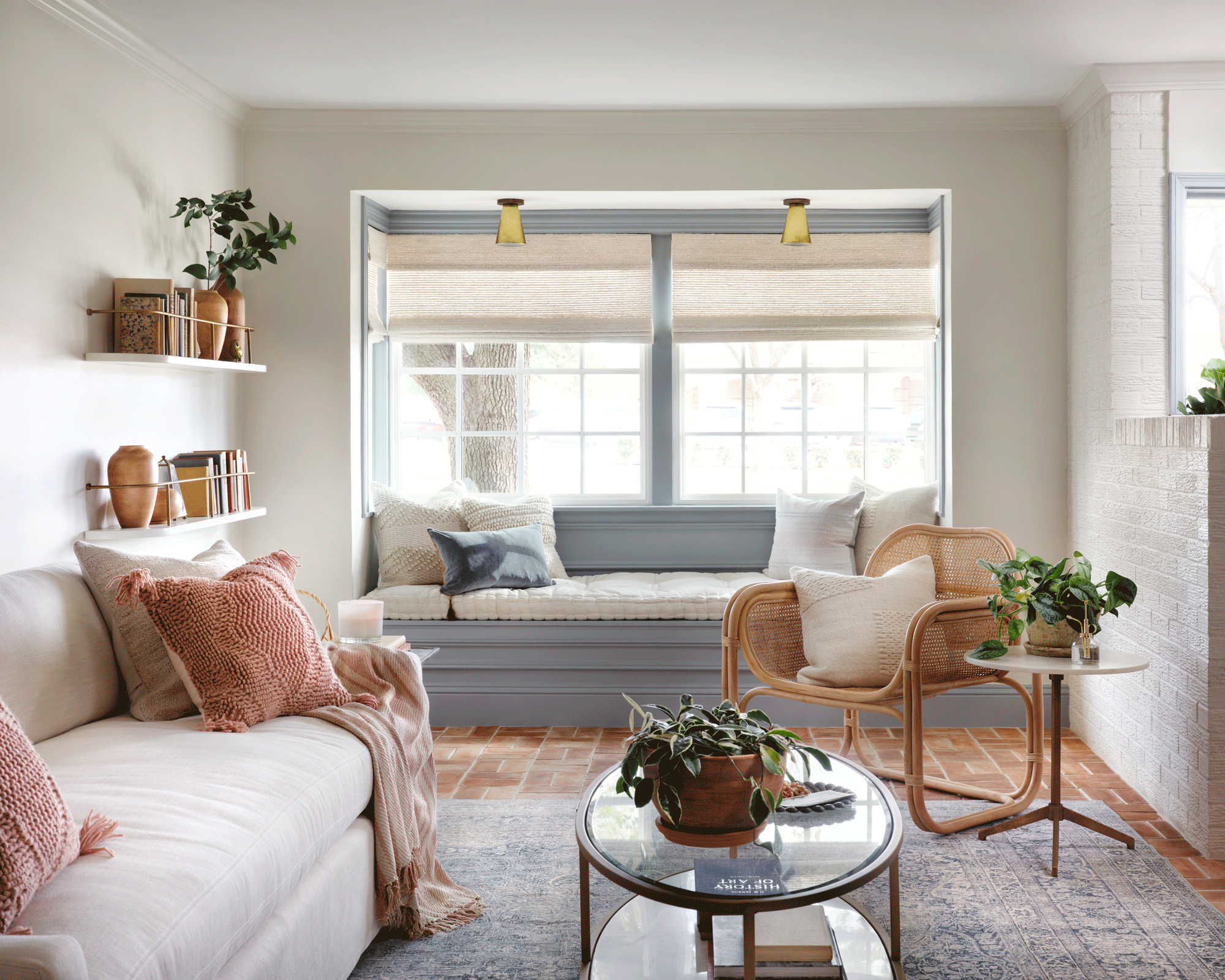 Using a basement as an extra living room is perfect if you are blessed with teenagers who feel like they can't relax until they are on a whole different floor of the house to you.
We are joking, kind of. But a second living room just means no more arguments over the TV and more space for you to entertain. Pick out the best sleeper sofa 2022, and it can double up as a last-minute spare bedroom too.
Again, as you can see from this gorgeous space, low-slung furniture is a must in a basement living room if you are dealing with low ceilings. And make sure to add some coziness with plenty of throw pillows, rugs, and blankets.
12. Make it an open plan space to entertain
Because if you can't justify having a games room in the main house, add one to your basement. Basements make for the best entertainment spaces since you feel separate from the rest of your home, plus you can always make your basement soundproof too.
Pop a pool table down there, some sofas, retro arcade games, a mini-fridge (or you could add a full-on bar, more on that later), and make it feel like a proper getaway in your own home.
13. Zone a small basement with sliding doors
Adding a small studio apartment downstairs can be a great use of space and makes for a cozy small basement idea. It's nice for guests to have a whole setup of their own during their stay, plus it gives you the potential to rent or Airbnb.
This basement space by Katie Gelsheimer feels so light and airy because it's hasn't been broken up with walls – instead of sliding doors allow for privacy in the bedroom but light can still flow around the space with the bedroom is not in use.
14. Add an extra bathroom downstairs
If you plan on adding a bedroom downstairs, adding a basement bathroom idea is a must. It's actually easier to bring plumbing down to a basement than you might think if you are clever about positioning. Plan your remodel with the layout of the space above in mind and choose to add a bathroom underneath a room with existing plumbing that way you can just bring the pipes down from there.
When it comes to decor, remember it's likely a basement bathroom will get zero natural light. For that reason, you are best playing it safe with a really light color scheme. Keep your backdrop neutral with white walls and sanitaryware and then you can always bring in color and personality with decor or small bathroom tile ideas.
15. Take your kitchen into the basement
If you want to create that gorgeous open-plan kitchen of your dreams but simply don't have the room on the ground floor, why not bring your kitchen down into the basement. You could have a whole of the basement floor just for your kitchen, plus then there's more room on the ground floor to have a larger living room or even add an extra bedroom. If you bring in enough natural light with light wells, glazed doors, and high-level windows, you would never know you were technically underground.
Just be aware that when considering a basement kitchen space, you will probably have to dig lower than your average basement remodels, and this can be more disruptive too – but worth it in the end! Whilst you're down there, you could always consider a basement laundry room design too..?
16. Bring in natural light with light wells
Light, whether it's natural or artificial, is what really takes a basement from dingy to dreamy so it's important you consider lighting and windows in the planning stages of your project.
Light wells are a really popular option with basement remodels as they will bring in the maximum amount of light and are a stylish design feature too. If you have extended your basement out under your garden you could add an external window made from walk-on glass that will bring in plenty of direct sunlight. The other option is to add an internal window at the ground floor level to bring the light from the room above into the basement below.
17. Think about where to add windows
If your basement isn't fully underground you could bring in more natural light by adding a row of high-level windows that sit near the ceiling. Remember too, that most finished basements also require an egress window to act as an emergency exit so make sure you work with your architect to plan where that is going to be.
18. Or choose a glazed roof for maximum light
You could take the light well concept to a whole new level and opt for a walk-on glass roof light for your basement. This is going to bring in the most natural light and make a very cool contemporary design statement too.
Obviously think about what's going to be under these windows too. A kitchen or living space like this one would be suited to this kind of design but you would probably want more privacy in a bedroom.
19. Add a light well garden
Bring in some greenery as well as natural light to your basement with a tiny lightwell garden or balcony garden for a growing spot that feels connected to nature. Even the smallest of carved-out spaces can bring some life into a subterranean room and make it feel more like part of the main house. You could even add stairs if you have the room to connect the space to the garden above – from a practical perspective this would make sense too as it can act as a fire escape.
20. Or add a sunken courtyard
Open up your basement even more by digging down in your garden too and create a courtyard space that links the basement rooms to the outdoor space. The allows you to bring in so much natural light as you can add floor-to-ceiling windows and doors too.
21. Get your artificial lighting scheme spot on
And if natural light fails you in your basement, good artificial lighting can make the space feel just as bright and inviting. Be sure to have plenty of different light sources and layer your lighting so you have different options for different tasks, different times of the day, and different moods.
'Given the same consideration as other rooms, the basement can become just as stylish and functional as a main-floor living space. Start by considering how much natural light the room has; this will determine how much electrical lighting is required. Spotlights are always a great place to start: they are low profile and, paired with a dimmer, will allow for full control depending on the time of day or activity. Layer with wall lights, floor, and table lamps to really help to set the tone,' explains Jen & Mar from Interior Fox.
22. Turn a basement into a bar
Can you think of a cooler way to make use of your basement space? We will wait... Whether you choose to add a wet or dry basement bar idea, it will create the ultimate entertaining space in your home. Plus you could always soundproof it too so you won't be bothering anyone in the main house when you start blasting Billy Joel after a few (too many) drinks.
With a basement bar, it's all about decor, you want to create an atmosphere in the space, and that means, low lighting, stylish bar stools, plenty of lovely glassware on show, and of course shelves of your favorite tipples. Just check out @lifelovelarson's amazing space and let it inspire you.
23. Add in a wine cellar
And if you don't have the space for a full-sized bar, why not just add a small wine cellar in your basement. Firstly, they can look lovely and be a real feature of the space, secondly, basements are the perfect place for storing your collection – no direct sunlight, no massively fluctuating temperatures. But do check there's no mold at the temperature doesn't drop below 40°F, the ideal temperature for storing wine is 55°F. (Learn how to tackle white mold in the basement.)
24. Create a playroom in your basement
If your child's toy collection has expanded by such epic proportions it no longer can be restrained to their bedroom, turning your basement into a creative playroom design could provide a new and fun, family space to house all those toys.
Having the space slightly separate from the rest of your home means you can really get creative with the decor. Pick a bold color scheme, add plenty of patterns and make larger toys a feature of the room rather than hide them away as they would be in the rest of the house.
Add in some cubby storage and maybe even a teenage desk idea that can be used for homework, crafts, and coloring.
25. Add your dream home cinema
Surely it's everyone's dream to build a home cinema? And what better place to create a movie room than in your basement. We love this space – the rustic color scheme and plenty of cushions, rugs, and throws make it feel super cozy, Plus that dark wall just further emphasizes the home cinema feels but doesn't make the room feel smaller.
26. Low ceilings? Turn the space into a snug
Low ceilings in a basement needn't be seen as a bad thing, why not embrace those low ceilings and use them to make the space feel extra cozy. A snug room idea can be a great use of a basement, especially for spaces that wouldn't work as bedrooms or living rooms because of the ceiling height.
Pick floor cushions over a sofa to keep sitting as low to the floor as possible and add in plenty of soft furnishings to really enhance that cocooning effect. Pop a TV down there and some consoles to turn it into an instant movie and games room.
27. Pop a home gym in your basement
Gym closed? No problem, create your own basement gym idea that takes the work out of the workout. Depending on how fancy you want your at-home gym to be, you could create one in your basement on a pretty cheap budget. You could of course lay rubber flooring and add speakers and air-con and go all out creating a space you are going to use really regularly.
Or if you are just looking to create an area to escape the kids and the dog to do a quick workout, you could just paint the walls, lay down a few mats and arrange your equipment.
28. Create the ideal WFH set up
Since we are all working from home a lot more right now, it makes sense to find a more permanent setup to work from than the sofa (or your bed). You might not have room for a dedicated home office in your main house, but you could plan to have a modern home office space in your finished basement.
It's important to make some natural light in your workspace so be sure to place your desk as near as possible to the windows or doors in your basement.
29. Unfinished basement? Get it organized for storage
And in the meantime, while you are waiting to finish your basement, or maybe just wanting to make the most of the space you have, get organized with basement storage ideas so you can max out on efficiency.
Floor-standing basement storage is the quickest solution and will be the easiest to install yourself, but just be aware you might have issues drilling into a tanked wall, Wall hung storage is also a great option as it will keep everything up and off the floors – very important if your basement is prone to flooding. Whatever system you go for just make sure everything is stored in airtight containers to avoid the risk of anything getting damaged by dampness.
How can I make my basement more inviting?
Andi Morse, founder and principal designer of Morse Design, says: 'Basements are a great gathering spot for friends and family. Make sure you have plenty of seating that is comfortable. Make it light and bright so it's a place you want to be, not a dreaded dungeon. A place to eat snacks and/or meals is an added bonus. Make it inviting! You want to use it as you would any other part of the house.'
'If there aren't any windows in the basement, opt for light paint colors, tile, etc. Keeping it light in a space with no windows will help the room feel warm and inviting, whereas making it too dark could result in a dungeon-like feel. Try to add items and improvements that are important to the entire family, like a TV, play area, or card table for games. The more characteristics that work for everyone, they are more likely to go down and use it!'
What can a basement function as?
Sara Mosele, principal, Sara Mosele Interiors, notes the following:
1. The functionality and use of your basement can be a playroom, gym, live-in nanny bedroom, guest room, or home working study.
2. Depending on the function, adding an extra bathroom is always a good option.
3. Bright colors maximize openness and compensate for the frequent absence of natural light. Lighting schemes are very important.
4. Insulation and waterproofing/anti-mold is a must.
How much does it cost to convert a basement?
Let's start off with the most important question – how much does it cost to convert a basement? If you already have an existing cellar that just needs a redo you could finish it for around $10,000. If you are starting from scratch the average price for a project starts from $25,000 – but this of course depends on the size of your space and what you want to do with it.
If you are in the UK 'a full basement conversion costs around £400-600k (+ VAT), a half-basement conversion begins at £150k (+ VAT).' says Jason Wren, Director of Shape Architecture. 'A garden basement starts at around £150k – £200k (+ VAT) and a coal cellar starts at approximately £50k (+ VAT) depending on the size of the cellar, and if it is a new excavation or a refurbishment project which includes waterproofing it.'
How deep does a basement conversion need to be?
'A minimum of 2750mm, often around 2900mm.' advises Wren. 'Ceiling voids over a basement are often routes for much pipework and drainage pipes which have to run at a fall. It's a good idea to add a little more to the floor to ceiling height to accommodate any potential impact on service runs.'
'Floor to ceiling height would not be the only determination in judging the quality of a space, as one should consider the volume as a whole. The variety of natural light sources, views and glimpses between interior spaces, circulation through the basement, as well as the sense of height and volume around a stair void have architectural significance.'
What can you include in a basement conversion?
'Projects generally include: a Family Room, which is typically the largest space giving onto the rear lightwell and filled with light as well as a Media Room and this is often at the street side of the basement extension also giving onto a smaller lightwell.' says Robin Nichols of Shape Architecture. 'Often, in the middle of the basement extension where it is more challenging to get natural light, rooms such as a Utility Room, WC, Storage or Small Gym are located.'
What are the first steps when converting a basement?
'The first steps are the same as with most building projects. Initially, a digital dimensional survey is undertaken on-site leading to drawings of the existing property, we also make a 3D model of the existing building.' explains Robin. 'Following the survey, a process of design concept work takes place. Development of drawing and the 3D model of a scheme progresses to enable clear discussions with our Clients. Early input from a Structural Engineer is often useful; it is likely they have worked on basement projects in the area and have an understanding of the soils condition and any other relevant local features.'
Do you need permits to convert a basement?
Yes, you will need to get a permit to finish a basement. It's a common misconception that because a basement reno can not usually be seen at street level, you can get away with not getting a permit. However, this could cost you down the line.
If you are starting totally from scratch with your basement project, you'll likely need a plumbing permit, building permit and an electrical permit. A reputable contractor will usually take care of finding out what permits are required for your project.
Avoid any contractors who tells you you can save money by not getting the proper permits. If the work you are doing is discovered by the local building department, getting a permit in retrospect is much harder and more expensive, or they could just tell you have to start the project again with the right permits. Plus you could face fines.