Floral wallpapers, from bright and blousy blooms to dainty daisy-chains, add character like nothing else to a room. Timelessly versatile, floral prints make perfect wallpaper ideas for period homes, and there's plenty of interior inspiration available from across the centuries. Whether you're looking for all year round spring cheer or want to create a moody damask tone, we've got the perfect floral wallpaper for you.
1. Choose blue floral wallpaper to create a serene feel
Why you can trust Real Homes Our expert reviewers spend hours testing and comparing products and services so you can choose the best for you. Find out more about how we test.
For a pretty personal touch in a vintage living room, why not try creating a floral feature wall using a découpage technique? Start with a base of Annie Sloan's Svenska blue chalk paint, and then, once dry, apply a selection of floral paper cut outs using the Annie Sloan Image Medium, both £5.95 for 120ml. Finally, finish with a thin wash of the Antoinette shade to give a faded feel. To complement the pastel look pair with a sofa in Annie Sloan's Antoinette and Old White linen, £39.95 per m.
Find more pastel room design ideas in our gallery.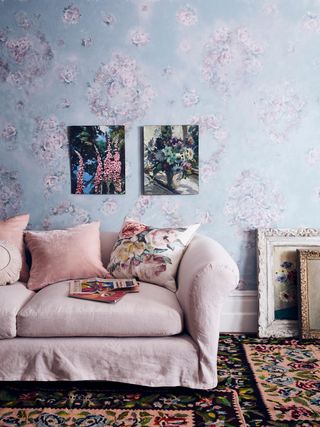 2. Pick an intricate pink floral wallpaper to add character
Naturally calming, pastels are a brilliant choice for a bedroom. Try a muted wallpaper, such as this Savuti design in Stone neutral from Cole & Son, and co-ordinate with sofa pink upholstery and accessories like these from The Secret Linen Store.
Find more pretty pink room ideas in our design gallery.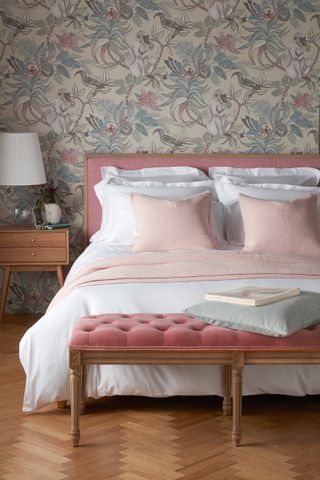 3. Choose a bright, modern floral wallpaper to make a hallway sunny
Create a blooming, beautiful hallway with a bold flower wallpaper in sunshine shades of yellow, marigold and hot pink - such as Ariadne's Dream Wallcovering Multi from Clarke & Clarke. Paper the top section of a wall and add panelling to the lower third, painting it in a co-ordinating teal blue, such as Farrow & Ball's Dix Blue estate emulsion.
Find more stunning hallway wallpaper ideas in our design gallery.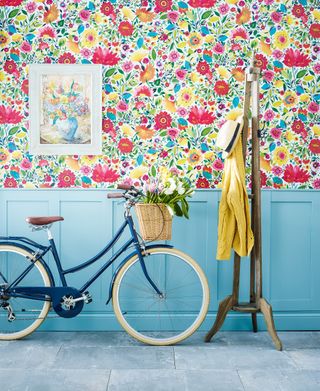 4. Pick a large floral wallpaper for a mural effect
With their signature watercolour effect, the North Garden wallpaper from Bluebellgray uses rich jewel tones with an inky watercolour texture to create a delightfully floral mural. Use it on one wall to create an eye-catching feature.
Find more mural design ideas in our gallery.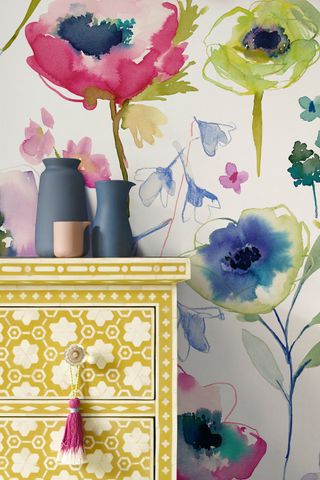 5. Pick a vintage floral wallpaper with poPS OF COLOUR
This bright, romantic print gives a classic design a modern flair. Inspired by 18th century Chinese and East Asian traditions, the Chinoiserie Collection from Graham and Brown features intricate hand painted motifs and bright pops of colour in the pink blooms, lifting the whole space.
Find more vintage wallpaper design ideas in our gallery.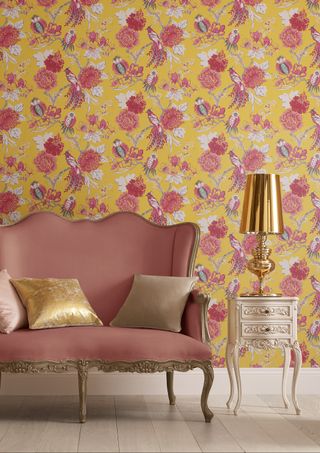 6. Choose a bright floral wallpaper to capture a taste of the med
Transport your dining room to the warm and colourful Mediterranean with this Talavera design, £76 per roll, from Matthew Williamson at Osborne & Little. It takes its inspiration from Talavera's ceramic industry, as shown through its gorgeous repeating pattern of luscious blood oranges, pomegranates and pears combined with a vibrant trellis of ribbons and vivid hedgerow flowers.
See more botanical wallpaper design ideas in our gallery.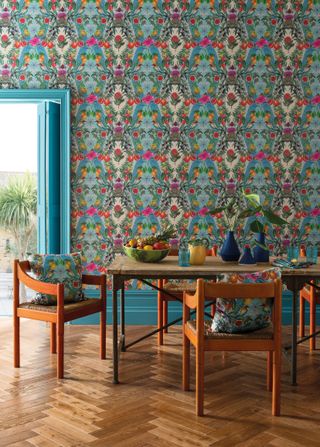 7. CREATE AN ARTISTIC STATEMENT GALLERY WALL
Blending classic art and modern design this characterful wallpaper from British based design studio Woodchip & Magnolia creates an effortless statement wall. Each framed 'painting' appears hand dipped into pastel colours to create a modern art gallery effect.
For more inspirational gallery wall ideas, take a look at our design guide. Find more feature wall ideas in our gallery, too.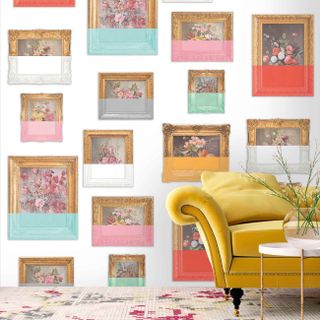 8. USE SUBTLE floral wallpaper PRINTS TO MAKE A DAINTY FEATURE WALL
Warm wood floors are block coloured furnishings are brought to life by the delicately detailed Garden of Eden wallpaper in Aquamarine from Mind the Gap. The repeating pattern of mauve cottage garden flowers on a sage green background creates a heavenly interior which would be excellently suited to a hallway or as a feature wall.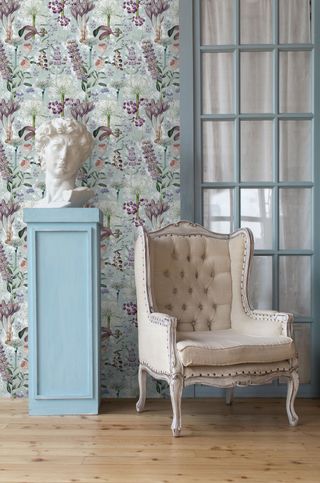 9. USE CLASSICAL PRINTS WITH A SCANDI TWIST TO CREATE A CALMING SPACE
Inject elegance with a classic floral/stripe wallpaper. Slottsteatern, from the Anno collection at ftapeter, is a typical 18th century Gustavian design and one of 18 prints inspired by originals from period Scandinavian homes.
For more cosy Scandi room design ideas, browse our design guide.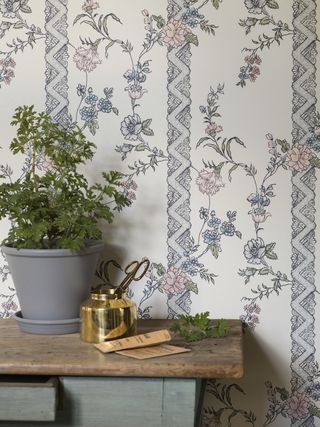 10. USE rose wallpaper TO CREATE A VINTAGE SPACE
Printed to look like the original artwork from which it was taken, this pretty Elizabeth Ockford Birchgrove Gardens wallpaper in Firle Aqua is illustrated with vases and jugs of cottage garden flowers in shades of pale blue and pink. The fresh design will add an instant uplift to any room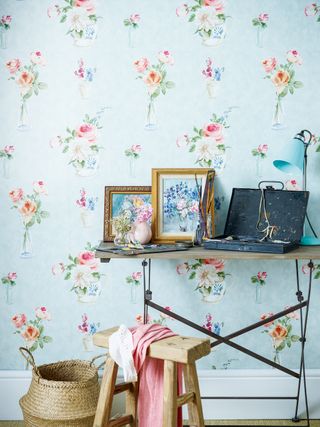 11. ENJOY YOUR FAVOURITE BLOOMS ALL YEAR ROUND
One of the most elegant flowers, climbing trails of wisteria are a cottage essential. Bring the joys of spring inside and enjoy the beauty of this sun-loving, summer bloomer all year round with this Cole & Son design. An elegant graphic print, it is equally at home in a cottage as it is in a contemporary setting.
Find more traditional bathroom design ideas in our guide.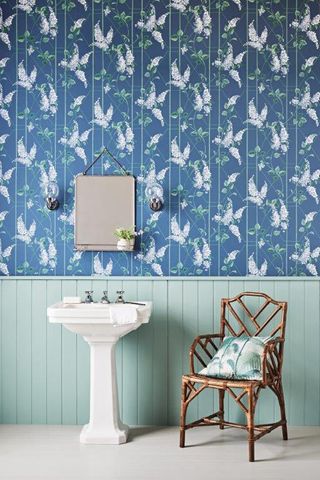 12. PAIR STENCILLED floral wallpaper DESIGNS WITH DARKER COLOURS FOR AN ELEGANT SPACE
Looking to put a modern twist on a Regency scheme? Little Greene's St James's Park damask design, inspired by an original from Marlborough House, has been refreshed with an ombre fade in cobalt blue. Dark at the bottom and light at the top, it draws your eye upwards and creates an illusion of space. Team with mustard, dark wood and metallics for a chic finish.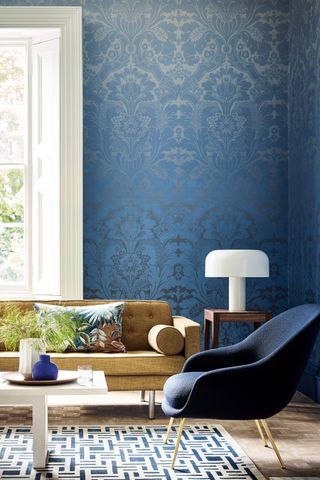 13. USE DRAMATIC PATTERNS TO CREATE PERIOD DRAMA
Inspired by the interiors of quirky boutique hotels from across the world, the L'Hotel wallpapers from Sandberg have glamour at their heart. Embracing dramatic pattern and powerful colour, featured here is the Aurelie print. Pair with wall-panelling for a sophisticated finish.
Find more gorgeous traditional dining room ideas in our guide.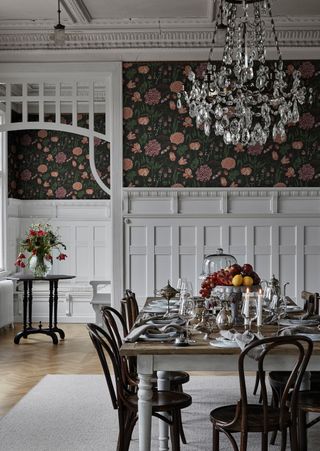 14. Pick classic PRINTS PERFECT FOR ARTS & CRAFTS LOVERS
With its wealth of nature-inspired, archival designs, Lewis & Wood brings the Arts and Crafts values into the modern day. A celebration of craftsmanship, this Coromandel design in Malachite is inspired by an 18th century Indian Palampore quilt in the V&A archives.
Find more pretty Arts & Crafts inspired design ideas in our guide.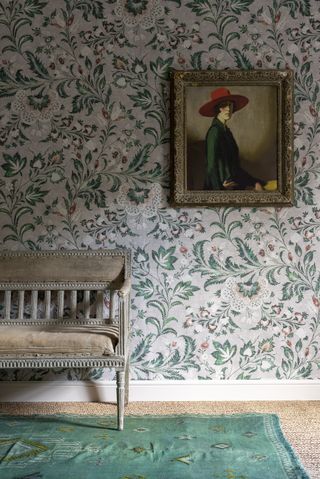 15. BRING THE OUTSIDE IN WITH A PHOTOGRAPHIC DESIGN
With a repeating pattern of hand-picked pressed flowers, this wallpaper serves as a constant reminder of summer meadows, making it the perfect choice for a summer house or bedroom. The embellished Botanica wallpaper was created by Emma von Brömssen as part of the Simplicity collection for Engblad & Co and takes inspiration from Far Eastern design ideas.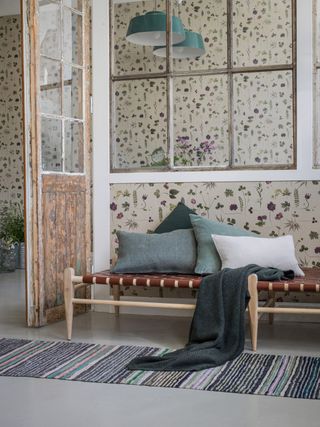 16. OPT FOR DELICATE FLORAL PRINTS
Floral wallpaper ideas needn't be bright and bold, they can also be subtle and serene. The simple ditsy design of this Morgongåva design from Galerie Wallcoverings creates a focal point of the staircase and is complemented by a relaxing mint coloured wall and exposed wood stairs and accessories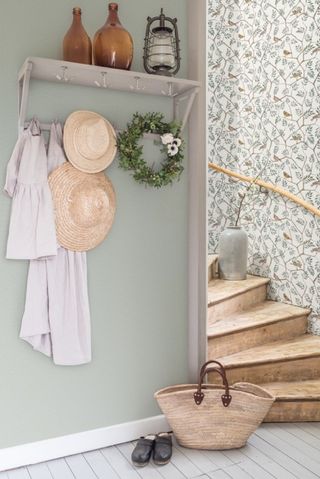 17. REFRESH YOUR SPACE WITH SPRING GREENS
For a fresh, uplifting take on floral, try this stylised flower and leaf wallpaper design in a crisp green palette. The original of this paper was saved from a property in Bedford square, and is typical of the late 19th and early 20th centuries. Pictured in Acorn, the Bedford Square design is also available in pretty blush pink through to dramatic ebony and gold depending on what mood you're looking to evoke.
Find more serene green living room ideas in our design gallery.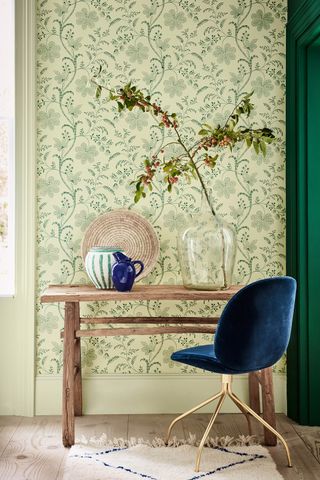 18. TAKE INSPIRATION FROM THE ARTS & CRAFT MOVEMENT
Reminiscent of the stylised flora and leaf designs of the Arts & Crafts movement, this Thistle wallpaper has a vintage feel that is perfectly suited to a period home.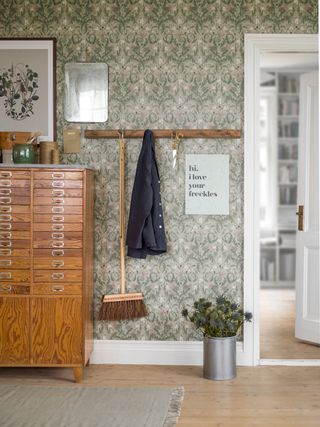 19. GO FOR A TRADITIONAL SCANDI STYLE
Our love of Scandi style is still going strong and we love the injection of colour that these floral details add to the cream and wood interior design. Based on an 1820s original from a Swedish manor house, the dainty trails of Boråstapeter's Krusenberg print would lend a romantic feel to any space.
Find more Scandinavian bedroom design ideas in our guide.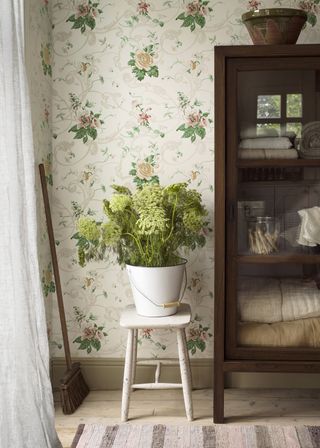 20. ADD DEPTH WITH A BRIGHT YELLOW REPEATING BLOOM
Bring zest and energy to a living room by pairing on-trend botanical green with bright lemon toned flowers, Botanical Botanica Lilac wallpaper, Cole & Son. Continue to draw inspiration from the natural world by pairing with a forest green sofa and wooden flooring.
Find more summery yellow room design ideas in our guide.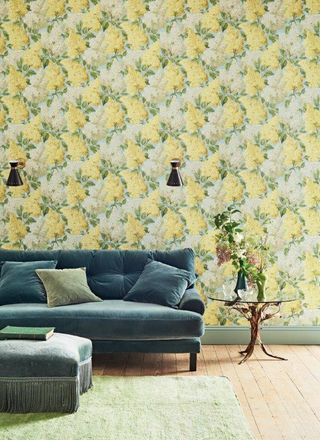 21. CREATE TEXTURE WITH AN INTRICATE POSY DESIGN
Introduce a contemporary take on kitsch kitchen design by pairing wall-to-wall florals with sleek base cabinets. In a revived palette of Autumnal Multi on Cream, Cole & Son's archive Sweet Pea Lathyrus Odoratus design adds a real wow-factor when teamed with striking forest green units.
Find more kitchen wallpaper design ideas in our guide.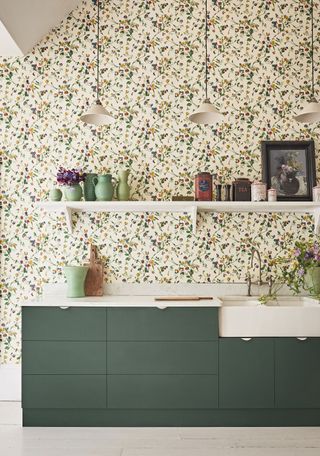 22. ENHANCE A SMALL SPACE WITH NEUTRAL COLOURS
Layer up leafy patterns in a pale shade for a fresh, textural look. Discovered in a row of elegant early 18th Century houses in Soho, Broadwick Street from Little Greene is a botanically accurate reproduction of Clusia Rosea plant and it is a great way to introduce touches of on-trend botanical green to your home. Its understated colour and pattern makes it ideal for the smaller rooms in your home.
Find more small bedroom decorating ideas in our design guide.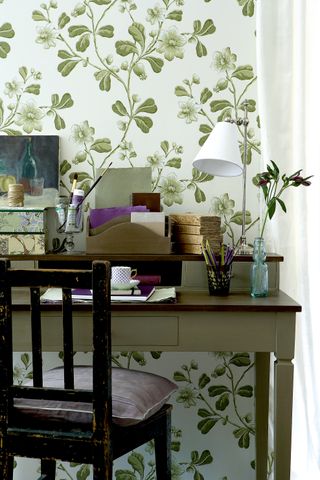 23. Create drama with a blue grey floral wallpaper
Inspired by traditional Russian Khokhloma, Milana-Graphite Blue wallpaper from Olenka features hand-drawn floral designs which challenge the preconceptions of floral wallpaper as dainty and light. Rich and moody, these dark schemes are a great backdrop for statement furniture and cushions, create a cosy and inviting room.
Looking for more inspiration? You'll find plenty of tips with our dark and atmospheric decorating ideas.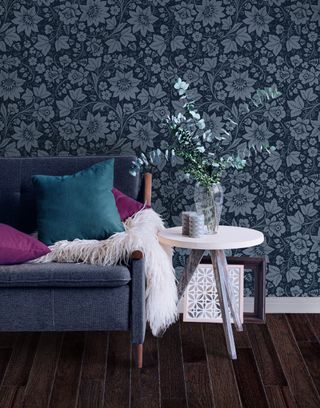 24. USE MOODY FLORALS FOR A STATEMENT FIREPLACE DESIGN
Arts & Crafts designs are always a popular choice for period homes. Perfect for creating a feature wall, the rich tones in this refreshed archive leather design, New Bond Street from Little Greene draws the attention to the centre of the room and creates a classic finish.
Be aware that the wallpaper trick used above looks wonderful but won't last in the long term since the heat of the stove will dry out the wallpaper paste, meaning it might need to be repapered once a year. Worthwhile? We think so. For more inspiration check out the best 10 traditional fireplace designs.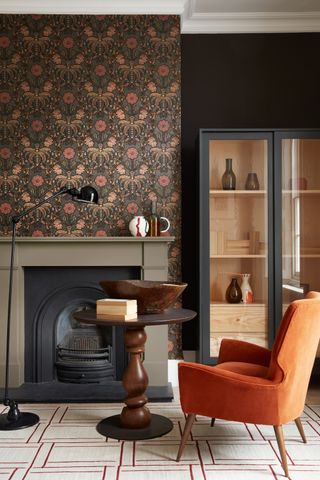 MORE WALLPAPER INSPIRATION: