Rethinking your hallway? That space under the stairs – who hasn't wondered how it could be better utilised? And who hasn't, at some point, stuffed it with mismatched boxes full of things that don't seem to have a home elsewhere?
Time to make the most of that cupboard under the stairs with our comprehensive guide to under stair storage ideas. From practical, affordable shelving options to lavish wine rooms, you'll never underestimate the potential of this part of the house again.
1. Build under stair storage closets
Even modest sized homes have decent under stair space for storage. Make the most of yours by putting in a central door to create a spacious cupboard for large items (or lots of small ones); a door beneath the bottom steps for seldom used items; and use leftover space for a shelved-out niche, like the one below.
This bespoke under stair storage closet is by De Rosee Sa Architects.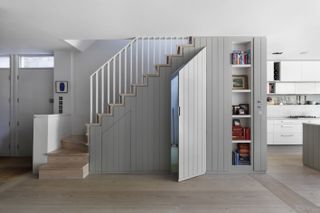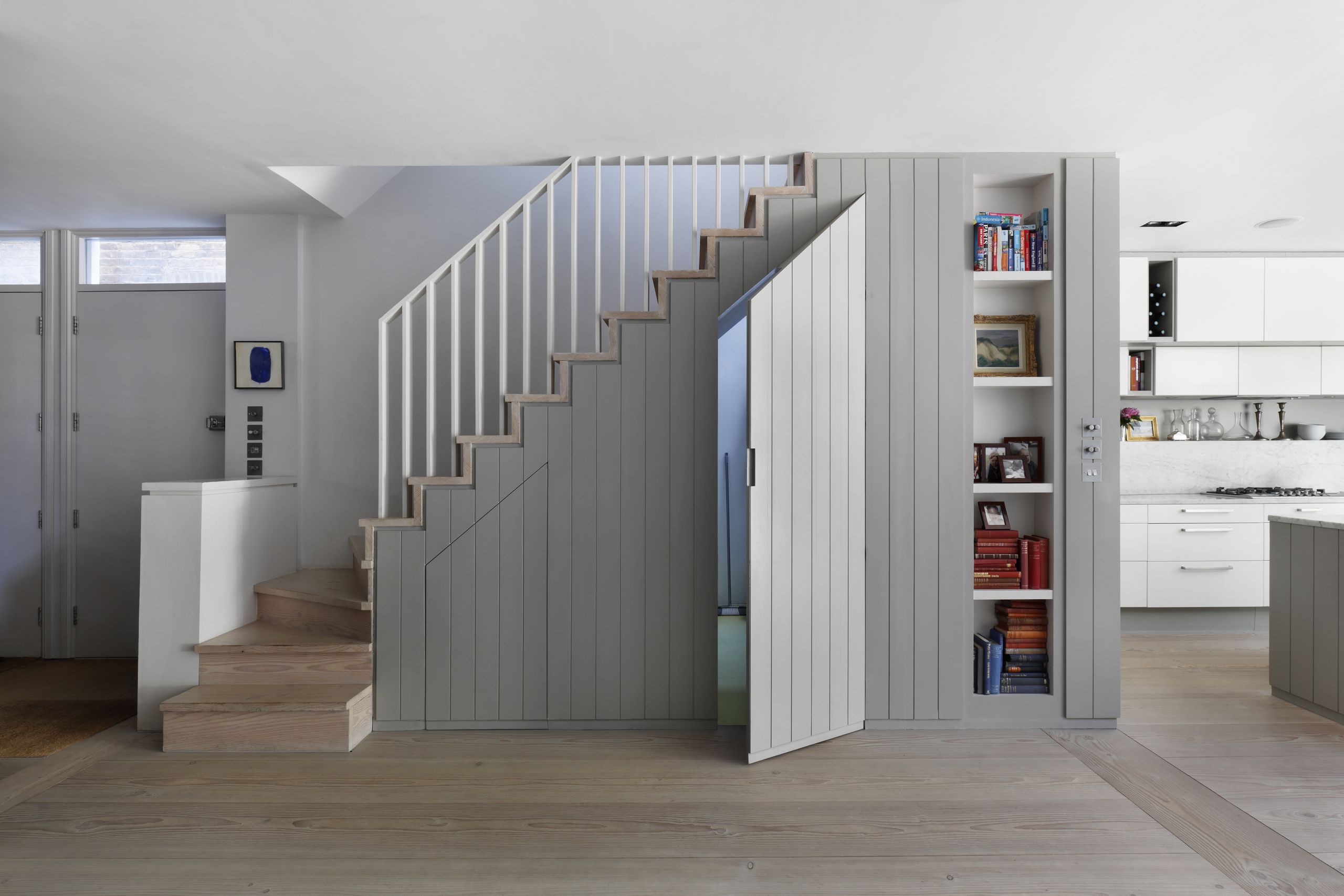 2. Fit a downstairs cloakroom
A downstairs cloakroom is a must-have for many potential house buyers, and a valuable asset in a family home. If you're tight on space, it makes most sense to put the loo beneath the sloping ceiling (like the one below), and to fit a sliding door rather than one that opens out into an already squeezed hallway.
This bespoke solution by Proctor & Co. Architects is convenient and stylish, and integrated seamlessly into the design of the hallway.
3. Keep everything to hand with open storage
If you want to create an impression of space in a small hallway, keeping the cavity under the stairs open is a good option. Then, it's just a case of fitting shelves and investing in stackable storage to fill the space in a bespoke way. Choose a simple colour scheme for the boxes to make the space look as neat as possible.
Take inspiration from Ikea's clever de-cluttering with the Sortera range.
4. Shoe storage needed? Put it under the stairs
The under stair area is just asking for shoe storage! After all, most staircases are usually close to the front door, so it makes sense to buy clever hallway shoe storage to keep the space neat.
The Argos Understair Shoe Storage Unit is perfectly shaped to slide easily under the stairs.
5. Fit an under stair book case
Inject the under stair area with a bit of class by turning it into a library. Good at DIY? You can fit the shelves yourself, or choose modular, ready-made shelving to fit the space.
We like this elegant geometric Stacked Shelf Unit from Made in Design.
6. Create storage drawers under the stairs (literally)
Who knew steps could become drawers? If you're really squeezed for space, this neat idea utilises the space inside the staircase itself. Useful for storing shoes, paperwork, the dog's lead...
This sleek, contemporary stair design is by London's Lipton Plant Architects.
7. Create an under stair home office
For those who like a bit of privacy when working from home, but do not have a separate study or home office, a bespoke under stair study space is a brilliant solution. Although the space will be relatively small, the advantage is being able to design and style it exactly how you want it.
We like this bespoke example by Neville Johnson – functional yet personal.
8. Turn an under stair cupboard into pantry storage
If your staircase is in your kitchen or dining area, why not design the under stair cupboard to hold everything you need to hand, whether dinner tableware or table linens? If it's within the kitchen area, you could design the cupboard fronts to mimic those of your kitchen cabinets – ideal for making a small space look more streamlined.
John Lewis of Hungerford have a bespoke solution for an under stair space that's next to the dining room.
9. Design a bespoke wine cabinet
Maybe your house has no basement for storage, or you simply don't fancy going down into a cellar every time you want to open a bottle? Why not utilise that space under the stairs and create a beautiful, functional wine room? A real step up from the classic wine rack, you wine buffs might like to create a climate-controlled space that's lit to show it off, too.
This wine storage below was created by Sorrells Wineracks.
10. Store toys in under stair drawers
Toys scattered around the hallway can test even the most serene parent's patience, but large, pull-out storage drawers make for an ingenious toy storage solution for that awkward under stair space. Why stick to toys? Under stair drawers are ideal for stashing shoes, gloves, hats, coats and even cleaning products.
These drawers are by Clever Closet.
11. Find an under stair nook for a pet bed
Animals love a nook to steal some precious napping time in, and what better place for it than the cosy under stair space? You can buy and put a pet bed or pet igloo under the stairs, or go for a more streamlined solution - a bespoke under stair pet area.
The one shown here is by the design studio Create Perfect.
12. Go for bespoke under stair storage
Bespoke under stair storage solutions can help integrate all your sundry bits and pieces into a modern, clutter-free open-plan interior.
This intricate example is by Roundhouse Design.
13. Fit a utility room under the stairs
Not everyone has the luxury of a utility room. But if you want to free up space in your kitchen, or simply move your washing machine somewhere more sound-proofed, why not create a mini laundry room beneath the stairs?
This clever solution by Inspired Kitchen Design tucks not one, but two washing machines under the stairs. More washing done, no space wasted!
14. No playroom? It can go under the stairs
Children love a den to play in, so why not create one under the stairs?
CplusC Architectural Workshop created this striking space as part of a bespoke residential project in Dulwich Hill. Not only is it perfect for kids to play in, but it also looks like a stunning modern sculpture.
15. Stretch space with mirrored under stair storage
Under stair storage cupboards can be cleverly used to make a room feel bigger. All you have to do is swap plain, painted doors for mirrored doors that will not only make the room feel larger, but brighter, too.
This beautiful design is by Barbara Genda.
16. Create a kitchen under the stairs
Like open-plan living, but don't have the space? With the help of clever bespoke design, the area under the stairs can be transformed into a fully fitted kitchen, complete with ample cupboard storage.
In this bespoke under stair kitchen design by Bisca, the fitted cupboards effortlessly complete the open-plan look and connect the space to the dining/living area.
More clever ideas for your hallway: