Let's face it, we all have too many shoes... And our homes need good shoe storage ideas in every room, as they are key to creating clutter-free surroundings.
Whether you want to keep your hallways looking nice, want to deck out your mudroom a little better or if your closet is way out of hand there are plenty of innovative ways to stack sneakers, heels, boots and more to keep them tidy and in good condition too.
Shoe storage ideas
Why you can trust Real Homes Our expert reviewers spend hours testing and comparing products and services so you can choose the best for you. Find out more about how we test.
We've put together a ton of practical shoe storage ideas to keep the rest of home clutter free, too. Key to most sensible hallway storage ideas to ensure your space stays good looking and is far from a tripping hazard too.
1. Choose a style that suits the rest of your scheme
When you choose a shoe storage shelving unit it needs to feel part of the space that it's going to live in. Take this design for example, the woodwork is all white in this hallway so the white unit fits perfectly, you don't want it to jar visually.
It is possible to choose pieces that are both practical and stylish and this is ideal with its slimline design that features four shelves and coat hooks.
2. Hallway benches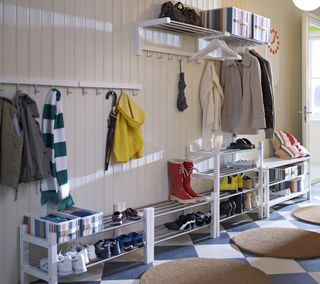 If you have kids, school mornings can be stressful enough without looking for missing football boots, school shoes and wellies – and that's not forgetting coats and bags.
To keep super organized, it's worth investing in, if you have the space, an entryway bench for each of you, that way in theory, each member of the house can keep their shoes organized.
3. Go bespoke if you have the budget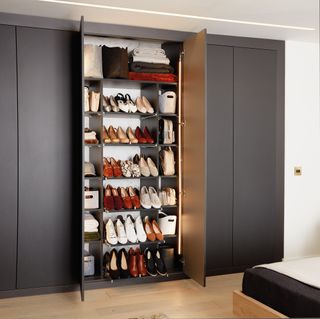 We asked Rachal Hutcheson, Retail Manager at Sharps for her advice on investing in key shoe storage:
'When it comes to bedroom storage, our individual needs are unique, and functional solutions will need to consider both the type of items you are looking to store and the space you have to fill. From a practical and aesthetical perspective, fitted wardrobes offer the most effective and efficient way to make use of the space within your bedroom. A truly bespoke design, that has been created to fit the exact contours of your room will offer, on average, 40% more space than ordinary fitted wardrobe designs.
Many of us have lots of shoes and bags to store. If they are housed in their boxes or bags, and stored two or three deep, it's difficult to see what you have at a glance. Installing open storage is far more practical. Dedicated shoe racks can be tiered, with the ability to cascade, or consider incorporating boot rails for awkwardly shaped footwear.'
4. Use a hanging shoe insert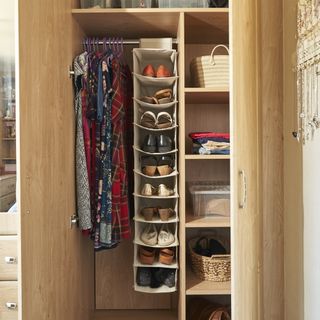 When all of your wardrobe shelving is full of clothes and accessories, it can be hard to find a place for your shoes. This is where these clever hanging shoe inserts come into play.
Making one. of the best closet organization ideas going, they hang from your clothes rail and hold a pair of shoes in each section, if you have a double hanging rail then add in more than one – you'll wonder why you never used them before!
5. Use vertical space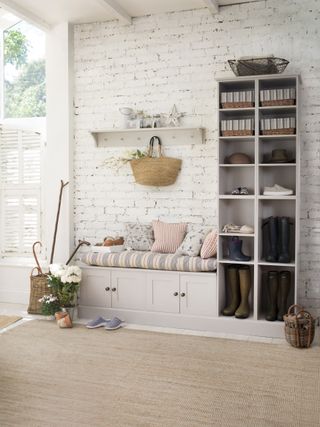 Space is always at a premium when it comes to hallways and potential shoe storage. This is where you need to get clever with how you utilize it.
Going up is one of the best solutions - a unit like this one from The Dormy House is ideal for storing shoes, wellies and baskets for each member of the family. It can be painted to blend into the rest of your scheme for a cohesive look.
6. Modern and industrial looks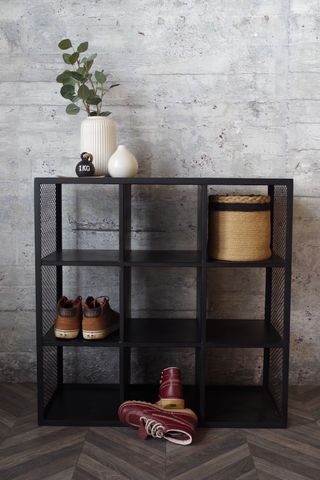 Shoe storage needn't be dull, in fact you can invest in pieces that totally encompass your interior style. Take this industrial storage made from solid metal and mesh, it's edgy and contemporary and will suit a modern hallway. Black goes with any existing color scheme too – and you can style it up with a lamp, vase and a print or two, then use the cubes to store all of your shoes.
7. Choose a slimline shoe storage unit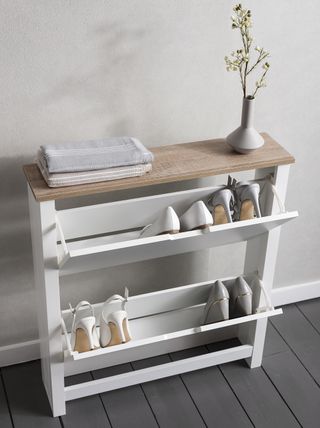 Short on hallway space? Consider a slimline shoe storage idea that maximises vertical space whilst maintaining order and easy access to shoes. We would recommend choosing a finish that matches your scheme, for a barely-there look.
We love this Tromso shoe storage unit, which looks like a stylish console table when closed up and is the perfect spot for a hallway lamp or for placing your keys at the end of the day.
8. Opt for space-efficient shoe storage ideas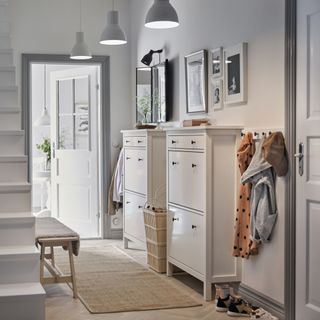 Got a ton of shoes to stash? Despite its slimline style, each compartment in this shoe storage cabinet has double rows, allowing enough space for the whole family's footwear. Designed with space efficiency in mind, it only comes with front legs and can be positioned flush with a wall, making it the perfect addition to a narrow hallway. Find this Hemnes unit at Ikea.
9. Maximise vertical space with ladder shoe storage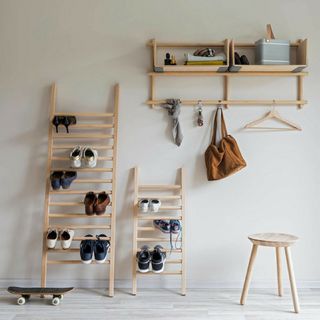 Ladder style units are an on-trend storage solution often found in bathrooms, living rooms and bedrooms – so why not bring them into the hallway too? Propped up against a wall, they make the most of vertical space whilst making a stylish addition to any hallway.
Find this Step Up shoe storage unit from Oostor.com
10. Use wicker basket for pretty shoe storage ideas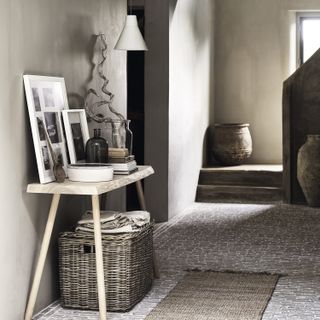 Need a shoe storage idea for the laziest of tidiers? Hinge-lidded baskets are a great alternative to more conventional shoe storage solutions – and give you a quick clean-up rate. They make a lovely feature in a hallway or can be easily stored beneath a console table.
11. Choose expandable shoe storage ideas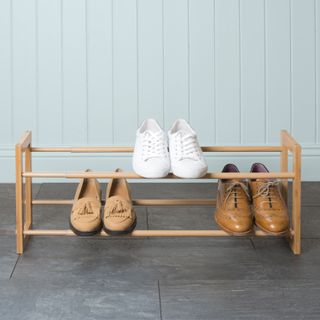 With growing families comes an ever-increasing number of shoes and a need for more storage. Whether you for-see this problem or not, stackable and extendable hallway shoe racks are a great shoes storage idea and can be adapted to suit your changing needs.
Find this clever storage solution at Lakeland.
12. Or go for a shoe storage system that grows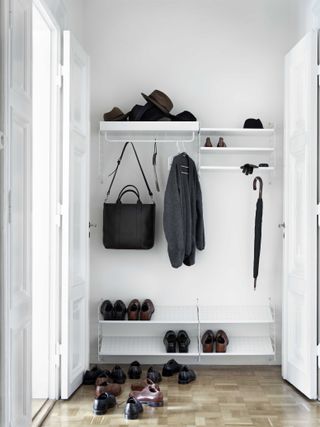 If you know a couple of expandable shoe racks is going to be nowhere near enough for your family's ever growing shoe collection, go for a shoe storage idea that you can customise to grow with your needs.
We always sing the praises of the String systems. They are made up of different modular components that you can build up and evolve as much as you want, choosing from shelves, cabinets, drawers and more. We love how simple and chic it looks – very contemporary Scandi.
13. Disguise your shoe cupboard for a sleeker finish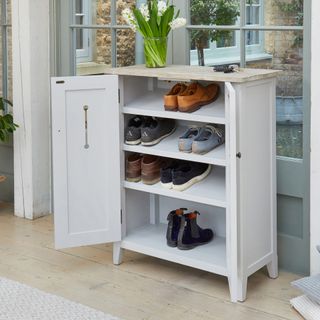 If you're blessed with a spacious hallway and don't want your shoes or shoe storage to be a feature within your hallway, opt for a more traditional storage solution. While large shoe storage cabinets with tilted shelves are designed to maximise space, a more conventional cupboard would work equally effectively and make a stylish addition to a hallway.
We love the country-feel of this Shoe Storage Cupboard from Wooden Furniture Store.
14. Combine welly storage with a spot to sit down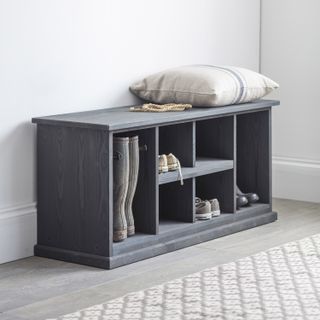 If you live in the countryside or a regular dog walker, wellies may be part of your everyday life. We'd recommend a hallway bench as shoe storage, as it provides a spot to sit down (we all know the struggle of trying to take of wellies while standing up.)
Designed with welly wearers in mind, the Welly Locker from Garden Trading has compartments with the height required for storage, in addition to four shoe compartments.
15. Mix open and closed shoe storage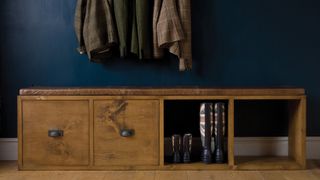 If you'd like your shoe storage to serve more than one purpose, something worth considering if your hallway is short on space, opt for a more versatile unit. Choose a unit that has bother closed and open storage so you can keep coots and wellies in the cubby and has trainers and less appealing looking shoes in closed cabinets.
16. Opt for a solution that suits all your storage needs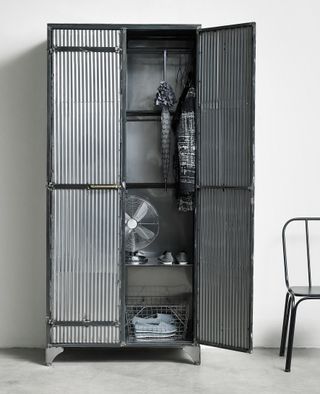 Sometimes it can be worth considering shoe storage ideas that offer more than one option, particularly if you're short on space or want to hide your belongings away to create a more minimalist look.
Pick a piece of storage furniture that has several compartments; including handy shoe storage and a hanging rail for coats and umbrellas. Plus obviously make sure it's stylish and fits with the vibe of your space.
17. Choose open storage for easy access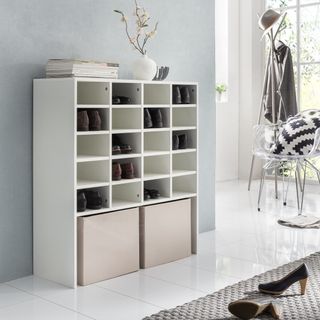 If you think you can keep your hallway neat and tidy (forever) then a open shoe storage solution could be for you. It's ideal if you have a modern scheme and provides ample space for shoe storage for all the family, in addition to room for bags, brollies and wellies.
18. Opt for all-in-one shoe storage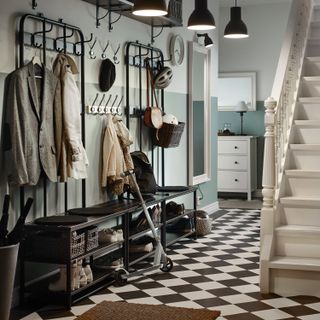 Opt for a nifty unit with a combination of storage solutions if you're looking to organize the whole family's shoes, coats and bags. They're designed to keep everyday essentials on hand and ease the frantic feel of Monday mornings.
This combination of a Pinnig coat rack with a shoe storage bench is a great starting point for a multi-functional storage unit. Find it all at Ikea.
19. Save space with multi-functional storage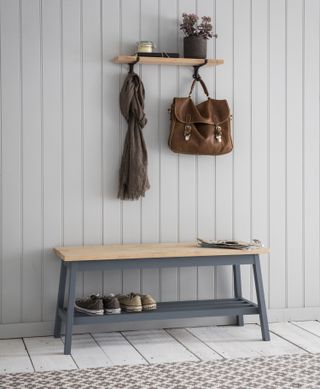 Multi-functional furniture is a great shoe storage idea if you're short on space, with this storage bench providing the perfect perch for popping your shoes on in a hurry. Position by the door for ease and a spot to store everyday pairs of shoes.
This Clockhouse hallway bench is available at Garden Trading.
20. Prioritise storage based on your lifestyle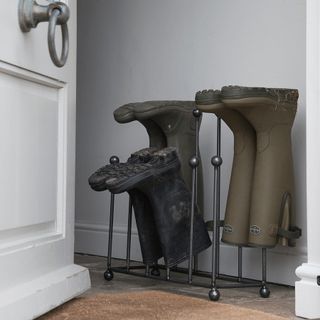 Tired of traipsing mud through the house after a walk with the dog? This boot rack is designed with wellies in mind. Pop dirty pairs upside down on the spokes and store by the back or front door for drying and easy access.
Find this Metal Boot Rack at Cox & Cox.
21. Or just store your wellies outside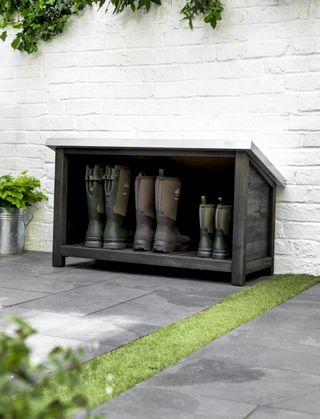 Wellies and walking boots were made to be hardy, so put them to the test and keep them outside. This Morton welly store from Garden Trading looks lovely enough to keep by your back door and will mean no muddy boots get traipsed through the house – and they won't be taking up a ton of room under the stairs. The Morton range also includes an outdoor shoe storage box if you want something that's extra weatherproof.
22. Maximise space with a built-in storage solution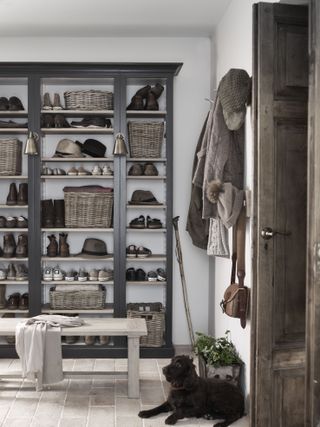 If you want to ensure that you're maximising space when designing a hallway, a built in floor-to-ceiling shelving unit certainly does the trick. Organise household bits and bobs in stylish wicker baskets, to ensure that daily essentials are on hand at all times.
We love this Pembroke Shelving from Neptune.
23. Opt for an industrial-inspired wire shoe rack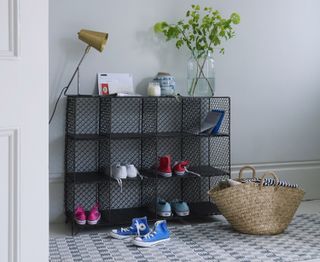 If your style is more industrial-inspired, this on-trend wire shelving is a great option for storing and displaying shoes. Want a little variety? Add interest with books, accessories and indoor plants displayed with little uniformity.
Find these Mish-Mesh shelves at Loaf.
24. Choose streamlined Mid-century shoe storage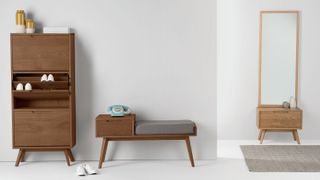 Renowned for its sleek and stylish finish, Mid-century style furniture is a great option if you're thinking about storage and can make a real design feature in a larger hallway.
With three divided drawers, this Jensonshoe storage cabinet, available at Made.com, is a statement piece that's ideal for storing away shoes. Find a telephone bench and storage mirror as part of the same collection.
25. Choose multifunctional furniture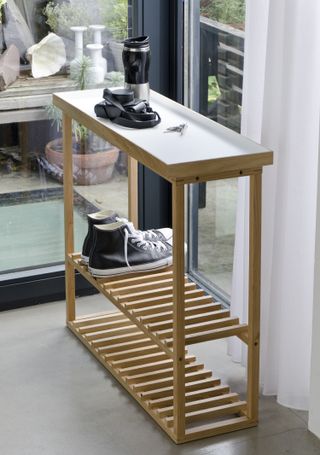 A multifunctional piece of furniture, this modern storage table not only stores shoes, but could also be used as a console table for storing keys and other everyday essentials.
Find the Wireworks Hello Storage Table at Lagoon.
26. Stow away shoes in a stylish chest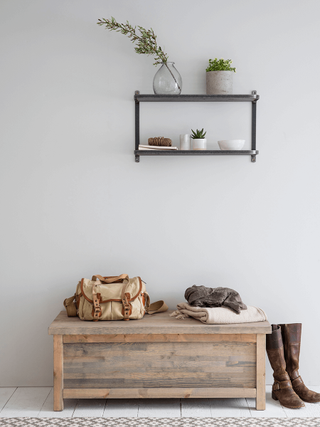 Stylish and practical, an ottoman bench or chest is a great shoe storage idea that will keep the clutter at bay. You're free to throw in boots and shoes, as well as bags, throws and other items without a home and no-one would be any wiser. A well chosen chest would make a great addition to a bedroom or living room, as well as making a great hallway shoe storage solution.
27. Maximise under-bed storage space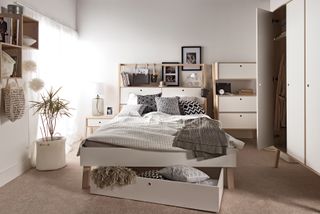 Running out of cupboard space? There's often plenty of unused shoe storage potential to be found under the bed. Make the most of it and stay organised with the addition of a handy under-bed storage draw.
We love the slimline Scandi-feel of this under-bed unit from Cuckooland.
28. Protect shoes in a fabric bag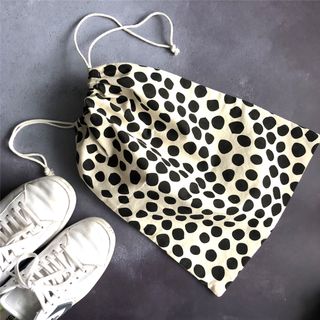 If you plan to store shoes in a box under the bed but are worried about damage, drawstring shoe storage bags are a great shoe storage idea. Their fabric finish means that little space is lost, while shoes remain clean and protected. Consider adding a tag describing the pair inside the bag so that they're easy to find in a rush.
Find this Dalmatian Spot Shoe Bag at The Contemporary Home.
29. Squeeze shoe storage onto the back of a door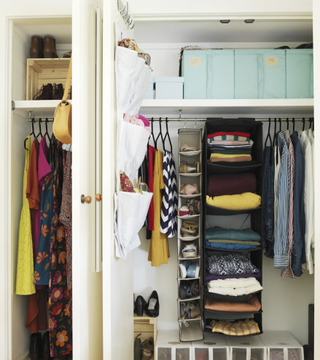 Think you have no more room to fit in some extra shoe storage? Think again and put the back of your door to use! The STUK hanging shoe organiser from Ikea is just a fiver and can fit in sixteen pairs of slip on shoes or eight pairs of bulkier shoes. Plus it actually looks pretty cute as far as shoe organisers go.
30. Choose open shelving for a minimalist feel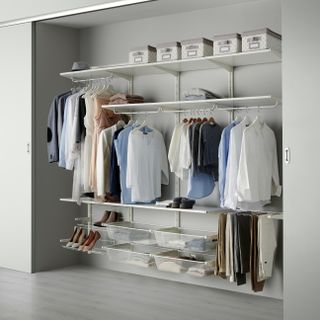 If you like being able to see your entire wardrobe at once (and trust yourself to keep it tidy) a customisable open-style storage unit could be for you. Build a unit that meets your needs, with space for storing heeled shoes, storage draws for everyday flats and boxes to stow away footwear that's out of season.
We love the adaptability of the Algot Shoe Storage Unit from Ikea.
What is the best way to store a lot of shoes?
Before you start tidying away your shoes, have a clear out . Yes, we know that's an effort, but we promise it will be worth it! Similar to how you go through clothes – make two piles, one for those you wear often and one for those you haven't worn for over a year. Ditch the latter and pop them in a bag for the charity shop.
Then you can concentrate on storing the rest. Keep the those you wear the most near the front of your storage unit, for pairs that are for special occasions it can be worth investing in some shoe bags to keep them clean and dust-free.