Small hallway ideas can still pack a punch in design interest. So if your space is on the tiny side, there's nothing to worry about. Consider the art of making your hallway feel bigger and brighter, an exciting decor challenge.
From mirrors that give the illusion of a larger entrance, to slimline furniture that soars to the ceiling, there are plenty of workarounds which won't make you feel like you're compensating on style or, good use of the space. It's all about being clever with the latest hallway ideas and designs to make the results stand out.
Stylish but small hallway ideas for your home
1. A small but seamless work space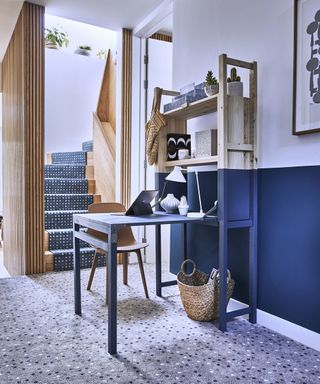 If you've no space for a dedicated home office idea and a small hallway then one way to still make use of the space you do have is to install a flip-down fixture where you can hot desk when you need, and pack it away when you're done.
Make it a seamless addition by partially painting it the same color as your walls. This half and half, blue and white paint job means the wooden fixture is barely there and it adds a little design interest too.
2. Use chalk paint to upcycle tables and accessories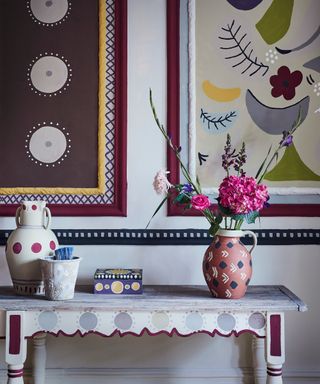 If you want to zhuzh up your entrance, but don't have money to completely remodel the space, it's time to get out the chalk paint and get upcycling.
From console tables to vases, you can apply this paint treatment to almost everything. As you can see here, you don't just need to apply a lick of paint in a single color. Be brave and experiment with different patterns or motifs or go wild with abstract paint strokes which are en vogue.
Get your hands on a pot of Annie Sloan or Frenchic furniture paint and unleash your creative side.
3. Invest in a tall storage idea to hang coats and shoes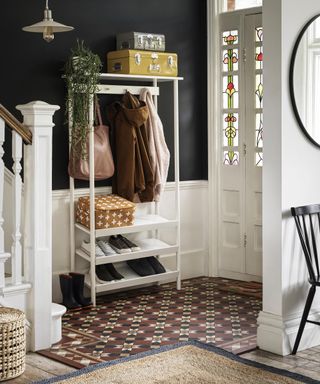 Want to get your kids ready to make a quick dash out of the door? Or better still, put their coats and shoes somewhere other than the floor?
If you don't have the luxury of under stairs storage, you may want to consider slimline shelving ideas to stash your footwear and outerwear. Enter the white tallboy design by Habitat.
With three shelves for trainers and lots of hooks for jackets and bags, its versatile design means it's suited to most small hallway designs.
The grey and mustard trunks with handles overhead are also lovely retro ideas that can cram in extra storage above the main furniture fixture.
4. Create a small reading area by the front door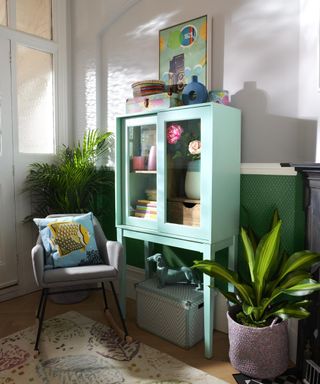 There are no rules to reading nook ideas. Just as you can sit and cozy up to a good book on the floor or on the bed, why can't you immerse yourself in the hallway too?
As well as adding a flavor of who you are in your foyer, it's a great place to supervise children who like playing in this narrow space. So get comfy with an occasional chair, cushions and delve into a cupboard cum home library, full of books.
If you've not got children, it's also the perfect spot for waiting on an important parcel delivery... Or takeout.
5. Add a runner to brighten up a narrow apartment hall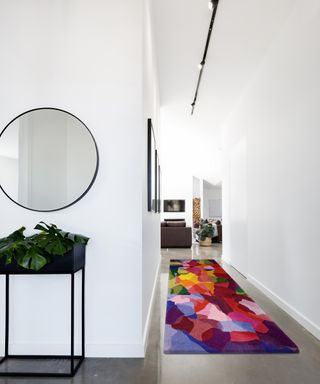 We get it. Minimalist black and white decor is all the rage in small apartment decorating ideas. But if your entry is craving a bit of color, runners make great small hallway ideas to inject personality and pizzazz into your interior design.
Starting from an abstract paper collage of overlapping organic shapes and colors, Sonya (of Sonya Winner Rug Studios) and daughter Rosie worked together to re-imagine this handmade artwork as a creative and original rug design.
6. Use narrow, made-for-purpose storage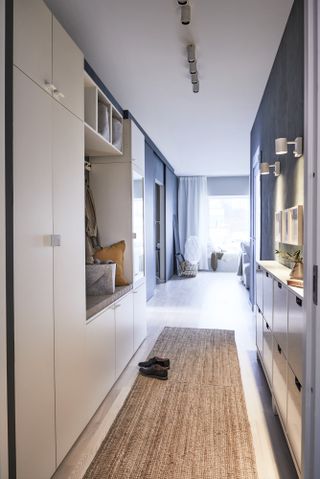 Narrow shoe storage ideas with hinged drawers that tip out, are great ideas for narrow hallways, and the surface gives you somewhere to pop keys or post when you come through the front door. Two have been placed side-by-side for optimum storage opportunities.
7. Create a broken-plan space in a small hallway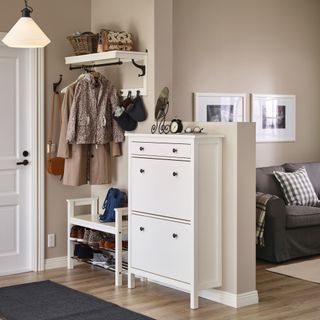 We love this small hallway idea of partially removing the wall between the hallway and lounge, creating an open-plan feel, while still having wall space for coat and shoe storage.
Want to give this whole open plan living thing a go? Find out everything you need to know about creating an open-plan layout in your home.
8. Multi-purpose function and form in small hallway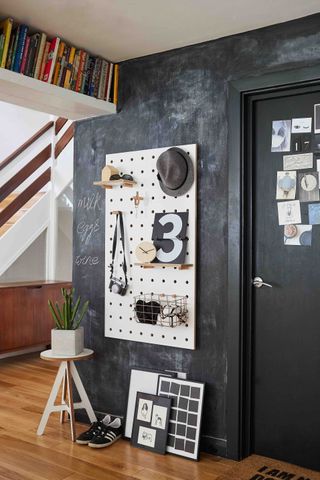 Just because you have a small hallway, doesn't mean it has to lack character. Paint a wall with blackboard paint to give you somewhere to write messages and reminders, use the space above doors to hang shelves for books, and hang a pegboard with a mixture of hooks and shelves, to provide a range of small storage options.
If you want to try out this look, it's actually a really easy DIY jobbie. Just check out our guide to how to create a chalkboard wall, (spoiler: with chalk paint).
9. Easy small hallway idea? Choose a bench with storage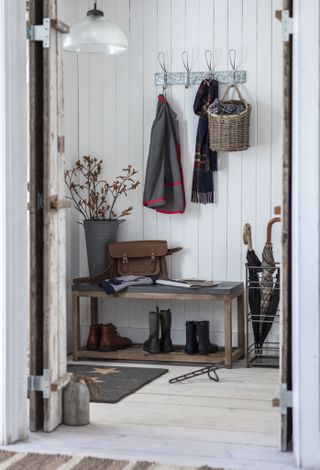 Look for small hallway ideas to keep your space clutter free and organized: a selection of hooks, shelves and an umbrella stand positioned by the door will do. And, if space permits, a small bench is also one of many hallway storage ideas that will giving you somewhere to perch when pulling on your shoes.
10. Hang sliding or pocket doors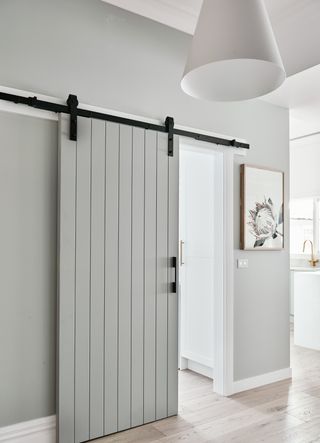 Unlike a standard hinged door that requires floor space to swing open, a sliding barn door takes up little more space than the thickness of the door. These sliding doors feature a very simple mechanism, which, if you're a competent DIYer, are easy to install.
Just be aware, because barn doors slide and hang to the side of the door, you will need to make sure you have wall space to slide the door across.
11. Pick storage that fits your space (and needs)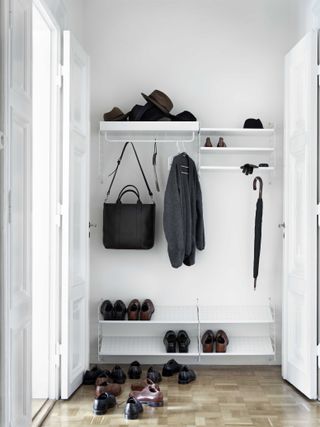 Transform your hall into a welcoming entrance with multi-functional modular furniture, which can be customized to work for your space.
The system can accommodate a variety of different storage solutions, including hooks for coats, shoe racks, and a bowl shelf for your keys, which is made from felt to minimize noise.
12. Create a feeling of space with huge mirrors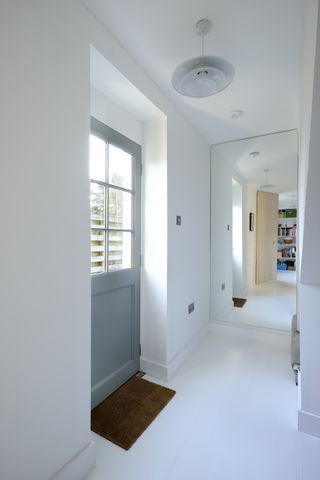 Hallway mirrors in narrow rooms are particularly effective, making the space feel almost twice its size. Have one made to measure so that it covers the whole wall (this will help the visual effect of lengthening and widening the space), and, where possible, place near a window to reflect light from outside.
13. Use under stairs space for storage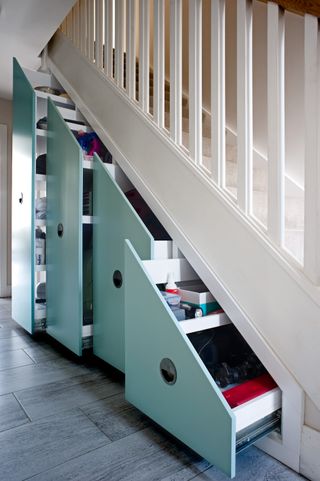 Utilize under stairs storage space with built in storage cupboards. Pull-out storage drawers like these are a brilliant way of introducing lots of storage in your hallway and can be used to stash anything from cleaning equipment to coats, to children's bikes and toys.
14. Decorate for character (and to stretch space)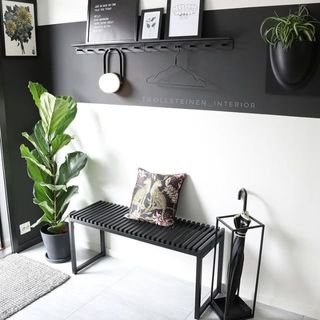 Just because it's small doesn't mean it can't be striking. Check out @trollsteinen_interior's hallway: with bold stripes, painted in wide bands of black and white, which she's teamed with a neat black bench and peg rail, and some lush green foliage, it's packed with character. Plus, the horizontal stripes make the room exaggerate the walls' proportions.
15. Don't forget good lighting for small hallways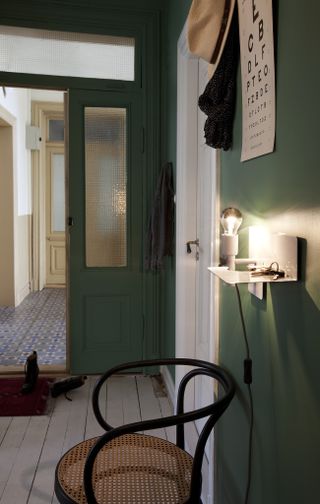 Small hallways need to include good hallway lighting ideas: after all, you're going to spend a lot of time coming through that front door on dark evenings, and good lighting can help your space look its best. Ideally, choose a combination of lighting types: bright overhead downlights to create a feeling of daylight in otherwise dark hallways; characterful table lights for atmosphere only; and lights in skirting boards to light stair risers (and exaggerate the stairs' width).
16. Use lightening tricks to make your hallway brighter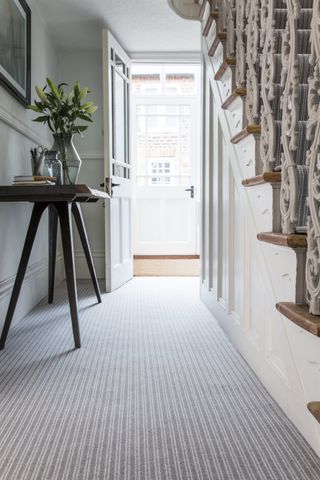 Small hallway ideas should include brightening tricks — since hallways tend to be light-starved spaces. If yours lacks the natural light you need to make it feel as big and bright as possible, use all the tricks up your sleeve to lighten it — from hanging mirrors (tick) to choosing pale hallway paint ideas paint color schemes (tick) to picking pale flooring (tick) to shopping for slimline furniture that won't block light (tick).
17. Use wallpaper to create visual tricks
Choosing hallway wallpaper ideas with a subtle stripe will exaggerate a smaller space's proportions. A horizontal stripe will make it feel longer or wider; and a vertical stripe will make the hallway seem taller. The Emilia from Sandberg takes its cue from Breton stripes and will complement a contemporary home with nautical accents.
18. Add character with a gallery wall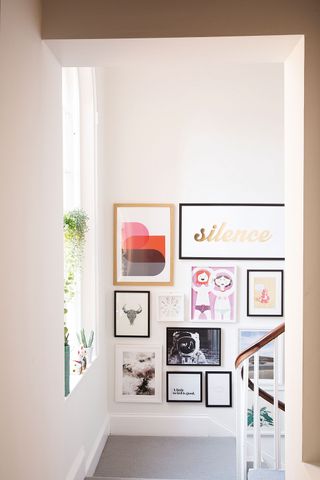 We know we bang on about gallery wall ideas, but what's not to like: they're easy to create, add bags of character and take up no space. Plus, if you choose light-colored frames and prints, your hallway's proportions will be flattered.
19. Replace heavy curtains with window film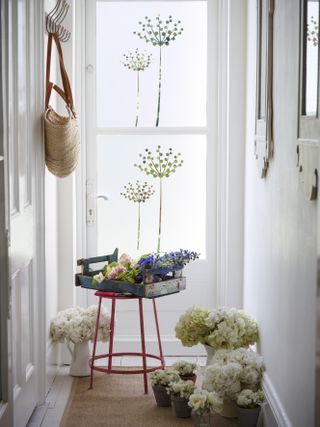 Saving space and letting in light are the two must-dos when designing a small hallway. Window film is a super-affordable way to create instant privacy, but interest, too, without having to invest in high-ticket window treatment ideas.
20. Add in some sneaky book storage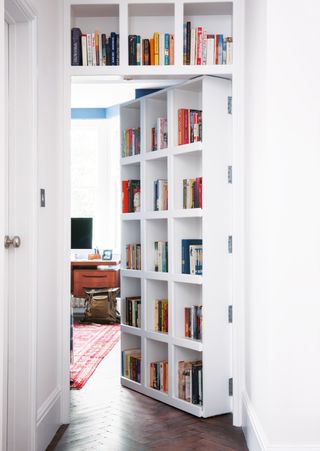 Didn't think you had room for any book storage in, say, a narrow hallway? Think again. This book shelf has been built into a door so it doesn't take up any extra space and makes a great home library idea.
We are sure you could DIY this kind of thing but if you aren't up for the challenge, a carpenter or joiner would be your best bet.
21. Small hallway ideas can be dark-toned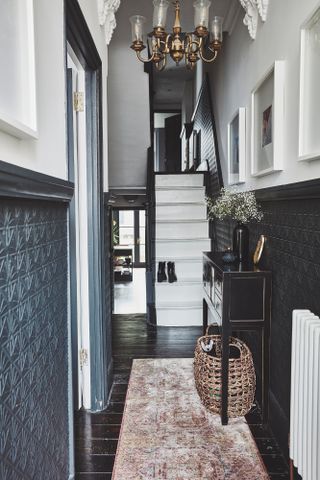 We know that we have probably said many a time that light, bright colors make a small space feel bigger, and, yes, while this might be true that doesn't mean you should shy away from darker hues. In fact, using a darker color scheme can, in fact, disguise the limited dimensions of a room, making it appear larger.
If that sounds like too much of a bold step for you, why not copy this small hallway idea? Use dark paint below the dado rail and a brighter white on top. It will make the ceiling feel higher and the darker color is practical for hiding scuff marks, too. Choosing dark flooring will further blur those dimensions.
22. Reuse a chest of drawers under the stairs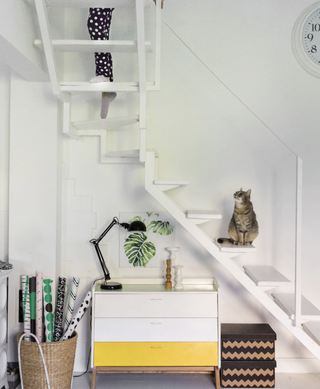 If your small hallway is literally just a space under the stairs, then make the most of that area by adding a small chest of drawers. They look cute plus have plenty of storage, you could even put shoes in them. Add in some baskets and boxes for any extra clutter too and you could hang prints on the wall too to make it more of a feature.
How do you make a small hallway look good?
'Your hallway is the first point of entry. It should shout out to you that 'I am home' every time you step through the front door, that you are in your favorite and most comfortable place in the world,' says David Harris, Design Director at the global design brand Andrew Martin.
'It should also give your guests an insight into who you are, and what your house and interior says about you. Choose colors that show off your favorite piece of art, textiles, photographs or whatever you wish to adorn your walls with. Color blocks are great and very popular and add real interest to a space. Choose a finish that is tough, but easy to wipe clean and touch up.'
'Hallways are the busiest thoroughfare of your house with people passing past each other at the busiest time of day. It needs to be practical and stand the test of time.'
'Dark colors under the dado rail with fresh white woodwork and light colors above, work really well to hide any scuffs and marks. It adds lots of light this way, to what can be narrow spaces.'
'Painted paneling and built-in cupboards to store away unwanted bags and coats are a great addition, and when painted in a durable satin finish, add a really smart edge to the space. Hallways project the first impression of your interior, so give it some love and show it off.'