On the hunt for grey hallway ideas? A popular option for modern and historic homes, in part due to its versatility, practicality and shifting mood as the daylight changes, a grey scheme is worth considering if you're planning a hallway transformation.
Whether your want a hallway that's pared-back, modest and minimal, contemporary and industrial-inspired, on-trend with touches of Scandi-chic, or truly traditional, you're sure to find inspiration with the latest grey hallway ideas – whether you choose charcoal, mink or greige...
Gorgeously grey hallway ideas
1. Warm up your space with a punchy pop of orange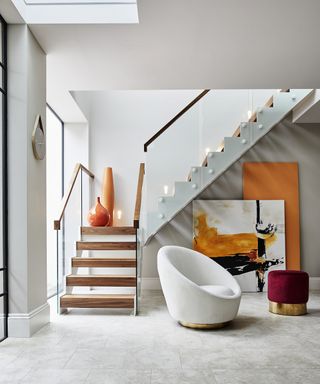 Like yellow, orange is a color that is full of warmth and optimism. So whether you want to give your guests a warm welcome or just feel like spicing up a cool grey hallway idea – this bold and bright color can add instant heat to your home.
There are so many ways to incorporate this hue into your hallway. We like these glazed ceramic vases and abstract canvases. The wooden staircases also complement this color perfectly.
2. Soften a cool grey scheme with notes of pastel purple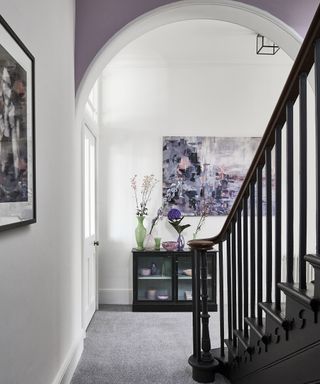 Purple probably isn't the first color that comes to mind when choosing which hue to decorate your hallway with. But, when used in a grey hallway idea, it adds a rich opulence to the near-silver scheme.
It doesn't take a lot to make a bland grey scheme go from blah to hurrah. In this scheme, a lick of lilac has been added to the arch of this entrance, an abstract wall art idea adds edginess, and delicate flowers and vases bring a sense of femininity to this space.
3. Add a grey frame to a large hallway mirror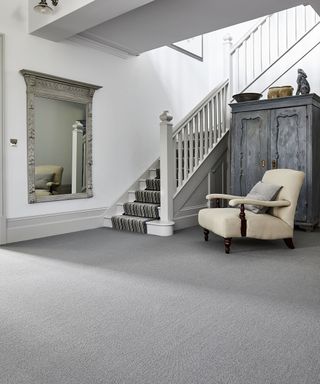 When looking to make a grey hallway look larger than life, hallway mirror ideas are an essential item on the interior shopping list. But rather than affixing it to the wall in its 'naked' state, why not search for a fancy frame to make this reflective pane look more expensive?
Combined with a cozy armchair and upcycled wardrobe, this space is somewhere we'd want to loiter in for much longer than just putting our coat and shoes on.
4. Bold carpet patterns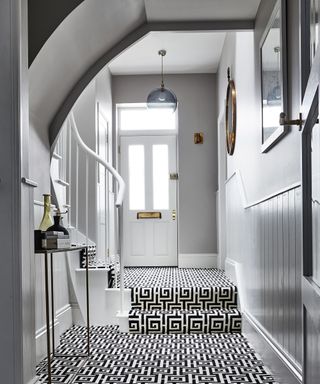 Adding a bold carpet to a grey hallway can adds oomph to your entry and this Grecian motif is definitely a champion design.
So if you're the god or goddess in your home, take charge with a busy hallway flooring idea and let boring schemes become a myth.
5. Create a dramatic, dark scheme with navy and grey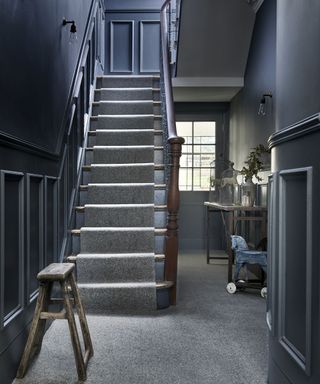 While white and grey and hallway ideas are embraced in Scandi design, there's nothing more sultry than a dark and dramatic scheme.
In this idea, smart suit-blue navy wall paneling design complements grey carpet decor. Weathered grey wood furniture and a rocking horse adds an element of authenticity and a lived in feel to this space.
6. Fake the look of stone with polished porcelain tiles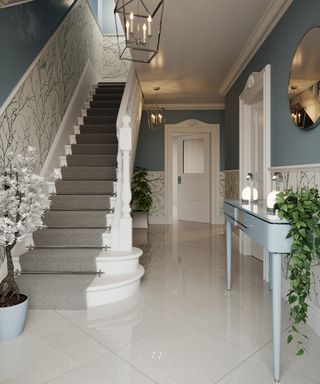 For many of us, retrofitting a stone or marble floor is out of our budget. But if you really want to add a luxurious material to your grey hallway, fake it until you make it.
This sleek porcelain tiling idea by Walls and Floors is a more affordable and durable way to incorporate this style into your home. With its seamless appearance and light-reflective qualities, it'll open up you hallway space and create a glistening gloss finish.
7. Add a sliding door to zone the room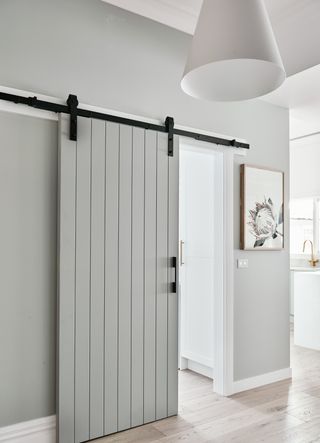 Want to zone your grey hallway to give it its own identity? Or perhaps you'd like hide away a second lounge or formal dining area?
In this design by Norsu Interiors, a sliding door track mechanism has been introduced to give this grey wooden door left-to-right functionality. Paint your walls the same shade to create a coordinated scheme.
Find that it feels too same-same? Go against the grain and don these surfaces with a contrasting color instead.
8. Pick your shade of grey carefully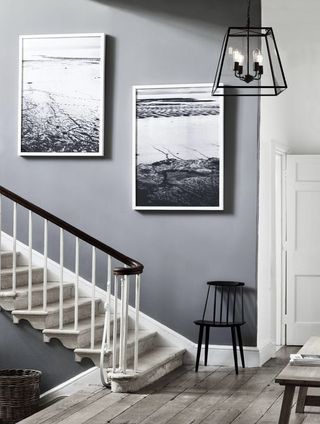 Grey is a tricky color to get just right: some greys have lilac tinges; some have yellowish tones; others are bluer. Which to choose for your hallway? The answer, to a large degree, is down to how much natural light you get in the hallway, and its quality. If yours is a north-facing hallway with little natural daylight, the lightest of shades tinged with a hint of yellow will make it feel warm; light-flooded south-facing ones will look bright even with a cooler grey.
Don't forget, too, that it might be worth using different tones of the same grey on different walls within your hallway. The key to success? Experiment with tester pots first.
9. Don't pick your grey in isolation: think flooring, too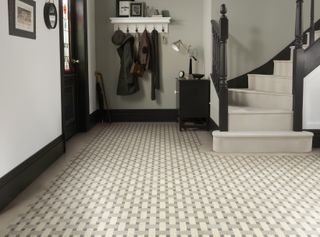 Your might think you've found the perfect shade of grey for your hallway, but don't forget to check how it looks with your existing (or soon to be chosen) hallway flooring. So, referring you back to the advice just above, if your hallway flooring has a neutral, natural tone, like this, you should look for a grey with a hint of yellow in it. That way you'll avoid a tonal clash.
10. Create interest with different grey tones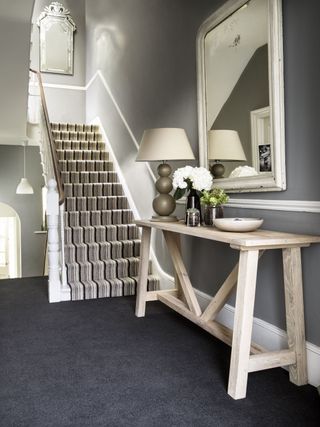 This is a grey hallway idea you can achieve easily by adding carpet to the mix in your grey hallway design. But what to put where? It's down to taste, without doubt, but bear these style tips in mind: darker colors on the upper parts of a wall (ie, above dado rails) is better suited to a hallway with tall ceilings rather than lower ones; striped runners create the visual trick of making your hallway look longer; the darkest of shades, such as the dark grey carpet on the landing below, are best suited to the lowest part of the hallway, whether below dado level or on the floor.
11. Industrial poured floors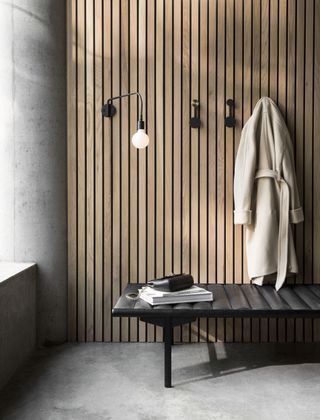 For an alternative take on traditional grey hallway ideas and to create a striking industrial feel, consider opting for a statement poured concrete floors and walls with an on-trend micro-concrete finish. Breaking up your use of concrete with wood paneling is an easy way to add warmth and interest to a space.
12. Concrete effect wallpaper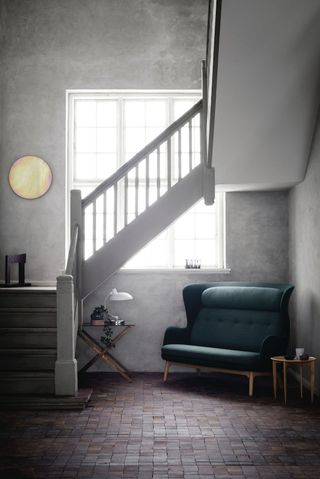 If you like the idea of industrial style interiors but don't want to commit to micro-concreting or need to cover a larger surface area, consider opting for a concrete effect wallpaper instead. See more grey wallpaper ideas in our design gallery.
13. Paint internal doors for a more cohesive finish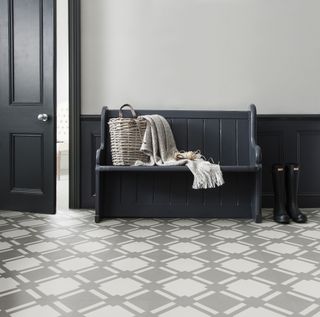 Consider matching the color of your internal doors with that of your walls for a smart and cohesive finish. This works most successfully in a space that's naturally light and bright, particularly if you're working with a darker shade of grey.
14. Combine light greys with whites for a timeless look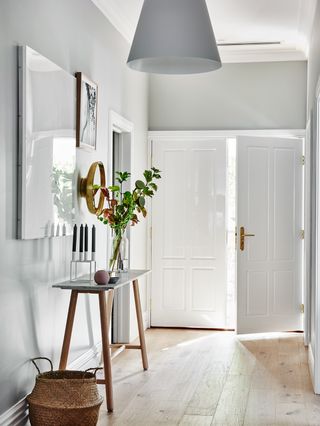 Pairing light shades of grey with bright whites is the easiest way to create a timeless and sophisticated scheme in your hallway. This can be achieved by opting for white woodwork, furniture or artwork that will open up the space.
This color scheme is particularly effective if you're working with a small hallway idea, as light shades will make a small space feel instantly larger and lighter.
15. Warm up a grey scheme with accessories in wood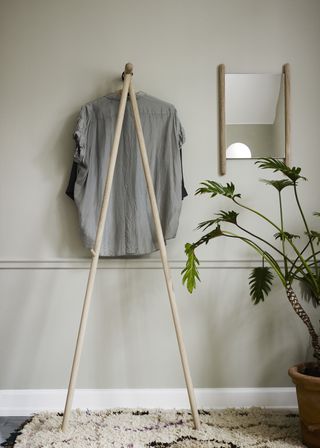 While, for good reason, grey hallway ideas tend to be the go to, this popular shade does have the potential to be a little lifeless if left un-styled.
Opting for a statement coat stand, console table or even mirror frame in a wooden finish is an easy way to add warmth and break up an otherwise all-grey scheme. If yours is a light-starved hallway, it's definitely worth opting for a creamy grey like this one – it bounces tons of light around and is softer on the eye than steelier tones.
16. Reflect light with furnishings in a grey hallway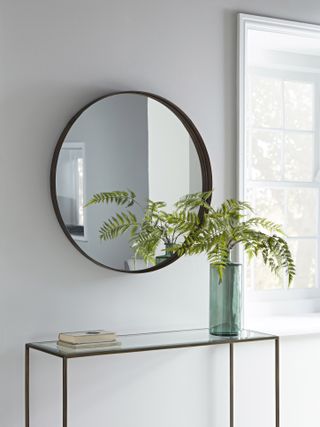 Console tables in glass, a large mirror, glass chandeliers... All make for light-reflecting and stylish (plus practical) addition to a grey hallway design, breaking up the monotony of the scheme.
17. Inject life (literally) into a dark grey scheme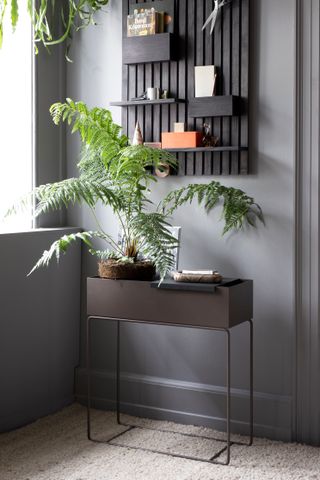 Not only does the addition of house plants to a hallway make the space feel more welcoming, it's also an effective way to add texture and interest to a scheme – especially if you've opted for an inkier shade of grey.
We love the use of this Ferm Living Plant Box Stand from Hurn & Hurn to inject life and colour into a hallway with a moody grey scheme. Discover some great indoor gardening ideas to style your hallway to Insta-standards.
18. Blend away storage solutions with clever color use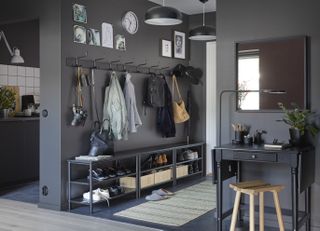 While designing a grey hallway that's purely aesthetic is a dream for many, it's often not the reality. Hallways, particularly those in family homes, need to be functional too, with plenty of space for storing coats, bags and shoes.
Opting for unfitted coat hooks and shoe hallway storage ideas in the same (or similar) shades to the rest of your scheme is the easiest way to design a grey hallway that is both practical and smart.
19. Create the illusion of a larger and lighter space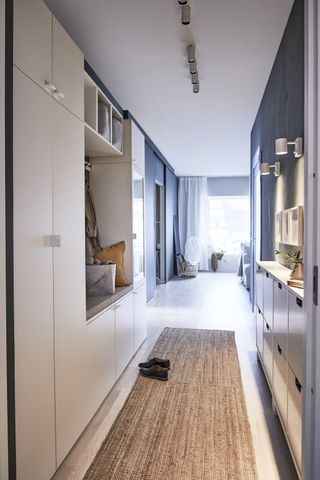 If you're working with a narrow space (as is characteristic of many hallways) it's possible to style it in such a way that it appears larger than it really is.
Work long, natural rugs which extend away from the entry point into the hallway to give the appearance of a longer space. This is even more effective if you benefit from a window projecting light throughout the space. If you don't, consider positioning a mirror at the end of your hallway to make it seem more spacious.
Opting for built-in, floor-to-ceiling units is an easy way to maximise storage potential without making a space feel small and overcrowded.
20. Design a space with a pared back, unfitted feel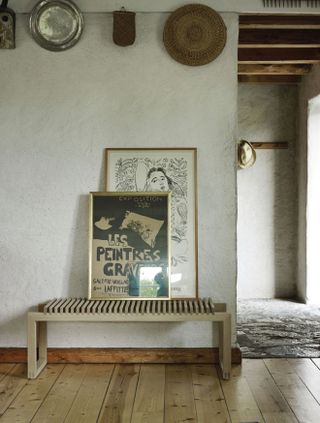 If your style is more boho, consider grey hallway ideas with a more pared back, unfitted feel. This means opting for furniture and decorations with simple silhouettes and made from natural materials. In terms of wallpaper, consider opting for something that adds understated texture to the hallway.
21. Combine grey with bright colors and bold pattern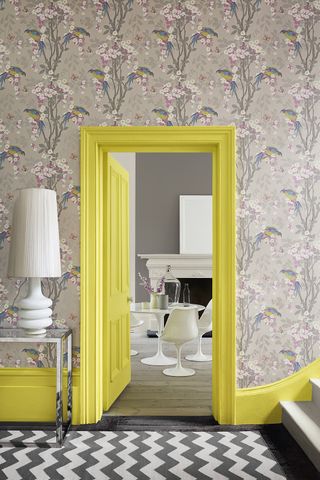 If your taste is a little more quirky or you're looking for a (slightly) pared-back take on the maximalist trend, consider pairing a grey patterned wallpaper with bright and bold paintwork for a standout result.
The zig-zag runner rug adds a stylish, swinging sixties vibe too.
22. Use wood to soften a rough luxe finish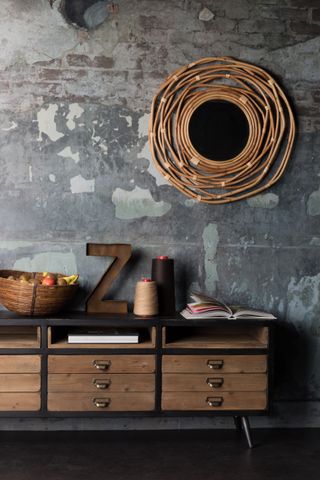 If you're really into the industrial look, consider going all out with an exposed concrete wallpaper. Pair with woods and other natural materials to offset the harshness of a dark grey, soft brutalist scheme.
23. Opt for complementary shades of the same color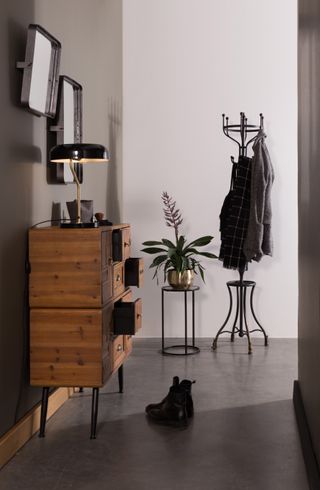 Using various, complementary shades of the same color is an easy way to add interest to a space without overdoing it and, in turn, detracting from the simplicity of your desired scheme.
The key to achieving this look effectively is opting for shades of the same hue and pairing with simple furniture if you're determined to have a delicate scheme.
24. Inject color into a simple grey scheme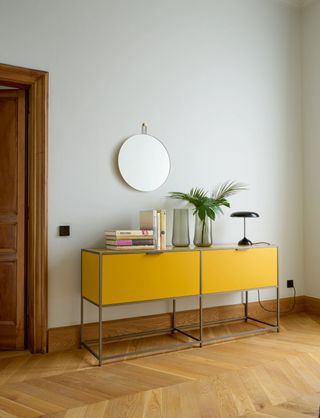 If you like the chic simplicity of grey hallway ideas, but also the idea of a bit more color, opting for furniture in a brighter shade is an easy compromise. After all, furniture can be replaced more easily if you get tired of your use of a brighter shade.
If you've already got suitable hallway furniture, ask yourself whether a coat of paint could be all you need to brighten up a grey scheme. Our guide to how to paint furniture will talk you through, step-by-step.
25. Opt to paint paneling in a grey tone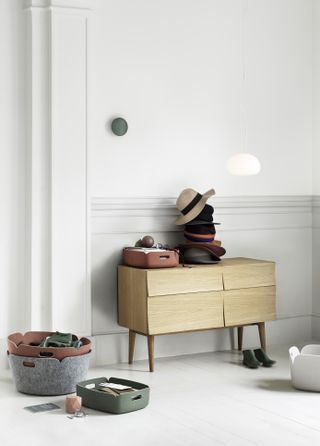 If you can't quite bring yourself to move away from an ultra minimalist, all-white scheme, meet somewhere in the middle (pardon the pun) by just painting up to the dado rail. This will effectively add interest to a space without detracting from the simplicity that white offers – opt for a light shade of grey and you'll barely notice the difference, anyway (we promise).
26. Add a gallery wall to a grey hallway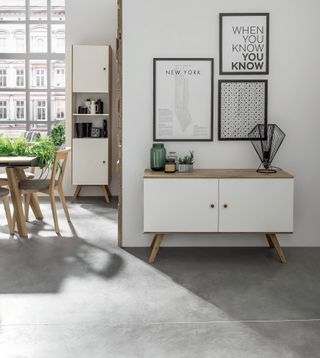 Create a focal point in your grey hallway with the addition of a stylish gallery wall. Keep things simple with minimalist prints and black picture frames or go all-out with bold prints and equally bright fittings, the choice is yours.
27. Choose nearly-black for a dramatic entrance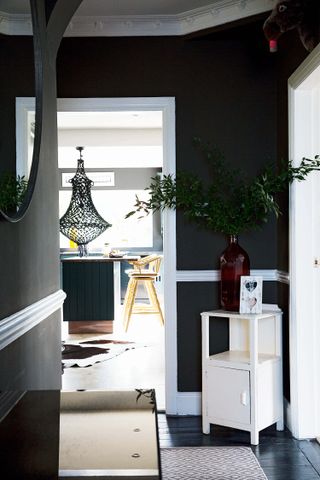 Using grey at the darkest end of the color spectrum will give you a contemporary style hallway that suits both period and modern homes. How to get dark and dramatic rooms right? Avoid a formal look (fitted carpets, gilt mirror frames, smart furniture) and instead embrace upcycled furniture, boho-style rugs and wall-hangings.
28. Patterned flooring
As there is usually not much going on in a hallway in terms of furniture or accessories, you can afford to be really brave when it comes to flooring. Choose a bold, busy patterned floor tile (or vinyl flooring if you are on a budget) to give a simple, grey hallway a beautiful design boost.
Is grey going out of style?
Marianne Shillingford, creative director for Dulux comments: 'Recent years have seen millions of us turn to crisp greys and whites to decorate our homes.But, as our research reveals, many of us now are looking to be bolder with our color choices.
'The shift comes as many of us have spent far greater amounts of time at home than we have ever done before over the past year. This has allowed us to reflect and reconsider how we want our interiors to look and feel.'
'Adding color is a fail safe way to raise spirits and bring joy after the difficulties we have all faced recently.'