Looking for the best living room layout ideas to make the most of your new living room? Or perhaps just trying to make your current space look bigger? Whatever your motive for tackling your living room layout, it's the room you probably spend the most time in, so getting it right is vital.
The perfect living room layout is one that suits the way that you live, whether you want an area for entertaining, a quiet and isolated room to withdraw to, or a multi-functional space that can be adapted to whatever the situation needs. You'd be surprised how many different ways you can set up your living room too, There's much more beyond pushing all your furniture up against walls and angling them towards sofas, and these spaces prove it. Go on be a bit bolder in your living room configuration...
1. Choose between open-plan, broken-plan or living room only
If you're considering extending a house or knocking down walls, it might be that your living room will be at least partly open to other rooms. This requires a certain amount of self-analysis, so think about how you are going to live in the room, and to what extent you want a separate sanctuary to escape from household life. You may wish to isolate the room for other people. For example, the separate room may be a space where teenagers can watch TV and play computer games with their friends while the adults remain reasonably undisturbed in the kitchen or dining room.
On the other hand, you may want to create a more open-plan space where the kitchen, dining and living areas overlap. This layout often allows for more family interaction and can have the benefit of making the entire space seem larger. Learn more about creating an open-plan kitchen in our guide.
Often, the solution is a combination of both, where rooms have been linked by knocking them through, but still have a defined living space. Double doors, folding doors or even large sliding doors can provide the option to link or close off areas. Have a look at our bi-folding and sliding door ideas for more inspiration. Find out more about creating an open plan room in our guides:
2. Find your living room's focal point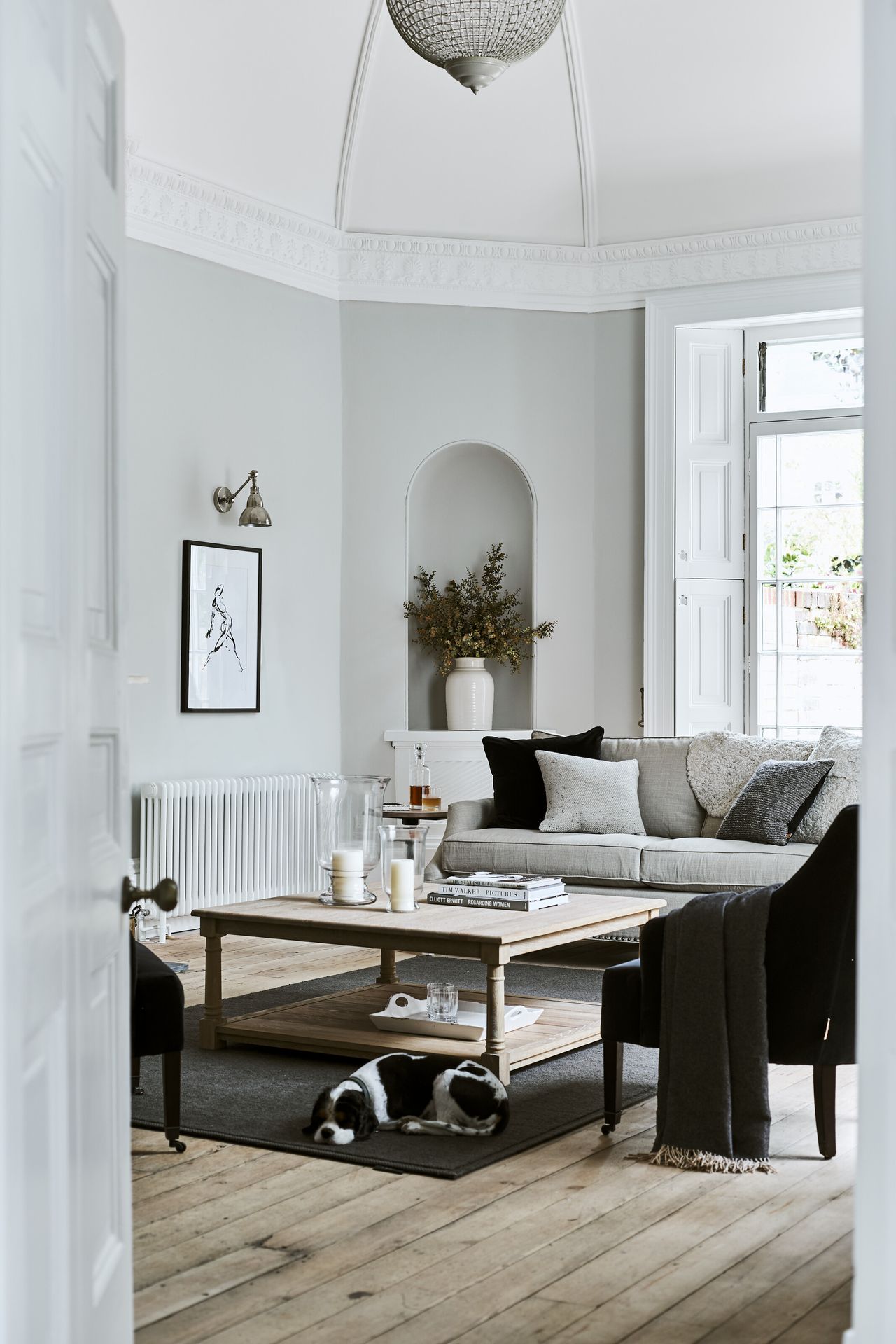 How you want to use the room will dictate what its focal point will be. The living room layout is usually dictated by where the TV is placed, but often you don't want it to be the central focus, unless that is what the room is primarily for. Quite often, living rooms double as a home cinema space, so if that's what you're looking for, make a feature of the TV.
Alternatively, you could make the fireplace a focal point in your living room layout with a mirror or artwork over the mantelpiece. This is especially effective in a room where you don't really have any technology. If your living room is for relaxing and reading, or listening to music, then having a focal point like a fireplace will add to the calming feel.
3. Go for a balanced lay out
If you are after a more formal living room layout, symmetry is the way to go. It's very visually satisfying and does work particularly well in smaller spaces where it's important to give your furniture room to breath to avoid a cluttered feeling
You can create this look either with two sofas and a coffee table inbetween or slighly off balanced it with a sofa facing two armchairs. You are best then mounting a TV so it can be seen from both sides of the room, but do bare in mind you'll have to turn to watch, so this layout might be suited best to a room where the TV doesn't have the be the focus.
4. Or go for something more flexible
You can create a more relaxed, laid back living room by avoiding that symmetrical look and dotting your furniture slightly more randomly around the space. Have your sofa lengthways with the coffee table in front, because that just makes sense, but then dot mismatching chairs, stool and even small tables in the space opposite.
5. Look at the natural light when picking a living room layout
If you have great views from the windows in your living room, then turning these into the focus of the room is a brilliant living room layout solution. Again, this is a great idea for rooms specified for relaxing, and not sitting in front of a TV. This is a good option if your living room is in an open plan extension, and you have built vast windows to flood the space with light.
Where you position furniture will also depend on your choice of focal point. If a large window looking out onto the garden is the main focal point, the seating should be placed to take in the view, thus creating a comfortable space to relax in.
6. Let your furniture be the focus
Finally, if you are going to invest in beautiful furniture in your new living room design, there is no reason that this can't become the focus of the room. Lay the furniture out in a way that promotes interaction between family members. Designate a well lit corner for your perfect armchair, then when people enter the room, they will notice the furniture over anything else.
7. Don't just push everything against walls
There is a common tendency, when designing a living room layout, to shove all your furnishings up against walls. But this attempt to claim back those precious few inches can often have an adverse effect. Instead, copy this living room layout idea and pull your furniture away from the wall a tad, creating space around the outside of the room, and group them around a central coffee table.
8. Think about how will you move about the space
Once you have identified the functional needs and focus of the room, you can think about your living room layout's functionality. How will people move in, out and within the space? This will help you decide where it's best to place the furniture.
If the room doubles up as the main route through to the garden or is a space in which people will travel between the kitchen and dining room, you can use open shelving or storage units as screens to provide partial separation.
Or, why not consider zoning the room (using the position of the furniture) to define a circulation route that does not run through the seating or TV area? For example, in an open-plan living room, you may choose to use furniture to delineate the living room area. Sofas, especially if they are L-shaped, can be used effectively to mark out the boundaries of a living room.
9. Plan storage into your layout
Remember to consider living room storage solutions in your design. Bench or banquette seating along one wall of your living room can incorporate storage for DVDs and home entertainment gadgets, while providing additional seating.
If you are going for a contemporary design in a Victorian or Edwardian house, a stone-topped plinth about 45cm above the floor level across the whole of the fireplace wall, with storage beneath for logs and kindling, can act as the hearth for a contemporary recessed fireplace.
10. Consider the lighting too
A living room can have many different functions, so the key to good living room lighting is variety and variability. With artificial lighting, for example, it is often useful to have several different sources of light. Controlling many of these on a dimmer switch or lighting system will enable you to set the appropriate task or mood lighting in the different zones.
Using a 5A ring circuit (which will require 5A pin sockets, designed for small round pins) can allow you to operate several table lamps and floor standing lamps around the room from the light switch or dimmer, which can be effective and efficient.
Lights can be very stylish design features. A pendant light can look striking in a traditionally symmetrical room with a chimney breast, while a long-stemmed arching floor standing lamp can be a visual feature and have flexibility of position. For more tips of living room lighting have a read through our guide.
11. Small living room? Factor mirrors into your layout
Surprise, surprise, mirrors make small spaces feel bigger, so when designing the layout of a small living room make sure you factor them in. In fact, make mirrors a key focus of your plans. We recommending starting with a large mirror on the wall that is opposite the windows as this will bounce more light around and create the illusion that the room is bigger.
If your windows are on the smaller side or you don't want to rely on natural light, try placing a tall mirror behind furniture or lighting instead to create the visual trick of another room opening up beyond.
For more tips on how to make small rooms feel bigger head over to our dedicated feature.