We ask a lot of our living rooms. They are places we spend so much time and they wear a lot of hats, they have to be ready for movie marathons, family and friends games nights, potentially being turned into a second bedroom, and more recently, a place to work too. So there's a fair bit of pressure and planning needed to get this room spot on.
Now, if you are a frequent reader, you will know how much we love a bargain, love saving money and being able to say things like 'Nooo it's not *insert expensive brand here* we picked it up at Target'. But when it comes to hard-used rooms like the living room, there are certain items that it's worth parting with more money for. And of course, there are pieces you can save on in your living room too, don't worry, we will cover those too.
So we asked some of our favorite designers (and drew on our own experiences of decorating living rooms on a budget) to help you decide on what to spend on and what to save on in your living room.
1. Spend on a sofa
It's the most used piece of furniture in your living room, perhaps in your entire house! So investing in the best sofa is a must.
'A sofa is a key furniture piece for the living room. Whether an all-day Netflix spree or a cozy evening film, it's where you'll spend the most time, so it's important to invest money in a well-made sofa that provides maximum comfort while suiting your style. Stick with a neutral or dark fabric for a style that provides longevity and will fit your scheme if you decide to redecorate or move into a new property. By opting for a neutral base, you'll be able to add your own personal touches through cushions or throws in an accent color.' says Jen and Marr, Founders of Interior Fox.
2. Spend on the key pieces of furniture
'Investing in one or two timeless pieces that will ground a room is a must!' says designer, Kathy Kuo. 'Staple items like a sofa, area rug, accent chairs or media cabinet will likely be with you for a long time, so it is important they are durable and something you love. Even if it is a splurge – you will thank yourself in the long run if you budget for them upfront.'
3. Spend on artwork and vintage decor
If you want to bring instant personality into your living room, vintage furniture is a sure-fire way to do so. Now unless you are an eBay sales snake or know of the best yard sales to go to every weekend, often buying antiques doesn't come cheap. But they stand the test of time and will be pieces you'll keep for potentially the rest of your life, so if you have fallen for an antique, do your research and ensure you are getting a fair price for it, and then invest!
'Look, you definitely want to make sure your sofa is comfortable but there are so many great (and reasonably) priced options on the market right now. So I always say to splurge on either art or good vintage decor. Those are the pieces that are going to really make your living room sing and unique to you. Plus if/when you move there are much easier and cheaper to transport.' says designer Emily Henderson.
4. Spend on items that don't see heavy use
Because you don't want to go spending your entire budget on a coffee table that's going to get drinks spilled on it and feet perched on it. 'You spend on pieces you absolutely love, that won't get ruined by pets or children and that have a level of flexibility (perhaps you know you will only be there for 5 years). Spend on the artwork, spend on side tables and lamps and antiques.' says Tali Roth.
5. Spend on statement textural pieces
Whether it's a gorgoeus oversized stone vase or a sculptural wooden coffee table, if it's going to be that one piece that everyone turns to in your living room, then it's worth the investment.
'Everything we buy for our homes will be with us for many years, so I'm a great believer in buying well. Investing in good quality and carefully chosen pieces that we really love pays off in the long term. They will last for longer and bring real pleasure every time they are used.' Chrissie Rucker, founder of The White Company.
'It's good to choose pieces that will add character and gentle texture. I love a combination of natural materials and finishes. From timber, stone, sisal floors or rugs to touches of greenery that bring hints of the outside world in.' Chrissie Rucker.
If you love this living room, be sure to check out all our rustic living room ideas for more inspiration.
6. Save on shelving
Now moving on to what you can save on in your living room. What pieces aren't going to break the bank but are still going to bring style or practicality into your living room?
Living room storage. Definitely, something to save on, it's usually purely practical and sees a lot of wear and tear too, so it seems pointless investing in something really pricey. 'If you're considering purchasing a freestanding bookcase, why not opt for floating shelves instead? They are affordable, easy to install and add a decorative display to the walls.' recommend Jen and Marr of Interior Fox.
7. Save on flooring
Again, something else that's going to see a lot of action is your flooring. Doing anything with flooring can be expensive and if the state of your floors is really bad it might be worth investing in doing something about them down the line. But if you are looking for a temporary fix, there are loads of DIY options to update your living room flooring.
'If the carpet needs replacing assess the flooring underneath, can you sand and paint the original floor instead of splurging to have a new carpet fitted? A wooden floor may seem cold but when paired with a contemporary oversized rug, it adds texture and warmth to your living room and doesn't cost as much as brand new flooring.' says Marr.
8. Save on second hand finds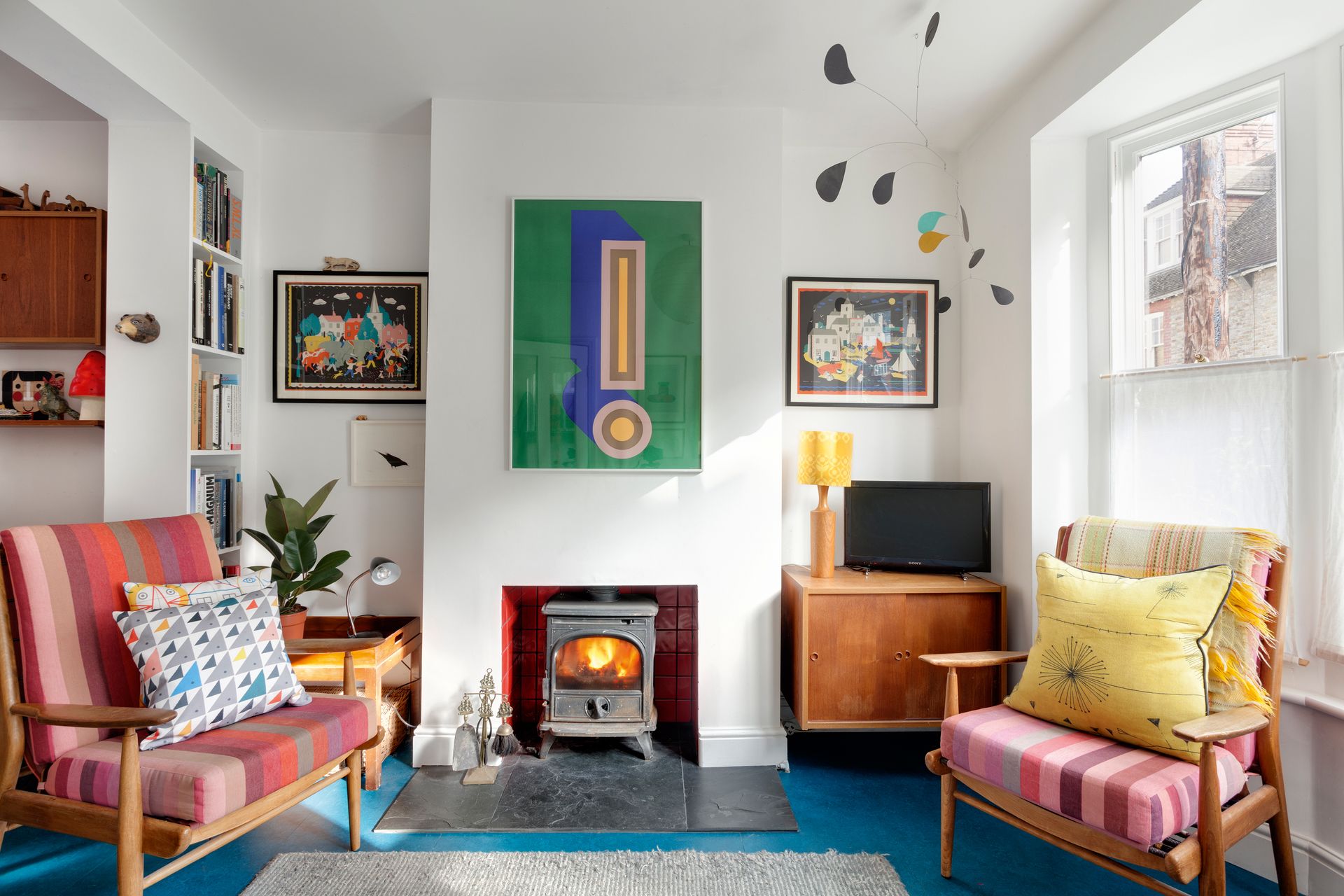 So if you want to bring in personality, but you aren't particularly interested in buying lifelong, hand down to your children, expensive antiques, shop vintage and second-hand at thrift stores. You'll still get that unique look but on more of a budget.
'When looking for staple furniture pieces to complete your scheme, shopping vintage is a great way of saving money without compromising on style or quality. For items such as a coffee table, console table or media unit, resist flatpack furniture, instead shop for vintage finds through eBay or a local vintage market.'
9. Save on living room rugs
Let's be honest, who's rug looks as fresh as the day you bought it? Rugs wear and they quickly become home to crumbs, and stains and pet hairs! So don't splash on on a super expensive living room rug if you know it's only going to potentially get ruined.
'I wouldn't recommend spending too much money on the living room rug - you don't want to get upset every time you spill or drop something. It's less stressful and a lot more enjoyable to spend time in a space where you don't always have to worry about potentially damaging something expensive so I always recommend to save luxury rugs for the formal spaces and make everyday spaces all about comfort!" – Kate Rumson, Interior Designer.