'How much does a mattress cost?' is a question we at Real Homes get asked all the time. But putting a set price on your forty winks isn't as easy as it seems. After all, a new mattress is an investment in your sleep, health, and overall well-being, so if you settle for a cheap and unsuitable type, you could be waking up on the wrong side of the bed.
A common misconception is that in order to get a good quality mattress, you need to spend thousands of dollars, which is simply not the case to find the best mattress. There are definitely a fair few high-quality cheap mattresses out there, but it all depends on the way you sleep. It's important to get a mattress that is within your means and aligns with what you prioritize in a mattress, whether that be price, materials, or special features.
Expect to pay more for a mattress in a department store versus buying a mattress online. The difference: you can try out the best mattresses in store before you buy while D2C companies can offer more competitive costs with fewer showrooms and physical locations to support.
Not all mattresses are created equal, but we've broken down the average price points we typically see with the different types of mattresses, to manage your expectations on the price of a mattress.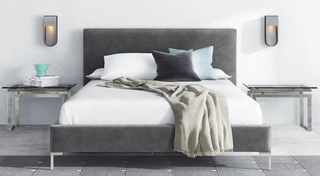 How much does a hybrid mattress cost?
It's quite possible to find a great hybrid mattress around the $1,000 mark, but we find that the average cost of a good hybrid mattress is about $1,500. We averaged the cost of a queen across our favorite hybrid mattresses from brands like Casper, Saatva, Avocado, Awara, Dreamcloud, and more with the models ranging in price from just under $1,000 to $1,700. Of course, these prices are before any mattress sales that frequently run throughout the year.
Note, with the exception of Casper ($1,695), the majority of these brands were only available online.
'Hybrid mattresses include layers of both springs and foam,' explains Ryan McDonough, interior design expert from MyJobQuote.
'The foam aspect helps make the mattress more comfortable and provides better body-contouring than a spring mattress, yet the springs help to regulate temperature better than a pure foam mattress. A hybrid mattress is ideal for those who are still on a budget but find themselves waking up with aches and pains from sleeping.'
Read our Saatva classic mattress review for six great reasons to buy this bed, and see why it gets 4.5/5 stars from us.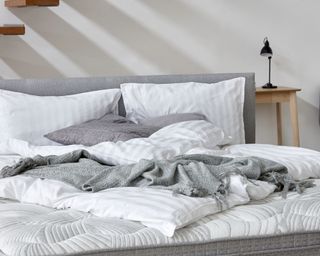 How much does an Innerspring mattress cost?
Innerspring mattresses, also known as spring or pocket-sprung mattresses were once the primary option when it came to mattresses, using a coil-based design to provide support and comfort. Today many designs cross over into hybrid territory with the addition of various comfort foams.
While you can find innerspring mattresses at the $500 mark, the most quality materials can cost between $1,000 and $2,000. This is where you'll see important features like individually wrapped pocket coils (and more of them for better pressure relief), more durable comfort foams and higher quality fabrics,hand-finished features, edge support, cooling technology, and more.
However, McDonough warns: 'While spring mattresses do offer some support, this type of mattress often lacks pressure relief, making it the least advisable if you suffer from back pains.'
'In addition, spring mattresses can wear out faster than foam mattresses, meaning they may need replacing sooner. However, these mattresses do come at a much lower price point than others.'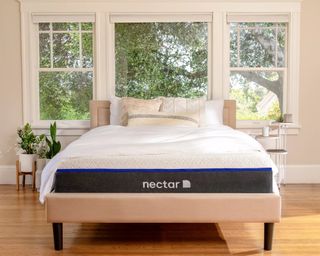 How much does a foam mattress cost?
Foam mattresses can vary widely in quality, and it comes down to the materials and number of layers. From gel foam to memory foam, start your mattress search ensuring that your mattresses are CERTI-PUR US certified, meaning they are free of ozone depleters, VOCs, formaldehyde, and other harmful materials.
Most foam mattresses have comfort, support, and base layers, while pricier versions will utilize multiple layers for more sophisticated support with varying types of foam.
Some more affordable brands offer quality mattresses starting at around $500, while more splurge mattresses can cost upward of three thousand dollars. Again, a good expectation is to budget between $1,000 and $1,500 for one of the best memory foam mattresses.
McDonough adds: 'The foam also provides body contouring and motion isolation, making this a perfect option if you sleep with a partner and frequently find yourself being woken up by their movements. However, foam mattresses can be softer which can result in your body "sinking" in, which causes insufficient support.'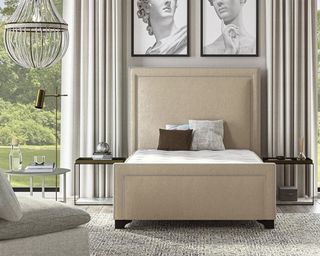 How much do latex and organic mattresses cost?
If you're after a latex mattress, especially one from natural latex, these typically tend to start a heftier price point, especially if you want a solid latex mattress, as opposed to hybrid versions.
Latex mattresses are typically grouped in with the best organic mattresses, due to their natural characteristics. These organic mattresses are typically comprised of steel coils, a latex comfort layer, a wool comfort layer and fire retardant, and an organic cotton cover.
Materials are another major factor in the price, as natural is more expensive than synthetic materials (avoid, anyways) and Talalay latex is typically pricier than Dunlop, which has to do with the way the latex was molded. Additionally, any organic certifications typically require extensive monitoring, creating a higher price.
Latex mattresses can be considered more durable than other mattresses, and last longer. Brands like Sleep on Latex and My Green Mattress (both available on Amazon) have been praised for offering more affordable wholly latex designs, at around $1,100 for a Queen, while most fully latex, like the popular Saatva Zenhavenor Plushbeds models are priced between $2,000 and $3,000 and utilize Talalay latex. We've also seen hybrid mattresses stretch over $1,500 to more than $3,000.
Other mattress costs to consider
As well as the cost of a mattress, there are other beds and bedding accessories to consider that can optimize the quality of your sleep. Some are merely aesthetic, but many can contribute to temperature control if you're trying to cool down a room quickly and reduce any orthopedic pressure on your back, neck, and spine.
Why are mattresses so expensive?
Think of it this way, you spend a third of your life on your mattress, so shouldn't it be something that only improves your sleep? It all comes down to materials that are higher in quality and density thus, should be more durable and last longer.
Add in materials that have met various Eco-certifications like GOLS (Global Organic Latex Standard), GOTS certified cotton and CERTIPUR-US foams or natural flame retardants, high-density memory foam, individually wrapped coils, and up goes the price. If you want additional features like increased pressure relief or edge support, cooling technology, and added padding, be prepared to spend a little more.
Meanwhile, mattresses sold at third-party mattress showrooms, like Mattress Firm or Macy's, tend to have a higher markup because they have to pay for the space, staff, and even advertising. Of course, the luxury of trying a mattress in-store before you buy and the white glove delivery and old mattress disposal are also typically worth the higher cost, if you're after that type of convenience.
While there are mattresses in the sub-$500 category that may suit you just fine, they typically are made with fewer premium materials and may last for a few years as opposed to the typical seven to ten before starting to sag, dip, or lose support. Then, you'll typically spend more money in the long run having to buy a second mattress sooner than you expected.
How do I pick the best mattress?
'Firstly, you need to determine your primary sleeping position,' says McDonough.
'Front and back sleepers both put pressure on their lower back, meaning a too-soft mattress will cause your body to sink into a U-shape, so look for at least a medium-level or firm mattress to help keep your spine aligned.'
'Similarly, side sleepers put pressure on their shoulders and hips, so a mattress that is either too soft or too firm will cause these points to dip out of line with the rest of the spine. Side sleepers, therefore, should opt for either a medium-soft or a medium-firm mattress, depending on their size.'
However you prefer to curl up at night, we've tested the best mattresses for side sleepers and the best mattresses for stomach sleepers so everyone can catch their beauty sleep.
What is the best mattress for back pain?
'If you suffer from back or joint pain, you should look for a mattress that keeps your back aligned while sleeping and relieves pressure points along your spine and joints,' says McDonough.
'In addition, as a rule of thumb, the heavier you are the firmer your mattress should be. It's not just mattresses that should be kept in mind, as your pillow will also affect your sleeping position and back alignment.'
Tested by the Real Homes team, the Nolah Natural 11" Mattress comes highly commended for those with back pain (and those with allergies and/or sensitive skin too).
How long do mattresses usually last?
'Most mattresses should last between 7-10 years; however, the exact number of years depends on various factors such as the type of mattress it is and even how you sleep.' says McDonough.
'Generally speaking, a spring or hybrid mattress should be replaced every 7 years to avoid any discomfort and any ailments caused by an old mattress. With a foam mattress, you typically have a few extra years before you need to replace them, making them a good investment. Memory foam lasts around 8-10 years.'
Once your mattress has lived its best life, make sure you know how to recycle a mattress so that it can have a second life (either as a bed for someone in need or repurposed to manufacture something else).
What about kids' mattress costs?
The cost of a mattress for children will vary greatly depending on the size of the mattress, and whether it's made for a bed or crib. Kids' beds tend to be on the twin or single size and made from breathable materials such as wool to wick away sweat for a cool and comfy kip.
If you're unsure of the mattress cost for your little mini-mes, take a look at the best crib mattresses that ensure baby's safety and comfort are priority. Or, if there a bit older, consider reading our Rem-Fit Remy Kidz mattress review.
And, not forgetting our furry kids, if you're a pet mom or dad, be sure to look at our best pet mattresses so they don't miss out on a superior snooze too.