If you're investing in a new duvet insert, then I am here to help direct you to the best buys. Yes, this all-important purchase might cost you a hundred dollars or so, but rest assured that if you buy the right one then you'll sleep soundly all night long, whether you're fighting a summer heatwave or freezing in the winter weather. These duvet inserts and comforters are the best of the best on the market, as claimed by shoppers and confirmed by us — the Real Homes team has personally tried and tested every single one of these duvet inserts. Spoiler alert: We love them all.
Quick Menu:
1. Quick list
2. Duvet insert reviews
3. How to choose
4. FAQs
5. How we test
It's easy to get overwhelmed when it comes to choosing a comforter. They're not exactly the most fun thing to pick, unlike a mattress in a box or some fancy new bed sheets, that is. But that's not to say it's not an important part of your bedroom setup. Just like your mattress, you use this every night, and it has the power to cause you to sleep hot or cold, or even to become allergic to your bedding. So it's important to know what to buy for your personal preferences.
We've reviewed eight of the best duvet inserts and comforters out there so that you can buy rest assured you're investing in quality. All hailing from your favorite bedding brands, these are the ones to buy this summer 2023.
The best duvet inserts and comforters to buy in 2023
Why you can trust Real Homes Our expert reviewers spend hours testing and comparing products and services so you can choose the best for you. Find out more about how we test.
Our top 3 duvet inserts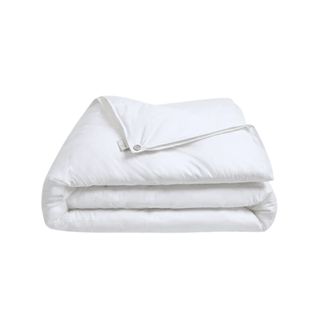 Best for summer
1. Coop Exhale All-Season Adjustable Comforter
Type: 100% polyester microfiber
Sizes: Full/queen, king/Cali king
Care: Machine wash cool, tumble dry low
Price: $279 – $319
Made from three panels, this duvet insert clips together so that you can use it all year round. If you sleep beside someone, you can adjust its fill to be different from one side to the other. This duvet insert comes with a 100-night trial and a five-year warranty.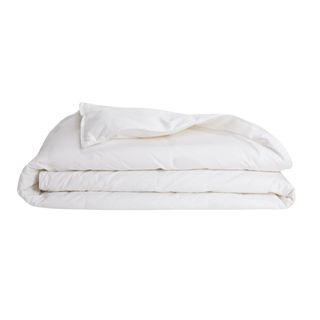 Down
2. Brooklinen Down Comforter
Type: Down — duck and goose
Sizes: Twin/twin XL, full/queen, king/Cal king
Care: Spot clean or dry clean
Price: $189 – $609
This sustainably sourced comforter comes in three weights depending on how you sleep. It's wrapped in a 400 thread count 100% cotton sateen cover. It's super lightweight but it can be pricey depending on the size you need.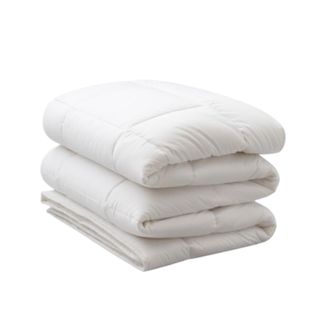 For hot sleepers
3. Purple TempBalance™ Duvet
Type: 70% polyester, 30% rayon fiber fill
Sizes: Twin/twin XL, full/queen, king/Cal king
Care: Machine wash cold, tumble dry low
Price: $229 – $279
Made from a down alternative that's temperature regulating, this is perfect for sweaty sleepers. It's great for use in the winter and summer, and it comes with a one-year warranty. It doesn't have loops to connect to a duvet cover, FYI.
What's the difference between a duvet and a comforter?
The terms duvet and comforter are often used interchangeably as they both have a quilted design filling, but a comforter is used on its own while a duvet insert is intended to go inside a duvet cover. They're typically differentiated by loops on the corner of the duvet to keep its cover in place.
A duvet insert lets you get personal about the fill type and weight, whereas a comforter may only be available in one fabrication. Really, so long as you can machine wash your duvet insert, it can definitely be used as a comforter, sans cover. If you're looking at a duvet insert you have to dry clean or spot clean, you'll want to use a duvet cover for ease.
Duvet insert reviews
The best summer duvet insert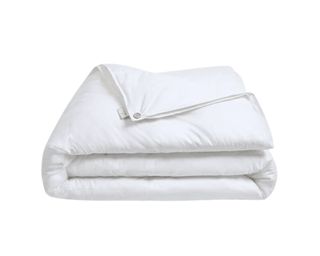 If you're searching for a duvet you can use year-round, in the height of winter and in the depths of summer, then you'll want to opt for this pick from Coop. It's filled with 100% polyester microfiber and wrapped in a 300-thread-count cotton sateen cover, plus it's adjustable for all seasons — it's actually three duvet insert panels that button together so that you can adjust the fill based on the temperature outside. If you sleep with someone else in the bed, too, then you can adjust this comforter by side. So, if they sleep hot and you sleep cold, no one has to compromise. Better yet? It comes with a 100-night trial.
As reviewed by Louise, she claims she couldn't get enough of how lightweight this duvet is, despite the two layers that are attached together. She's currently sleeping under this RN and says it kept her temperature regulated throughout winter, even though she is a warm sleeper. As a hot sleeper and "home fever" sufferer, she knows that synthetic fibers and breathability are key when it comes to choosing a duvet. Plus, she loves that it's super easy to throw in the washing machine BUT do bear in mind that it dries better outside on the line. She was surprised to find this one wasn't as fluffy as other down alternatives she's tried but insists it didn't impact her sleep. In fact, she preferred it.
This duvet insert comes with a 100-night trial and a five-year warranty.
The best down duvet insert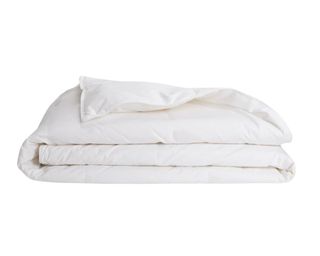 If you're searching for a down duvet or comforter and you have a little more to spend, then this one from Brooklinen should be your best bet. With three weights to choose from, there's a warmth level for everybody. The lightweight pick has 650 fill of recycled down, all-season is right in the middle with duck down, and the heavyweight option has 750 fill of goose down. Note: Goose-down clusters and feathers are typically larger than duck and therefore tend to insulate better, hence the material swap for the winter-friendly option. Choose which one is best for you based on how you tend to sleep, and if you're neither a hot nor cold sleeper then go for the all-season option. All types are wrapped in a 400 thread count 100% cotton sateen cover.
Our reviewer Louise slept with the all-season design last summer and claims it felt light and not at all oppressive. With the fan running, she found it had the perfect balance of cool and cozy. The fill is evenly distributed and she didn't find have to shake it out every morning. She noted that the all-season design does not give off the overtly full look of a heavier fill duvet, but it fills out nicely within her duvet cover.
While some down can have seedy origins, the down is sustainably sourced from Hutterite farms and DOWNMARK certified by the non-profit Down Association of Canada. For those nervous about allergies, the fill has been rated hypoallergenic, and the cover is treated with Ultra-Fresh Antimicrobials to keep odors at bay. It cannot be machine washed, FYI.
The best duvet insert for hot sleepers
The clue's in the name with this one. If you're looking for a duvet that does it all then say hello to Purple's one and only. TempBalance technology means it stays cool in summer and keeps you warm in cooler months, making it a great year-round duvet insert. It's filled with a down alternative that's 70% polyester and 30% rayon fiber fill, wrapped in a 100% cotton shell. It really is a great buy for those who don't want to have multiple duvets taking up space in their linen cupboard. But, do bear in mind it doesn't have loops on each corner to attach it to a duvet cover. Instead, the PerfectStay™ Duvet Cover velcros onto the duvet insert — we also tested this and found it a dream combination.
Our staff writer Eve tested this during hot and cold nights and was completely amazed at how well-suited it is to both. She's is a bit of a night sweater (yes gross, sorry), but she found when sleeping under this that she didn't sweat whatsoever, because of how breathable it is. The down alternative is gorgeously soft too, and super weighty. Plus, the duvet comes in a reusable canvas bag, meaning you can store it easily if needs be (we def recommend utilizing yours for other linens).
We've listed the oversized fit as a downside, just because this isn't completely practical for those living in small spaces. That being said, we didn't mind the bigger duvet insert and found it stopped late-night tug-of-war fights. Handily enough, you can wash this duvet cover on cold and tumble dry it on low. It comes with a one-year warranty.
The best eco-friendly duvet insert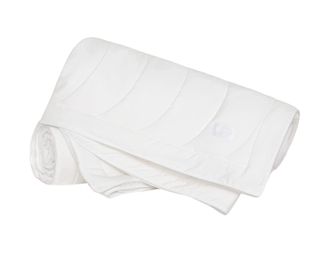 With sustainability and breathability at the core of the Buffy brand, the Buffy Breeze Comforter is made with Tencel-Lyocell — aka eucalyptus — for both its outer shell and fill. This is shredded to allow air to flow through the comforter as you snooze. This one will look after you and the earth. It's fully biodegradable and compostable, so a few years from now when it's time to refresh, you can rest easy knowing it won't just sit in a landfill. When it comes to comfort, this material is superior in breathability to both cotton and polyester. The 300-thread count sateen weave shell is crisp and smooth to the touch.
Our reviewer found that this duvet sleeps exceptionally cool. Especially great if you are a hot sleeper, it's also nice and lightweight. Although bear in mind it's not as fluffy as you might expect it to be.
It comes with a free, 7-night trial so that you can see if you like it before investing. The only downside to the Buffy Breeze is that its care treatment recommends dry cleaning only. It's also not clear whether it's hypoallergenic or not, so allergy sufferers are probably best to avoid it.
The best down alternative duvet insert // The best down alternative comforter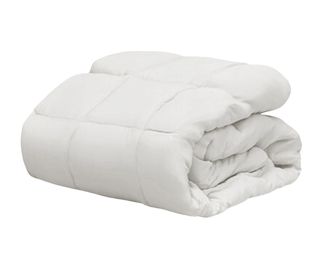 This duvet is proof that down alternatives can still feel every bit as luxurious as traditional feather-filled options, especially when Saatva gets involved. So, for anyone who would rather avoid down but still wants that fluffy comforter look, this is the best bet for you. It comes in one weight which is suitable for all seasons to make you cool in the summer and warm in the winter. It's filled with a 3D down alternative fiber and naturally moisture-wicking lyocell fill, tucked inside a 100% cotton shell, which is woven into a 200-thread count percale weave that's cool, crisp, and airy.
Beyond a good first impression, thanks to the impeccable gift-worthy and plastic-free packaging, our reviewer Jaclyn loved how uniform its fill was throughout the blanket — courtesy of the baffle box construction. When she tested it in June, it proved to be exceptionally comfortable despite the hot summer temperatures. But as it is an all-season option, it's still warm enough for mid-winter. One thing to note is that it did have a smell straight out of the box, so you will want to wash it.
This duvet insert is easily machine washable, though did take a while to dry when on low in the dryer. It comes with a one-year warranty and corner loops, though you can use it without a duvet cover if you wish.
The best lightweight duvet insert // The best lightweight comforter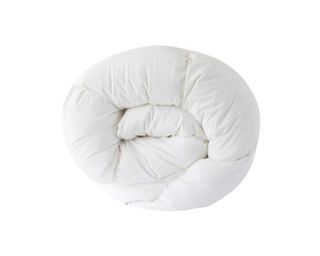 Quince has quickly wiggled its way into our hearts and carts with its all-star lineup of high-end bedding at unbeatable prices and a big push on sustainability. We fully appreciate how transparent this brand is with material, labor, and shipping costs, too. Namely, their Quince Premium Down Comforter is great. It's made in the US with white down that meets the Responsible Down Standard and is wrapped in a 100% cotton sateen shell cover. It comes in two weights — lightweight or all-season. The lightweight version has a lower fill weight and is perfect if you live somewhere with year-round warm weather, whereas its all-season option has a higher fill weight and loft.
As well as the surprisingly reasonable cost (we're talking under $200 for a queen), we are in love with the design of this duvet insert. Our reviewer Jaclyn enjoyed sleeping under this duvet and loved how convenient it was — it has corner loops and baffle box construction, plus it's machine washable. However, she did note that the insert slid around within her cover. This could've happened because the insert wasn't tied tightly enough or the duvet cover may have been too slick — it happens.
We didn't notice this, but some reviewers claim that it had a subtle crinkly noise when it shifts, just an FYI. It comes with a one-year return period. It's unclear as to whether this duvet is hypoallergenic or not.
The best affordable duvet insert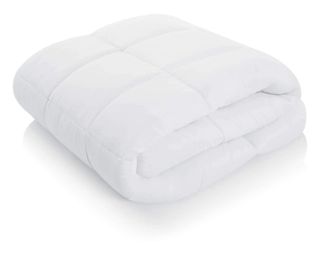 If you're after a bargain, perhaps it's for your dorm room or a second bedroom, the Linenspa down alternative comforter hits the sweet spot and is a good choice for cold sleepers, guest rooms, and anyone on a tight budget. Filled with microfiber and wrapped in a polyester cover, it's reversible and it comes in several colorways to suit your bedroom decor. It does have eight corner loops to attach it to your duvet cover, but it can be used without a duvet cover, too.
Our reviewer couldn't find many things to complain about with this comforter, but it's understandably basic in comparison to our other picks. If you're a hot sleeper, we'd suggest avoiding it as it's rather warm, but it's nice and lightweight at only 300 fill power. As you'd expect, it's easy to care for and machine washable. Plus, it's hypoallergenic for those with allergies and sensitivities.
It's available to buy from Amazon but doesn't come with any sort of free trial or warranty included, Multiple reviewers noted that the material piles over time and after washing, but for $30, you can't really complain. It also comes in two "oversize" sizes if you prefer a larger fit.
The best duvet insert for temperature regulation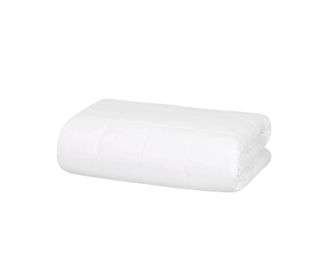 Hot or cold sleeper, this duvet from Slumber Cloud is perfect — but it doesn't come in Full size, BTW. Otherwise, the Slumber Cloud Lightweight Comforter is simply the coolest option thanks to Slumber Cloud's exclusive ClimaDry by Outlast fiberfill that has a down-like feel but also regulates heat and moisture as you sleep. In fact, it actually stores heat when you're giving off too much and saves it for when you need it and are feeling a little cold. This material was actually developed by NASA and It's proactive and prevents your other bedding from having to wick away moisture. It has a 100% cotton outer cover
Jaclyn reviewed this duvet insert for us during the summer months, to confirm whether it really is temperature regulating. Surprise surprise, she loved it. All the fill stays in place with a baffle box square construction and the cotton cover is incredibly soft to the touch. She did note that it's only about a quarter-inch thick, so it's not for people who seek tons of loft. That doesn't mean it's not plush to the touch though — it totally is — and it feels lightweight and airy when you slip underneath.
The only reason this sits last on our list is because, as we've mentioned, it doesn't come in a Full size. Some people might be put off by its thin construction, too. But it does come with a 60-night trial and a 180-day warranty.
3 things to look for in a new duvet insert
1. Filling
There are many duvet fillings to choose from, but they can be split into either natural materials like down, feather, cotton, silk, and wool, or synthetics like microfiber and polyester.
2. Fill power
Fill power refers to the volume of the down, and is equal to the number of cubic inches one ounce of that particular type of down fills. Higher fill power numbers indicate greater loft and insulating efficiency.
Typically, we like to see a fill power between 600 and 800, otherwise, you might find yourself not warm enough, and the bedding may not have that lofty, fluffy look many of us like. Bedding that is made with high fill power down is lighter in weight than an equally warm one made with lower quality down.
3. Weight and warmth
Most manufacturers offer their duvets in different warmth levels or weights, the most common options being lightweight, mid-weight, heavy-weight, or all-season. There's no official standardization in the US as to how warm or cool these duvets actually are, while our British counterparts use the tog, a thermal rating that denotes the warmth level.
Those in warmer climates or who generally sleep hot will want to select a lighter-weight design, while cold sleepers and those in cold climates will do best with something warmer. Sometimes people will prefer to have a lightweight duvet during warmer months and switch to a heavy-weight or all-season version when it gets colder.
How to care for your duvet
Machine washable? Most manufacturers say duvets should be laundered every few months. If you don't want to lug yours to a dry cleaner or leave it to the professionals, then choose a duvet that's machine washable and tumble-dryer tolerant. Our guide to how to wash a duvet has plenty more advice.
How we test duvet inserts and comforters
Our duvet inserts and comforter review process is editorially independent and not influenced by any third parties. Our expert bedding testers sleep under each featured duvet insert for at least two weeks. The products are given to us free of charge. For duvet inserts, we take special consideration of materials and any environmental certifications, as well as comparing them for value for money, construction, and comfort. We'll also note the temperature where we live while testing these comforters and are sure to mention it in our reviews.
Meet our duvet testers:
Jaclyn used to be our sleep commerce editor, frequently testing out and staying up to date on all things mattresses and bedding. She's not willing to sacrifice comfort or value and is after a mattress that makes it easy to sleep through the night. She's tried a few of these fabulous comforters in this guide and has compared them on their sleep experience. This includes the comforters in this guide from Buffy, Saatva, Quince, Linenspa, and Slumber Cloud.
Bringing in her knowledge of the bedding industry, Louise was previously our ecommerce editor but now works at our sister brand, Homes & Gardens. She has felt all the benefits of our #1 Coop Alternative Down Duvet and also reviewed the Brooklinen Down Comforter.
Eve is our staff writer and she is naturally quite a sweaty sleeper. She reviewed the Purple TempBalance™ Duvet and is still currently sleeping under this comforter.