Planning a bathroom is a tricky job that's hard to get right first time. Of course, you can just copy the existing layout, but if you'd like to improve on what's there, if you're turning a bedroom into a bathroom or building an extension and creating a bathroom from an empty shell, careful planning and design know-how is a must. In this feature, we cover bathroom planning and budgeting, bathroom design, inspiration for your bathroom's new look, and bathroom buying guides so that you can furnish the room beautifully, too.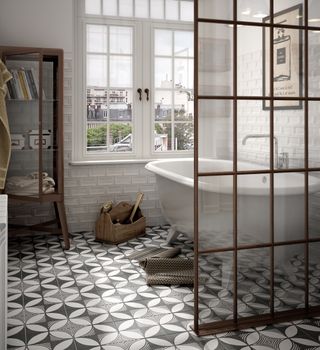 Planning your bathroom's design and layout
If your bathroom is on the smaller side, you may have little choice as to its layout. However, if the room is larger, you will be able to be more adventurous with the positioning of fittings, perhaps choosing a statement bath to sit against a feature wall, including a walk-in shower for more of a wet room feel, or swapping standard basins for luxurious vanity units. Perhaps you're looking to create a stylish bathroom on a budget or need to create a room that can cope with a family's needs, despite its postage stamp footprint, and therefore need to invest in clever storage solutions.
Use these guides below to start planning your bathroom's layout and main elements. Then go to page two for more detailed design advice and inspiration.
Choosing your bathroom's main elements
From the best baths and sinks to suit your space and needs to finding the best bathroom flooring, we've got all the info you'll need.
On our next page, we look at designing the bathroom, using tons of inspirational design features to inspire your new scheme. Our advice? Hop over to our Pinterest page to check out more inspirational images, and pin the pictures in our features to your own board to build a picture of your scheme.