Do you often find yourself scrolling through Instagram for interiors inspiration while curled up on the sofa? If so, chances are you might have come across Lisa Dawson's house before.
With its mix of Insta-worthy gallery walls and interiors ideas aplenty, it's no wonder that she has a huge number of followers who want to keep track of her latest projects and tips.
So when the chance came up to take a look around the home of our Real Homes magazine columnist, we couldn't wait to take a peek at those famous Insta squares in real life and pick up some decorating inspo along the way.
And when you're done swooning, check out all our real home transformations...
Was it a case of love at first sight when you saw this house?
'I couldn't quite believe that we could afford to buy it, to be honest. We'd never have been able to own a house like this in the south of England, where we previously lived, so it was a bit surreal to think we could get our hands on our dream property.
'That's the beauty of moving up North though! When we originally relocated to York for my husband Joe's work, we rented as it wasn't going to be a permanent move. I thought I'd hate living here, but I soon fell in love with all the independent shops, businesses, bars and restaurants, and we realised we didn't want to move back.'
PROFILE
The owners
Lisa Dawson, an interiors and lifestyle blogger (lisadawsonstyling.com), lives here with her husband, Joe, who works in the motor industry, and children Ella, 16, Max, 14, Leo, nine, and their dog, Buddy
The property
A five-bedroom detached Georgian house near York
Was this a big renovation job or had the work already been done by the previous owner?
'Anyone who has read my column in Real Homes magazine will know that hardcore DIY is a no-no in our family – Joe in particular is not skilled in that department!
'We definitely weren't looking for a project and this house had been renovated by a developer, so it was in great condition. Basically, it was this completely blank canvas that we could move straight into – too good to be true, really!'
Has your style evolved over time or have you always gone for a similar look?
'I still love pictures that I cut out from magazines 15 years ago, so I think my core style has stayed fairly consistent. Most of the images I'm drawn to feature white walls, with colour and texture added through furniture, accessories and artwork. I tend to keep the bones of the house quite plain and then gradually inject more personality over time.'
Please tell us you're normal and make decorating mistakes like the rest of us, though?
'Of course I do! When we first moved in here, I decided to paint one of the living rooms dark grey. I'd been inspired by interiors store The Imaginarium in York, which was painted in Farrow & Ball's Down Pipe.
'Although Down Pipe walls are ten-a-penny in interiors now, at the time it was quite original and I really thought I could be a dark wall person, too. Once the room was finished, however, none of us ever wanted to spend any time in there – not ideal for one of your main living spaces, obviously.
'I always think that you should be able to walk into a room and breathe a relaxed sigh; if I don't get that feeling in my house then something's not right.'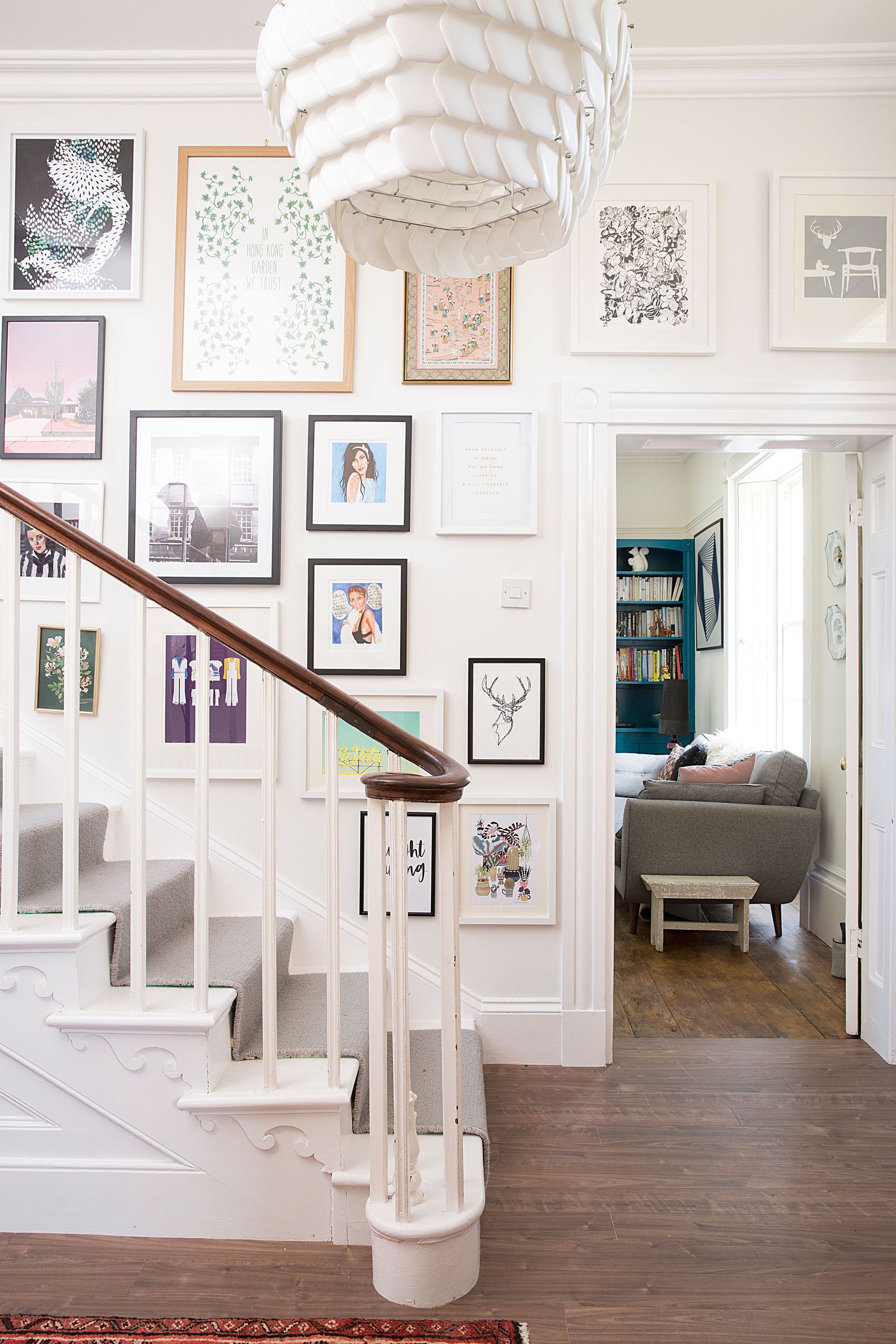 Are you spontaneous when it comes to decorating a room?
'I'm constantly giving rooms a refresh by moving items from one space to another to change up the look, but when it comes to bigger projects I spend a lot of time planning what I'm going to do.
'My hall revamp, for example, took four months to complete. I knew I wanted something vaguely boho with a picture wall and stair runner, but other than that I needed time to pull the look together.
'With any project, I always create an online moodboard on Canva – it's a great presentation tool as it allows you to make all your design mistakes before spending any money.
'You can quickly see if the furniture and colours you've chosen work together, helping you to gradually build up the look of the space.'
What advice would you give to anyone who is planning a room makeover of their own?
'Start picking up pieces you love as and when you see them, store them somewhere until you're ready to decorate the room, and then it means you're not forking out for everything in one go.
'Also, don't be scared to live with blank spaces for a while. If you rush out and try and buy everything at once, it's rarely a success. If you're not sure what to do with an empty corner, stick a plant in it (and try not to kill it!) until you find the perfect piece of furniture or artwork for the space.'
We love how you've added character with a mix of new and vintage buys. Do you spend hours trawling Ebay?
'I've lost count of the number of hours I've lost on Ebay! I think every home should have vintage furniture. It gives an edge to your décor, stops everything from feeling too matchy-matchy, and means things aren't going to landfill. What's not to love about that?'
At Real Homes HQ we've appointed you the Queen of gallery walls, so how can we all get a little bit of gallery wall magic in our own homes?
'As you can tell, I love a gallery wall. I've always been a fan of prints – my old kitchen featured a mishmash of religious iconic images and a wall covered in plates from a charity shop. Joe loved it, as I'm sure you can imagine!
'This house has such big, open walls that it really lends itself to some great displays. Personally, I like to create squared-off gallery walls, so I lay my pictures out on a large rug first to get the right mix of designs.'
'For the stairs, I simply started at the top in the bottom left hand corner and worked out the best arrangement from there. There are no rules – just go with what works best for you.'
Read Lisa's tips and tricks – and watch her video – to see how to create the perfect gallery wall.
Any insider tips on where to shop for original artwork that won't require taking out a second mortgage?
'King & McGaw has a huge selection including lots of small artists; RoomFifty has limited-edition prints from different artists each season; the Art Of Protest Gallery in York is great for street and urban art, with limited-edition prints under £150; Nickie Kelly has a big focus on independent artists, and finally Curious Egg is a curation of small, independent artists.
Are you a fan of interiors trends, or do you try to avoid following them?
'I think trends are so transient that I tend not to follow them. It's easy to look at images on Instagram of the latest trends and then copy them, but unless you really love the look I think you'll get bored of it quickly. I'd always suggest going with what your heart says – you can't go wrong with that.'
MORE FROM REAL HOMES
Want to see inside more stunning homes? Each month, Real Homes magazine features everything from modern extensions to cleverly redesigned family spaces, all packed with ideas you can copy in your own home. Get the magazine delivered straight to your door every month with a great deal on a subscription.
Contacts
More gorgeous homes to nose around: