It is kitchens and bathrooms that help sell a home, but they are also the most expensive rooms to design, so you that is why we have pulled together this list of budget bathroom decorating ideas. From selecting sanitaryware to finishing the look with storage and accessories, there are just so many things to buy.
Our solutions are intended to help homeowners and renters alike in their bid to design a bathroom that's functional, with zen-inducing capabilities.
What is your budget?
£ – under £100
££ – under £500
£££ – over £500
Whether you're a renter in search of easy and affordable bathroom design and storage solutions; want to enhance a space with a couple of statement pieces or intend on creating your bathroom from scratch, you're sure to find a solution that suits your budget.
1. Enhance a space with on-trend statement pieces
If you'd like to incorporate a trend into your bathroom, but don't want to spend a fortune, consider investing in a couple of in-keeping statement pieces. We love the idea of incorporating this year's folklore trend, with its calming soft grey palette and cool metallics, into a contemporary bathroom.
Find this Clipper mother of pearl side table, Tanya brown gold hanging lamp and Mosaic wall art at Barker & Stonehouse.
Budget: ££ (per item)
2. Add interest to your bathroom with a painted ceiling
After years of keeping them white, painting a ceiling in a bold coloured paint is an easy, affordable and on-trend way of adding interest and an extra dimension to your bathroom. Couple with matching accessories and house plants, to break up a stark contrast in colours.
We love this combination of walls painted in Stoneware, detail trim in Andes Summit and ceiling in Tomato Tango, all from Benjamin Moore.
If you are a keen DIYer and want to give this a go yourself, check out our guide to painting a ceiling.
Budget: £
3. Create a design feature using coloured shutters
In addition to offering privacy, shutters make a charming addition to a bathroom with large windows and high ceilings. Consider painting existing shutters or opt for a coloured design that ties in with the rest of your scheme for a unique finish. DIY design and fit shutters will save you £££s compared to those measured up and fitted by the shutter company.
Visit California Shutters for a variety of colours and designs.
If shutters are slightly out of your budget, we have loads more options in our bathroom window treatment ideas, including window film designs.
Budget: ££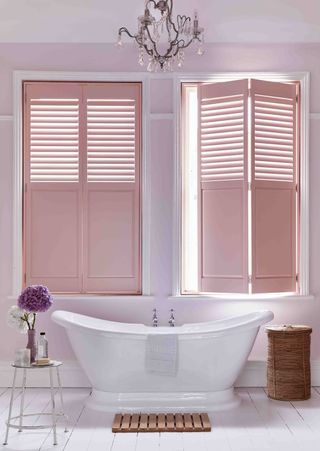 4. Use vinyl effect tiles for a realistic finish
Easy to lay and convenient to clean (with the option for underfloor heating), vinyl flooring is a go-to when choosing flooring for a bathroom, especially if you are decorating your bathroom on a budget. If you're keen to create a realistic look, we would recommend considering it for a textured effect. You can find out more on choosing vinyl flooring in our guide.
This luxury vinyl tile from Starfloor has an embossed surface that mimics the natural grain of real wood.
Budget: ££
5. Create a design feature using shelving
In addition to providing a valuable bathroom storage solution, shelving can be used to create an appealing design feature make it one of our favourite (and most practical) budget bathroom decorating ideas. Style with house plants, candles and other zen-inducing trinkets for a truly relaxing atmosphere.
Combining these square and rectangular shelf designs, both from John Lewis, gives this wall a graphic look ideal for a modern space.
Budget: £
6. Opt for herringbone tiles as an alternative to popular metro wall tiles
If you're looking to move on from the metro wall tile trend, opting for a herringbone finish makes a great alternative. Combine small tiles in a variety of similar toned colours for a timeless and sophisticated finish. Complete the look with white accessories and delicate house plants for a fresh and stylish looking bathroom.
We love the colour variation in the Carrara marble used for these Kennet tiles from Neptune. Find out how to choose the right sized tiles for a bathroom, particularly in a small bathroom.
Budget: £££ (to tile a whole wall including labour)
7. Experiment with striking paint effects
Experimenting with on-trend paint ideas is an easy and affordable way of creating a contemporary feel in a tired looking space. Pick two or three shades of varying tones (we'd recommend blues for a bathroom, though pinks and greens are equally effective) and create a stylish finish with the help of our guide to painting an ombre accent wall. For more inspiration, check out these bathroom paint ideas.
Team with bold accessories for a smart modern bathroom. We love this Wooden Two-tier Ladder Rack from Sainsbury's Home.
Budget: £
8. Refresh a tired space with a new bath mat or rug
A quick and easy update that's ideal if you're a renter; changing your rug or bath mat can be all it takes to incorporate a trend or give a tired bathroom a new lease of life on a tight budget. This bathmat is only £15 from Dunelm!
Budget: £
9. Invest in made-to-measure blinds
In addition to offering privacy, blinds can enhance the finished effect of a bathroom. Opt for a colour in-keeping with your scheme for a more minimalist feel or use coloured blinds as a means of adding a pop of colour to a space. Either way, it's worth investing in made-to-measure blinds for a sleek finish.
English Blinds offer a high quality, custom-made service. Seen here is their Bartlett Basque roller blind in charcoal, which has a textured faux silk finish. See our guide to blinds to find the right one for your bathroom.
Budget: £/££ (depending on window size)
10. If budget allows, design a space that oozes luxury
If you're blessed with a large bathroom, designing a bespoke double shower area is a desirable addition worth considering. As well as being the ideal solution for busy couples, it oozes luxury, making your bathroom perfect for unwinding after a long day.
We love this combination of Arysto shower panels from Merlyn with statement hexagonal tiles (try these Allegory hexagon tiles from Walls and Floors for a similar effect). Be inspired by these luxury bathroom design ideas.
Budget: £££
11. Choose bespoke pieces that suit your space
Opting for unique or bespoke pieces can be a great way of adding character into a bathroom. If you're an experienced DIY-er, consider customising key pieces found at reclamation yards or vintage fairs; we love the idea of turning a cabinet into a washstand and it's much more straightforward than you might think. Simply cut out a hole where the sink should be – most come with a template.
We love the traditional feel of this vintage Bow fronted cupboard from Scumble Goosie. If you are on the hunt for a vanity unit, we have load of inspiration over in our ideas gallery.
Budget: ££
12. Update your bathroom with simple accessories
A quick, inexpensive (and often practical) way of updating your bathroom is with good-quality accessories and essentials. Opt for white additions to achieve the hotel-chic element we're all after or add a bit of glamour with metallics.
Again, all of these accessories are super affordable from Dunelm.
Budget: £
13. Colour your bath
If you're looking for an alternative to a white bath, consider having it custom painted in an eye-catching, bright shade. We'd recommend making it the focal point in an
otherwise white scheme.
This Tubby Torre Duo from the Albion Bath Company has been painted in a striking purple; shade 10RB 19/626 from Dulux. Find the best bathroom paints for your transformation.
Budget: £££
14. Lay patterned or geometric floor tiles
The addition of patterned or geometric floor tiles to a bathroom is an effective way of giving it an updated and on-trend feel. If your bathroom is on the small side, style floor tiles with an otherwise neutral scheme; alternatively couple with another tile design or deeper colour scheme if space isn't at a premium.
Recreate this look using tiles from Original Style.
Budget: ££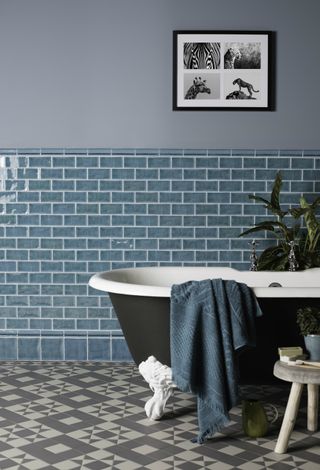 15. Maximise space with multi-purpose storage
It's always a bonus if you can find a bathroom storage solution that serves more than one purpose. Mirrored cabinets do just that, storing bathroom essentials while making a space seem larger and lighter.
We love the Hemnes/Rattviken range from Ikea.
Budget: ££ (per item)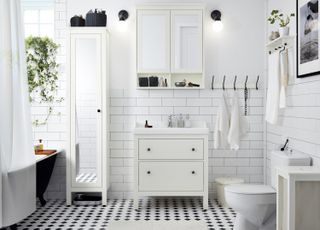 16. Use colour blocking to create a design feature
If you're looking to renovate a bathroom on a budget, consider experimenting with bathroom paint ideas. If you love the idea of colour blocking, but are concerned that it will overwhelm your bathroom, take inspiration from this combination of two light toned colours to create a subtle yet effective design feature. There are loads more ideas on how to work the colour blocking trend over on our gallery.
The addition of house plants and a mustard yellow towel from Dunelm offsets the colour scheme effectively.
Budget: £
17. Pick bright towels
Relatively inexpensive, new towels are a fantastic way to update an existing scheme; giving a space a new burst of colour or enabling you to effectively incorporating a trend. While you're at it, why not upgrade your towel storage, too?
Budget: £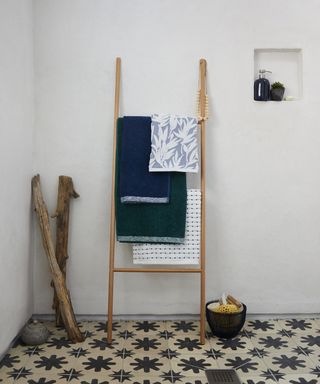 18. Create the illusion of a larger and lighter space
The addition of a large mirror to a small bathroom creates the illusion of light and space (as well as serving a practical purpose), giving it a whole new lease of life. We love the brushed steel finish and smart leather strap of this Dipre Round Wall Mirror from My-Furniture. It's sized to perfectly fit above a sink and comes with its own stainless steel wall hanging peg.
Inspired to invest in a new bathroom mirror? We've rounded up the best bathroom mirrors in our buying guide.
Budget: £
19. Display photos and pictures on bathroom walls
Just because a bathroom is a practical space, that doesn't mean you can't personalise it with pictures, photos and paintings. Display your artwork above a focal point, such as the bath, for maximum impact.
If you need any tips and tricks on putting together a gallery wall, check out our guide to displaying photos and prints.
20. Fill your bathroom with plants
Another easy, affordable and non-space-stealing way to up the style factor in your bathroom is to display house plants. In addition to making a simple, yet stylish, storage solution, wicker baskets work as a great home for bathroom house plants.
Looking for more bathroom inspiration?