Whether you're after a complete revamp or simply need to refresh your bathroom we have some fabulous decorating ideas that will help you on your way. After all, the bathroom is somewhere most of us escape to for relaxation at the end of a busy day.
Space can be an issue, as more often than not the bathroom is one of the smallest rooms in the home, so clever ideas are needed to avoid clutter. Decor wise there are built in options that may require a little more time and money, or freestanding pieces that can quickly be added at low cost.
Tiles are a fantastic way to add colour and can create statement looks that are both practical and stylish. And don't forget that if you are decorating your bathroom on a budget, simply updating the accessories can make a massive impact to the overall look.
What is your budget?
£ – under £100
££ – under £500
£££ – over £500
1. Themed bathroom
One of this year's big looks is the folklore trend. To follow the trend without going overboard pick a couple of pieces that depict it, like this Clipper mother of pearl side table£299, Tanya brown gold hanging lamp £259, and Mosaic wall art £229, all from Barker & Stonehouse.
Budget: ££ (per item)
2. Paint your ceiling
For years we've all kept our ceilings white – well, this year it's all about painting it a bright colour! So you can lie back in the bath and look at your colourful ceiling instead of plain white this summer. Tie it in with matching accessories like towels and a bath mat to complete the look. Walls painted in Stoneware, detail trim in Andes Summit and ceiling in Tomato Tango, all from Benjamin Moore.
Budget: £
3. Shutters
We all hanker after privacy when we're in the bathroom don't we and shutters are a great option! They're decorative, can be colourful, great for security and keep draughts at bay if you live in an old house. The Shutterstore have a wide range, and they can be painted to suit your scheme, prices start from £166 per m2.
Budget: ££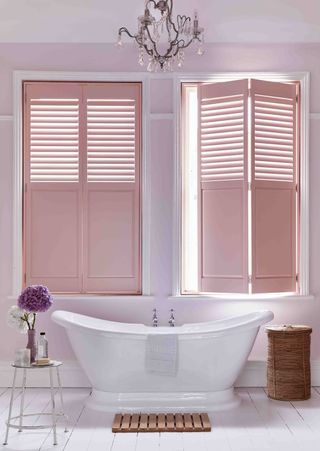 4. Textured floor
Flooring technology has come on leaps and bounds and this Starfloor luxury vinyl tile(£28.99/m2) design has an embossed surface that mimics the natural grain of real wood. They click together easily when laying and can be fitted with underfloor heating systems.
Budget: ££
5. Statement shelving
Storage is a bathroom necessity, but it can also be used to add interest to your design. These square and rectangular shelf designs are £30 each from John Lewis and they give this wall a graphic look which is ideal for this modern space.
Budget: £
6. Herringbone tiles
If you think metro wall tiles are done and dusted, think again. The look is being refreshed with new ways of laying them like this herringbone style that really does look fantastic. These are the Kennet tiles – £79/m2 from Neptune – and the variation of colour from the Carrara marble really adds a decorative aspect to the room. Team with white accessories for a fresh and stylish looking bathroom.
Budget: £££ (to tile a whole wall including labour)
7. Ombre paint effect
Bring the seaside in with an ombre wall. Easy enough to achieve and costing the sum of a couple of tins of paint, pick two or three blues of varying tones and use the darkest at the bottom. Team with bold accessories for a smart modern bathroom. Dark wood and deep blues are always a winning look .This wooden two tier ladder rack £35, and blue stripe towel £15, from Sainsbury's Home are spot on if you want to invoke the coastal trend.
Budget: £
8. Colourful bathmat or rug
Updating a scheme can be as simple or as complicated as you wish. A quick update like adding a cheerful rug can be all a bathroom needs to be given a new lease of life. Dash & Albert have a wide range of indoor/outdoor rugs, the latter being absolutely perfect for a bathroom. Made from polypropylene they are hardwearing and they can cope with being wet. This Samode fuchsia/ivory design will brighten up your morning for sure.
Budget: £
9. Blinds
Sometimes it can be hard to find blinds to fit, so it's worth spending a bit extra and having a made to measure design instead. English Blinds offer a high quality custom-made service so you can match to an existing scheme or have a complete revamp. Seen here is their Bartlett Basque roller blind in charcoal which has a textured faux silk finish and is blackout so you'll get total privacy whatever the time of day. Priced from around £90/m2.
Budget: £/££ (depending on window size)
10. Shower panels
If space isn't an issue than why not go for a personalised shower area for you and the OH? It's the ideal solution for busy couples and these Arysto shower panels from Merlyn create the ideal enclosure. Priced from £366 for the panels, don't forget to include labour costs and other materials such as the tiling and shower fittings. The decorative tiles behind add a textured aspect, for similar try these Allegory hexagon tiles from Walls and Floors.
Budget: £££
11. Antique furniture
Modern styles aren't for everyone and this beautiful vintage Bow fronted cupboard from Scumble Goosie makes an ideal washstand. The rear legs are designed to sit flush against the wall and it comes in raw wood (seen here for £449) or painted (£679).
If you find something similar at a reclamation yard or antiques fair then it's easy to get the top cut out so you can pop a sink in it and use it as seen here.
Budget: ££
12. Easy accessories
A super quick bathroom update is to change up all of your accessories. The White Company's Newcombe range (starting at £10) consists of a bottle arch, toothbrush holder, soap dish and this tray which can store all your lotions and cotton wool so you know where it is in those early mornings. You can't go wrong with white either, it has a hotel-chic element that we all hanker after!
Budget: £
13. Colour your bath
Baths only come in white yes? No! You can have them custom painted should you fancy a change.
They work best with neutral schemes so the bath becomes the star of the show. Any of the Albion Bath Company's baths can can be painted in any Dulux trade or Farrow & Ball paint or one of their own special metallic finishes, seen here is the Tubby Torre Duo in Dulux 10RB 19/262.
Budget: £££
14. Patterned tiles
If your bathroom is on the small side then patterned tiles allover may feel a little claustrophobic. Instead, you can tile the floor and combine plain and patterned tiles on the walls so the result is more balanced than over the top. Tile Mountains' Skyros blue and white patterned tiles (costing £19.99/m2 but also available as individual tiles) have a vintage feel and look timeless when mixed with plain tiles.
Budget: ££
15. Bin it
It might not be the most glamorous purchase, but every bathroom needs a bin, and you can keep your colour scheme looking cohesive by choosing one to match. The Aquanova Ona bathroom pedal bin comes in concrete, black, white and dark grey (shown here) it has a rounded design and is easy to keep clean.
Budget: £
16. Monochrome makeover
You can't beat the simplicity of Scandi whites with black accessories. Seen here is the Hemnes high cabinet with mirror door, £185; the Hemnes cabinet with two doors, £130; and the Odensvik/Hemnes wash stand with two drawers, £290. The all white scheme keeps the bathroom looking fresh, modern and spacious and there are plenty of storage options.
Budget: ££ (per item)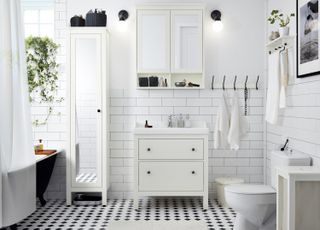 17. Metallic accessories
Copper and brass are really popular this year so you can't go wrong if you spend a few pounds on some metallic accessories. Matching items always look great, and the copper-plated Rone range that has a mirror finish from Made is a real show-stopper. The collection includes a copper plated toilet brush, tumbler and soap dispenser, with prices starting from £16.
Budget: £
18. Feature wall
If you don't fancy an allover super-bright tiled wall then pick key areas instead to make an impact. Here, you have large rectangular Mineral Portland polished porcelain grey tiles teamed with rainbow coloured Ibiza Landscape mosaics, from £15.95, both from Original Style. It creates a fabulous focal point in the bathroom without being too overpowering. Pick out one or two colours from the scheme and buy accessories in those colours to complete the look.
Budget: £
19. Bright towels
Relatively inexpensive, towels are a fantastic way to update an existing scheme that may be looking a bit tired. That instant burst of colour can give your space a new lease of life and what better than sunshine yellow this spring. This Navajo 4 piece towel bale, £29.99, is part of the new range from Argos called The Collection which includes pieces designed or handpicked by them.
Budget: £
20. Mirror mirror
No bathroom is complete without a mirror. The larger the better, but of course it needs to be stylish too. My Furniture's Dipre design (costing £94.99) has a brushed steel frame with a smart dark brown aniline leather strap that will work beautifully in modern settings. It's sized to perfectly fit above a sink and comes with its own stainless steel wall hanging peg.
Budget: £
21. Selective colour
Colour isn't for all of us, but if you fancy a hint of it and are feeling creative then try this clever scheme from Farrow & Ball. You'll only need two small pots of paint, a medium sized brush and some good quality masking tape. The two greens on the wall are Cooking Apple Green, No.32, and Calke Green, No.34. The white is All White, No.2005. The stools are painted in Churlish Green, No.251 and Parma Grey, No.27.
Budget: £
22. Designer towel rail
Be gone dull radiator! This stunning Burj towel warmer will keep you and your towels toasty whatever the weather. It's from Frontline Bathrooms and is priced from £380, there are two sizes available and its geometric look will suit contemporary style bathrooms. The wall mounted design is also space-saving – ideal for small bathrooms.
Budget: ££