Learn how to clean vinyl flooring – and never worry about scraping your luxury vinyl tile again. Easy does it with vinyl floors, so keep a light hand when cleaning them.
There are different types of vinyl flooring, but what they all have in common is that they're easy to clean. These days, good-quality vinyl planks are impossible to tell apart from solid wood – except that you don't have to worry about ruining your floor while cleaning it.
Straightforward as it is to look after, though, there are some rules you need to follow to keep vinyl flooring pristine and in great condition for the whole of its lifetime. To get in the know, just scroll down. We have all you need.
How to clean vinyl flooring: step by step
To understand how to clean a floor made from vinyl, we spoke to Harriet Goodacre, Brand Communications Manager and Senior Tiles Consultant at Topps Tiles, who says 'Cleaning vinyl floor tiles is quick and easy if done regularly and correctly...' It's recommended you wash your LVT flooring once or twice a week depending on the use of the room, this will avoid any stains settling into the surface. Of course, to keep your floor looking brand new we would recommend that you mop up any troublesome spills as and when they happen.'
You will need (all available from Amazon):
1. Dry sweep
Whether you have vinyl planks or tiles, you can clean them the same way. First of all make sure you get rid of any debris, dust, dirt, hair, and fur from the floor. Goodacre suggests 'First off, get a good quality vacuum cleaner that is ideal for hard floors, alternatively use a brush to sweep up any loose debris.'The easiest way to achieve this is by using your vacuum cleaner on the vinyl floor, but make sure you do so gently using the hard floor setting. Don't use the beater bar, which is meant for carpet.
Alternatively, you can use a soft broom to capture the loose stuff that's on the floor and pick it up in a dustpan to dispose of it.
2. Mop the floor with a microfiber mop and cleaner
Once the dust and debris is off your vinyl floor, you'll need the best mop for the job and a bucket. A microfiber mop is ideal. You can use a floor cleaning product but do check the label to make sure it is suitable for vinyl flooring, as not all are. Goodacre advises 'If you're looking to use cleaning fluid on your floor, always check the label to ensure they are compatible with vinyl flooring and safe for children and pets in your home.
These cleaning products can sometimes contain chemicals that cause a floor to become slippery, so ensure you use only a little product and buff the floor well when drying. For the same reason, wax shouldn't be used, and it can also dull the appearance of your vinyl tiles.' You can, alternatively, make your own vinyl cleaning solution using vinegar (see below).
3. Wring out the mop before each round of cleaning
Although one of the advantages of vinyl flooring is that you can use water to clean it, do wring the mop out before applying it to the floor each time. Puddles of water aren't good for vinyl. 'It's important not to soak the floor. We'd recommend a tool like the Aircraft Powerglide as an electric mop is quicker than manual mopping, allows you to control the amount of water used, and also buffs your floor for a streak-free finish that dries in minutes', says Goodacre.
4. Tackle stains
If your vinyl flooring has become stained, use a white microfiber cloth from Amazon to apply warm water to the stain first. You can then use a specialist vinyl floor cleaner, applied according to the instructions.
Prefer to make your own natural stain removal solution? Baking soda is what you need. Create a paste by adding water to the baking soda and then apply to the stain using a soft white cloth. Work on the stain gently until it goes.
For tough stains like wine or tomato sauce you might need to use diluted bleach, but test in an inconspicuous spot first. Use one part bleach to four parts water and soak a clean white cloth in the solution. Lay the cloth on the stain for 60 minutes, then rinse thoroughly with water, and dry. You may need to do this more than once.
Make-up or ink stain on your vinyl floor? Dip a soft white cloth in rubbing alcohol to remove it.
If anything has become stuck on your vinyl floor – such as gum or paint – you can use a plastic scraper to lift it. Hold the scraper at an angle to work on the substance itself and to avoid damaging the vinyl plank or tile.
5. Dry the floor
Vinyl flooring can take a while to dry, unlike ceramic tile, for example. It's worth drying the floor with a clean lint-free cloth after cleaning. You can even use a clean soft mop head to help your floor dry out faster. You can walk on the floor again once it is dry.
Can you clean a vinyl floor with vinegar?
If you don't want to use a store-bought cleaner for your vinyl floor, you can create your own home cleaner with white vinegar. Use one cup for a gallon of hot water.
It's worth having a second bucket with clean hot water to hand as well. This way, you can apply the vinegar solution first, then rinse with clean water.
Make sure you wring the mop out thoroughly so you aren't over-wetting the vinyl plank or tile, and dry it, as above, when you're done.
Andrew Johnston, of Ambient Building Products, urges caution when cleaning with vinegar, however: it 'can dull the shine of the floor if used too frequently. Vinegar is best used as a deodorizer for messy spills.'
How to clean vinyl flooring with vinegar and baking soda
Cleaning vinyl flooring with multiple household ingredients can sometimes yield even better results. Deni Ivanov of Royal Cleaning recommends using 'a homemade solution of white or apple cider vinegar, baking soda, and water.'
'Use a spray bottle to spray the homemade mixture to your floor, then use a damp mop to clean. Don't forget to rinse afterward to remove residues.'
Can you use Swiffer to clean vinyl flooring?
A Swiffer jet is a spray mop specifically designed with hardwood floors in mind. Ivanov does recommend it, saying that 'the product is easy-to-use and incredibly effective in breaking down stubborn dirt and stains without leaving a streak on your floor's surface.' There are different models – make sure you choose the one marked 'multi-surface' rather than the one for wood only.
How to maintain vinyl flooring
Cleaning vinyl flooring according to our guidelines, above, will keep yours in great shape, but bear in mind these dos and don'ts to make your life easier:
Do use doormats at the entrances to your home to cut down on the amount of dirt and debris that's tracked onto the vinyl flooring. Taking shoes off at the entrances is a good idea.
Don't clean vinyl flooring with abrasive materials.
Don't leave rubber in contact with vinyl flooring for long periods: it can leave a stain you can't remove. Watch out for mats and area rugs with rubber backing.
Don't leave spills sitting on a vinyl floor as they can damage it if not wiped up. Soak up, mop, as above, and dry afterward.
Don't drag objects across a vinyl floor. Lift furniture to move it.
Do fit furniture legs with floor protectors.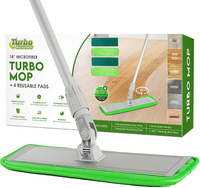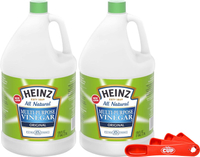 B-E-A-utiful job.