Tile grout discolored or moldy? Then it's time to find out how to clean grout properly. Yes, it's one more thing for your to-do list, but refreshing it will make it look good and keep you healthy.
The tile on your walls and floors will be sparkling clean if you're savvy about how to clean bathroom tile, but if the grout looks grubby, it can compromise the overall appearance. At worst, a buildup of mold can lead to health problems as mold multiplies — no, thank you.
It is possible to make grout white again or get it back to its original color and finish. It comes down to cleaning off unsightly mold with the right techniques. A little bit of time and effort and some household products, or even store cupboard favorites like baking soda and vinegar, will get the job done. What else will you need? Maybe a little bit of expert advice, which we've got for you right here.
How to clean grout
It's a fact that grout is harder to keep clean than tile. It's porous, so it can become stained easily. Plus, many of us favor white and other light colors that mark easily when we're grouting tiles.
Grout on floor tiles — especially on the main floor of an apartment or house — is likely to have been affected by the dirt that's tracked in and spills. But in the bathroom, mold and mildew are often what you'll see on tile grout. This isn't just unsightly. Its spores are easily released into the rest of the room, and it isn't healthy to breathe them in – especially if you suffer from conditions such as asthma already.
We've got the lowdown on how to clean grout in the bathroom, on the floor, plus the skinny on using bleach, and making your own tile cleaner at home. While the best tile cleaners can be helpful, going via the DIY approach can give you a more natural clean.
How to clean grout in the shower
Cleaning the grout should be part of the routine to clean a shower thoroughly. These are the steps to follow:
Run a hot shower with the door and windows closed for a few minutes before you start cleaning grout from your wall tiles.
Mix bleach with baking soda to make a paste (think toothpaste consistency).
Use a small, soft material like cotton wool or cotton buds to get the mixture into the tile grout in the corners of the shower and leave it for 15 minutes.
Wiping down walls after your shower with a clean, dry cloth can help limit the grime and mould that water encourages.
Pay special attention to those corners, as well as the bottom of the wall, to avoid a buildup of water.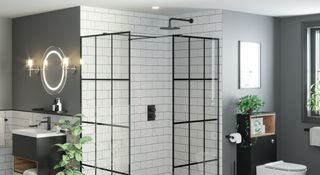 Looking for another method? The best steam cleaner could be the answer. 'The alternative which I feel is the best option is to steam clean the grout,' says Heath Belcher, bath remodel production manager for American Standard. 'If you hired a professional this is what they would do. Speaking from experience, it can get hot so be careful.'
How to clean grout on floor tiles
Dirt from outside can make the grout in entryways and mudrooms grimy, while spills in the kitchen as well as the bathroom can discolor it, so it's vital to know how to clean grout on floor tiles.
Mix one cup of hydrogen peroxide with one cup of baking soda in a bowl wearing gloves.
Apply to your floor grout either using a spray bottle or with an old toothbrush and let is sit for about 15 minutes.
Scrub, scrub, scrub with your toothbrush and rinse with warm water.
For large tiled floors you can avoid scrubbing when cleaning grout by investing in the best steam mop or cleaner.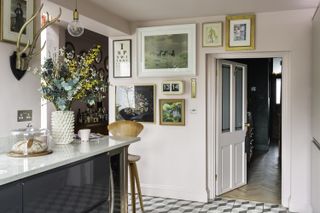 How to clean grout with baking soda and vinegar
Cleaning grout with baking soda and vinegar is a great option if you want a natural grout cleaning solution. Try this method from Beth McCallum of Oh So Spotless:
Make a paste mixing a 3:1 ratio of baking soda and vinegar.
Use a gloved finger or dry sponge to apply the paste to the grout.
Combine a 1:1 ratio of vinegar and water in a spray bottle and spray on to the grout.
It will bubble, but that's OK! Scrub well with a sponge or nylon brush.
Use a clean wet cloth to rinse the grout.
'If you have natural stone, don't use this method, as acidic vinegar can dull down the stone,' warns Beth.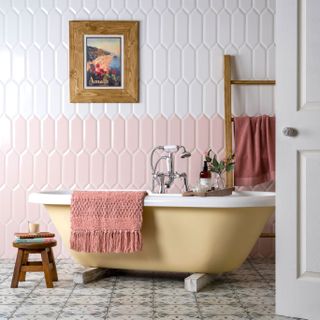 How to clean grout with bleach
What about how to clean grout that has become really dirty or stained? Bleach can be the answer.
If you're planning on cleaning grout between tiles with a chemical cleaner, such as bleach, there are several ways of going about this. The quickest and easiest method is to pour a little neat bleach into a cup then take an old toothbrush, dip it in and apply it to the grout.
Alternatively, you can mix bleach with some baking soda to make a paste (think toothpaste consistency); apply it to the grout, leave for 15 minutes then take the brush to the grout and scrub at it to work away the grime.
Either way, finish by rinsing down the area with a clean shower head or wet cloth and allow the grout to dry fully before deciding if you need to take another run at it.
Remember, if you're using a heavier chemical cleaner, such as bleach, to clean tile grout, always open the windows to minimize fumes, and take care over what products you're using together.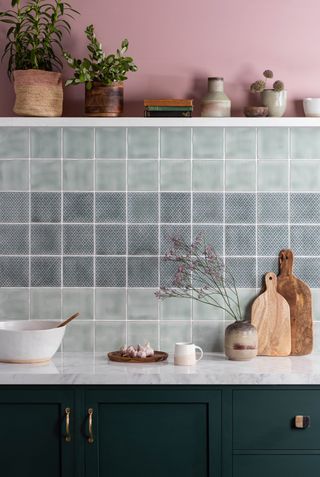 How to clean mold from grout
Wondering how to clean grout that's moldy? Mold and mildew can cause problems on a variety of surfaces in a home, and knowing how to get rid of mold is important to keep your home healthy as well as clean. For grout you might need a specialist product, and this is what to do:
We're fans of HG's mould remover which works on different grout colors also, just make sure you're wearing gloves to use it. Spray the grout with the product, leave it to work for a few minutes.
Brush the grout with a stiff brush (an old toothbrush is perfect; an old nail brush will do).
Ue a shower head to remove loose dirt with clean lukewarm water and leave to dry.
Repeat the treatment if necessary.
Want to make the mold-removal task easier? 'Key to the grout cleaning process is finding a drill bit brush to use for the scrubbing part,' says house rehab specialist Bill Samuel of Blue Ladder Development. 'This will do a much better job of scrubbing the grout clean than you could ever do by hand.'
Lynsey Crombie AKA Queen of Clean recommends The Sonic Scrubber 'great for grout and removing limescale from taps', she says. And cleaning guru Mrs Hinch uses a Sonic Scrubber too.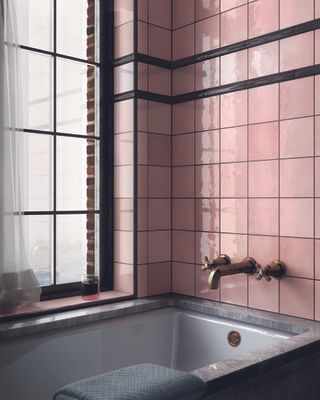 How to clean grout off tile
If you're wondering how to clean grout off tile, the answer depends on when you do it. Excess grout should be cleaned off tile when you are tiling a backsplash or tiling a floor, and at this stage all you'll need is a wet sponge.
If you don't remove it then, however, it will dry making it a whole lot harder to get rid of. Remedies include mixing a cup of granulated sugar with a gallon of hot water, stirring to dissolve and allowing the solution to soak into the grout for a couple of hours. Then use a paint stick to scrape off the excess grout. If that doesn't remove it all use a nylon scrubber. Rinse with clean water. In the case of epoxy-based grout, using a specialist epoxy removal product.
How can I get my grout white again?
To make grout that's looking grubby white again? 'I recommend steam cleaning,' says American Standard's Heath Belcher. Otherwise, try a grout pen, which can brighten the tile grout for some time. These pens usually have anti-fungal properties so they'll discourage mold growth, too. Make sure you clean the grout thoroughly before using the pen and follow the product instructions.
What household product cleans grout?
President of Molly Maid Vera Peterson recommends a cleaner such as Scrub Free or Scrubbing Bubbles as part of your shower cleaning regime, which will tackle both tile and grout.
Alternatively, try the grout stain removal favorite of both Martha Stewart and Melissa Maker and make quick work of stubborn stains with a Magic Eraser.
Is bleach bad for grout?
You can use bleach on grout, but the experts offer a few cautions. 'It is best to use bleach only sparingly on grout, such as in extreme cases,' advises Dorothea Hudson, a home cleaning expert with Quote.com. 'This is because long term use of bleach on grout will eventually erode it.'
Make sure you save bleach for white grout, too. 'You should avoid using it on colored grout; otherwise, it could whiten your grout,' says Beth McCallum.
What is the best homemade tile grout cleaner?
The easiest way to get clean tile grout using a homemade grout cleaner is by simply mixing baking soda and white vinegar in a bowl until you form a thick paste. Work the paste between the tiles into the grout with an old toothbrush. Don't be afraid to use a bit of elbow grease!
Leave the tile grout cleaner to work its magic for 30 minutes, then rinse off with clean water and wipe any residue. Repeat as necessary if your grout isn't sparkling clean straight away.