No house is complete without a gallery wall nowadays, whether that's in the bedroom, living room, hallway or every single room. One of the most game changing wall decor ideas around, displaying artwork, photographs and prints together in unison is the perfect way to add interest to a bland or basic looking space.
These gallery wall ideas will inspire you to fill any blank canvas, big or small, with life. And, by injecting a little of your personality into the room, you'll see your entire decor scheme come together in harmony. The most exciting thing about this project is that no gallery wall is the same and that you can get as creative as you'd like, even (if not especially) if you're on a budget, or a total novice when it comes to getting crafty.
What should be included in a gallery wall?
There are no rules or dos and don'ts with a gallery wall, but it is the perfect space to show off your favorite things. Be that art and vintage photo frames, maps or other trinkets, – who'd have thought their righteous home would be on the wall? DegreeArt.com co-founder and seasoned art expert, Elinor Olisa Barikor shares her thoughts and tips on how to introduce art into your home and into your gallery walls. 'The most important thing to consider when you start collecting art for your home is if the artwork makes you happy! You can bring your interiors to life by adding everything from paintings, to limited edition prints, to hand finished and artist designed accessories. Once you start collecting, it is hard to stop and you'll find yourself discovering new places in your home to display works that you never knew existed - from wall art created by a recent graduate, to sculpture placed on your mantle piece or even a new cushion designed by an artist – art doesn't need to be confined to a particular spot on your wall, incorporating art into your home really does create a homely, curated, happy space for you and your family.' Check out our ideas below and start building your own.
1. Build a gallery wall with ceramics
Hanging plates is an elegant way to introduce color, pattern, and texture to your scheme, so why hide away your beautiful tableware in a cupboard? Hang them using plate grips or line them up on a shelf for an easily updatable display.
2. Mix artwork and paintings for a unique gallery wall
If you have a collection of much-loved art, family photos or favorite postcards, grouping them together in a gallery wall creates an authentic and bespoke display.
If symmetry is your thing, measure them carefully before hanging to get even spacing. Alternatively, for a more laidback approach, arrange your pieces on the floor prior to picking up your hammer.
Desenio has a fab service on their website which helps you plan the layout of your gallery wall and choose frames and prints to suit your space.
3. Make it dark and eclectic
This artists' eclectic gallery wall transformed a dull and standard looking canvas into one full of character and dramatic charm. Proving that mixed media will add depth and create a statement, especially if you frame yours on a black background for effect.
4. Add reflective elements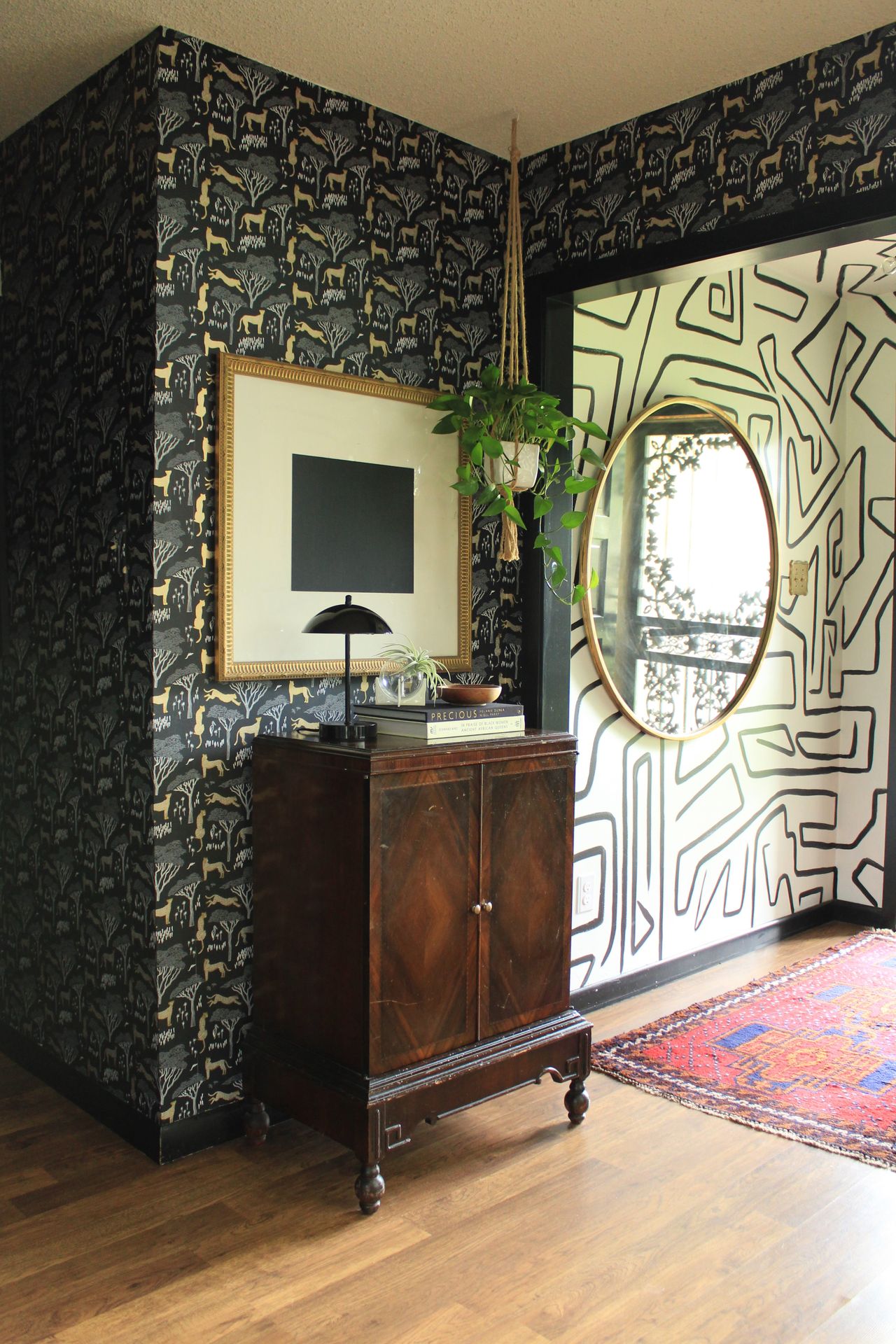 This hallway space pops because of the gorgeous reflective elements present in this cool, mini gallery space. Modern, bold and such a great way to add character to a property.
5. Use fairy lights to display your photos
Brighten up an area in your home for a party or just for a fun change by using festoon and string lights. These are a great way to add a glow to a dark wall space, and with options to clip on photos, and postcards, it's easy to update this pretty feature with a new display.
6. Layer up prints on a picture ledge
Practical and inexpensive, this type of shelving is a great base for creating your very own striking art displays.
Use a single shelf or group two or more together, then dress with vases, pictures, books or candlesticks. The beauty of this look is that you can change your arrangement as the mood takes you.
You can't go wrong with the Mosslanda Picture Ledge from Ikea.
7. Create a living wall
Houseplants are back on-trend, and not only do they look good, but they can also do wonders for your health and wellbeing, too.
Adding some living, breathing greenery instantly gives a fresh feeling to any space and provides a vibrant splash of color. Just remember to water them though…
8. Add texture and interest with exotic finds
Texture isn't just for soft furnishings – as this scheme shows. Smooth walls can look great punctuated with tactile objects displayed as a gallery wall, particularly if you're working with a white canvas.
Experiment with everything from quirky hats or feather placemats to African baskets or woven discs; grouped over a piece of furniture, they make a unique statement.
9. Create a quirky display for children's rooms
Keep your little ones engaged by hanging fun items in their bedrooms for them to look at, touch and feel. Add furry animal heads for a quirky take on a gallery wall, or turn toys into art by nestling them in wall-hung baskets or on shelves.
10. Enhance space with a mirror gallery wall
A classic interior design trick for making a small room look bigger is to use mirrors as art. They bounce light around a room and give the impression of more space. Hang a single large one as a statement piece or mass several different shaped designs together for extra interest.
11. Go for a classic look with peg rails
Originally used for hanging chairs, Shaker-style peg rails are no longer just great kitchen storage ideas and are often found in kitchens for their effortless and classic look. As they can easily blend into most decorative schemes, they make a good addition to almost anywhere in the house.
Choose natural wood or a painted finish and adorn with anything from coats, bags, scarfs and hats to tools, ornaments or a string of fairy lights.
12. Get creative with lighting
For a really quirky take on a gallery wall, introduce some interesting wall lights.
These wall lights from Curiousa & Curiousa make a bold statement but their resemblance to wall plates keeps the overall look from being too wacky – we love the idea of working them into a Mid-century modern inspired space.
Incorporating a gallery wall into your room design is the easiest way to break up an all white scheme, creating a space with greater depth and interest. Plus, white really is the perfect blank canvas to display your art on.
We love the pairing of this white living room with bold bright accents in the sculptures on the walls.
13. Pick a neutral color scheme for your gallery wall
If you want to create a gallery wall that has a more cohesive look, pick a clear color scheme. We love the look of this neutral gallery wall, the colors are simple but there are plenty of different textures and materials thrown in to add interest. This gallery wall idea would work particularly well in a smaller space, say a hallway or a landing, because the limited, neutral color scheme won't overwhelm the space.
14. Keep it chic and cohesive
These clear glass frames work brilliantly together as although they are different shapes and mostly different sizes, they are still all in unity with the same dainty frame color and material. This would be perfect in a boho style bedroom, lounge or even awkward corridor setting, especially if you choose botanical pictures or abstract scenes for the photo itself.
15. Let it flow
Boxy and artistic cushioning veritably draws this gallery's design features down from the wall and onto the bed for a thoughtful finish. Even the wall color has been considered, as sage green complements and runs through some of the designs.
16. Make a small gallery wall pop with paint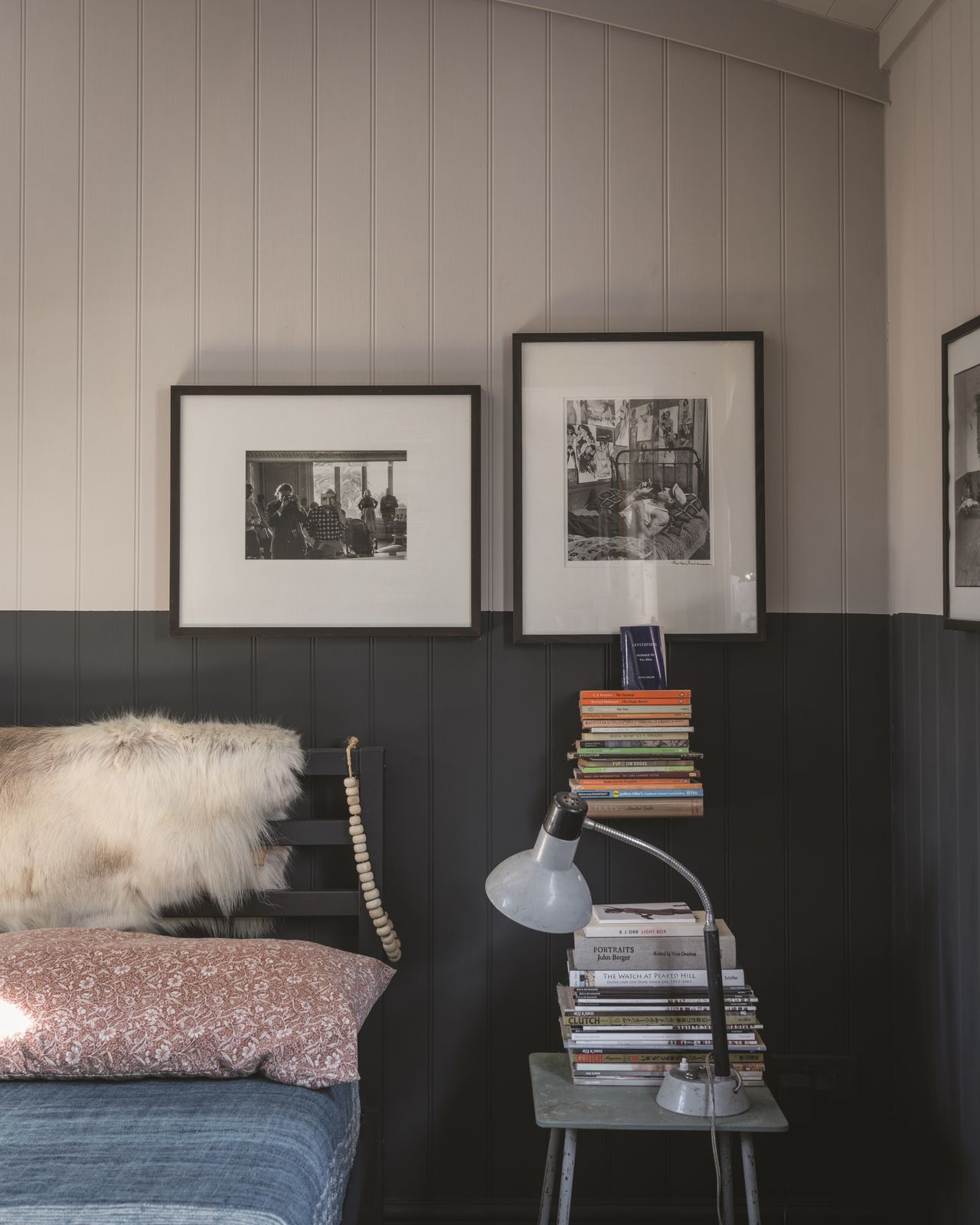 Want a quick way to make a picture wall really stand out? This gallery wall idea will transform a room in just a couple of hours: simply use paint to create a colored backdrop and give your favorite artwork some added impact.
It takes nothing more than some leftover paint, a roller, and masking tape, and is the perfect way to freshen up a room in an afternoon. Just create your 'frame' using masking tape and a ruler and then get painting. Leave it to dry, remove the tape and then hang your gallery wall.
17. Match colors within artwork to create a cohesive feel
Picking artwork with a common color theme will create a cohesive look. This doesn't just work for a picture wall – choosing pieces for your wall, whether pictures or other artistic displays with similar colors will help knit the scheme together.
18. Go supersize with posters
Bump up your gallery wall even in a small living room space by maxing out on the size of your prints and frames. Lessen the wall space between the frames for a heightened visual impact and then keep your color scheme simple, so that the hues and other design details flow seamlessly with the rest of the room.
19. Make a hat gallery wall
Display your favorite hats as art. They always seem to be the hardest accessory to properly store. Hang them in a pleasing way, and then whenever you want to wear a hat, they're within easy reach. Just be sure to replace the hat when you're done wearing it. Hang them with nails or hooks, or find a wall fixture designed just for hanging your hats and see how this is one of the most budget-friendly gallery wall ideas going.
20. Show off favorite photos and memories
While selecting a mix of art and prints, don't forget to add your own personal spin with your own photos. Showcase family members, favorite vacation photos, or even your favorite Instagram grid photos. Interior decorator Kylie M created this gallery wall using Mixtiles in her breakfast nook. Mixtiles makes it easy and affordable to print out your favorite photos into framed pieces of various sizing. Even better: the photos use a reusable adhesive, so you can rearrange frames around as you please, with no worry of damaging walls.
21. Create a collage
Walls covered with aesthetic, mood board type images have taken over social media, especially TikTok in the form of less than perfect collages. , You can gather from magazines and print your own images, or head straight to sites like Etsy or other independent creators who have created prints ready for the mass, like Tezza, who offer various kits around different aesthetics.
22. Play with texture
A gallery wall is not just paintings and art prints. It's an amalgamation of pieces that work together cohesively. Sprinkle in different mediums like tapestries or mixed media work for texture, interest, and dimension.
23. Try a Floor-to-Ceiling Gallery Wall
While many gallery walls are placed above a focal point like a sofa, or a sideboard, why not dedicated an entire wall to your gallery. We're talking about a display that spreads itself from floor to ceiling. Try the idea out on a smaller wall, like on a stairway landing or room dividing wall, or go full force and cover an empty wall from top to bottom with curated sorts.
You can keep uniform frames and color palettes complimentary for a polished look or mix and match for a design as varied as the items you love to collect.
24. Use the power of three
It works in writing and it sure makes a statement when hanging a gallery wall too. Choose three core colors that run through each piece of art or famed photograph and you'll create a cool, coherent look. Nod to colors present in the surrounding space for bonus decor points. The red, white and black theme works well to create a designer feel in this bedroom.
25. Create a view
Your gallery wall should be full of what brings you joy and while this design feature will ignite happiness wherever it may be in your home, consider building yours out at the foot of your bed or in front of a lounging area to create the perfect view for all times of day. Include small and simple drawings that will make you feel good about your space on all the levels.
Gallery wall ideas and tips from the experts
Catharina Björkman, Scandi lifestyle expert at Contura says, 'If your art or frames are not working in a particular space or room, simply move them around to see if they would be better placed in a different location. It can take time for items to look at home in a new spot, so resist the urge to switch them straight back if you are unsure at first. If you have a gallery wall, switching around your prints, adding more, or even taking some away is an inexpensive way to completely refresh your wall – it will bring you joy each time you see it in all its glory.'
Get it on the wall why don't you!